Guest Commentaries
Anglers see the growing impacts of climate change
It's time to demand action
March 23, 2022 at 5:00 a.m.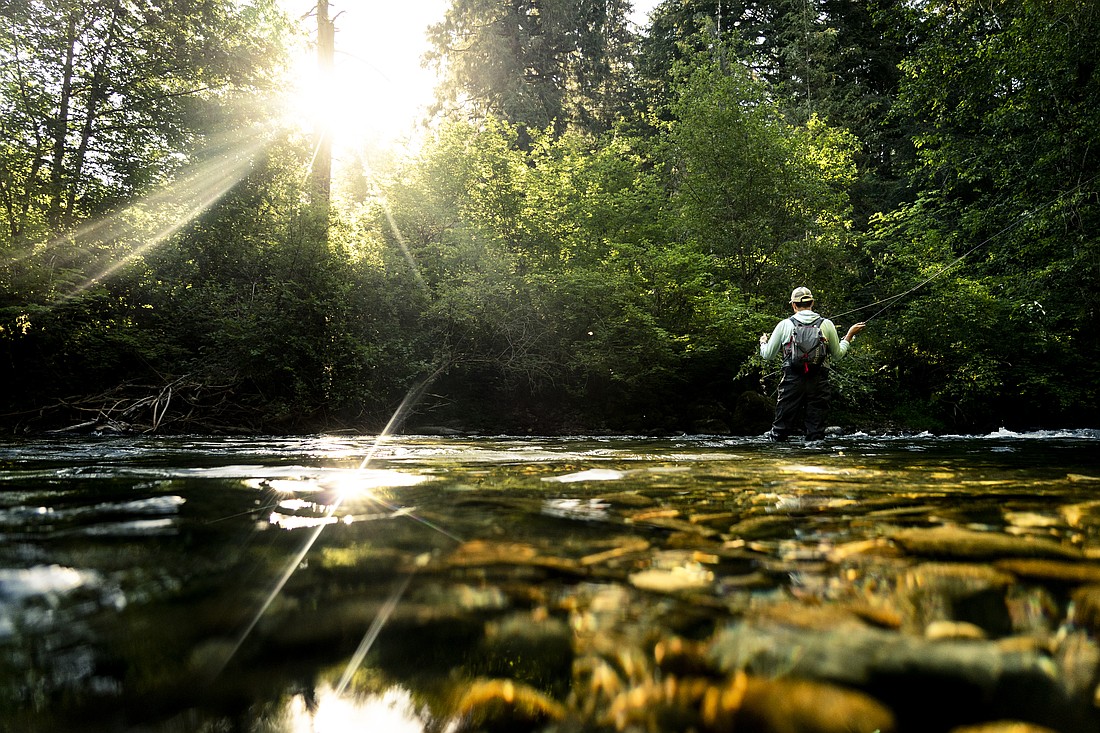 ---
---
This winter, even before the Skagit and Olympic Peninsula seasons were closed, I'd chosen not to fish or guide for steelhead due to low numbers across Washington waters. As much as I miss the rainy, cold winter days chasing steelhead, the extra time at home has given me a good opportunity to tie flies and reflect on my 2021 season.
There were certainly some beautiful days on the water with great friends and clients. But more than anything, this past year was a season where the growing impacts of climate change were undeniable and unavoidable on Washington's mountain streams and throughout Puget Sound.
The season started with great snowpack and high water before the drought settled over the region and the heat dome roasted our waters. On the Cascade Mountain creeks I like to fish, flows diminished to a trickle and the water felt like bathwater.
Fish were difficult to find as they sought any cool water refuge they could get to. Bug hatches and fish feeding routines were disrupted and some of my favorite creeks often felt empty. Along the roads and creeks, trees dried and turned brown long before fall. Pine needles fell in thick mats where they normally would have been dark green.
On Puget Sound, sea-run cutthroat were often difficult to find last summer. More ominously, I saw several dead sea stars and sculpins and a number of invertebrates that I believed died from the heat. There were far more than during past seasons. Algae blooms clouded the normally clear water, and who can forget the smell of all the dead shellfish following the record-breaking temperatures of the heat dome? Science tells us these intense heat domes are likely to become more frequent with climate change.
On the Cascade Mountain Creeks I like to fish, flows diminished to a trickle and the water felt like bathwater. 
Later, as we moved into late autumn, the rain came in torrents, flooding the Skagit and Nooksack and spiking the flows in other watersheds across the region. I worry about the redds, (the shallow "nests" in the gravel) of spawning salmon that have been scoured away by powerful floodwaters or the juvenile fish that couldn't survive those massive torrents.
These losses will impact salmon populations in the years to come. Again, climate change is predicted to play a role by making these events less frequent but more intense by changing the patterns of the region's precipitation.
As anglers, my friends and I see these troubling impacts continue to accumulate and impact Washington's waters and fish. For those of us who make our living on the water, or the Washingtonians and tribal members who deeply value our functioning fresh and saltwater ecosystems and the bounty of fish they've provided for centuries, it is past time to demand our federal and state leaders take action.
Not only must we find ways to quickly reduce fossil fuel burning and decarbonize our energy systems, but we must invest in habitat restorations that will repair the damages of the past and provide resilience for Washington's fisheries. We must also dedicate resources to the study and monitoring necessary to account for climate change impacts and help establish new fishery management tools and practices that take these impacts into account and adjust accordingly for the future.
When it comes to fishery management, we must create ways to use climate information to shape decisions and become more adaptable in order to respond to the changes we're seeing to ensure our freshwater and saltwater fish populations, and our fishing opportunities, are sustainable into the future.
Matthew DeLorme is a Seattle-based professional photographer and fly fishing guide. He spends the majority of his time outside helping people experience the best of Washington's river and saltwater fishing. His livelihood depends on a healthy environment.