News Obituaries
Obituary: Floyd J. McKay
Veteran journalist, free-press advocate dies at 86
March 16, 2022 at 4:55 a.m.
---
---
Longtime Pacific Northwest journalist, author and free-press advocate Floyd J. McKay, former chair of Journalism at Western Washington University, died March 4 at his Bellingham home following a brief illness. He was 86.
Mr. McKay spent the final week of his life at home under hospice care, surrounded by family members including his wife of 65 years, Dixie.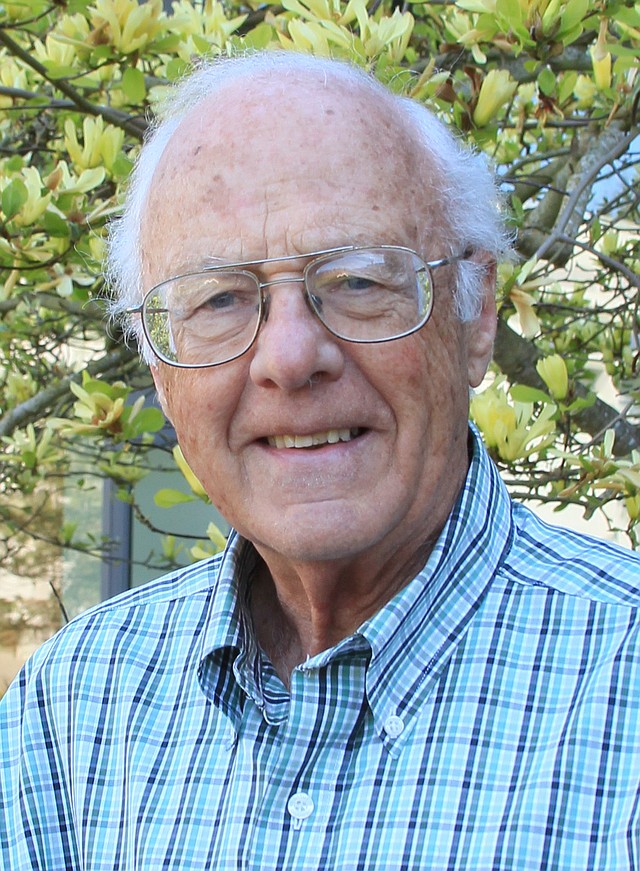 Described by many colleagues as the "dean of Oregon political reporters," his notable career as a journalist in Oregon and Washington included stints at the Springfield (Oregon) news, the Oregon Statesman, and from 1970 to 1987, KGW-TV in Portland, for whom he provided political commentary, election coverage and provocative, award-winning documentary work.
In a brief foray into politics, Mr. McKay served as press secretary for Oregon Gov. Neil Goldschmidt after leaving his KGW role in 1987. 
In his retirement years, Mr. McKay was a regular contributor to The Seattle Times and online news organizations Crosscut and Post Alley. His last published work was a review of the fledgling Cascadia Daily News for the website Post Alley.
His passing was noted on March 9 by Post Alley founder David Brewster, who lamented: "They don't make enough Floyd McKays these days or in most times, but he will live on as an inspiration to many scribes."
Mr. McKay also served as chair of the Journalism Department at Western Washington University, where colleagues credited him for maintaining the department's practice-based traditions while modernizing instructional and publication technology.
The McKays for more than 30 years have been active participants in Bellingham civic life. Mr. McKay enjoyed interviewing the likes of authors Alexander McCall Smith, Brian Doyle and Ivan Doig for "The Chuckanut Radio Hour." 
A lifelong advocate for a thriving free press, Mr. McKay, along with a fellow 1968 Nieman Fellowship graduate, Jacob "Jack" Landau, helped launch the influential Reporters Committee for Freedom of the Press. He later earned a Master's Degree at the University of Maryland's Phillip Merrill College and a Ph.D. in Media History at the University of Washington. He also was a Jefferson Fellow at the East-West Center in Honolulu, Hawaii, serving for a time as the program's temporary director.
Mr. McKay never stopped practicing journalism; his reporting and analysis were credited with contributing to the defeat of the proposed Gateway Pacific Coal Terminal at Whatcom County's Cherry Point in 2016.
His first book, "An Editor for Oregon: Charles A. Sprague and the Politics of Change" (Corvallis: OSU Press, 1998) told the story of an influential editor at the helm of the Oregon Statesman at the time McKay worked there. It was followed by "Reporting the Oregon Story: How Activists and Visionaries Transformed a State" (Corvallis: OSU Press, 2016), Mr. McKay's self-described "quasi-memoir" of the remarkable era of governors Tom McCall and Bob Straub.
Floyd J. McKay was born Oct. 18, 1935 in Bottineau, North Dakota, near Lake Metigoshe on the Canadian border. The eldest son of Harold and Maudelin McKay, he was joined over the next decade on the family's farm by siblings Gordon, Mary and Marjorie. At age 10, his family moved to Oregon to operate a small farm in Muddy Valley near Sheridan and Yamhill in the Willamette Valley. 
The family later moved to the nearby town of McMinnville, the Yamhill county seat, where Mr. McKay attended McMinnville High School and Linfield College, graduating in 1957 with a bachelor's degree in journalism and a bride, the former Dixie Ann Johnson.  
The couple over succeeding years built homes in Salem, Portland and Wilsonville, Oregon, and a family cabin at Elkhorn on the Little North Santiam River. The couple traveled widely, with Great Britain and the "MacKay Country" of the Scottish Highlands becoming a favored destination. 
In addition to his wife, Mr. McKay is survived by a sister, Marjorie McKay; daughter Karen McKay; son David McKay; son-in-law Ted Wolf; and grandchildren Amanda McKay, Andrew McKay, Lydia Wolf and Laurel Wolf and fiancé Jonathan McRae.
At his request, no services will be held. Memorials may be made to Reporters Committee for Freedom of the Press (rcfp.org), the Whatcom Land Trust (whatcomlandtrust.org) or Whatcom Hospice (whatcomhospice.org).