Basketball
WWU women advance to NCAA Division II Elite Eight
Vikings beat Cal State East Bay 73-59 for West Region title
March 14, 2022 at 10:15 p.m.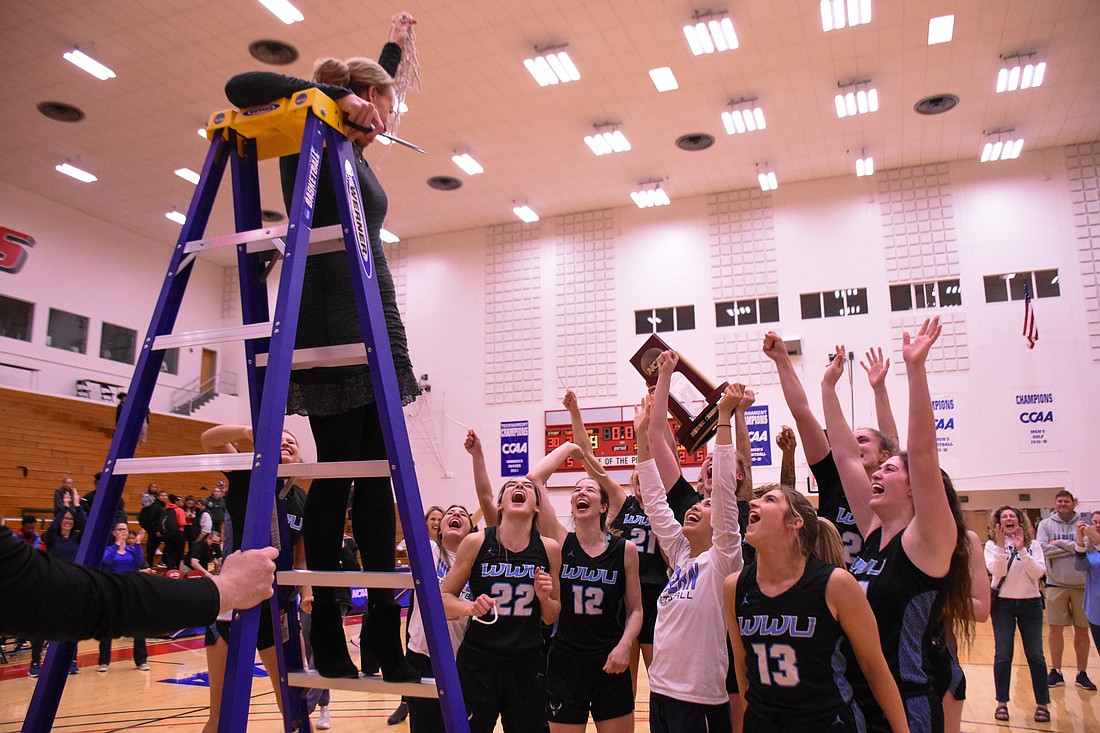 ---
---
Western Washington saved its most dominant postseason game for the biggest stage, beating host and top seed Cal State East Bay, 73-59, Monday night in Hayward, California to earn a spot in the NCAA Division II Tournament quarterfinal and a trip to Birmingham, Alabama as one of the top eight teams in the nation.
The Vikings, the No. 3 seed in the West Regional, head to the NCAA Elite Eight tournament March 21 for just the third time in coach Carmen Dolfo's 31 seasons, and for first time since 2013. Western also reached the final eight in 2000.
"I thought my team played great defense tonight," said Dolfo, Great Northwest Athletic Conference coach of the year. "We shared the ball and found the open court and played really well together. We're headed to Alabama. We're excited."
Western (23-5) built a big lead early and held off a pesky Pioneers team playing in front of a loud student section in the biggest crowd in the four-day tournament. East Bay, playing in its first West Regional final, recorded its first two NCAA tournament game wins in team history to get this far. 
"I thought my team played great defense tonight. We shared the ball and found the open court and played really well together. We're headed to Alabama. We're excited." — Western Coach Carmen Dolfo
But Western's size and experience was too much for the Pioneers, whose fouls put the Vikings in the bonus category early in the game, with 2:17 left in the first half. That played right into Western's strength – free throws. The Vikings were 9-for-9 from the line, helping open a 13-point margin in the first half. They never relinquished the lead.
Ahead 40-27 at the half, Western built its lead to 16 on Maddy Grandbois's 3-pointer with 4:42 left in the third quarter and appeared ready to make it a blowout. But East Bay took advantage of a spate of misses and fouls, closing to within eight, 58-50, with 4:34 left in the game.
"We watched them play two nights ago," Dolfo said by phone from the celebratory team dinner at In-N-Out Burger late Monday. "They play off momentum. They get on rolls like that … Their tempo is high-paced, just attacking the basket … We really tried when they made those runs to control the tempo a little bit."
A reaching foul by Pioneer leading scorer, Delia Moore, brought Western star Emma Duff to the line, where she sank both free throws for 60-50 with 4:15 left to start a 7-1 run that sealed it. Moore, meanwhile, fouled out.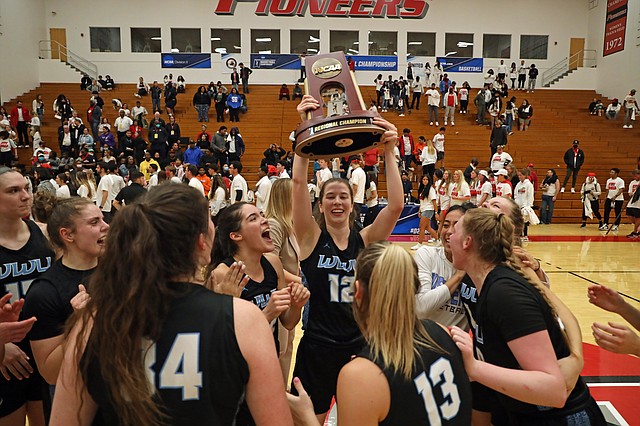 Western held East Bay, ranked No. 15 in the national coaches poll going into the tournament, to 29.2% shooting from the field (21-for-72), while the No. 25 Vikings shot 45.8% (22-48). Western shot 86.2% from the free-throw line.
Eight players scored for the Vikings, led by all-conference first-teamer Duff's 16 points and 14 rebounds and Brooke Walling's 16 points (on 6-of-10 shooting) and eight rebounds. Duff hit all 10 of her free throws.
Senior Gracie Castaneda pitched in with nine points. Madison Schiller had 15 points to lead East Bay and freshman Taylor Linzie posted nine points and a team-leading 10 rebounds. Walling, Duff and Schiller made the all-tournament team, with Walling the tournament MVP, with 17.3 points per game, averaging 9.7 rebounds.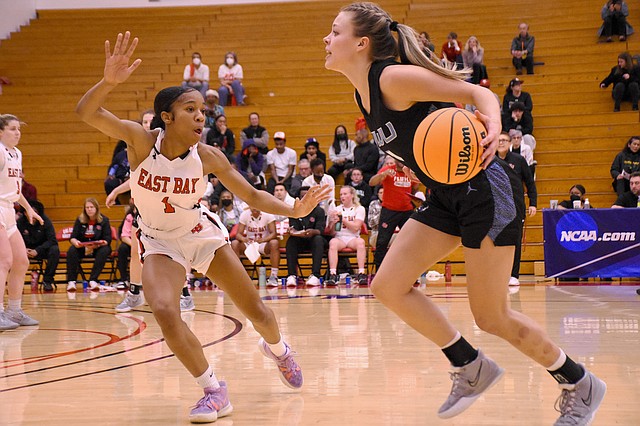 Western's conference-leading defense has been its hallmark all season, and Monday was no exception, producing turnovers and fast-break points. Also, at times the Vikings' offense looked dominant, holding possession, making multiple passes in the offensive zone to set up Walling and others inside. 
Western took advantage of its height and depth over East Bay – the Pioneers had just two players 5-10 or taller compared to Western's eight. East Bay was also missing starting guard Grace Campbell, out after a collision in Saturday's regional semifinal game, from an already-slim 10-player roster. Western's bench outscored the Pioneers, 24-12.
Western led 40-27 at halftime, behind Walling's 12 points, including a 3-pointer.
The Vikings, 17-3 on the road this season (8-0 in California games), now face the biggest road trip of the year – to Birmingham and the March 21-25 NCAA Elite Eight at the Birmingham (Ala.) Crossplex.
Said Dolfo: "None of us have been to Alabama before. This'll be fun."