Restaurants
Review: Café Rumba
Authentic Peruvian cuisine in downtown Bellingham
March 9, 2022 at 11:00 a.m.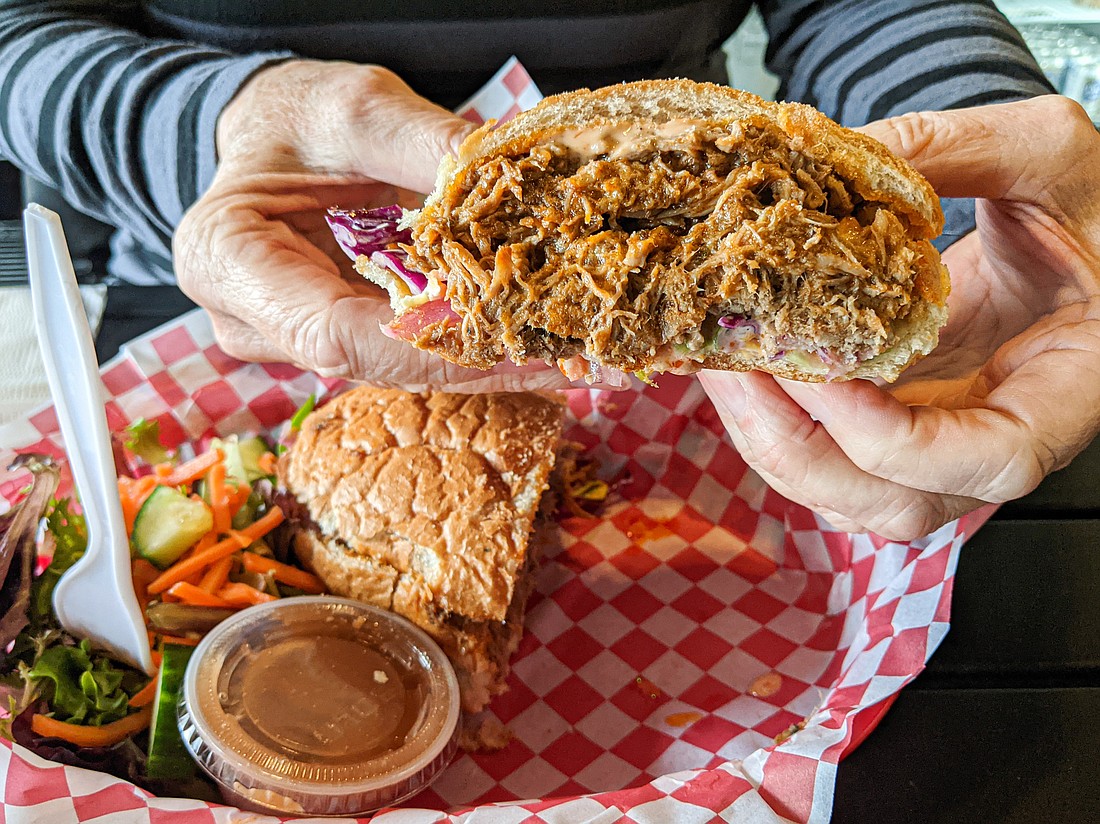 ---
---
Anyone who's tasted Peruvian food knows how incredibly delicious it is. Café Rumba, a tiny deli on State Street, has been bringing the flavors of Peru to Bellingham for nearly 10 years. Being a deli, they don't carry all the classic dishes of Peruvian cuisine like lomo saltado or causa, but what they do make will keep you coming back for years to come.
The main thing here is sanguches, or sandwiches. Café Rumba has seven sandwiches on the menu and as far as I can tell there is not a bad choice in the lot. The chicken sandwiches seem to be especially popular, and the roast pork is incredibly rich and juicy, but my particular favorite is the pulled pork ($15).
The first time my husband and I went to Café Rumba, pulled pork sandwiches were on special that day so we got those along with potatoes and alfajores, and have since seldom strayed from that original order because we didn't think it could be improved upon.
A soft-on-the-inside, crispy-on-the-outside roll stuffed to the gills with tender pulled pork, dressed with multiple sauces, and topped with crunchy apple slaw and shoestring potatoes, this sandwich is extremely messy but absolutely perfect. It's spicy enough that the staff warns every single person who orders it, but it's not so much intensely hot as having the kind of heat that slowly builds and then lingers happily in the mouth.
If meat isn't your thing, there is one vegetarian sandwich, the Peruano, which is filled with spinach, avocado, roasted tomato and thick slices of roasted yam. Like all food at Café Rumba, it's enhanced with generous use of house salsas, which range from mild to fiery and include chimichurri (mildly spicy), aji Amarillo (medium spicy), salsa escabeche (spicy), and aji limo puree (VERY spicy.) The Peruano is relatively mild, quite tasty, and has the added benefit (in a way) of not being as filling as the meat sandwiches so you have more room for sides.
Every sandwich comes with a choice of potatoes or salad. The salad is good, a spring mix with carrots and cucumbers and a bright dressing, but the potatoes are delightful. The potatoes are almost silky in texture and come with a creamy, spicy sauce that brilliantly complements the potato.
Additional sides include choclo ($6), large-kernelled corn, which is rather starchy for my taste but deliciously mixed with aioli and cheese. Yucas (fried cassava root) are also on the starchy side with a slightly sweet flavor and a very crisp outside served hot with plenty of salsa escabeche ($6). These really are addictive — the first time I got them I started eating them and couldn't stop.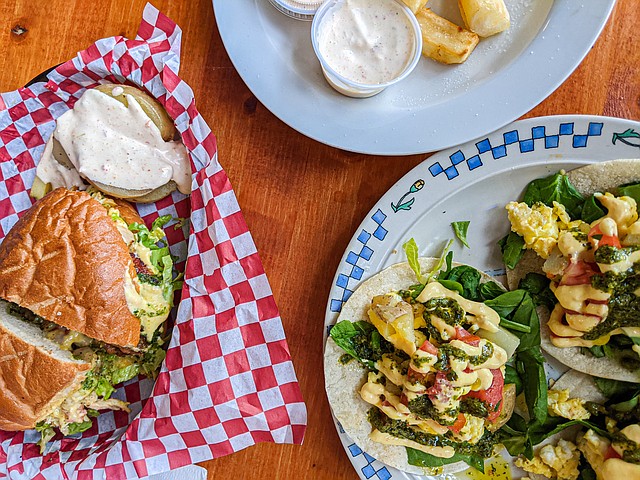 If you don't want a sandwich, there are a few other options including a quinoa bowl ($10). Although this sounds light and healthy, don't be fooled — a moderate-looking amount of tasty quinoa pilaf is then topped with a generous serving of meat or vegetable of your choice, which is then completely coated with sauces. It's delicious, but like everything else here, wildly substantial. 
But wait, there's more! Rumba opens at 8 a.m. every day and serves breakfast until noon, including a breakfast sandwich, a scramble, tacos and French toast. The taco plate ($9) includes three tacos on small corn tortillas, piled high with spinach, scrambled egg, potatoes, aioli, chimichurri and any meat or vegetable topping. I recommend roasted tomatoes.
Whether or not you have room for dessert, get a pastry or two to take home. Alfajores ($2 each) are my favorite Peruvian dessert, a delicate shortbread sandwich cookie with a filling of dulce de leche. These have a tendency to shatter as you bite into them, but you won't want to lose a crumb. Milhojas ($4) is more substantial and sweeter, made of layers of puff pastry with dulce de leche and so much powdered sugar you are guaranteed to be covered in it.
Café Rumba makes its own house juices, passionfruit (maracuya) or purple corn (chicha morada). The purple corn juice is mildly sweet with a very strong cinnamon and clove flavor. It's a little strange but refreshing, and you can also get it mixed into a mimosa. They also have wine, beer and Inca Kola selections in the cooler.
The café space is small and cozy, with bus-your-own tables (dine-in currently requires a vaccine card). If there's no room inside, though, takeout is a great option. Even during the deepest days of the pandemic, Rumba was here for us. We could call in an order while out on errands, then swing by the café in 20 minutes and head to Boulevard Park with a bag full of pure happiness. Just make sure you have plenty of napkins in your car.
Café Rumba is located at 1140 N. State St., Bellingham. Hours are 8 a.m. to 8 p.m. Monday through Saturday, 9 a.m. to 8 p.m. Sunday. Get more details at caferumbabham.com.