Restaurants
Homeskillet morphs to social club
Iconic Sunnyland brunch spot closes in May
March 9, 2022 at 10:00 a.m.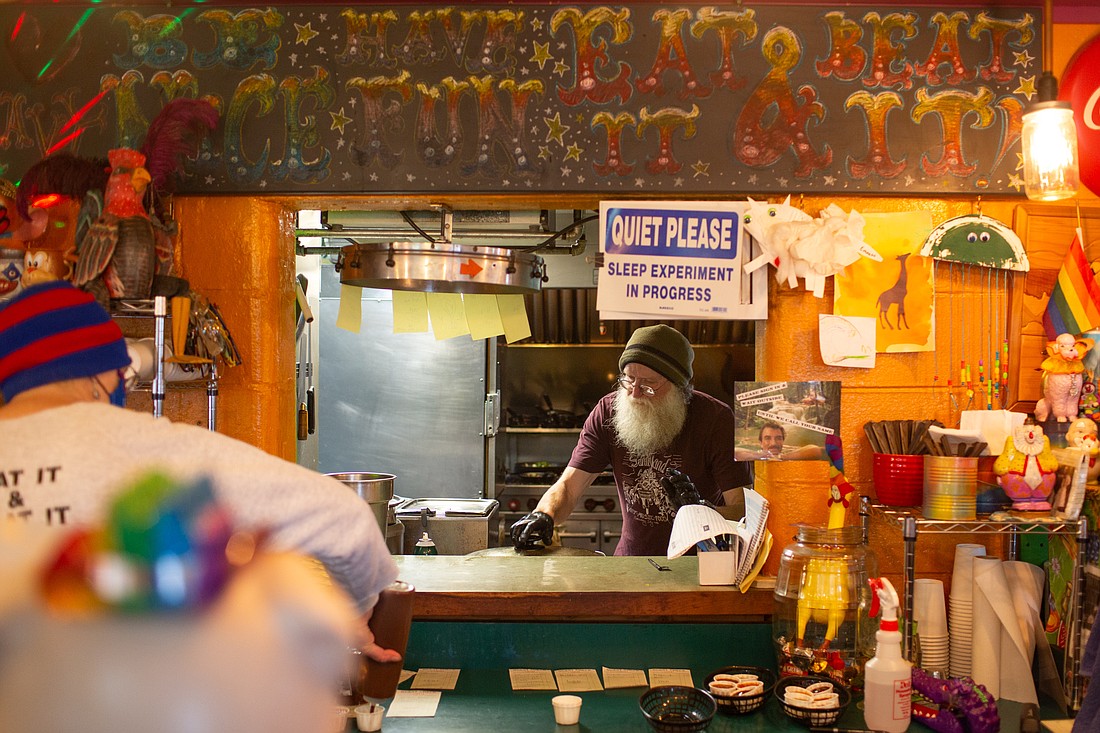 ---
---
For the past 10 years, Homeskillet has fed the hearts and souls of the Bellingham community with its iron skillets piled high with fried potatoes and scrambled eggs cooked-to-order on a six-burner stove.
This May, Homeskillet will close its doors and stop serving its delicious hashes, but owners Kirby and Tina White aren't going anywhere for long.
"We'll still be helping folks in the community," Tina said. "The support isn't going away, just the tater tot hash."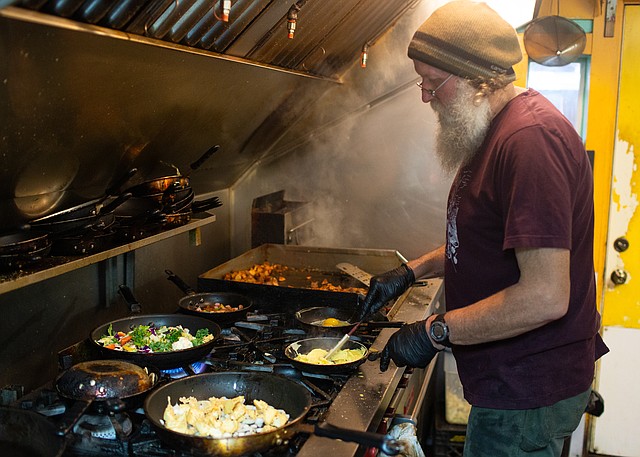 Everyone had a different reason for liking Homeskillet. Some just love the heaping piles of potatoes, poutine or the cinnamon French toast. Others love looking at Tina's eclectic and colorful art that covers the restaurant's interior and exterior. Many come for the community aspect that the Whites have cultivated in their corner of the Sunnyland neighborhood over the years.
"It's the service, it's the food, it's the people. Tina and Kirby really make a difference," said Joe Vinup, a regular customer of nine years. "They're always out there drumming up a bunch of support for the people who really need it."
The last 10 years have just been another chapter in the story of Tina and Kirby White. The pair met and quickly fell in love in 1999 while cooking for scientists at McMurdo Station in Antarctica. After leaving the far south, they traveled the world together, married in New Zealand and landed in Bellingham.
The pair never planned to run the restaurant for more than a decade, Tina said. Initially, they intended to sell it, but at a certain point they realized that they are Homeskillet; it wouldn't be the same place without them. Thus, the idea of the Sunnyland Social Club was born.
Kirby will move his woodshop and Tina her art studio into the building off Kentucky Street. They hope to bring in other artists and producers and cultivate a community of creators, and they'll rent out their commercial kitchen for people to bake bread or make jam to sell. Tina says she wants to host art classes for local youth and maybe have a small store to sell locally made goods.
"We want it to be a place to come and create where the coffee is always on," Tina said.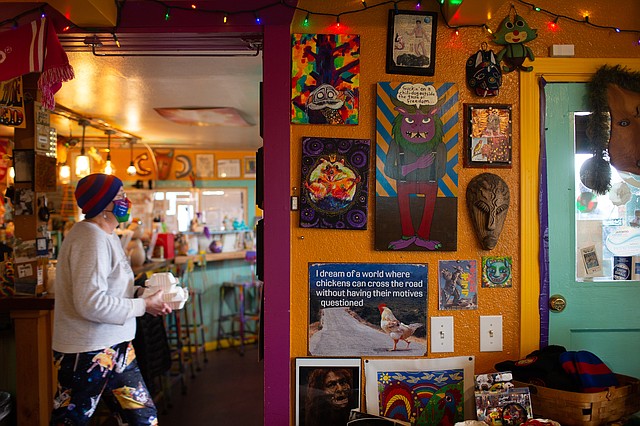 Tina also dreams of hosting barbeques and paella cookouts. There'll be fundraisers and community-focused events. Tina said they are excited — they have a lot of ideas for what they can do with their space in the heart of Sunnyland.
In the meantime, Tina, Kirby and their pack of dogs are preparing for a road trip in their decked-out van, with nearly a full chef's kitchen, of course. They have no real place in mind; they might go east over the mountains, or west and down along the coast.
"We're just making it up as we go along," Kirby said.
Homeskillet will close on May 1 after their 10th Anniversary Fundraiser Party. A donation-based breakfast buffet and drinks for cash will benefit Planned Parenthood and Whatcom Youth Pride.