Basketball
Lynden boys win 2A state basketball championship
Lions secure 11th program title in win over Pullman
March 5, 2022 at 6:40 p.m.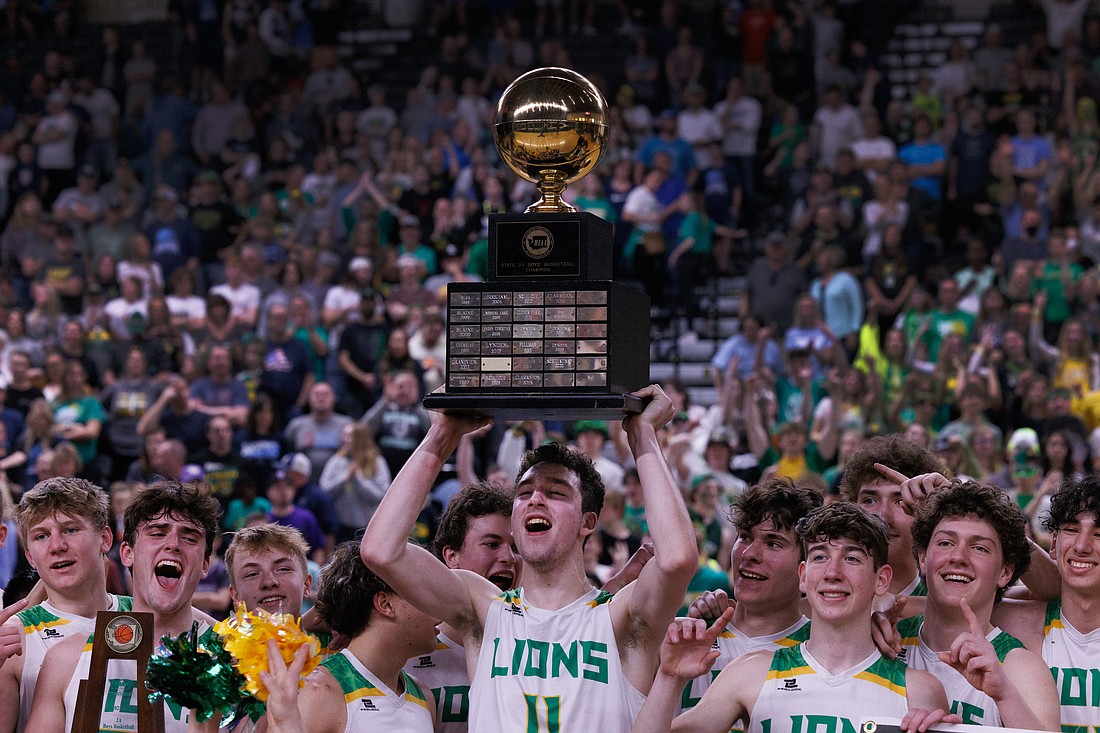 ---
---
YAKIMA — The Lynden Lions are back on top.
Two years after falling short in the semifinals and three years since their last title, the No. 2 Lynden boys basketball team claimed 2A royalty once more with a 51-34 win over No. 4 Pullman in the state championship.
It's the 11th state title in program history and fifth under head coach Brian Roper. 
Defense wins championships and that was never more apparent than when Lynden took the court Saturday and bottled up everything Pullman wanted to do offensively.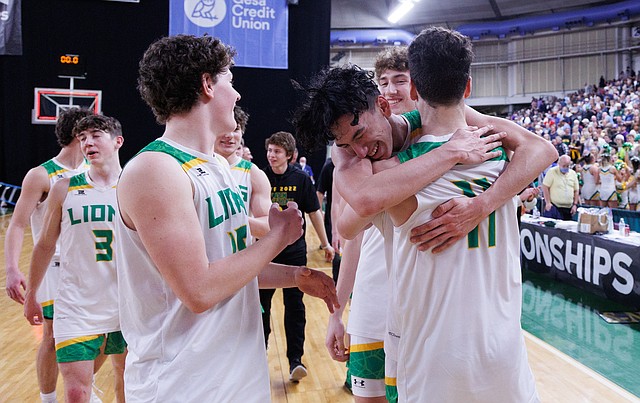 The Lions limited the Greyhounds to 26.2% (11-42) shooting and held them to just 18 points in the second half.
"I never thought [Pullman] would be in the 30s," Roper said of his team's defensive effort. 
It wasn't an entirely unexpected start to a championship game. In the opening minutes, nerves were apparent and not many points were scored, but the Lions scored the first points of the game and remained ahead the rest of the way.
Lynden led 20-16 at halftime and had something left up its sleeve in the second half to pull away.
That was senior Dawson Adams.
Adams opened the second half with back-to-back 3-pointers to push the Lions' lead to double digits. On the other end of the floor, he was responsible for guarding Pullman's 6-foot-8 Grayson Hunt. Adams is listed as 6-foot-1 on Lynden's roster.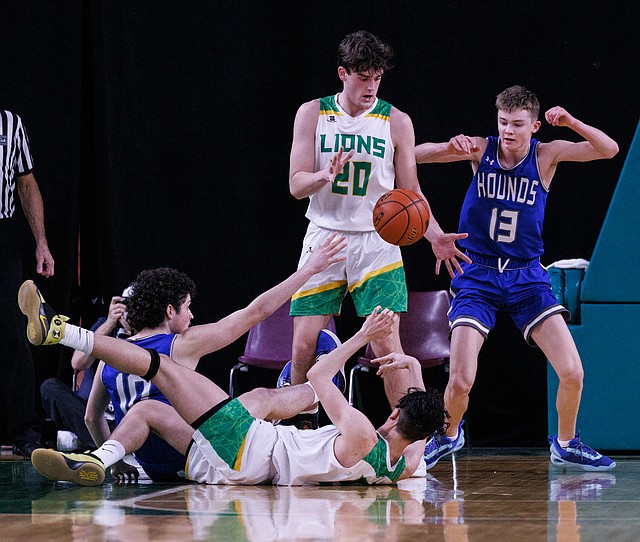 "I've had to guard the big guy all year," Adams said. "He's one of the best I've guarded. He's a really good player. We just had to battle as hard as we could and I feel like it was a whole team effort to hold them to 34 points."
Lynden led by as many as 21 points in the second half as the Lions cruised through the last four minutes of the game.
"Our kids played with unbelievable effort for 32 minutes," Roper said. "To hold a team like that to 34 points after watching them on tape all night long, I'm just in awe of our kids' effort."
Roper emptied his bench with about a minute left in the game, bringing the starters to the sideline where they waited for their championship to become official.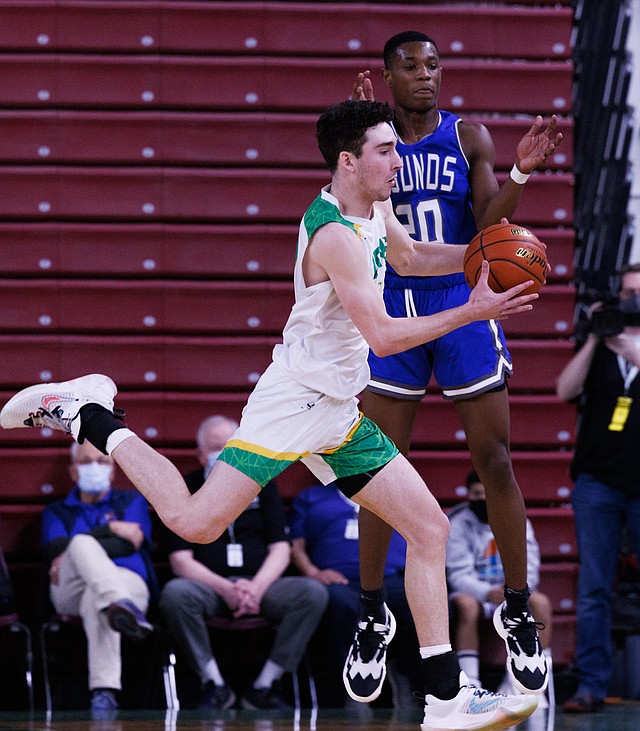 "It's a dream come true," senior Jordan Medcalf said. "Ever since sophomore year it's been our goal and we got here and finished."
Adams and sophomore Anthony Canales each scored a game-high 15 points. Adams also pulled down 10 rebounds. 
Canales was named tournament MVP and Medcalf was named to the tournament first team.
"It means everything to me, but I know in this offseason I have to grind to try and get back here, win again and possibly win MVP again, too," Canales said.
Roper said this group was one of the most consistent teams he's ever had.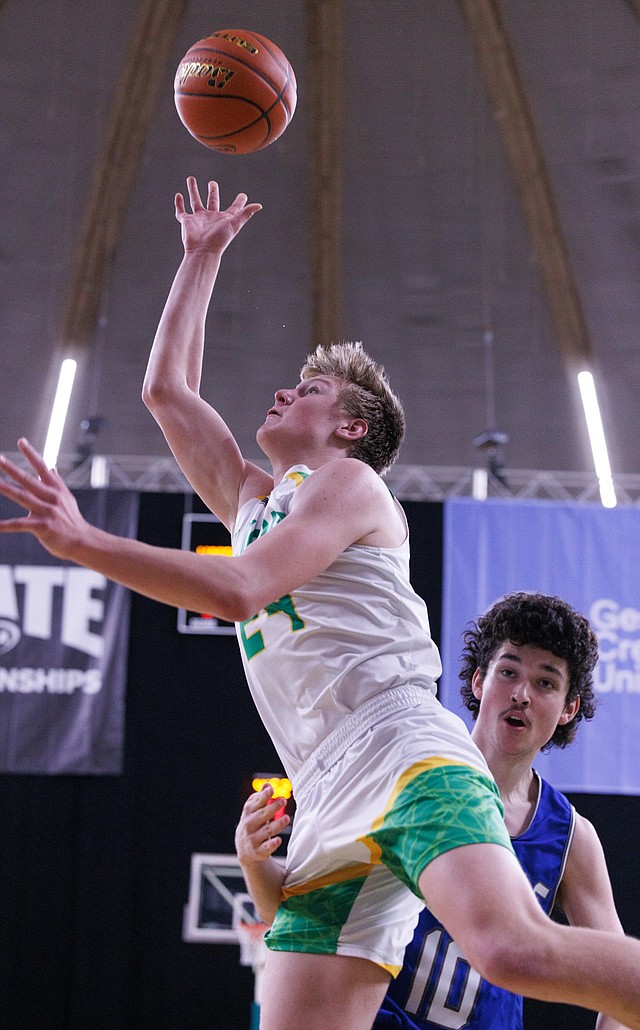 "They found a way to pull together," he said. "It doesn't just happen by showing up and putting on a Lynden jersey. That's why I feel like they achieved what they did."
In addition to the players, Roper gave credit to his coaching staff.
"Any awards or any success I have is a shared success," he said. "Our coaching staff has been together — most of us the whole time — since I've been here. If there's one thing I do well it's I get good people around me and let them work."
For the seniors, it was a storybook ending for a group that didn't have the chance to compete for anything last season. Postseasons were canceled in 2021 because of the pandemic.
And for some of the Lions, it's not the first championship trophy in the case for themselves or their families. 
Adams' father, Rob Adams, coached the Lynden girls basketball team for 13 years and resigned after winning the state title in 2020. 
"I've been dreaming of this ever since I was a little kid," Dawson Adams said. "I'd come to state every year with my dad's teams and watching him win it made me want to do it even more."
Medcalf, a state champion in boys golf his freshman year, adds another title, this time in a team sport.
"Two championships is something a lot of kids never get," Medcalf said. "I'm so happy I went to Lynden because we're a championship program and this is what we do."
Canales' older sister, Madison, also claimed a state championship with the Lynden girls basketball team in 2020. 
"They beat every team handily," Canales said of his sister's team. Winning a state championship of his own "is amazing to me," he said. 
Lynden finishes its season with a 22-2 record and with the coveted gold ball championship trophy.