Basketball
Western women advance to Saturday tournament final
Vikings beat Montana State Billings 69-63
March 4, 2022 at 7:41 p.m.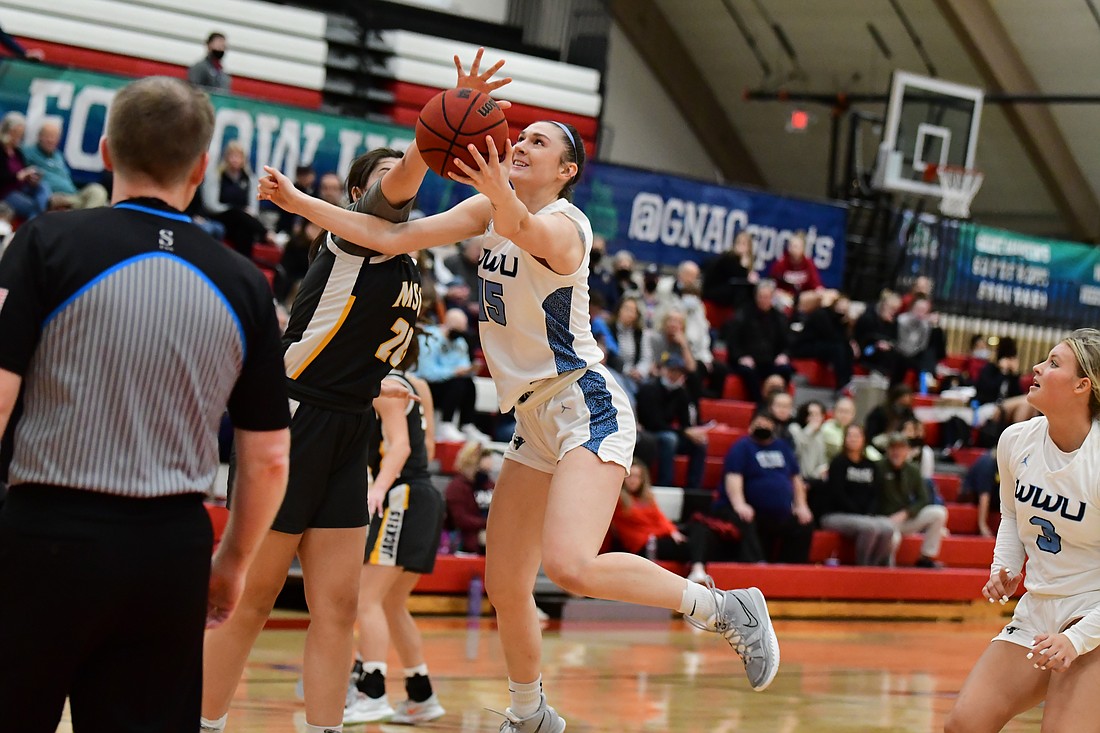 ---
---
Top seed Western Washington University's poise at the free-throw line down the stretch, along with its trademark strong defense, were the difference in a 69-63 win over No. 5 Montana State Billings (17-12) in the Great Northwest Athletic Conference semifinals Friday at Marcus Pavilion in Lacey.
The victory, their second-straight by a six-point margin, put the Vikings (20-4 overall) in the conference title game against No. 3 seed Central Washington, set for 5:15 p.m. Saturday in Lacey. CWU defeated No. 2 Alaska Anchorage, 80-65, in Friday's other semifinal.
The Vikings' two tournament wins have not come easily. On Friday, Western never trailed, building leads as big as 15 points early in the fourth quarter, 53-38, only to have Montana State Billings roar back each time. With 18.7 seconds left, Western found itself up by just two points, 65-63, after Brooke Walling fouled Aspen Giese, who responded with a three-point play.
But former Lynden Christian star Avery Dykstra of Everson sank two big free throws with seven seconds left and was one of four Vikings scoring in double digits, including guard Mollie Olson with 10 in just 11 minutes of play.
For the second-straight game, Viking senior guard and first-team all-conference player Emma Duff was the late-game standout, this time scoring 10 of her team-leading 15 points in the fourth quarter. She went 8-for-10 from the line as Western was 22 of 26 overall (84.6%) in free throws and 44.9% from the field (22 for 49).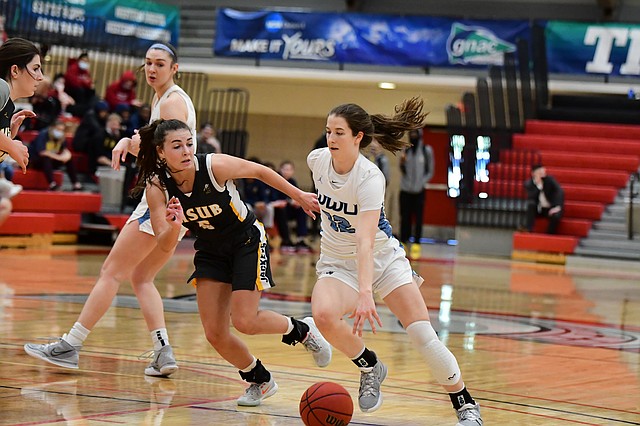 The 6-foot-3-inch sophomore forward Walling, of Vancouver, had a strong performance with 14 points, seven rebounds and three blocks. She held MSUB star Taryn Shelley to just 13 points.
"We stayed calm, we didn't panic as they made their runs," said Western coach Carmen Dolfo, in her 31st year. "Both Avery and Emma had some great takes to the basket. Brooke really stepped up inside and had some big baskets for us too."
Defense has been key for Western all season. The Vikings' defense led the conference in lowest points allowed coming into the tournament (56.4 points), and is anchored by GNAC defensive player of the year Dykstra.
"We like to pressure and get into people, so I think we did a good job of that tonight," Dolfo said.
MSUB was led by Cariann Kunkel with 18 points. Shelley added nine rebounds to her 13 points and Aspen Giese scored 12 with five rebounds.
The championship game is familiar territory for Western, which has played for the title seven times in the conference tournament's 11-year history, going 2-5 overall. The Vikings last won a GNAC tournament title in 2014, the second of back-to-back championships.
They'll meet state rival Central Washington. The teams split regular-season games.
"We played two years ago in the GNAC championship" against Alaska Anchorage, Duff said in a post-game press conference. "A lot of those girls that played in that game are still here. That could really be helpful … It's nerve-wracking and exciting. If we can just calm the nerves a little bit that'll help a lot."
Familiarity also helps.
"We played Central and we know Central," Dolfo said. "They're a fabulous team and they can shoot. Every possession is going to matter in a game like this … This is what we plan for at the beginning of the season, to get to this point. It's pretty exciting we're here and we're ready for the challenge."