Government
With COVID-19 easing, Bellingham council to resume in-person meetings
First meeting in front of a live audience could be March 28
March 2, 2022 at 8:00 a.m.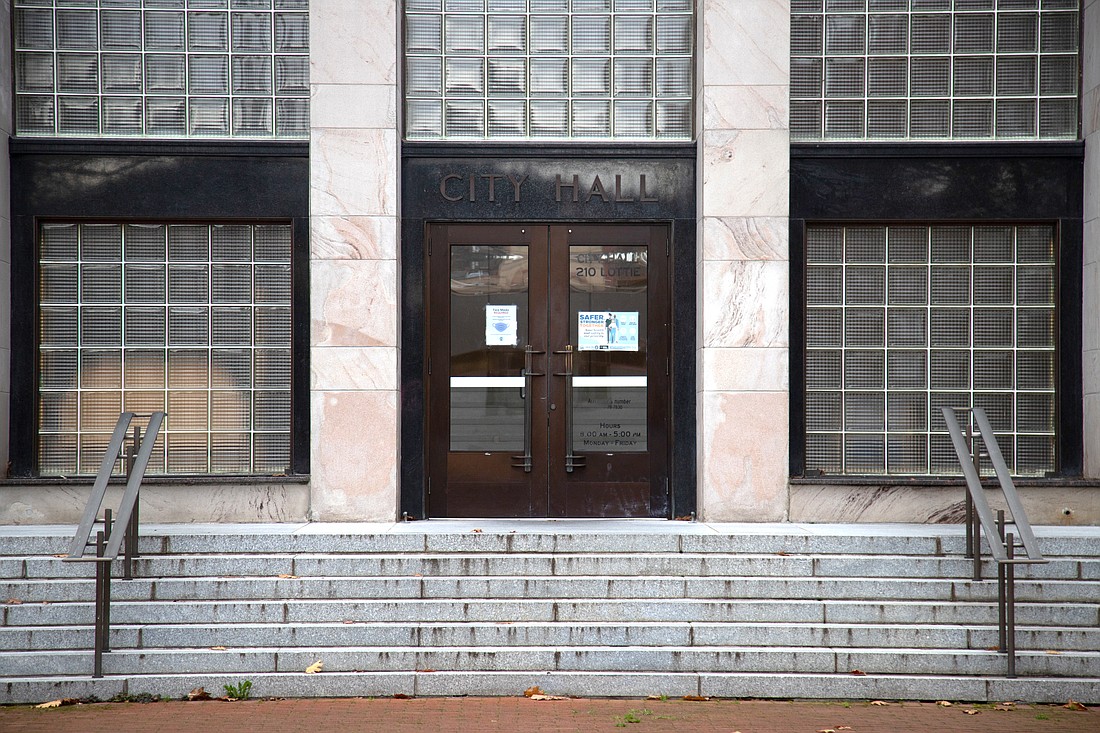 ---
---
The Bellingham City Council is gearing up for a return to City Hall, with public meetings resuming after two years of online sessions prompted by the COVID-19 pandemic.
A final decision isn't expected until March 14, but council members and staff indicated Monday afternoon that they would be ready to return to council chambers at 210 Lottie St. on March 28. 
The public, council members and staff would still be able to appear remotely, under a proposal outlined in a staff memo.
Council President Hannah Stone said she would prefer that remote appearances be the exception, not the norm, to minimize the logistical difficulties of juggling on-screen and in-person speakers.
Several council members said they would like certain restrictions enforced at in-person meetings, to protect the public from a dangerous virus that hasn't gone away — even if case numbers have declined dramatically in recent weeks.
COVID-19 case rates in Whatcom County have dropped from a little more than 3,000 per 100,000 residents on Jan. 20 to 616 on Feb. 19, the most recent date with available data on the county's COVID-19 dashboard.
Gov. Jay Inslee announced on Monday he would drop the statewide mask mandate on March 12 instead of March 21, as he had announced a couple weeks earlier. Local jurisdictions will still be able to enforce stricter COVID-19 safety rules, however.
Council member Michael Lilliquist proposed requiring either proof of vaccination or face masks for people who want to attend a meeting in person. Mayor Seth Fleetwood responded with some reservations about asking city staff to check vaccination cards at the door. 
Fleetwood relayed a message to council he has been hearing from his staff: "We don't want to be the vaccine police."
Lilliquist pressed the issue, saying people who didn't want to meet mask or vaccination requirements could attend meetings online.
Council member Lisa Anderson said council might want to limit attendance to something less than the chamber's standard capacity of 150. 
"I would be a little bit apprehensive about having 150 people in that closed room," Anderson said. "The virus is still in the community."
She said the first few in-person meetings might attract a large audience of people wanting to take advantage of the opportunity to address council members directly. 
Council has not given the public the opportunity to speak during online meetings, outside of formal public hearings about narrow topics. Last year, the council also held virtual town halls, separate from regular meetings, for general public comment.
The council will debate in-person meeting requirements further on March 14.
The staff memo said dozens of volunteer boards, such as the Arts Commission and the Parks and Recreation Advisory Board, would continue to meet remotely. Board members will be required to meet the same vaccination requirements as city employees before these groups can meet in person.
City employees who are still working remotely — a little more than 100 in all — will resume in-person work on March 21, the staff memo said. The public also will be able to conduct more business inside City Hall as the month progresses. 
The city's Permit Center began offering counter service on March 1. The Parks and Recreation Department and the Mayor's Office will resume in-person services March 21. The Finance Department is already open to the public.