Theater
'Big Fish' at Squalicum High School
Community support helps keep the arts alive
March 2, 2022 at 1:00 p.m.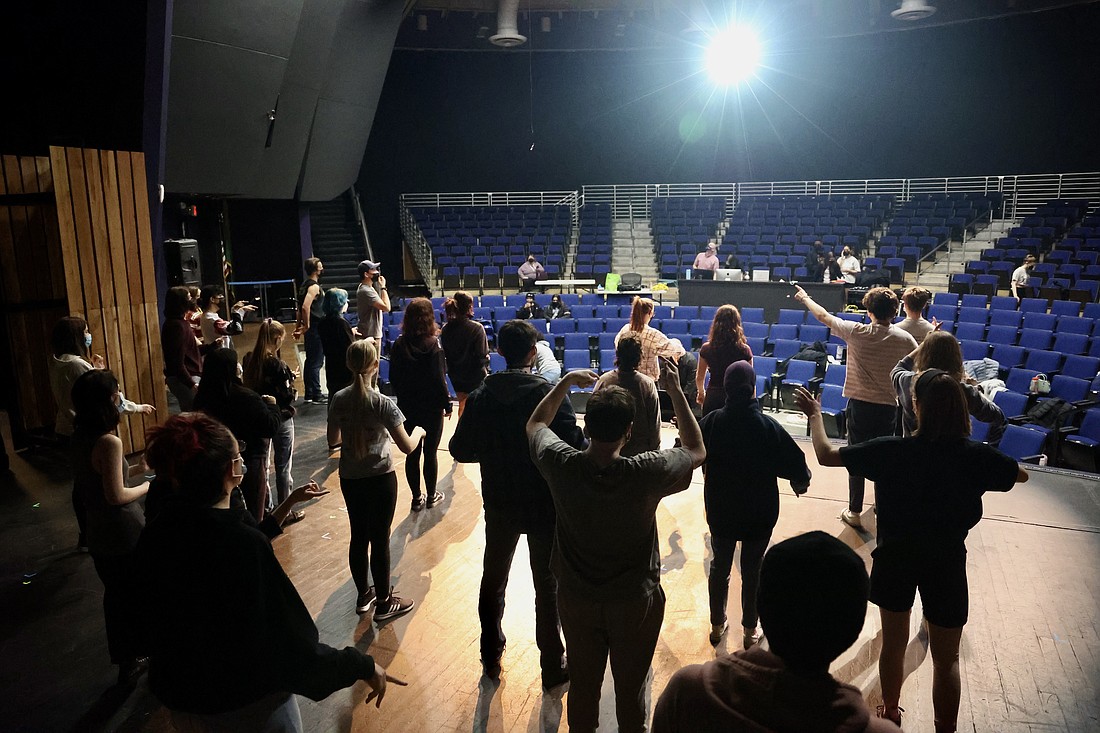 ---
---
Late last week, shortly before the tech rehearsal for "Big Fish" was set to begin, the crowd of students gathered in the green room adjacent to Squalicum High School's 450-seat auditorium was buzzing with nervous energy.
Surrounded by many of the more than 200 costumes that will be utilized in the mythical, time-traveling musical about the relationship between a father and his adult son, the teenagers laughed loudly, ribbed each other about the idiosyncrasies of their various characters and argued about the octave of their voices. Someone exclaimed they had to go round up wigs and dashed off.
Their grins were hidden behind the face coverings they all wore, but it was clear everybody remaining in the green room was thrilled to be where they were — surrounded by their peers and eager to work together to make the story about a traveling salesman named Edward Bloom and the tall tales he tells his son Will come to life.
"There's an amazing sense of community here," senior Kamden Cykler said of the evident camaraderie. "Everybody here wants to be here. It's really quite refreshing how much everybody tries. Sometimes you walk into a high school situation, you see like 50 percent effort. Here, it's always 150 percent. Everybody is excited to work with each other, excited to put this together. You don't even have to know the person you're standing next to, but you're happy to be there with them. It's really special."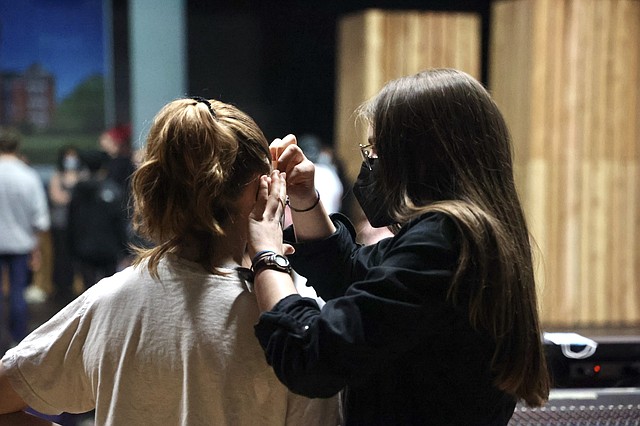 Cykler said this is her first year being involved with the Squalicum High School (SHS) drama club. She's doing sound tech for the show — an extension of the DJing she does every Sunday for Make.Shift Art Space's local radio station, KZAX — and many of her friends are in the cast and will be on stage when the play opens Thursday, March 3 for an eight-show run.
Being a part of the production is exciting, Cykler said, but it's also made her aware of how the public school system and the community, in general, prioritize sports over the arts. For the drama department, the only budget they can rely on is ticket sales or donations. In order to purchase props, costumes, lights and the rights to produce the plays, she believes they need more backup — whether that's in the form of community members supporting burgeoning talent by purchasing tickets to see the plays, or additional funding.
"She's right," said Jason Parker, SHS drama teacher and "Big Fish" director. "As of right now, we are 100 percent self-funded. It is something the district, in a positive way, is trying to rectify; to find or be able to provide a budget to the schools to still create our art, but also provide access to students and families who have students so they can come for free."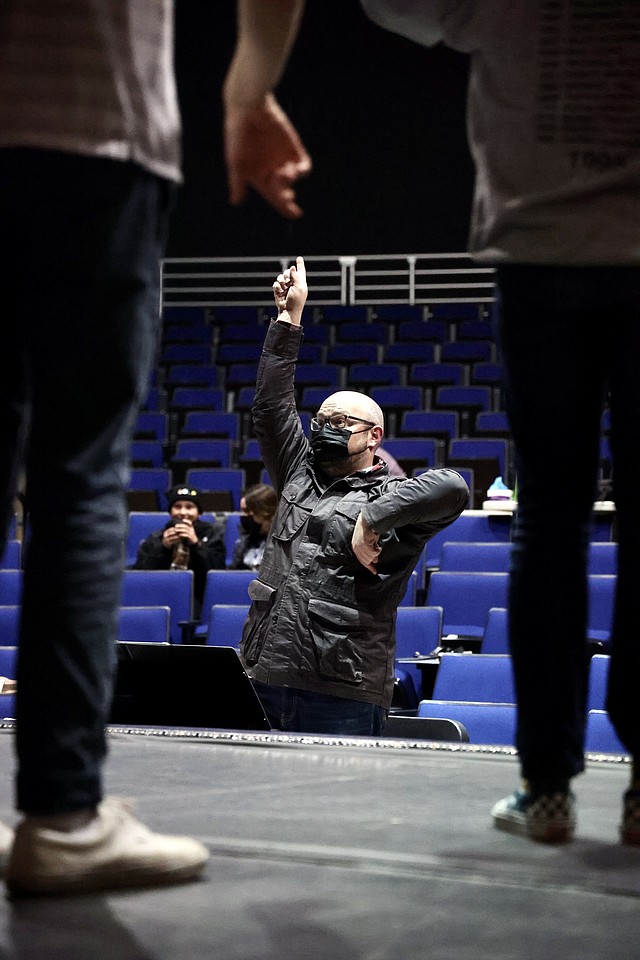 As part of its Project Free Education initiative that launched in 2011, Parker said Bellingham Public Schools is actively working on a model to provide access to students and families for more activities and events. But at this point, with so many rules around performing rights and royalties, it's not feasible for the SHS drama department to present shows for free.
"It's funny, because my colleagues in the district, other drama teachers, have talked about paying for art," Parker said. "We buy art, and we consume art, or we go to a sporting event. I wonder sometimes if doing it for free will gain us anything, or does it mean we will take it for granted?"
"Or does it mean more people will appreciate it?" Cykler countered.
"Exactly," Parker said. "There's this paradox of providing access and supporting the arts as it is. I don't know that we've found that balance yet, but we're working on it."
In the meantime, Parker is focused on making sure all of the elements of "Big Fish" come together for opening night. With a cast of 38, 10 or more people on tech and another 10 to 12 musicians in the pit orchestra, a lot of moving parts need to come together in order to make the show ready for audiences.
Throw in following mandated pandemic protocols — which on tech night included administering COVID tests for the lead actors who would take off their masks onstage that night for the first time during the rehearsal process — and Parker has a lot to keep track of.
But seven years after starting the job at Squalicum High School, Parker said he's learned that putting the productions together is always a group effort, not a solo one. He's also discovered there's nothing he'd rather be doing than helping students make creative connections.
"One of my favorite things is when we get a group, or a senior who comes to it late, and then their statement is, 'I wish I would've known I could do this earlier,'" Parker said. "They find community and family and a passion for performing or supporting performing arts. It's strong, and when they get that amazing feeling, they just don't want to stop doing it."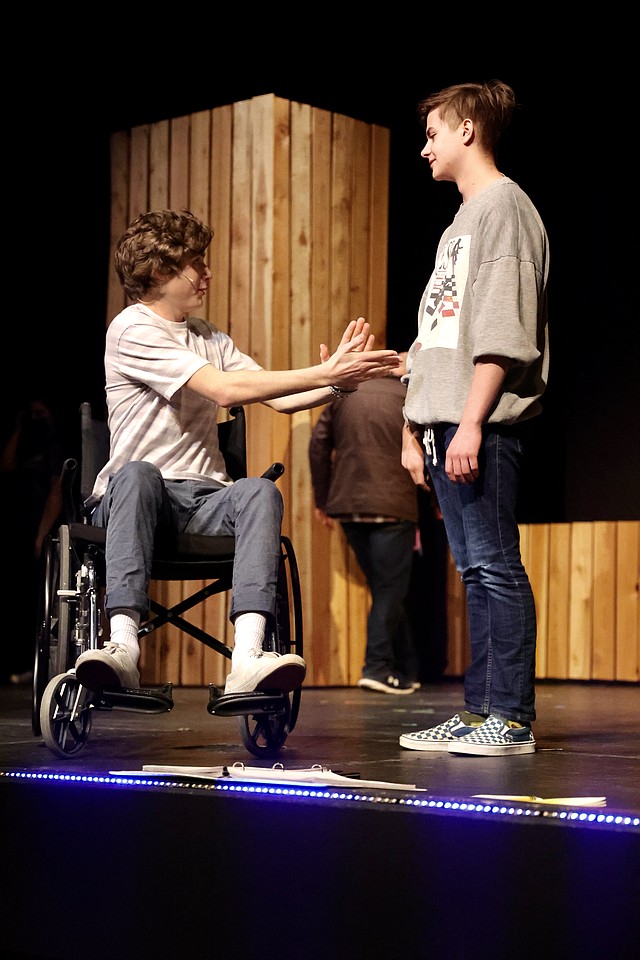 Parker said he's laughed and cried watching the rehearsals of "Big Fish," noting that it's an honest portrayal of the dynamics of a family relationship over time. He can see the kids onstage forgetting who they are in the moment, whether they're reciting their character's lines or singing songs such "Start Over," "What's Next," "Stranger," or "Out There on the Road."
When last Thursday's rehearsal got underway, Parker was seated at an electric keyboard in the orchestra pit, playing along as the students warmed up their bodies and voices. And when the cast started singing "Be the Hero" — the first and last song in the production, and one that provides numerous hints about the magic to be found within the play's plot — the positive energy in the room was palpable as the students sang about being the stars of their own stories.
"There have been numerous times when I have to turn my back during a rehearsal or blocking or staging scene because I struggle with my emotions," Parker said. "It's not sad, it's hopeful. It's sad because there is an element of loss, but there's also an element of hope in the loss."
"Big Fish" plays at 7 p.m. March 3–5 and 10–12, and 2 p.m. March 6 and 13 at the Squalicum High School Auditorium, 3773 E. McLeod Rd. Tickets are $8-$10. Info: squalicumdrama.com