Film
Review: 'Elvis': Music and spectacle combine in Luhrmann biopic
Be prepared to shake, rattle and roll
June 28, 2022 at 5:05 a.m.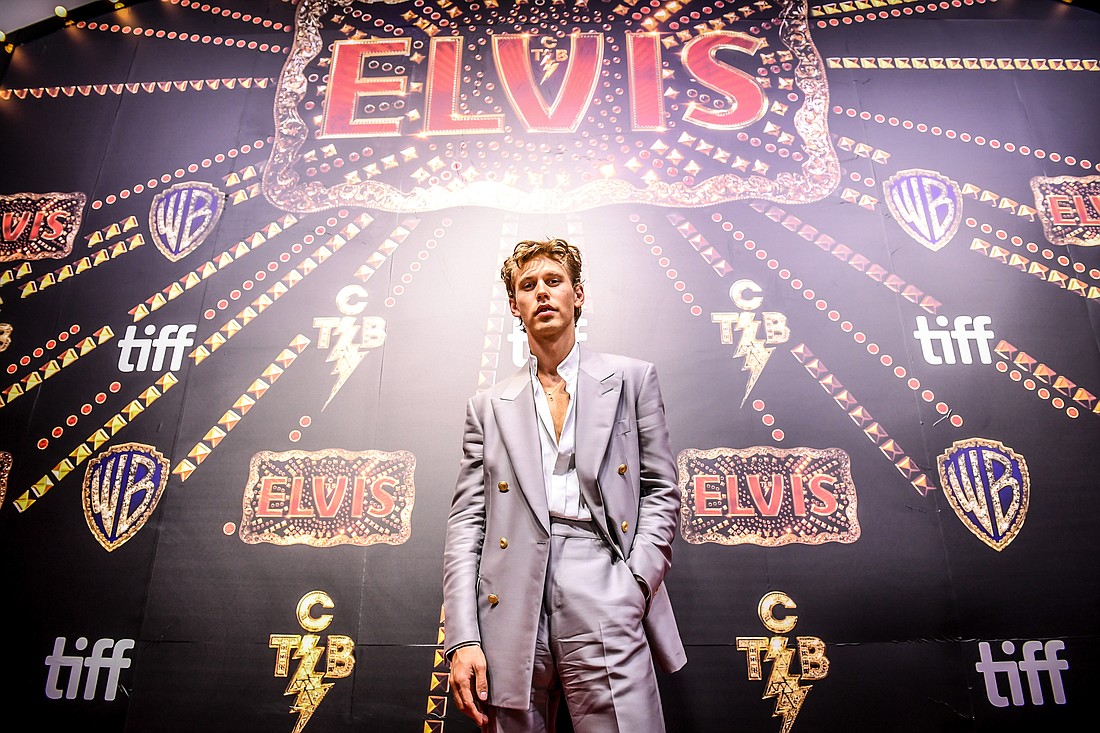 ---
---
Baz Luhrmann's gorgeous "Elvis" brings us the King in a brilliant blaze of glory. The film washes over the theater in what often feels like a tsunami of color and music, storytelling rendered with choreographed care and infinitesimal precision. It brings to the screen energy seldom seen in biopics.
"Elvis" is not simply the life of a musical icon. It sets out to make audiences shake, rattle and roll, and in this, it succeeds. "Elvis" is a life told like an opera in which music and spectacle combine to splendid effect.
But it opens in claustrophobic confines with a pasty old man wheezing his way toward death. That old man is Colonel Tom Parker, the manager, the greedy, evil genius behind Elvis Presley's career who, the film makes clear, had nothing to do with Elvis' enormous talent, and everything to do with marketing.
Parker is portrayed by beloved actor Tom Hanks wreathed in pale, portly prosthetics, but the eyes are Hanks' eyes, even when they are shifty and avaricious. And the voice, even with its weird accent, is Hanks' well-known voice.
People will quarrel with casting Hanks in this unforgiving role. They will quarrel with telling Elvis' story through Tom Parker's consciousness at all. Parker's self-serving voiceover often feels like an intrusion. But starting with Parker as a narrative device puts the central conflict in Elvis' life front and center. Audience empathy for Elvis is guaranteed, knowing this weird vampire was bleeding him dry.
In the title role, young Austin Butler absolutely shines. Butler inhabits Elvis Presley. With the use of his body, his soft, sometimes stammering drawl, and his expressive eyes, Butler brings Elvis' talent and energy vividly to the screen. But he also conveys the vulnerability of the youth, and later, the sad loneliness of the man beloved by millions.
"Elvis" is not always true to Presley's actual history. Fans familiar with his story will suffer the occasional twinge. They might well wish certain elements were given a deeper portrayal. Sam Phillips, founder of Sun Records, for instance, gets barely a glance. But the biopic does not aspire to footnoted perfection. It has other ambitions.
Luhrmann's film is true to the social changes rumbling through the 1950s, and the late 1960s. It is also a broad inquiry into the roots of rock 'n' roll, and how Elvis unleashed this music and brought change in his turbulent wake.
Early rock music was melded of guts and gospel, rhythm and blues, bluegrass, sex and suggestion, and — to the old guard's dismay — race. Scenes of stodgy segregationists spewing fear to an unseen audience are interlaced with Elvis's galvanic performance at a Memphis concert venue, and the (segregated) audience running amok. The chaos is beautiful to behold, and the point is well-made. No one can do a crowd scene like Baz Luhrmann.
As with many Luhrmann films ("Moulin Rouge," "The Great Gatsby") the editing is swift and sometimes feels like an assault of information. Production designs often look like theatrical stage sets. Music pulsates in and around and over everything. Color-drenched episodes bathe the audience in ambiance. Memphis in the 1950s comes to us awash in sepia tones.
On a movie lot late at night, bleak darkness gives way to the glowing, lurid-red interior of the travel bus. Experience is rendered vividly, beginning with the boy, a child overcome by the Spirit at a revival tent meeting, to the caped, karate-posed figure on the Vegas stage.
Also like most Luhrmann films, "Elvis" is not particularly concerned with intimate moments or intimate dialogue. Such moments feel obligatory. The scene of Priscilla and Elvis' early courtship, for instance, is informative, necessary to the story, but not especially moving. The exchange between Parker and Elvis at the end, meant to connect, to create a link between two characters, felt forced and overdone. By contrast, Richard Roxburgh's few stammering lines as Vernon Presley, Elvis's weak-link father, tell you everything you need to know.
Elvis fans can revel in this movie, laugh and cry, wince and rejoice. Anyone unacquainted with the King's life and work will walk away not just entertained, but inspired by the music and intensity.
The film recreates lavish dream sequences that sometimes descend into nightmares, but if ever there was a moment — like June 2022 — when you need brilliant escapist fare, forget the Marvel movies. Go to see the action-packed "Elvis" and watch a splendid superhero sing himself to death. There are worse ways to go.
Local scribe Laura Kalpakian is the author of the novel "Graced Land," which was reissued by Paint Creek Press on June 28. She'll join audiences for a reading from the Elvis-inspired book and a Q&A at 5 p.m. Friday, July 1 at the Pickford Film Center, 1318 Bay St. A showing of "Elvis" will follow. For tickets, go to pickfordfilmcenter.org. To find out more about Kalpakian, go to laurakalpakian.com.