Recreation
WWU cowboy shows fellow college students the ropes
20-year-old confident in himself, his hobby despite criticism
June 24, 2022 at 5:00 a.m.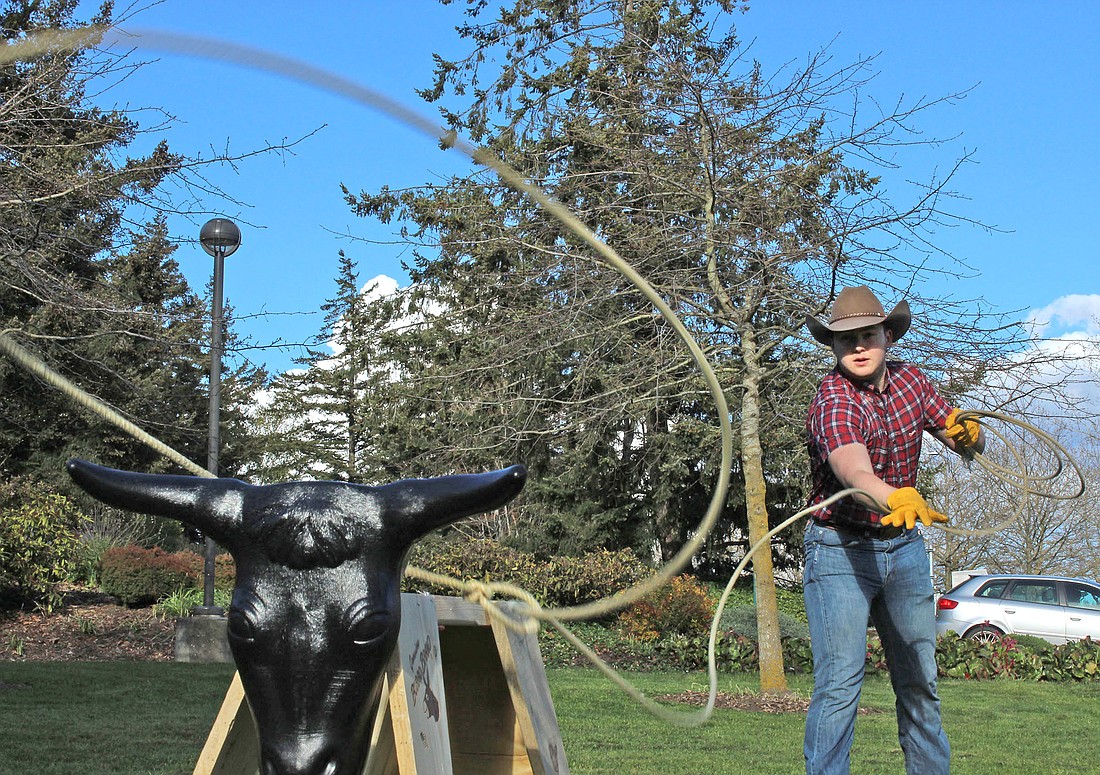 ---
By Lili Luna Cruz, Western Washington University
---
An insistent whipping and thumping echoes across the Buchanan Towers lawn at Western Washington University. The sound stalls for a moment before the swishing of a lasso picks up again. A thud follows as it catches on a roping dummy, tightening as it would around live cattle.
Wearing a cowboy hat and boots, the Buchanan Towers Cowboy refines his lassoing skills on the lawn until his arm grows sore. Whether a hoard of people are watching or he is all on his own, first-year Western student Ethan Kibe works on roping his handmade wooden dummy.
Since being dubbed BT Cowboy, 20-year-old Kibe has faced a variety of reactions. Encouragement and awe are often thrown his way, but so are snarky comments and disapproving shouts. None of it changes how he sees himself, though — a real cowboy who works hard and refuses to hide who he is.
"I don't mind [being called] BT Cowboy," Kibe said. "I do mind people hollering at me from their cars."
Kibe's girlfriend and fellow Western student, Sydney Raber, has seen firsthand some of the judgment cast onto Kibe. Raber said people shout derogatory terms, sneakily take pictures and even mock him.
"People are really hesitant towards anything that's different, which is a real shame," Raber said.
For many, seeing a cowboy around campus is a novelty, but Kibe has been around farm life since he was little. It wasn't until he was 17 that he started to learn what it meant to be a real cowboy.
The transition to working on a ranch wasn't drastic, but Kibe's mentor, Morgan Stout, helped him succeed. Back in Kibe's home state of Colorado, Stout gave him the opportunity to work on her ranch and learn the ropes of being a cowboy.
"She taught me everything I know," Kibe said, "A lot about ranching, training horses, about cattle and a lot about life."
The title of "cowboy" wasn't one Kibe accepted freely, but rather it was a label he felt had to be earned.
"When I first started doing cowboy stuff, I never called myself a cowboy until my mentor started doing it," Kibe said. "She sent me a really nice text saying, 'I've met a lot of cowboy wannabes, but you are the real thing.'"
There is so much more to being a cowboy than merely performing the actions, Kibe said. "Cowboy is a title I worked really hard to get," he said. "I am not a phony."
Kibe's reputation as the BT Cowboy began to grow after he was repeatedly spotted on the Buchanan Towers lawn practicing his lassoing skills. Kibe was originally roping light fixtures but later made a wooden dummy to practice on instead. 
Posts about a cowboy on campus started to pop up on anonymous Instagram accounts. It was then that Kibe started to hear the name BT Cowboy thrown around.
"I didn't really expect it to be my whole reputation," he said. "I was going to wear my cowboy hat and stuff, but I didn't think of it as my primary thing. I just wanted to sport my stuff."
Kibe's appearance was a topic of discussion before he arrived at Western. Back home, Kibe's parents were worried about him showing his cowboy side at school. They wanted him to be able to fit in, he said, but being himself was more important.
"My parents say you have to integrate to fit in," Kibe said. "But I am who I am, and if people don't like that, then that is their issue. I'm going to continue to do it despite what they think."
Once at college, changing his attire was not a choice Kibe was willing to make. He shouldn't have to, Raber said.
"If you're putting out this cowboy appearance, people are going to judge you and there's nothing you can do about it," Raber said. "But if people aren't willing to see past what he's wearing or what he does for work, then they're really not meant to be friends anyways."
Despite frequent judgments, not all of Kibe's interactions have been negative. He has had the occasional bystander ask for a quick lesson while others simply watch with open curiosity. Frequently, kids will flock to whom they now know as The Real-Life Cowboy.
Walking past the on-campus Child Development Center is always an adventure for Kibe. The shouting starts with an enthusiastic call.
"Hey, guys! The real cowboy is here!" one of the 5-year-olds says, running to gather the others.
Within seconds, Kibe is surrounded by a hoard of children all yelling over one another, fighting for his attention.
Kibe first met the kids during one of his regular roping sessions. They swarmed him, eagerly asking for a lesson. He obliged, and they haven't left him alone since. It is only when the kids' supervisors whisk them away that Kibe is left alone. Even then, it often takes promises of later visits to appease the kids.
Once the crowds have come and gone, Kibe continues to practice what he loves. Hours of lassoing later, Kibe's arm grows stiff. He throws the worn-out rope one last time, deciding to call it a day. He fixes his hat, coils the lasso, grabs the roping dummy and makes his way inside.
CDN thanks Western Washington University professor John Harris for submitting student work from his newswriting class.