Restaurants
Review: Secret Cove
Sunsets and seafood off the beaten path in Anacortes
June 18, 2022 at 5:05 a.m.
---
---
In spite of the fact that Anacortes is a city on the water, with the Salish Sea and San Juan Islands all around, there aren't many restaurants with water views. You'll find an Anthony's, of course, and the rooftop bar at the Majestic, plus a few food trucks and pop-ups at the marina. But then there's Secret Cove, which lives up to its name, perched between Pier 2 of the Port of Anacortes and a commercial boat ramp at the base of Cap Sante.
Secret Cove reminds me of a lot of diners I've visited on the Oregon coast, the kind with tons of fresh seafood options, many of them deep fried. Combine that with a multi-tier dining room with a killer view of the water and Guemes Island, a lounge upstairs with an even better view, a deck and a patio, and you have a casual local hangout that can double as a date spot. The décor is a bit outdated, and the overall vibe can be a bit dive bar-ish, but in a comfortable way.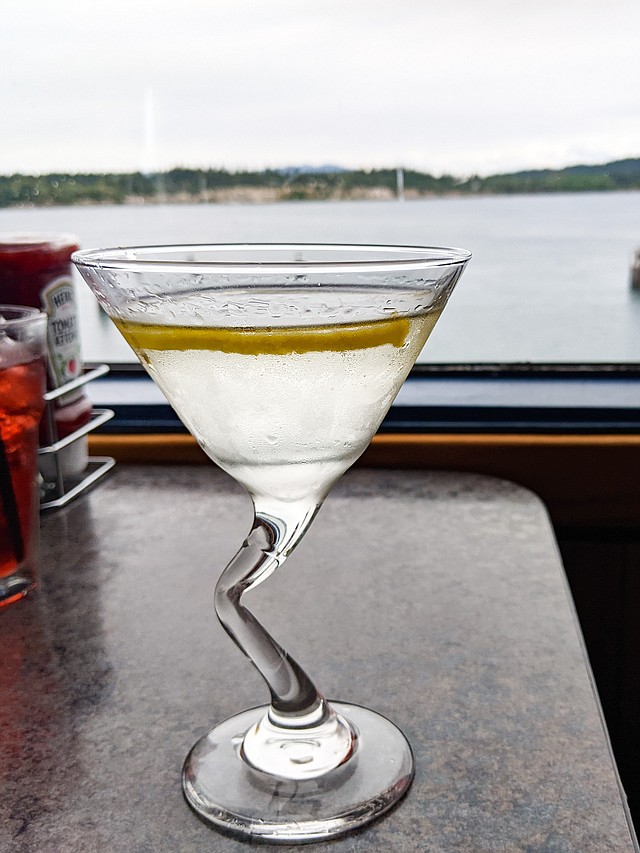 When I've visited, the dining room has been more likely to have out-of-town visitors, while the lounge is full of locals. The lounge — reached via a staircase painted like an aquarium — is where happy hour runs from 3-7 p.m. Wednesday through Saturday and all day on Sunday.
Happy hour seems to be wildly popular, but fortunately, the bar area is spacious, with plenty of tables with water views, and has its own deck. Specials include $9 martinis, $7 margaritas, $1 off of draft beer and $2 off a glass of wine and a special happy hour food menu. Shrimp cocktail ($13) was a fun order to go with drinks, with a large pile of bay shrimp heaped in a glass over chopped celery and cocktail sauce. Other happy hour goodies include standbys such as beef sliders, hot wings, loaded nachos and even a veggie tray or hummus if you want something lighter.
The full menu is available both upstairs and downstairs, at both lunch and dinner. It's heavy on fried food but they give plenty of options, letting you choose between grilled, breaded or battered for most of the seafood dishes.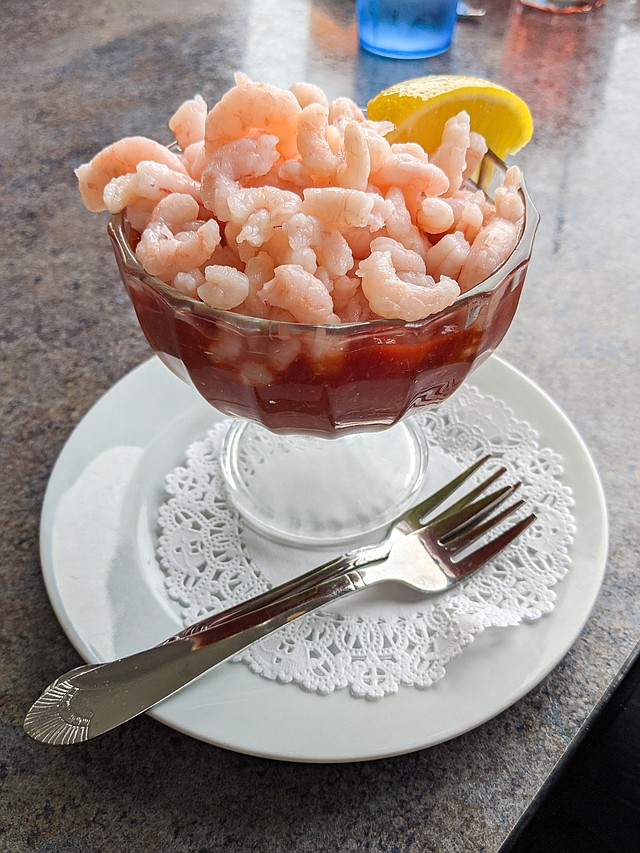 I ordered fish tacos with grilled cod ($18, or $22 for salmon, market price for halibut) and they were very good, with generous portions of fish on a bed of shredded cabbage and a sadly pale pico de gallo (sides of sour cream and salsa helped perk it up). A drizzle of sriracha aioli was a highlight but I wanted more of it. Tortilla chips on the side were uninteresting but also unnecessary.
My dining partner got the fish and chips, choosing the battered version ($18 for a two-piece). The cod was fall-apart tender, accompanied by fries and a sweet, creamy coleslaw. A side bowl of clam chowder was thick and heavily studded with clams, but tasted a bit floury ($6 for a cup).
Sandwiches include various burgers, melts, a club sandwich and a BLAT with turkey. The Nemo sandwich ($17) is your basic fried fish fillet tucked into a bun with lettuce and tomato. I almost ordered the cheesy crab sandwich (listed at "market price") but when we inquired it turned out to be $30 which, while understandable given the current cost of crab, felt a little steep for a sandwich.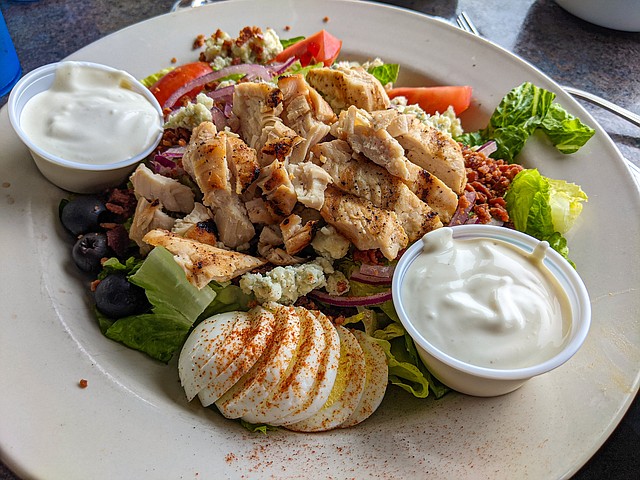 Entrees include steak, baked fish, grilled oysters and a few pasta dishes. We tried the prawn and clam pasta ($30), a nice portion of linguine with a fair quantity of seafood in cream sauce. 
Salads are a good option too, and not just as sides. I almost went for the crab Louie on one visit (I love Louie/Louis salad), but opted for the Cobb instead ($19). It was satisfyingly large with grilled chicken, a hard-boiled egg and plenty of bacon bits and blue cheese. I was surprised that it didn't come with avocado, but it still went just fine with a martini. 
My biggest regret is that I still haven't had a chance to visit when the weather's been fine, but I'm guessing the upstairs deck is the place to be for sunset during the summer. Still, inside or outside, if you're in Anacortes and looking for a casual meal a bit off the beaten path or a place to relax with a drink and a water view, Secret Cove is a fine destination.


Secret Cove is open from noon to 9 p.m. Wednesday through Saturday in Anacortes at 209 T. Ave. Info: secretcoveanacortes.com.