Travel
Getaway: A (very) tiny retreat in Skagit County
Bring your own coffee
June 18, 2022 at 5:00 a.m.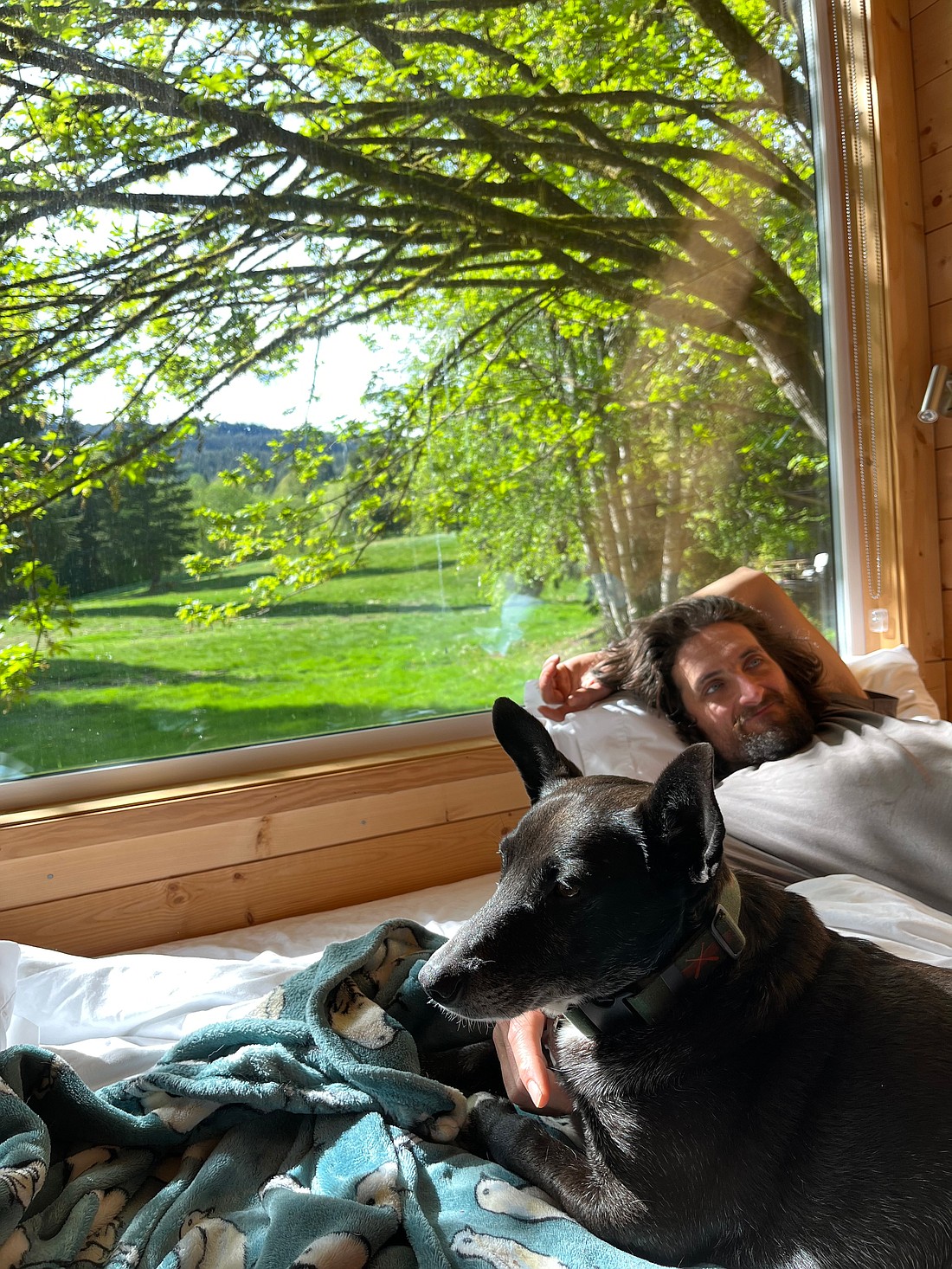 ---
---
Full disclosure: I've never understood the tiny home hype. Something about it has always smacked of classism, a miniature craftsman for people who can't or don't want to buy property but find trailers disagreeable. What is a tiny home, after all, but a smaller, less functional, more expensive trailer?
All that said, I tried to keep an open mind when I arrived for my two-night stay at Getaway, a new tiny cabin retreat near Lake McMurray where a one-bed cabin can set you back as much as $329 a night. The Skagit location is one of nearly two dozen Getaway "outposts" scattered across the country. This one caters specifically to Seattleites.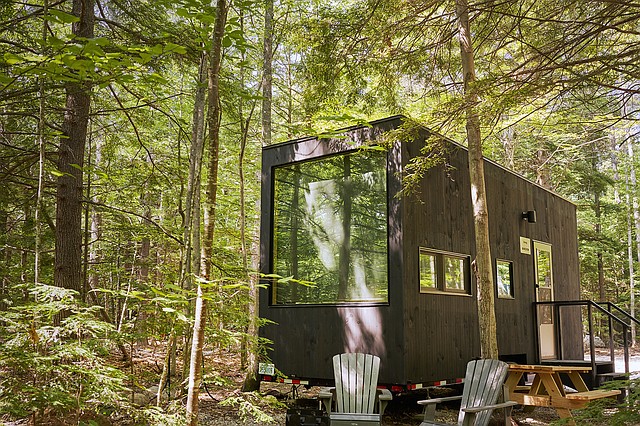 My boyfriend, Pat, and I left Bellingham around 4:15 p.m. on Friday and arrived at the property just after 5 p.m. The address was easy to find using Google Maps, and the gravel road to the cabins was well-maintained (though I read many amusing reviews from people who got stuck last winter because the road wasn't properly plowed).
The Mount Vernon site boasts 36 cabins situated around a loop. Some cabins are in close eyeshot of others, while others are more private. You don't get to choose your cabin, so it's a crapshoot. The property itself is gorgeous, with plenty of trees and an open, grassy area nice for walking, playing games, or having a picnic. Guests can also stroll down two nature trails. Though short — one is .35 miles, the other .15 — they each lead to waterfalls. 
Like many COVID-era lodgings, Getaway follows a contactless check-in process. Earlier that day, I received a text with the name of my cabin, Adlyn (all cabins have names like people you might meet at Coachella), along with a code for the keyless door lock. 
To be clear, the cabins are not, technically speaking, cabins, but rather Instagram-worthy metal cubes equipped with a kitchenette, bed and a magnificent, wall-sized window. As soon as Pat and I walked in, we both had the same "uh-oh" feeling. Imagine placing four bathmats on the ground. That's roughly the amount of floorspace you have. Seating is sparse, too; there's one chair at a small table. Otherwise, you have to sit on the bed or on the hard wooden step leading up to the bed.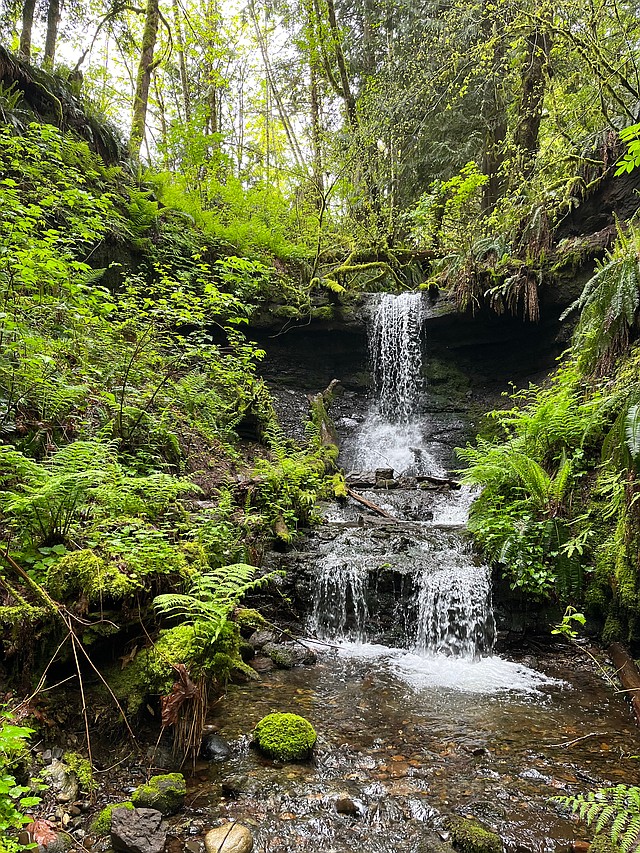 Now for a "tiny" rant. Normally, when you pay hundreds of dollars for accommodation, they at least give you free coffee. But here, a packet of single-serve coffee was $5 (if you open it, they charge your card). A single tea bag was $2. Same deal for cocoa. They do provide olive oil, salt and pepper, and treats if you brought a pup. And though I love anywhere that's dog-friendly, our dog was slightly confused ("Is this our life now?") and had a difficult time getting up and down from the bed. 
That first night, we cooked pasta for dinner and ate outside. Each cabin comes with an outdoor area featuring a picnic table, fire pit with a grill grate and two Adirondack chairs. We didn't end up making a fire (wood costs $8), but it would have been wise because the mosquitos and no-see-ums were out for blood (insect wipes cost $1 a pop).
After a night of good sleep — the queen bed was perfect, and it's pretty incredible to wake up beside that big window — we made breakfast and hung around camp until the rain cleared. Then we headed out for a stroll along the dike in Conway, only a short drive away. The walk is easy and flat, the scenery is hard to beat and the area is a birder's paradise. I highly recommend.    
Summer travelers can and should end their day with a famous ice cream cone from Snow Goose Produce off Fir Island Road. For dinner, I recommend Taqueria Corazón Nayarita, located inside the red barn attached to the Chevron near the Conway roundabout.
After our outing, we returned to our cabin in high spirits only to discover we were filthy, our dog was filthy and there wasn't an easy way to store our mucky boots or clean our pup. We ended up washing him outside using a big salad bowl full of water and some dog towels we brought. (That's another thing: be sure to bring extra towels.)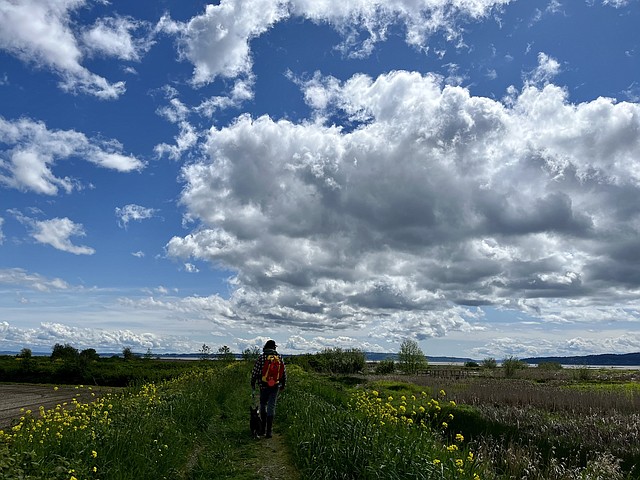 It may sound like I'm griping, but that's only because I'm griping. The cabins are just a little too tiny for how expensive they are. And $5 for coffee? Really? The property and overall experience were lovely, however, and by the end of our trip, I felt relaxed and almost fond of our trendy micro-trailer. The shower had good water pressure, the refrigerator had enough space for all our food and the bed was comfortable. And that window! It really is the selling point.
An important thing I'm leaving out is you're supposed to unplug in these tiny homes — that's kind of the shtick; every cabin has a lockbox for your phone — but we didn't do that because we're warm-blooded Millennials. While there's no Wi-Fi, cell reception is good. Pat watched a soccer game on his phone. I took 100 photos of our dog. We listened to Spotify.
One thing Getaway does well is promotions. Active duty military, veterans and first responders get 15% off their stay. Students can also take 15% off, though it's hard to imagine many students have hundreds of dollars floating around for tiny house excursions. Artists can apply for a one-night "fellowship," and diehard Getaway fans can join a loyalty program; stay seven nights and number eight is free.
In sum, Getaway is an excellent idea for those who want to: Sample tiny home living. Disconnect from technology in a beautiful location. Take a bunch of photos of themselves by a cool window. Go camping without sleeping on the ground. Feel closer — and I mean closer — to someone they love. 
Find out more about Skagit Valley Getaway at getaway.house/seattle.