Education
Bus brings English, computer literacy classes to rural communities
Ukrainian refugees, migrants gain new access to education
June 15, 2022 at 4:35 a.m.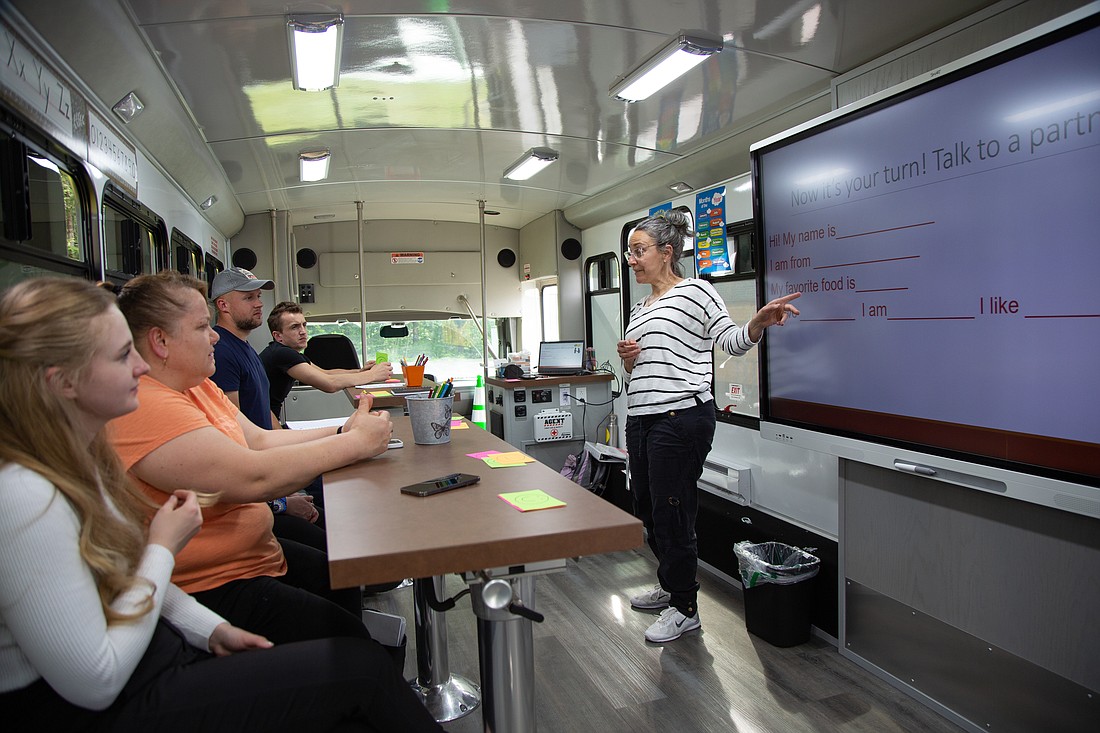 ---
---
MAPLE FALLS – Wheels on buses go round and round, but with the help of Evergreen Goodwill, minds can now turn, too.
The recently-launched Digital Equity Bus is complete with desks for 10 to 12 students, computers, a smart board, Wi-Fi and air conditioning — the perfect mobile classroom.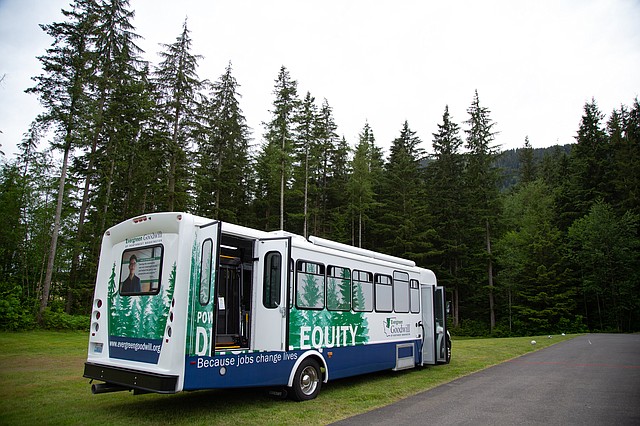 Several days a week, Lisa Brisbois boards the bus and heads for Maple Falls or Everson to teach English and computer literacy classes to groups of mostly migrant workers and Ukrainian refugees. 
"I'm really excited to be able to support community members who don't have access, and to not just bring English skills, but digital literacy for English language learners," Brisbois said. "They have the double barrier: the language barrier and the digital."
Brisbois is a longtime professor at Western Washington University and instructor of English to speakers of other languages. Her main goal with her new endeavor, she said, is to help students gain the English fluency and comprehension required to accomplish their goals.
Student goals range from getting a job to talking to doctors to making American friends.
"I need to learn more words and to improve my grammar skills," student Yuliia Malachynska said.
Malachynska moved to Whatcom County from Ukraine just over a month ago, fleeing the war. Through the help of the class, she hopes to improve her fluency and find a job working in customer service or sales, as she did in Ukraine.
The language skills vary with some, like Malachynska, already being fluent, to others who know a word or two and lack comprehension.
In the first week of classes, Brisbois assessed students' skills and worked to get them comfortable conversing, sharing and, more importantly, signaling when they don't understand something. 
When teaching, Brisbois speaks clearly and simply, uses exaggerated hand motions to mirror what she says and provides students with notecards showing sad, neutral and happy faces for the students to easily convey comprehension. Through it all, she provides students with encouragement to continue speaking and learning.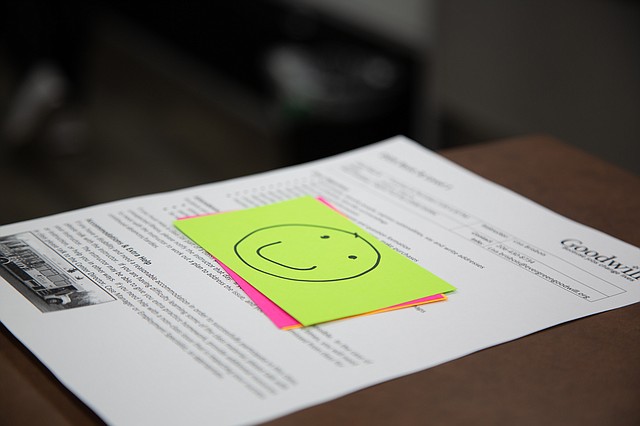 Later in the course, with the help of the bus's own Wi-Fi signal, Brisbois said they'll bring out laptops and practice answering emails and navigating the internet. There is an emphasis on computer literacy for her students in Everson, many of whom have children in school. 
"They want to learn the computer because they have kids in the elementary school system, and everything's online," Brisbois said. "They want that kind of training, but they want English for being able to talk to their kid's teachers and to understand."
The mobile classroom is designed as an extension of Goodwill's adult education classes, which help students earn their GED, learn to use a computer, learn English and gain other job skills.
"This digital equity bus will expand our reach beyond our classroom and deep into the heart of the communities that we serve, reaching students where they are and where the need is often greatest," said Daryl Campbell, the Evergreen Goodwill president and CEO, at the bus unveiling in May.
The international nonprofit worked with engineering firm Black & Veatch to design the mobile classroom. The $500,000 bus, along with the free classes and services, is fully funded by the profits of Goodwill stores and by donations, spokesperson Ryan Hodges said.
The current class session runs twice a week through July 21. Goodwill has plans to expand the Digital Equity Bus program around Washington, pending success from the first run.