Health
Demand drops for COVID-19 tests as prices rise
Tests can now cost hundreds for uninsured patients
June 14, 2022 at 9:58 a.m.
|
Updated June 14, 2022 at 3:22 p.m.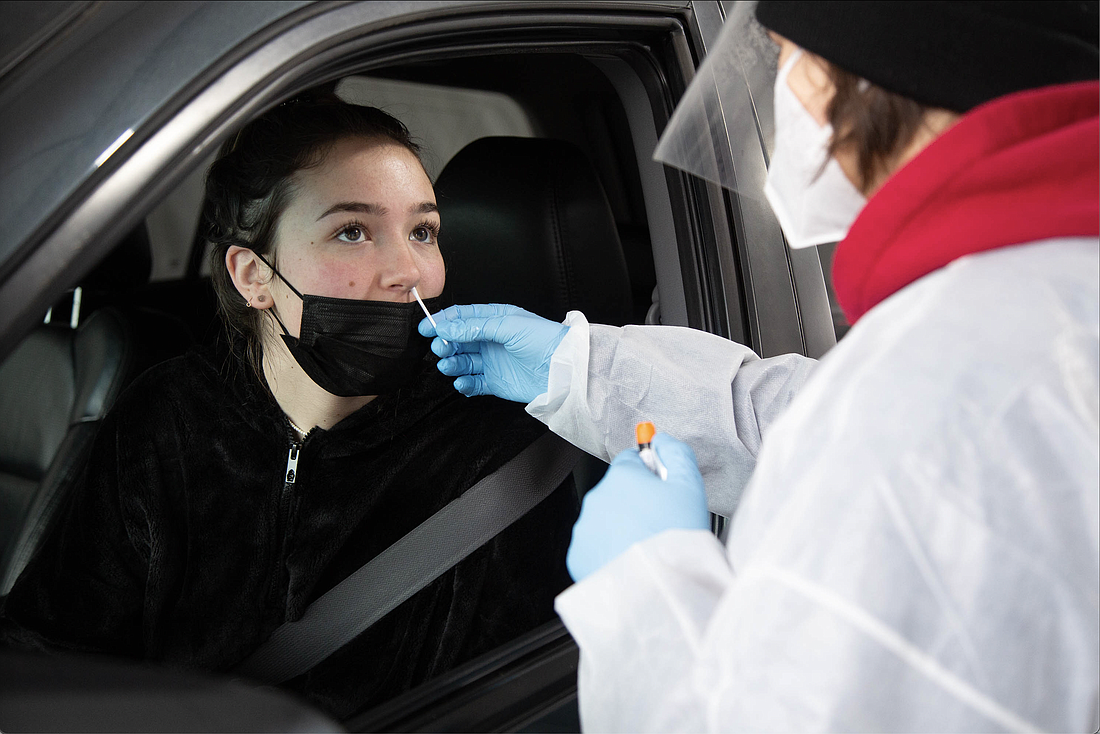 ---
---
COVID-19 testing centers around Whatcom County have raised rates on the previously-free PCR tests as federal funds have run out. 
Tests, once free around the country, can now cost as much as $189 each, according to data available from the Whatcom County Health Department (WCHD).
At the community testing location at the Bellingham International Airport, uninsured people seeking tests should now expect to pay $135, even if they have been exposed to a confirmed COVID-19 case or are experiencing symptoms. 
"As time is going by, there are a number of things that are changing in terms of what the federal government is covering around COVID-19 testing and support for COVID-19 in general," said Dr. Greg Thompson, co-health officer for Whatcom County. "As that funding is going away, there are fewer free tests available." 
Northwest Labs, the group running the community testing site in partnership with WCHD, began charging for uninsured tests on March 22 when federal funds from the Health Resources and Services Administration (HRSA) ran out, according to Chief Operating Officer Jennifer Bull. Throughout the pandemic, HRSA distributed billions of dollars for COVID-19 testing resources, though. 
"Unfortunately, the HRSA funds for uninsured people was terminated," Bull Said. "March 22 was the last day we were allowed to submit forms for the uninsured."
While prices rise, the demand for COVID-19 tests in the county is falling as testing centers reduce hours and travel requirements change.
"Demand at the community testing site has gone down pretty dramatically," Thompson said. "We're seeing a lot less demand for what I would call 'screening testing,' or people who are not symptomatic or not sick but are getting tested to prove they're not sick."
In earlier phases of the pandemic, travel- and work-related tests drove much of the demand at the testing site. 
"There was a lot more testing required for businesses, for schools, for people to attend events, for travel," Thompson said. "That demand has gone down a lot." 
The latest data from the Centers for Disease Control and Prevention (CDC) show the county is in a medium-risk category, as new cases hover around 200 per 100,000 people each week. 
"We've been right around that 200 for the last four to six weeks now," Thompson said. 
But, he said, that only reflects cases reported to the health department. 
"There are cases that go under the radar because people don't test," he acknowledged. "And now that we've got more at-home testing, there are cases where people will test but not report it to us."
At-home testing kits, including those mailed by the federal and state government, are not as accurate as the PCR tests administered at testing facilities, according to evaluations from the CDC. 
Still, they're an important public health tool, particularly as the cost of PCR tests rise. 
"At-home tests are available for free," Thompson said. "It's a much less expensive, much more cost effective and much faster turnaround way to do it, even though the tests aren't quite as good." 
If you test positive using an at-home test, you can report your positive result to Washington's COVID-19 hotline at 1-800-525-0127. The phone line is open Monday from 6 a.m. to 10 p.m., and Tuesday to Sunday (and observed holidays) from 6 a.m. to 6 p.m. 
This story was updated at 3:22 p.m. June 14 to include comments from Northwest Labs.