Mountain Biking
Popular unsanctioned mountain bike trail to be converted to hiking only
Whatcom County has hired contractors to begin work this summer
June 13, 2022 at 7:56 a.m.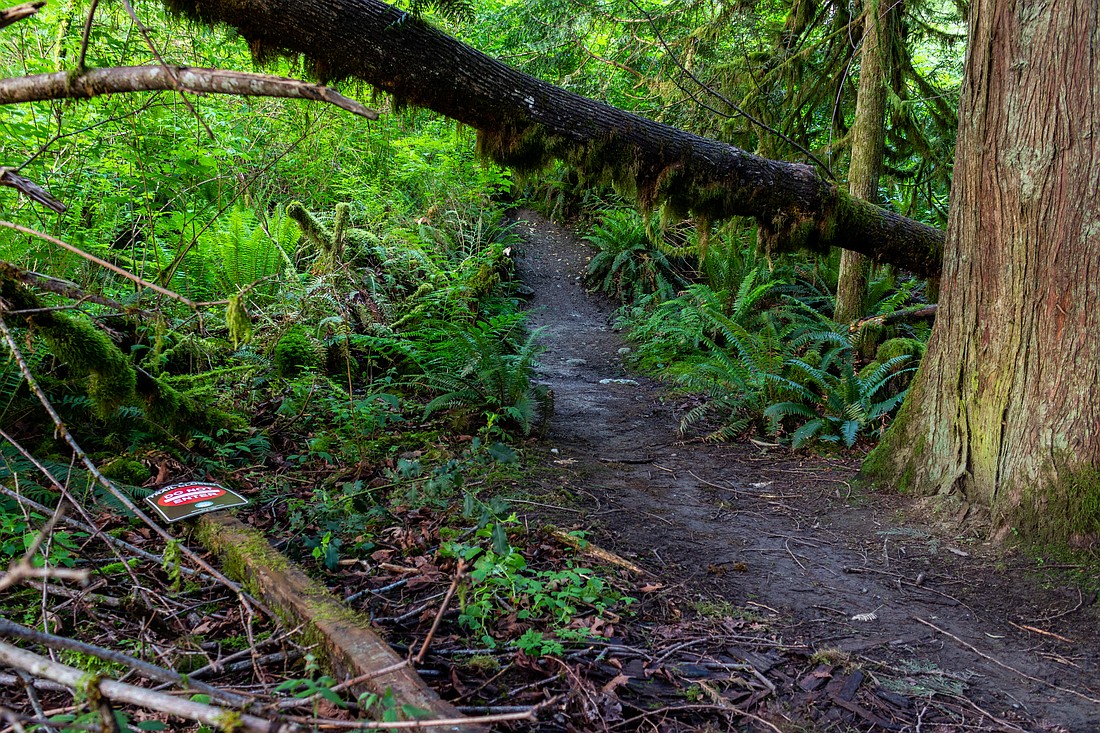 ---
---
The user-built Stewart Mountain biking trail Surfin' Turf, which Whatcom County Parks and Recreation has shut down, is slated to become a hiking-only trail this month. 
Whatcom County acquired land around the Lake Whatcom watershed in 2014 from the Department of Natural Resources, which included Lake Whatcom Park and a few popular, unsanctioned mountain bike trails on Stewart Mountain.  
Surfin' Turf is a long, continuous and steep trail, but one that is beloved by riders from all over. It begins at the top of Stewart Mountain and descends the mountain's west side, ending on the Hertz Trail that follows the lake's east shore. 
"Why get rid of a trail that is there and established and loved by a bunch of people?" asked mountain bike rider Andy Brown.
The county had multiple reconveyance meetings to map out trails and establish where existing trails were with recreation groups, and in 2015, closed Surfin' Turf. That didn't stop many mountain bikers, though. They continued to ride the trail until this spring, when the county put up more signs stating the trail was closed and made efforts to abandon it. 
"It's a huge disappointment for the mountain bike community, that's for sure," said Eric Brown, director of Whatcom Mountain Bike Coalition (WMBC). 
The WMBC advocated for Surfin' Turf, like its neighbor and user-built trail Brown Pow, to be turned into a sanctioned mountain bike trail. The WMBC also offered to fully cover the cost of repairs to make the trail more sustainable, and to cover continued maintenance at no cost to the county by utilizing its volunteer trail maintenance crews. 
Brown said the WMBC's multiple proposed offers and options since 2015 have not gained traction, and the county has decided to move forward with the hiking-only trail that will create a loop between the Chanterelle Trail and the Hertz Trail.  
Chris Thomsen, Whatcom County Parks and Recreation operation manager, did not wish to comment on the WMBC's plan, which he said he was unfamiliar with. The county's current plan, Thomsen said, was developed with input from a wide variety of input stakeholders, including mountain bikers, equestrians, hikers and other user types.  
The location, terrain and typography has identified it as a hiker-only trail and the county is moving forward with implementing the plan, Thomsen said. In 2021, Whatcom County awarded a contract bid of $274,607 to Northwest Trails Inc. to build a hiking-only trail that will utilize Surfin' Turf and follow a similar route. It came as a surprise to many in the mountain biking community, like Mike Kazimer, tech editor of Pinkbike, a biking publication.  
"The high cost of turning that into a hiking trail seems kind of crazy to me when there is a really strong volunteer network of mountain bikers here that would be more than willing to work on that trail to turn it into whatever they (Whatcom County) need it to be for mountain bikes to be allowed for minimal to no cost," Kazimer said.