Food
Whatcom This Whey: A farm-to-glass journey at Twin Brook Creamery
Choose your own adventure at local dairies
June 9, 2022 at 5:20 a.m.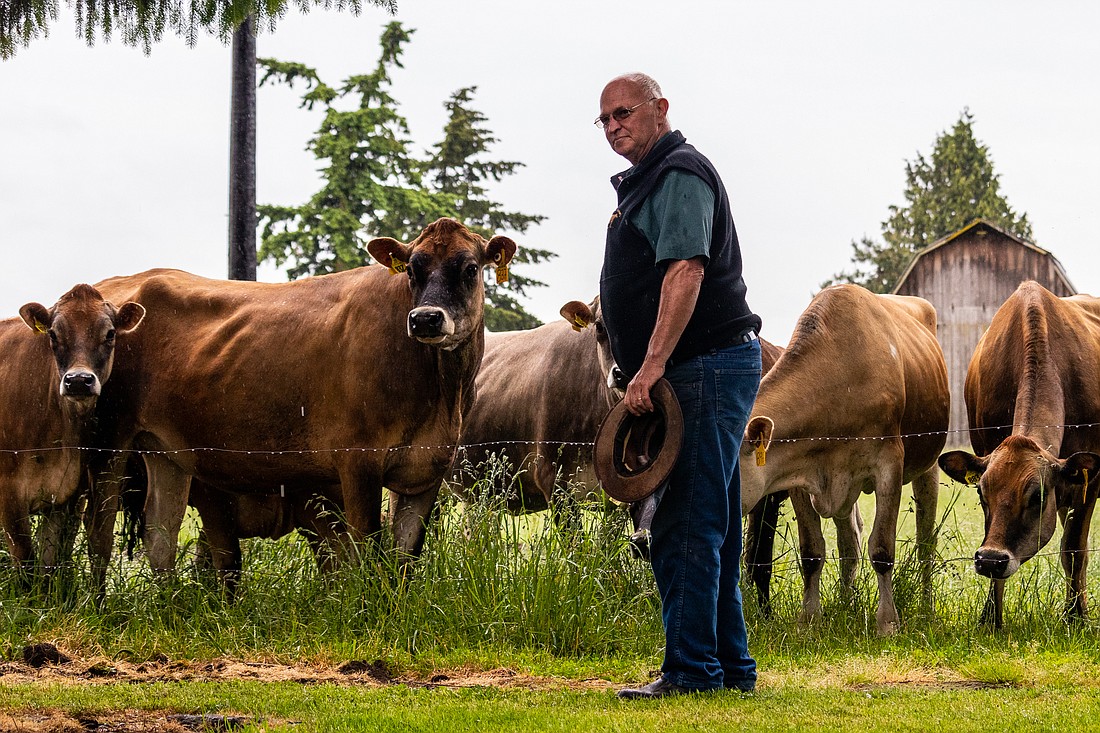 ---
---
It was only 8:45 a.m. when fourth-generation dairy farmer Larry Stap stepped out of the Twin Brook Creamery processing plant to meet me, but by that point, he'd already been awake for more than four hours.
Early mornings are par for the course when it comes to running a working farm, Stap, 67, said. We were meeting to discuss "Whatcom This Whey & Choose Your Own Adventure," a one-day event taking place from 10 a.m. to 4 p.m. Saturday, June 11 at a number of dairy farms, cheese shops and creameries throughout Whatcom County.
The event he helped organize with the Dairy Farmers of Washington as part of National Dairy Month is similar to Sustainable Connections' Whatcom County Farm Tour, Stap said. It not only gives people a chance to find out more about local food production, but it also provides a glimpse of what it takes to get the product from farm to plate — or, in this case, farm to glass.
"I want people to understand where their food comes from," Stap said, gesturing to the 230 acres of Lynden farmland that comprise Twin Brook, much of which has been in the family since his great-grandfather purchased the land and started farming in 1910. "That is so far detached now from the consumer. I'm here not only to talk about my own dairy farm but to also tell people about how we are all stewards of the environment in our farming practices."
Twin Brook's practices include providing non-GMO feed for the cows, refraining from using pesticides and herbicides on the pasture fields and grass fields, which are harvested for the cows' feed, and making sure no synthetic hormones are used to stimulate production or growth. In the summer, hay is harvested and put aside for the winter, and a big tank at the rear of the property can hold up to 1.4 million gallons of manure-rich slurry — the nutrients that fertilize the fields.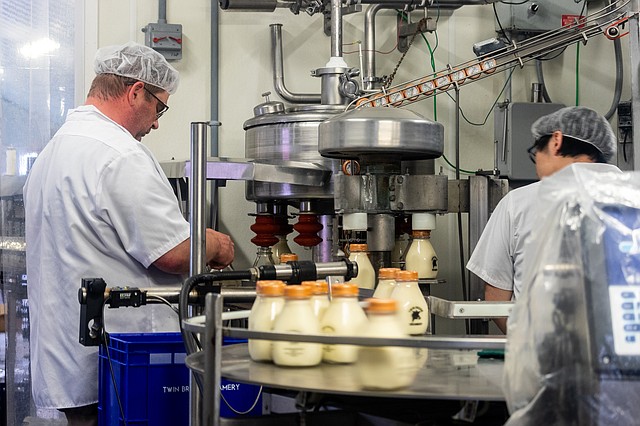 Twin Brook also features a closed herd, meaning they raise their own animals and don't purchase anybody else's cows, thus limiting the chance of bringing in diseases. A veterinarian comes by regularly to check on the herd and give them vaccinations or medications if needed. An automated robotic milking system means the cows can be milked with no human present. Nobody needs to herd them into the barn; instead, the unit attaches automatically when they go to feed.
The majority of the Jersey cows raised for milk production are located about 3 miles away, where Stap's daughter, Michelle Tolsma, and her husband, Mark, live. The fifth-generation dairy farmers — who own and operate the business alongside Larry and his wife Debbie — are responsible for getting approximately 2,000 gallons of raw milk from more than 200 cows to Twin Brook each morning for processing.
From there, it's a complicated process that involves pasteurizing the raw milk at low temperatures in vats that preserve many of the enzymes meant to keep the flavor as close to natural as possible (while making it safe for human consumption). Each morning starts off with employees processing the lower-fat products, and saving the higher-fat ones for last.
During the June 11 event, attendees will also get to see the fascinating bottling process, witness the ancient dishwasher sourced from an old dairy farm do its mechanical magic, walk through the frigid storage area to find out why keeping the milk cold is so important to its longevity and sample the various products Twin Brook produces and sells.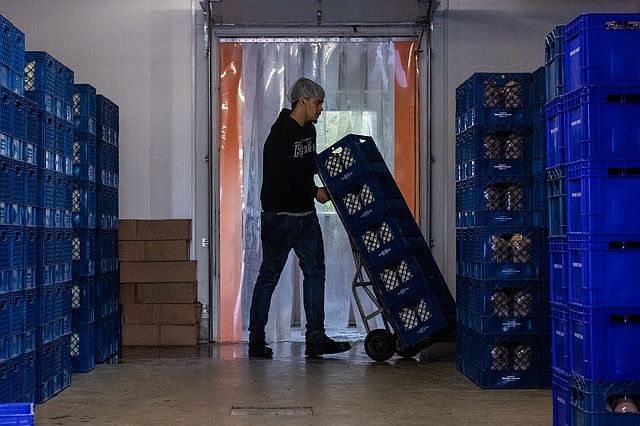 Anyone who's ever tasted the cream-top whole milk, 2%, 1%, non-fat, half-and-half, heavy cream, chocolate or strawberry milk, or seasonal egg nog (swoon) from Twin Brook knows the flavor can't be beat. Stap said their whole milk is far and above the best-seller, but said those who drop by Whatcom This Whey will be welcome to drink as much as they want to in order to find out what their favorite is.
Additional activities will include a space for kids to play with pedal tractors, samples from other companies such as Acme Cheese — which gets raw milk from Twin Brook to make its cheese — and other booths. Picnic tables will be available if people want to bring along a meal, and a covered wagon pulled by a tractor will give tours of the property while people learn more about sustainable farming practices.
Other family farms that will be taking part in Whatcom This Whey include Lynden's Edaleen Dairy Farm and Steensma Creamery, Grace Harbor Farms in Custer, Ferndale Farmstead, Appel Farms Cheese (also in Ferndale), and Van Dellen Farms in Everson. Each will focus on a different aspect of dairy farming, and many will offer additional activities.
Stap can't speak to how the owners of the other dairy farms feel about their professions, but he said it's in his blood. As he stood in front of the small herd of pregnant Jersey cows residing at Twin Brook who had come out for a snack during a break in the rain, he reminisced about what had brought him to where he was today.
Other than the time spent working for a John Deere dealership after high school, and a brief stint in the mid-1980s when he quit dairy farming because it was "just too much work," he's carried on the family legacy. He doesn't regret it.
"It's either in your blood or it isn't," Stap said. "It's not an easy job. You're working seven days a week just to make a living. You're not getting rich, but it's so satisfying. You get to see the miracle of birth all the time, you get to be stewards of the animals, you get to be stewards of the land. We're dependent on the good lord sending us rain and sunshine, the cycles of the season. It's hard, but it's rewarding."

Whatcom This Whey takes place from 10 a.m. to 4 p.m., Saturday, June 11 throughout Whatcom County. Find a full list of participants, events and suggested routes at wadairy.org/whatcomthiswhey.