Restaurants
Review: Storia Cucina
Pasta, pizza and charm in Downtown Bellingham
June 2, 2022 at 5:00 a.m.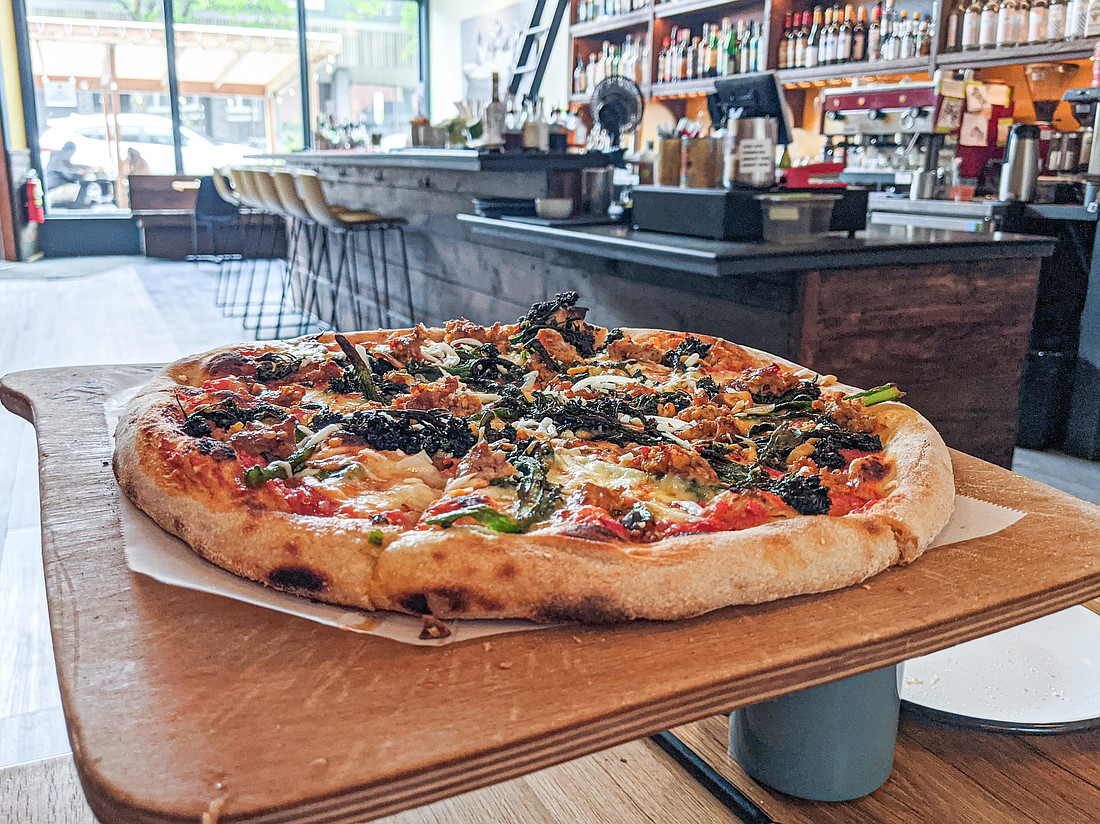 ---
---
Although Storia Cucina just celebrated its second anniversary, I'm ashamed to say I only discovered it recently. 
Located in the old Michael's Books space on Grand Avenue, the Italian bar and bistro was founded by Lopez Island native Jonathan Cicotti, who is back in the Northwest after a stint in San Francisco. (He has also opened Bar Cicotti, an Italian-style bar, in Whatcom Museum's Lightcatcher building.) Arlen Coiley, also from Lopez, is his chef de cuisine, and they have created a wonderful place.
The space is bright and airy, with an open kitchen where staff roll pasta and fetch pizzas out of the flaming oven. Bright posters, a huge mid-century-styled mural, and adorable photos of a small child hugely enjoying some pasta all adorn the high walls. The effect is both stylish and very comfortable.
On our first visit we rolled in early on a weeknight and watched the restaurant quickly fill up with couples on dates and a few large parties settling in for a good time. In spite of the big, welcoming bar near the front of the restaurant, and the extremely cool cocktail list, it feels far more like a favorite neighborhood bistro than a bar. And although the service is professional and attentive, it's not formal or stuffy. Plus the prices are reasonable, so it doesn't need to be a special occasion to come here.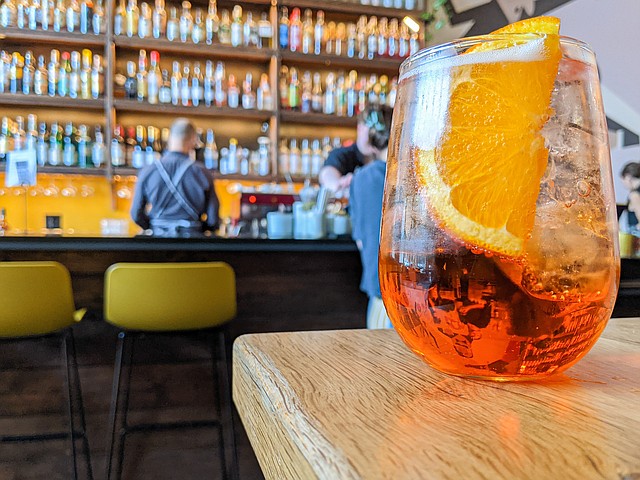 Cocktails are well thought out and expertly made. They have classics like the Negroni and Manhattan ($11) as well as originals such as the Rubina Rosa ($13), a beet and gin concoction with singed rosemary and a dried orange slice, or the Mario Cicotti ($12), with bourbon, walnut and espresso liqueurs, and tobacco bitters. The waitstaff are knowledgeable about both the cocktail menu and the wine selection, but if they're uncertain about a wine recommendation, they may bring you a taste first.
Happy hour includes snacks like arancini ($8), crispy rice balls stuffed with oozing cheese, topped with a bit of aioli and served in a pool of fresh tomato sauce, or a pizza margherita for $13, and a delicious Aperol Spritz (one of my favorite daytime cocktails) for a mere $7.
All pastas are handmade, with a nice amount of chew without being underdone. The squid ink pasta with clams and shrimp ($22) is excellent and strikingly black against the plate. I adored a daily special of ricotta gnocchi served with kale, goat cheese and chickpeas, which was absolutely dripping with butter. It was gone the next time I visited but maybe it will be back some day.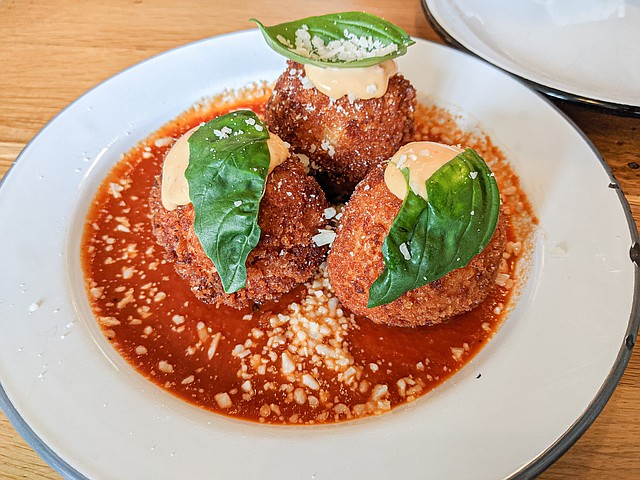 Pizza, one of the main attractions, is sourdough-based (using a 1971 San Francisco sourdough starter and Cairnspring Mills flour) with a thin crust and light toppings, so the flavor of the crust really shines through with a snappy sour note. I've been wanting to try the wild mushroom pizza ($20), but so far we keep getting distracted by the broccolini pizza that's been on special, with fennel sausage and a spicy smear of tomato sauce ($19), which I highly recommend while it lasts.
One pizza can reasonably feed two people along with a vegetable side or salad. I like the marinated beets ($8), served with a bright dusting of cumin and a drizzle of yogurt. Kale Caesar salad ($6/$12) had a pleasant dressing but could have been tossed longer to blend the flavors.
You'll be happy to know that tiramisu is on the dessert menu, in a cute ramekin, along with chocolate panna cotta and affogato. On our last visit, we spied petite cast iron skillets containing bread pudding but were far too full to try them ourselves.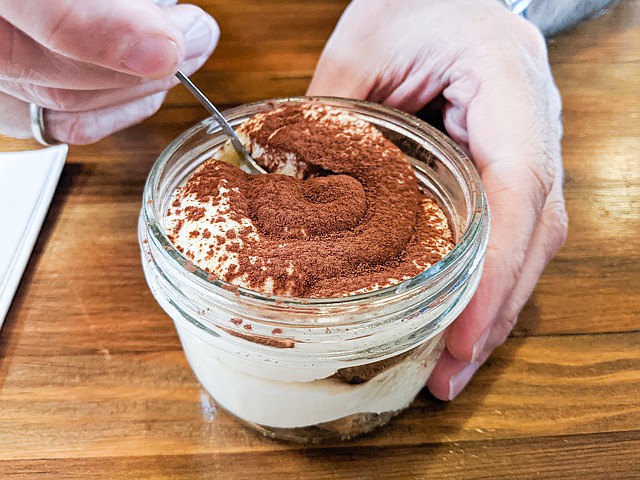 In addition to lunch and dinner daily, the restaurant is open for brunch on weekends and I am here to tell you to order the polenta with farm eggs ($13). Cheesy polenta is topped with perfectly cooked runny eggs, sprinkled with spicy crumbled sausage, and dolloped with Italian salsa verde and fresh basil. Alongside is a chunk of possibly the best focaccia I've ever eaten in my life, light and springy with plenty of rosemary and salt. 
Make sure to get an order of bombolini ($8) for the table, a bowl of warm, perfectly fried little dough balls filled with vanilla custard and sprinkled with cinnamon sugar. Or just get a bowl of them for yourself to go with a cup of their excellent coffee. You can't go wrong.
Storia Cucina is open from noon to 10 p.m. Monday–Thursday, noon to 11 p.m. Friday, 10 a.m. to 11 p.m. Saturday, and 10 a.m. to 10 p.m. Sunday at 109 Grand Ave., Bellingham. Info: storiacucina.com.