Government
Future I-5 landmark: Senator Douglas J. Ericksen Bridge?
Critics of conservative lawmaker call resolution divisive
June 1, 2022 at 12:00 p.m.
|
Updated June 2, 2022 at 12:30 p.m.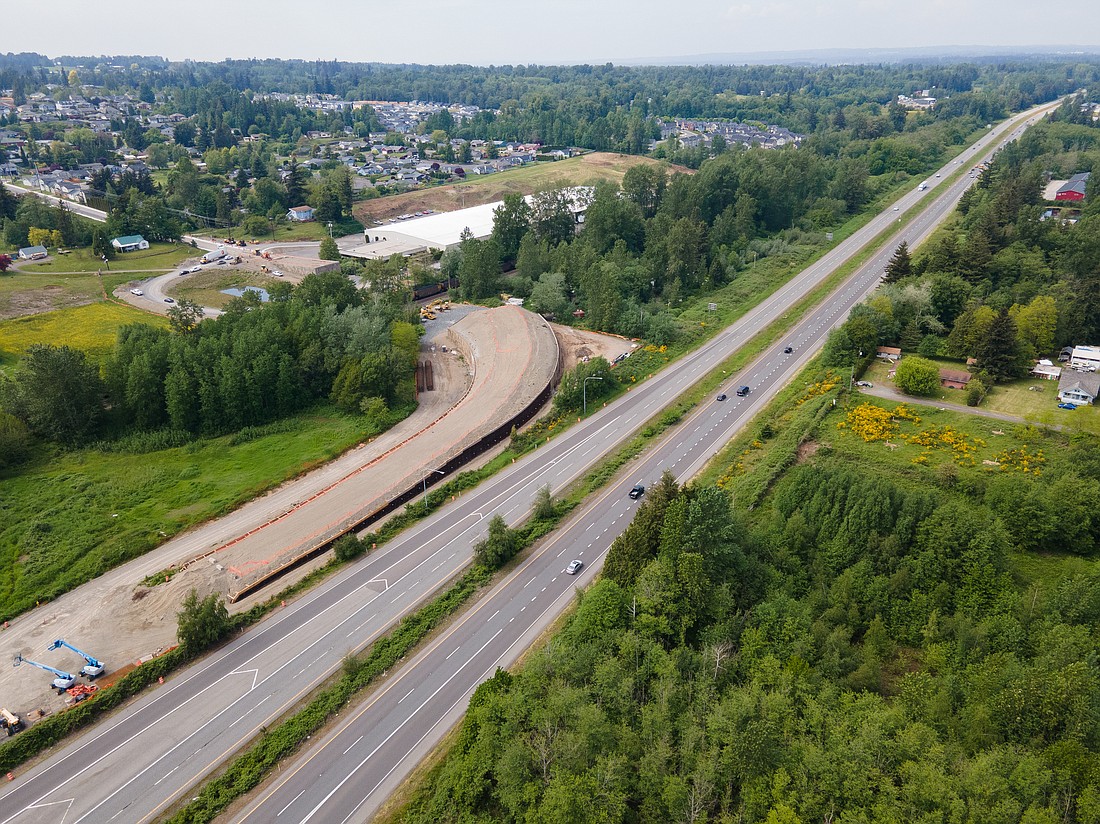 ---
---
Three members of the Ferndale City Council want to name a bridge that will span railroad tracks immediately adjacent to Interstate 5 after the late Sen. Doug Ericksen, to recognize his decades of public service.
The council won't begin debating the proposal until June 15 at the earliest, but critics of the controversial Republican are already voicing their opposition.
A draft resolution written by council member Jon Mutchler, with the support of fellow council members Herb Porter and Erin Gunter, recognizes Ericksen's accomplishments as a state senator and the key role he played in the Thornton Street overpass project — one of the biggest public works projects in Ferndale's history. The resolution proposes naming the new overpass for Ericksen, a Ferndale resident who was extremely popular in town, Mutchler said.
The late senator, who died in December 2021 after falling ill with COVID-19, had secured more than $19 million in funds for the road project in 2016, when Mutchler was Ferndale's mayor.
"When that came along I was startled, stunned, because it was an unheard-of amount of money for the city of Ferndale to get," Mutchler said in an interview May 31.
Construction of the $22 million project began in 2020 and should be completed next year. The Thornton Street overpass will relieve traffic congestion on Ferndale's Main Street by providing a new access from I-5 to residences on the north side of the city, via a route not impacted by rail traffic.
"I think all of Ferndale should be just grateful," Mutchler said. With the bridge, he added, "they'll have a reminder to be grateful when they leave town, that this guy brought home the bacon for Ferndale."
Mutchler's resolution lauds the senator for his work on oil train safety, contaminated-site cleanup and funding for solar installations, among other efforts.
The christening of the Thornton Street overpass as the Senator Douglas J. Ericksen Bridge is far from certain, however. Progressives remember Ericksen as an unapologetic conservative who challenged Gov. Jay Inslee's climate change agenda and mask mandates, took more than $2,000 in free meals from oil companies and other lobbyists in one year and missed more votes than every state senator but one during his last three sessions. Ericksen also helped run Donald Trump's 2016 election campaign in Washington state.
In emails to the Ferndale council, critics of Mutchler's resolution said it would divide the community.
"The Thornton overpass is an important accomplishment for Ferndale and deserves to be something the entire community can point to with pride," Ferndale resident Loretta Sheldon wrote. "Don't ruin that by naming it after a person that will inspire further division."
Council member Ali Hawkinson said she will have a difficult decision to make when the bridge-naming comes to a vote, possibly as early as July.
"I can see both sides of this one," Hawkinson said.
She noted that the public has proposed alternatives: The bridge could be named after first responders, health care workers or Assistant Fire Chief Dean Crosswhite of the Ferndale fire department, who died of cancer in April.
Hawkinson asked Ferndale residents to give their input by emailing citycouncil@cityofferndale.org.
"The input is really helpful in the decision-making process," Hawkinson said. "It's not an easy one."
This story was updated to clarify the exact location of the Thornton overpass.