Government
Finances, scope come into question at first open house on pedestrian plan
City seeking public feedback until July 1
June 1, 2022 at 10:16 p.m.
|
Updated June 3, 2022 at 6:02 p.m.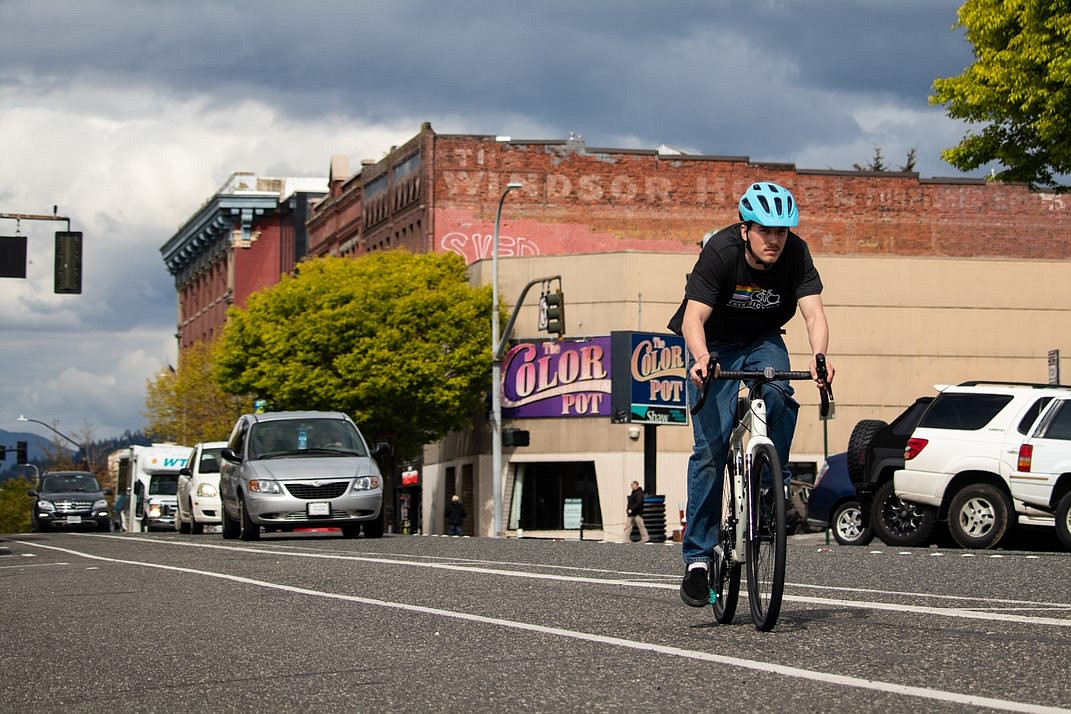 ---
---
A few dozen community members attended an open house on the pedestrian plan Wednesday night, with some stressing the importance of walkable urban spaces, school safety and data-driven decision making. 
The ambitious 2012 Pedestrian Master Plan outlined over 400 projects the city aimed to tackle within the next 10 years. As of this year, the city has completed 162 miles of a 260-mile pedestrian network, making it about 66% complete.  
The 2022 plan aims to reflect the changing needs of Bellingham.  
"Ultimately we want to end up with a prioritized list of projects, a list that is financially feasible for the city to accomplish in the next 10 years," said Michael Hintze of Toole Design, the contractor the city hired for this project.  
Chris Comeau, Bellingham's transportation planner, said the open house was a place for people to bring up pedestrian needs that have not yet been addressed. 
Attendees emphasized the importance of pedestrian safety around school zones, and some spoke of the need to ensure lower-income neighborhoods are getting enough attention.  
But high inflation looms over the plan. Comeau said the city will be coming to the public throughout this process to ask about the prioritization of projects. He said the city plans to take an approach of "financial constraint." 
"We have to understand how we can be most responsible with taxpayer money, how we can get the most benefit for the least amount of cost and how we can accomplish what the public told us we need to do," Comeau said. 
Some attendees criticized the scope of the plan and the public engagement process. 
Rhys Faler, 48, who is involved with Walk & Roll Bellingham and Bellingham Urbanists, said the plan's scope might be too narrow.  
He said he cares most about making Bellingham's urban villages walkable — "rather than making urban villages thoroughfares, make them into destinations." He suggested that parking measures like "unbundling parking" from housing could incentive people to walk more and not buy cars. 
Faler thinks these issues are interconnected, but Comeau and Public Works Director Eric Johnston said they see parking as a separate matter. 
Nick Galati, 41, argued for clear, public data on why some projects are being prioritized while others aren't. "If it was just based on data, you can't argue with data," he said. 
He expressed concern that some projects — like Eldridge — were getting special attention. 
"I don't think that noisy voices should get a disproportionate contribution of city money to improve their neighborhood ... especially knowing that people who live in rental units … or college students, they aren't coming to these events," Galati said. 
Comeau said the city hopes that it can create a place where people "can feel like they can walk from their homes in their neighborhoods to where they work, shop and play and go to school." 
Now, the city is in the "discovery" phase of this plan and aims to develop an updated plan in the fall. Later this year, the city will then turn its attention to the development of the Bicycle Master Plan, with a goal of getting both plans adopted by summer 2023. 
Community members can provide feedback online through July 1, on the city's Engage Bellingham website. 
A previous version of this story misstated the name of Bellingham Urbanists. The story was updated to reflect these changes on June 3, 2022 at 6:02 p.m.