Visual Art
Review: 'Arreguín: Painter from the New World'
Indigenous insights at MoNA
July 31, 2022 at 5:00 a.m.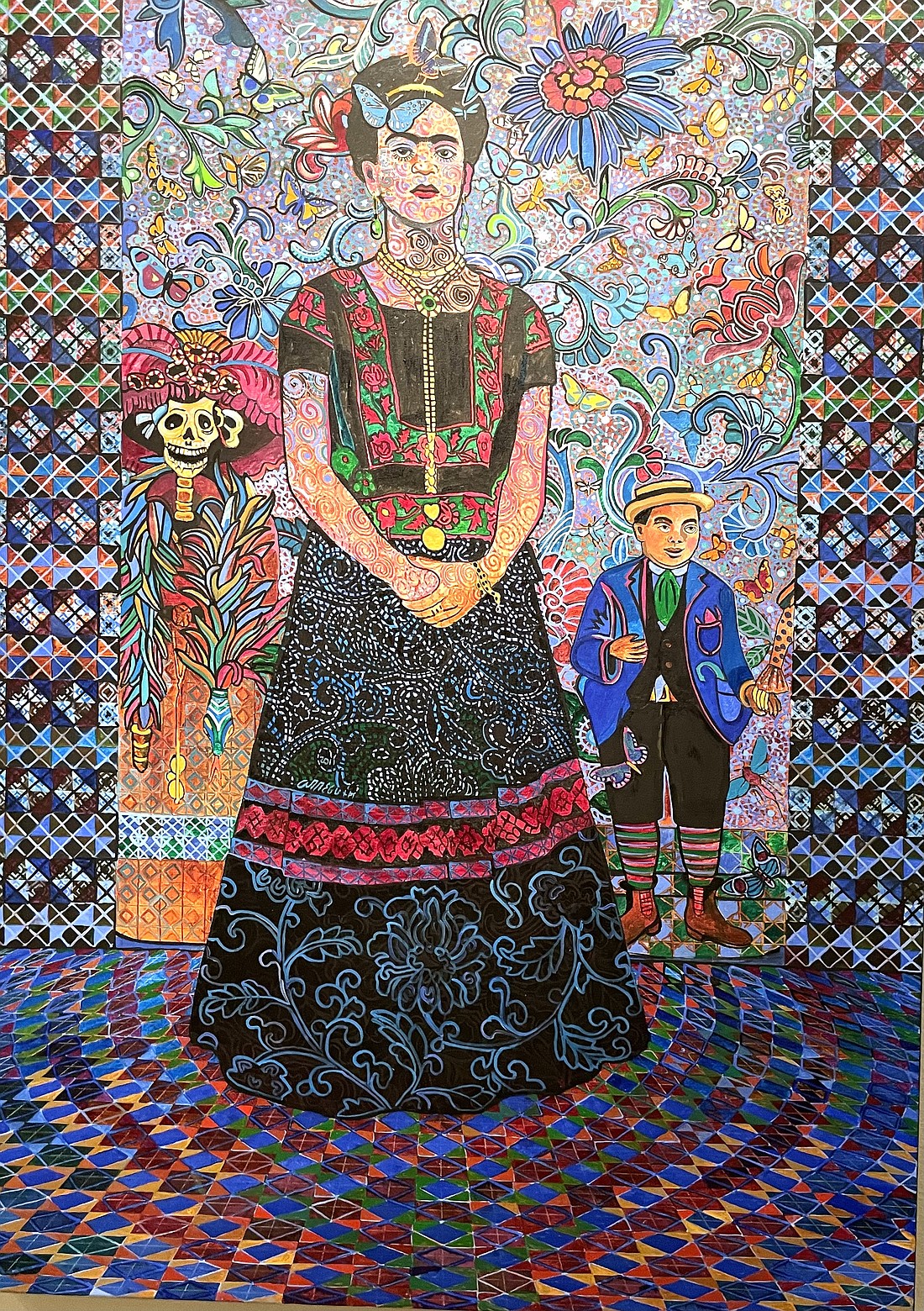 ---
---
A most beautiful and captivating exhibit is now on display at the Museum of Northwest Art in La Conner: "Arreguín: Painter from the New World" is a candy box of visual treats by Northwest painter Alfredo Arreguín: intense colors, patterned backgrounds and elaborate details. His work has been described by author Lauro Flores as "yielding a potent narrative power" and evoking "the profound, ambiguous symbiosis between humans and nature, fiction and reality."
Visitors are welcomed by a triptych, "Pachamama with Sinner 1 and 2" (2013). In spite of the halo, this figure is a Peruvian fertility god. You find Arreguín's virgin, "La Guadalupana," (2002) further on; she lies in a whirl of butterflies, stars, diamonds and geometric figures — glorifying, even as they almost conceal her.
With regard to saints, the artist admits going to confession was not something which the men in his family put much stake in. The real values of the Mexican spirit are "joy, delight in beauty, and reverence for life," and nature itself is the wellspring of Mexican arts. And his 2016 "Jaguar's Court," shows him equally happy to portray terrifying Aztec demons.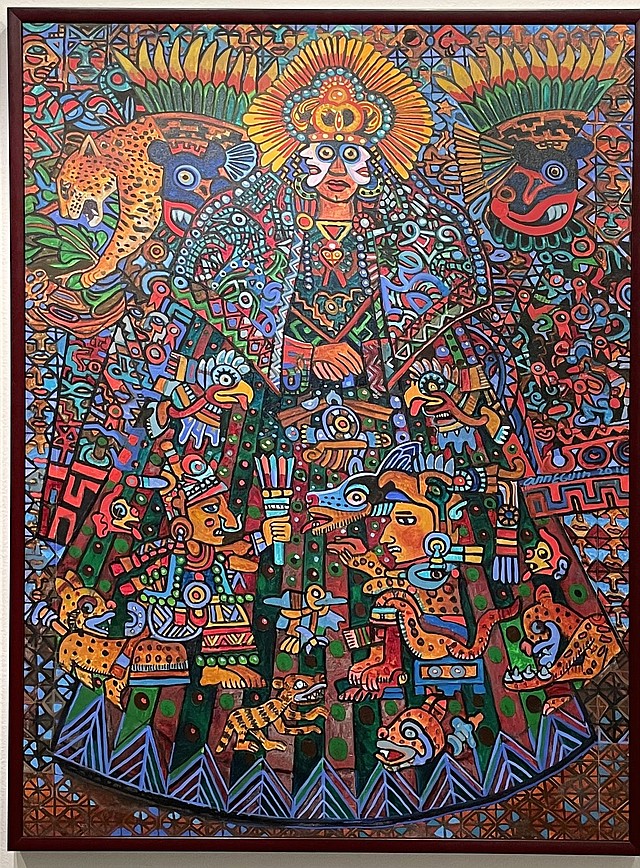 When he was a young man in Mexico City, Arreguín guided some American tourists on their visit to the Aztec monuments. They were so impressed that they invited him to Seattle. As soon as he mastered English, the young genius entered the University of Washington and within three years had completed bachelor's and master's degrees in fine arts. He could then begin an art career — but what would be his subject matter? Encouraged by faculty member Michael Spafford, he looked for inspiration in the rich iconography of his native Mexican culture.
Seen from a distance, many of the paintings suggest tapestry. But when you examine "Serape," what appear to be woven patterns turn out to be meticulously painted whorls, chevrons, shapes of birds and fish, human and animal faces. This attention to detail is characteristic; sometimes the artist works on a single painting for months — and the result is somewhat reminiscent of Mark Tobey's "over-all" technique. Study Arreguín's "Crazy Quilt" (2002), a vast, edge-to-edge, three-panel mosaic of eyes, noses and faces, or "Cholula" (1970), a meticulous composition of 528 tiny faces, each in black and white on its own square.
The "mosaic" patterns feature in many of Arreguín's works, even in portraits, like that of "El Joven Zapata" (1995), where, as you stare at the heavily mustachioed Mexican hero, a matrix of grimacing Indigenous faces stares back at you.
Arreguín portrays several heroes: Vicente Ramon Guerrero, who liberated Mexico from Spain in 1829; our "own" Cesar Chavez and Paulinho Payakan, a Kayapo chief in the Amazon, who fought in vain against the construction of the world's largest dam.
But if Arreguín had one hero above all others, one whom he painted 50 times (according to art critic and exhibit curator Matthew Kangas), it's painter Frida Kahlo. You have to see how Arreguín paid tribute to his great predecessor even while encapsulating her in the overall riot of tiny faces, chevrons and curlicues. And in another portrait, he pillories her grossly fat husband, Diego Rivera.
On the east wall of the main gallery we find animal portraits: "Los Monos de Peru" (2020); a moose contemplating receding glaciers in Alaska in "Kodiak II" (2009). A portrait of a leaping orca entitled "Baile" (2020), Spanish for "dance" (making a pun on "baillena," which means "whale"). And a portrait of a harpy eagle in "Harpie" (2019), which introduces a disquieting note, for in classical mythology, "a harpy is a half-human and half-bird personification of storm winds."
As a child, Arreguín watched Tarzan movies and fantasized about the jungle. But his blue eyes made him different from the other children, who called him "el gato" (the cat). He admits, cryptically, "Robert Wilson, the anthropologist who has written about me, says the jaguar lives in hell ... [before] I met him half my life I was a jaguar. Then I turned into an eagle."
In the new century, the artist embraces all the wonders of Earth as his subjects. In "Exuberance" (2018), a pair of large works depict orcas leaping in an ocean of stars. Arreguín also incorporates visual references to the works of past, great masters: the tiger in the lush, tropical "Bengal River" (2020) is reminiscent of a work by Henri Rousseau. "Suquamish Waters" (2018) finds Pacific Northwest salmon vaulting through Hokusai-inspired waves.
In a long life of painting, Arreguín has won garlands of honors: a fellowship from the National Endowment for the Arts; a commission to design the poster for the Washington state Centennial Celebration; and having his work hung in the permanent collection of the National Museum of American Art and the National Portraits Gallery. Trust me, this exhibit is not to be missed.
"Arreguín: Painter from the New World" will be on view from 10 a.m. to 5 p.m. daily until Oct. 9 at The Museum of Northwest Art, 121 S. First St., La Conner. Entry is free. Info: monamuseum.org.