Restaurants
Winging it at Sweet As Waffles
Food truck owners do things their own way
July 30, 2022 at 5:00 a.m.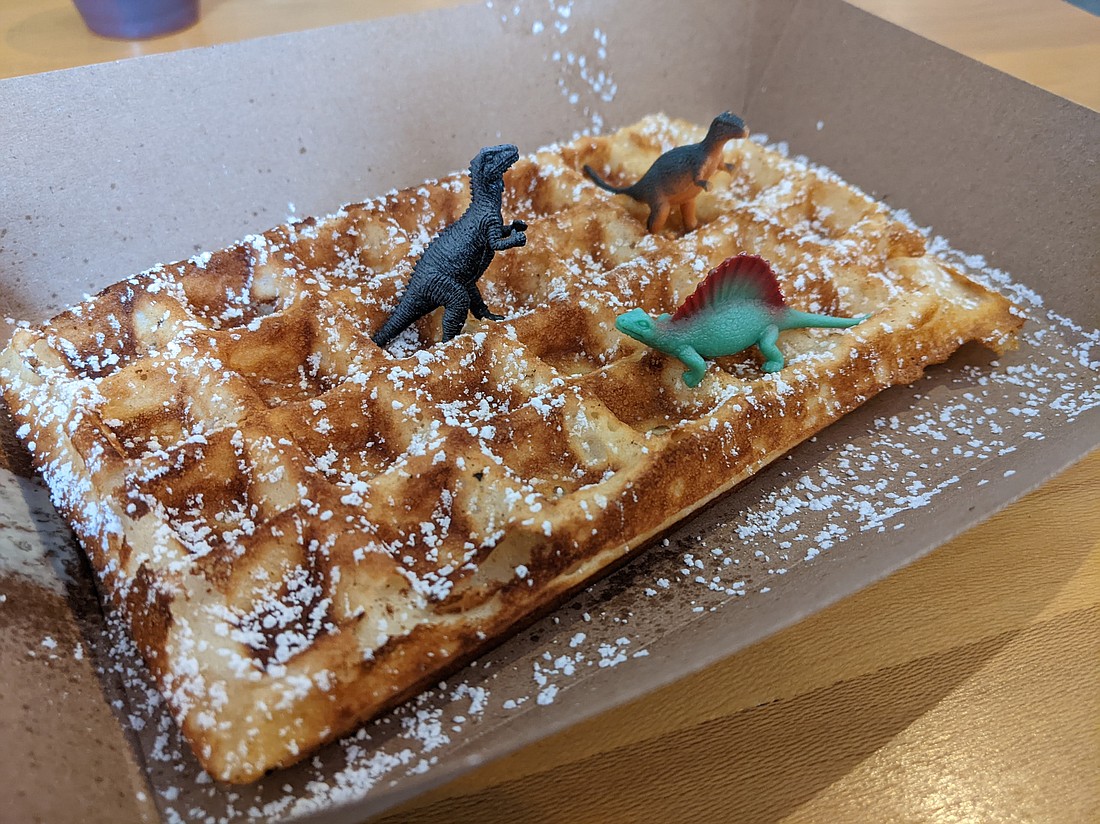 ---
---
I'm at Stemma Brewing, and the outdoor seating area is jam-packed. Behind the crowd is the most unorthodox food truck I've ever seen — cedar shake siding, turquoise paint, with a mural of an otterlope (an otter/antelope hybrid) eating a waffle on the door. 
Inside the truck, Nate Brown and Graham Berkwitt are working — griddling waffles, layering toppings and artfully arranging little plastic dinosaurs.
Waffle food trucks aren't ubiquitous, and I'm unsure why. The waffle is, after all, a blank slate, able to be personalized to a ludicrous degree. Jars of toppings are arrayed behind the register, a menu hangs by the window and a specials board advertises the Hot-n-Slicey, a pepperoni pizza with a waffle for the crust. Judging by the crowds, they found a niche.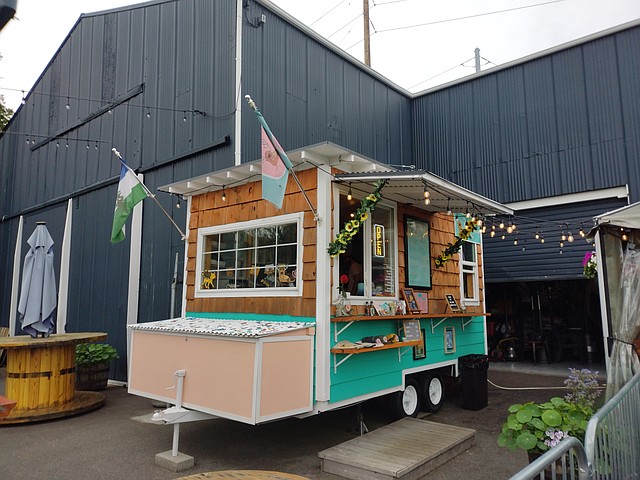 The concept was, Berkwitt said, an attempt at capturing "the weird pluckiness" they saw while traveling abroad. More plucky than the concept is the truck itself, which was entirely hand-built by Berkwitt and Brown — neither of whom had any experience building food trucks before starting this project. With a permanent spot at Stemma Brewing, it makes for a fantastic contrast to the modern-industrial chic of the brewery. The energy is warm and inviting, like a ski lodge.
"Bellingham doesn't need any more Apple store restaurants," Brown said.
I place my order and stand in the doorway to ask a few questions. I ask if they wish they'd just contracted with a professional food truck outfitter to have the truck built. Without a single moment's hesitation, Brown responds with "Nah, man, just wing it!"
And that energy filters into the rest of the business as well. The waffle batter is a special recipe using seltzer water instead of still. The claim is this provides additional loft and lift to the finished waffle. The duo run their own marketing, set their own schedules and jet off on sabbatical-adjacent trips wearing waffle costumes. To say they're "winging it" is an understatement.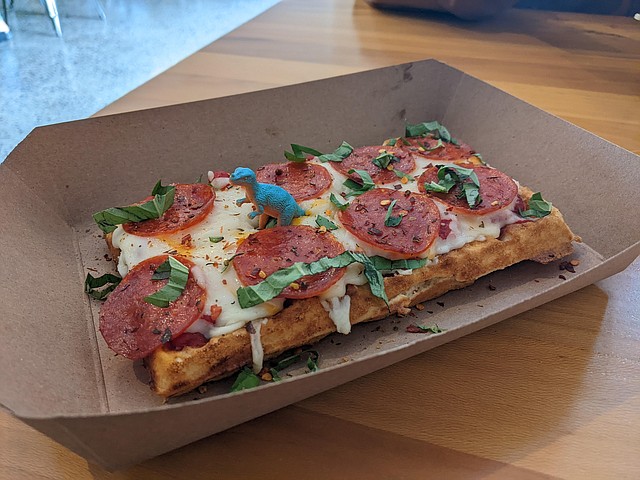 I took a seat with a Movin' to the Country — a peach-mango smoothie sour — and was treated first to a Baker Blast, functionally a cheesecake waffle ($8). Cream cheese icing, crushed graham crackers and a house berry compote carry a boatload of flavor without the heaviness of a slice of cheesecake. Whether the seltzer water makes a difference in the texture of the waffle is anyone's guess, but it's light and airy enough I believe them. I added crushed Oreo and toasted coconut (75 cents each) because life is both fleeting and cruel, and happiness should be pursued. Even with the waffles to come, I unashamedly ate the whole thing.
Up next came the special, the Hot-n-Slicey ($10). Think of a basic pizza with sauce, cheese and pepperoni. Some shredded basil and crushed red pepper artfully adorn the top. This one is a novelty, but a definitely fun one to be sure, with notes of Little Caesars and your mother calling you in to have lunch at your eighth birthday party. Absolute nostalgia.
My next waffle was the It's Okay, It's a Salad ($10) to keep things healthy. Pesto cream cheese, tomato, arugula, fresh mozzarella, all atop another of those fluffy waffles and drizzled with a maple-balsamic reduction. I added candied bacon and crumbled goat cheese (75 cents each) because respecting the sanctity of an Italian dish like a caprese salad flies in the face of my contrarian nature. This waffle is a personal favorite and very much "grown-up." The bite of the arugula with the smoothness of the pesto cream cheese is a mood-lifting combination. It's great proof that just because the people behind the counter seem goofy, the menu sure isn't. Eat it quickly, though — the balsamic soaks into the waffle and can render it a soggy mess if you don't.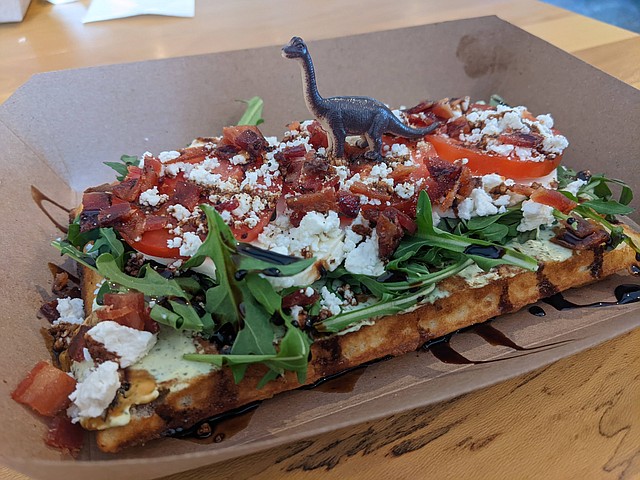 And, finally, the core, the framework — a plain waffle, served with syrup and a topping of choice, called Home Base ($7). As Peter was the rock upon which the church was built, so is this simple cake the rock upon which Sweet As Waffles builds its culinary creations. When asked, Brown and Berkwitt will maintain their waffle batter recipe took them months of experimentation, and I'm willing to believe it.
The waffles come out incredibly light and crispy. The crust reminds me of a Liege waffle, with an almost caramelized texture that gives way to a practically effervescent interior. They're absolutely fantastic meals on their own, and one that any waffle fan would be remiss to overlook.
The quirky design and devil-may-care attitude of the proprietors might make it seem slapdash, but behind it all is a really superb core of restaurant fundamentals. They've got a niche, they have a great location and the product is really, really good. It's no wonder Berkwitt and Brown feel confident enough to close up shop and take off on vacations seemingly every two or three months, as there's no loss of momentum when they get back to waffling. I'd suggest you give them a try, and do your best to remember: Just wing it.
Stop by Sweet As Waffles from 4–8 p.m. Wednesday and Thursday, 11 a.m. to 8 p.m. Friday and Saturday, and 11 a.m. to 6 p.m. Sunday, at Stemma Brewery, 2039 Moore St. Info: sweetaswaffles.com.