Day Trips
Oozing with seaside charm
The sunny knolls of the San Juans
July 27, 2022 at 5:55 a.m.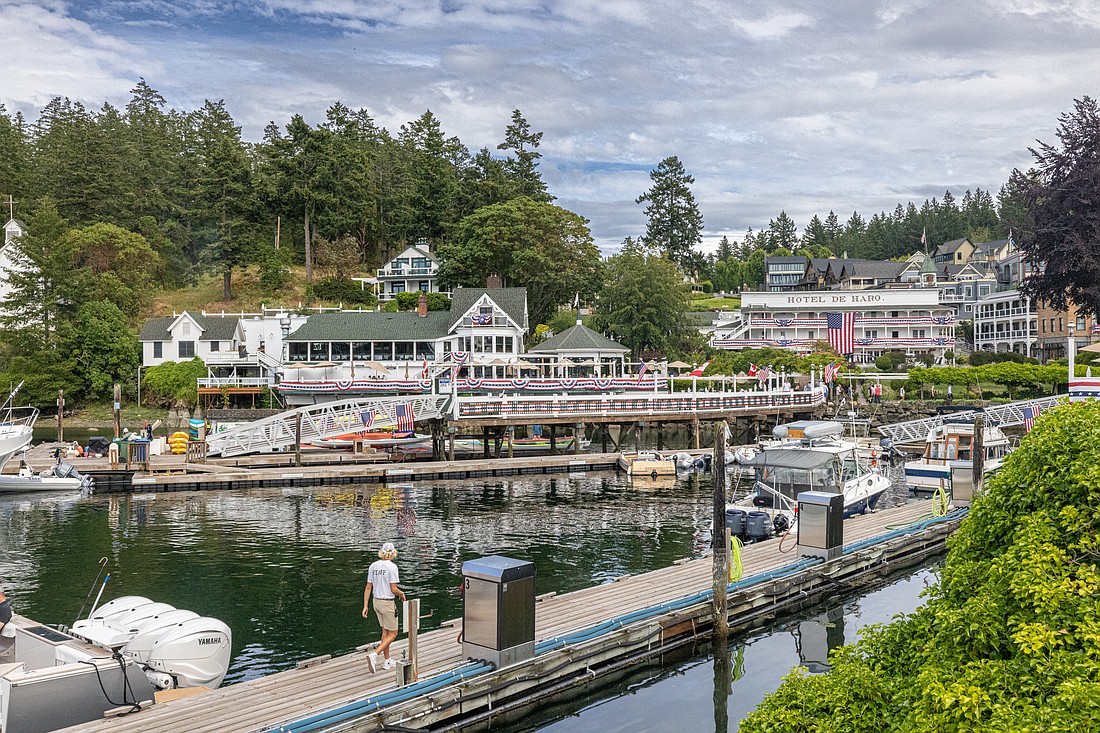 ---
---
FRIDAY HARBOR, San Juan County – The San Juans bob in the narrow channels just beyond Lummi Island with a tantalizing promise of a memorable getaway.
Borrowing from Win Wenders' 1993 movie title, the islands are faraway, so close. 
I recently submitted to the siren song of island life after enjoying a sunset from San Juan Lookout Rock in Larrabee State Park. 
I'm glad I did. As soon as the ferry launched from Anacortes, salty swirls of wind on the Chelan's passenger deck felt like a medicinal cup of chamomile. I kept repeating to photographer Ken Harrison that it looked like a secluded Mediterranean archipelago in southern Europe. 
Within an hour, we arrived at Friday Harbor, the lone incorporated town among the 743 San Juan Islands that peek through at low tide. (More than 400 are visible at high tide.)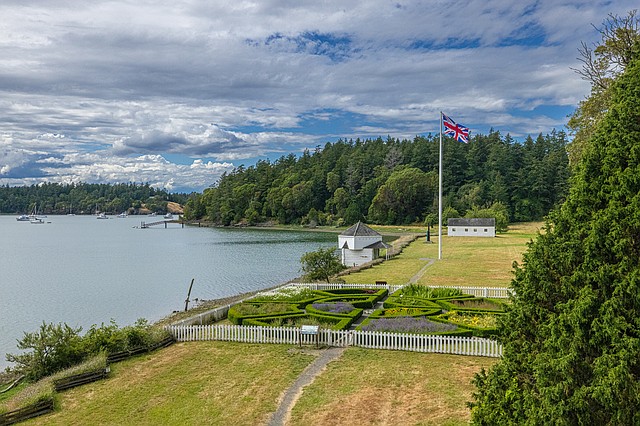 Friday Harbor oozes with the seaside charm of Maine's Bar Harbor. Bodegas filled with localized curios and requisite ice creameries line the swelling summer sidewalks.
We bypassed the crowds to reach Sunny Knoll Guest Suite on remote Cady Mountain, where proprietor Liza Michaelson was waiting. 
Michaelson, 65, is commemorating her 40th year on San Juan Island. She once serendipitously lived in a tent at a marine laboratories research center while waitressing in town.
Michaelson and her first husband lived on a tugboat with their two young kids when, in 1987, she bought 10 acres and a 600-square-foot cabin on the mountain.  
Michaelson had no telephone, no neighbors and got electricity using an extension cord from below the hill.
She slowly built Sunny Knoll on a high ridge where a slice of Vancouver Island pokes through a clearing in the forest.
Michaelson reared two children in a home that grew organically and now sleeps 13, counting "the shack," where Harrison retired to enjoy a night that resembled yurt camping.
I slept in the suite stocked with a sauna, a Finnish wood-burning stove and a walk-in library stuffed with eclectic titles. The room once served as Michaelson's master bedroom. Life's vagaries led to a shift.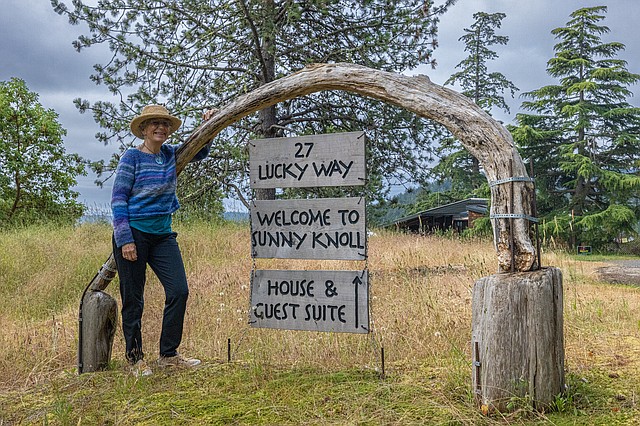 In 2001, her second husband, a literature professor at The Evergreen State College, drowned in Costa Rica while swimming in rough currents with his family. Michaelson and her son barely escaped, she recalled.
The home felt too big once Michaelson's children moved out. She started accepting short-term rentals 16 years ago through the San Juan Islands Visitors Bureau. Michaelson now uses Airbnb and generally limits occupancy to four people at a time.
Winter visitors have the place to themselves because she spends January, February and March in a Mexican fishing village on the Pacific.
Michaelson, a hiking friend of Harrison, dropped everything to accompany us for a 1 1/2-day tour because she loves nothing more than sharing her 55-square-mile island.
I had previously visited San Juan a few times. But I didn't discover its wonders until roaming the hills, forests and coves with Michaelson.
She had a story for every stop. There was the time her daughter and middle school friends crept up to the impressive John S. McMillin Memorial Mausoleum for a Halloween night seance only to scurry through the dark woods to the safety of her waiting car.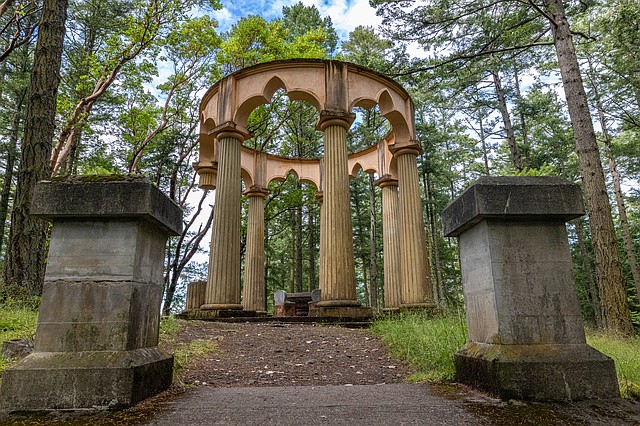 The Afterglow Vista enshrinement looks out of place above Roche Harbor with massive stone columns creating a bizarre open rotunda. McMillin had a limestone table as the centerpiece with stone chairs built as memorials for family members.
The one-man necropolis is part of the island's rich historical fabric that dates back 11,000 years to the Coast Salish people. 
McMillin is tightly tied to colonial history as the founder of a limestone operation that was located in Roche Harbor. He ran the lucrative business from the late-1800s until he died in 1936.  
The island's treasured lime quarries can be traced to about 25 years before McMillin launched his business. According to historians, lime kilns started with the British occupation in the mid-1800s.
San Juan Island National Historical Park is the place to explore the colonial timeline for those seeking something more than collecting knickknacks in town. The National Park Service has preserved abandoned buildings on two sites — English Camp on protected Garrison Bay in the northwest corner of the island and the American Camp on the exposed southern tip. (The sites are free to the public.)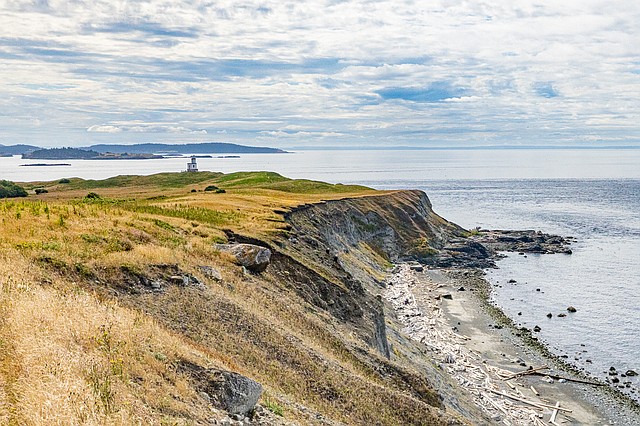 The camps highlight the territorial dispute between the United States and Great Britain that almost led to armed conflict over the death of a pig. 
It happened because the boundaries were loosely defined by the Oregon Treaty of 1846 that created the border along the 49th parallel.   
Within a decade, British and U.S. troops established camps after American Lyman Cutlar shot the pig owned by England's Hudson Bay Company. 
The U.S. military dispatched 64 troops to protect the settler from arrest by the British. The adversaries responded with more than 400 troops and big guns. 
Officials resolved the so-called "Pig War" without casualties beyond the unfortunate animal. In 1872, Kaiser Wilhelm I of Germany ruled the territory belonged to the United States and the British forces departed. 
English Camp also highlights the island's ecological history with a Garry oak forest that once thrived here. Also known as Oregon oak, it is Washington's only native oak species. About 100 acres of Garry oak woodland existed during the time of British encampment, according to the park service. Fast-growing Douglas firs have deprived the oaks of sunlight, water and nutrients. Only about 3% of the island's oak remains.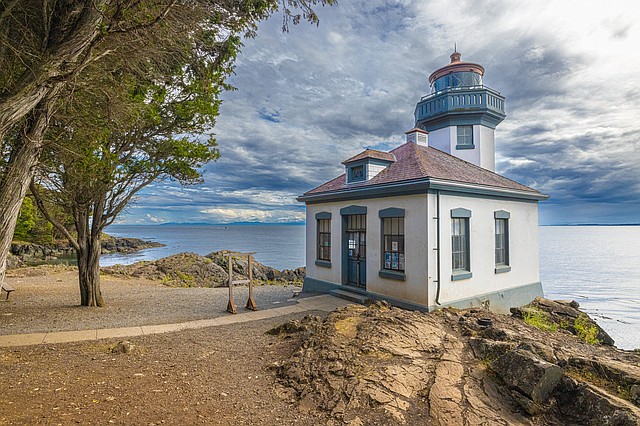 We also made quick stops at Lime Kiln Point State Park to inspect the lighthouse and at San Juan County Park. Tourist guides tout these parks as major orca viewing sites. We saw nothing but Vancouver Island across Haro Strait.
The next day we continued the historical exploration at American Camp. We hiked 4 to 5 miles in tall grasses and wildflowers with oh-wow views of the Strait of Juan de Fuca and the Olympic Peninsula. Two big bald eagles remained fixed to their rocky perches on the sheer cliffs as we treaded past them toward the lonely outpost of the Cattle Point Lighthouse. 
After feasting on island history, we retreated to Friday Harbor where we were directed to the center front row of the ferry. We were the first vehicle to head back to mainland life.
Back to gazing wistfully across Bellingham Bay at those mounds above the sea almost close enough to touch.
If you go
Resources: The San Juan Islands Visitors Bureau offers one-stop research for everything a visitor needs to know, including accommodations, dining, transportation and sightseeing tours at visitsanjuans.com. Contact: info@visitsanjuans.com or 888-468-3701 and 360-378-9551. 
Getting there: Make reservations throughout the summer — and probably whenever planning a trip — at Washington State Ferries. Flying is also an option. Find airline service at visitsanjuans.com/airlines-charters.
Getting around: San Juan Island offers bicycle and moped rentals, or take a trolley to most sights.
On the water: A handful of outfitters offer kayaking tours and rentals of kayaks and paddleboards. For a list of companies, check visitsanjuans.com/kayaking
Where we stayed: Sunny Knolls Suite at 27 Lucky Way, Friday Harbor, is $251 a night, or $60 per person with four guests. Book through Airbnb.com.
Where we ate: The line forms before the doors open at 8 a.m. at Bakery San Juan. Customers line up for breakfast pastries, coffee, bread, pizzas and sandwiches. Open 8 a.m. to 5 p.m. Monday through Friday at 775 Mullis St., Friday Harbor. Contact: 360-378-5810.
Cultural treats
Island Stage Left is running Shakespeare plays at 8 p.m. Thursdays through Sundays until Aug. 14 at the outdoor Wold Road theater. The shows are free but donations are encouraged for the theater founded by refugees from Ashland's Oregon Shakespeare Festival. Contact: stageleft@centurytel.net or 360-378-5649.
The San Juan Islands Sculpture Park at 9083 Roche Harbor Rd. houses more than 150 art pieces nestled into 20 acres near Roche Harbor. The entrance is free. Contact: sjispark@gmail.com or 360-506-4302.
Liza Michaelson's daughter, Maria Michaelson, is the founder and co-director of the nonprofit Alchemy Art Center, whose mission is to promote art in their rural home. Contact: Alchemyartcenter@gmail.com or 360-622-8581.
Scholars and artists can find refuge at the Helen Riaboff Whiteley Center located at the University of Washington's Friday Harbor Laboratories for marine research. Contact: fhl@uw.edu or 360-378-2165.
The Whale Museum is a perfect primer for families who want to learn more about orcas and the islands' marine life. Contact: info@whalemuseum.org or 800-946-7227 ext. 30.
Elliott Almond's outdoors column appears monthly. Email: elliottalmond4@gmail.com.