Housing
City approves 300-bed shelter in Bellingham's Old Town
Hearing examiner decision comes with conditions
July 27, 2022 at 12:32 p.m.
|
Updated July 27, 2022 at 5:22 p.m.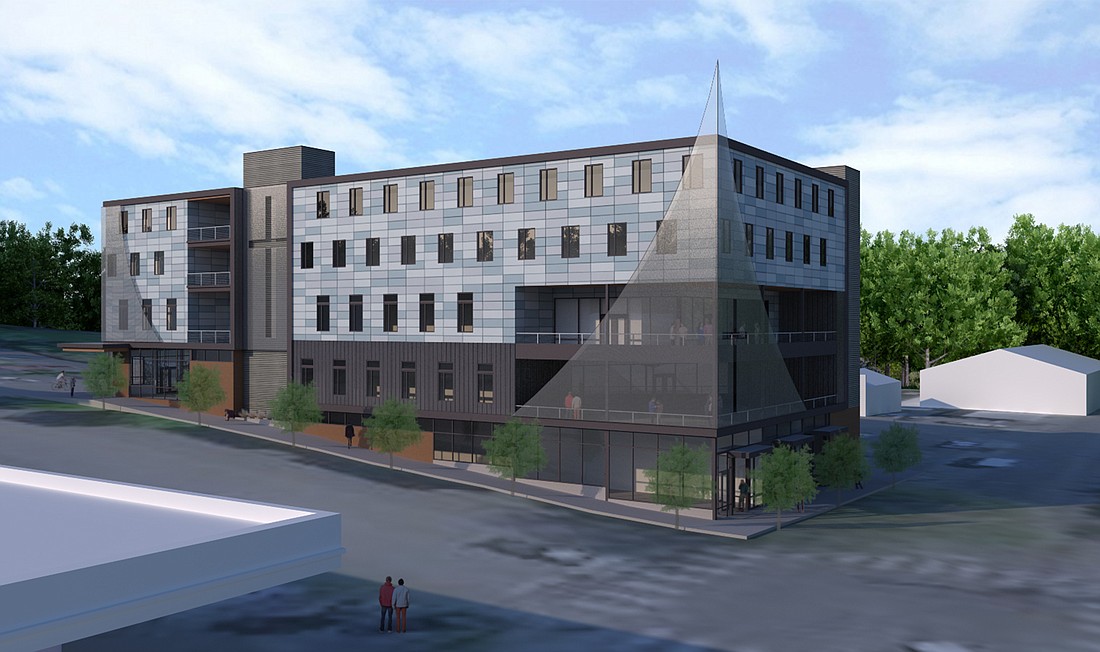 ---
---
Lighthouse Mission Ministries can move forward with plans to build a 300-bed homeless shelter in Old Town, after the Bellingham hearing examiner approved a permit for the project on Wednesday.
Lighthouse Mission Chief Advancement Officer Loran Zenonian said the nonprofit will apply for a building permit in the next few days. The proposed five-story shelter at 910 W. Holly St. received environmental and building-design approvals in May.
"The new facility will enable us to better serve people who are homeless and help them turn around their lives," Zenonian said in a press release.
Hearing Examiner Sharon Rice's approval came after more than seven hours of public hearings in June, and after the city had received more than 100 written comments on the proposal, many of them negative.
Lighthouse Mission essentially was asking for two approvals: the ability to use the site of its mission center on Holly Street as a homeless shelter, and an exemption from the city's 200-bed limit for homeless shelters. The hearing examiner granted both.
The new facility, scheduled to be completed in 2024, will include a low-barrier shelter with spaces for 140 men and 60 women, plus a specialized shelter with room for 100 more homeless individuals, including families and people with medical or behavioral health needs.
Another 100 beds will become available during weather emergencies or natural disasters, temporarily increasing the facility's capacity to 400.
As part of her 58-page decision, the hearing examiner imposed more than two dozen conditions, including minimum staffing levels at the shelter and opportunities for neighbors to address complaints to Lighthouse Mission staff. The city could also close the shelter with three days' notice if conditions aren't being met.
Zenonian said the city's authority to close the shelter is not out of the ordinary.
"We work well together," he said, "and if there are any concerns raised by the city or county Health Department, we can address those quickly and efficiently."
Nearby residents had voiced opposition to the project, saying their Lettered Streets neighborhood would bear the brunt of the crime, litter and other disruptions they associate with concentrations of homeless people. The hearing examiner's decision can be appealed to Whatcom County Superior Court.
After the hearing examiner's decision, Lettered Streets resident Karen Steen said Bellingham missed an opportunity to give homeless people appropriate care while maintaining the quality of its vibrant urban neighborhoods. Low-barrier shelters such as the existing Basecamp or Lighthouse Mission's proposed new shelter typically house people with mental illness, addictions and criminal histories, Steen said. Such shelters should be on the outskirts of town, she added.
"If you concentrate that population in the core of the city, it … concentrates all of those consequences," Steen said.
Zenonian said Lighthouse Mission will work closely with neighbors through a neighborhood advisory group it started for Basecamp at 1530 Cornwall Ave. 
"We always want to be proactive and address concerns of our neighbors," Zenonian said.
One idea that came out of the neighborhood advisory group was the shelter protection area established around Basecamp, to reduce unwanted behaviors immediately outside the shelter. The city established a similar protection zone around the upcoming Holly Street shelter.
Lighthouse Mission plans to demolish its now-vacant building at 910 Holly St. in February. Construction costs change rapidly, Zenonian said, but for now, the organization anticipates spending $21 million or $22 million on the new shelter. Construction will be privately funded, and Lighthouse Mission has raised more than $13 million in donations and pledges so far, Zenonian said. He anticipates Lighthouse Mission will launch a public fundraising campaign for the shelter this fall.
This story was updated to include additional information and quotes at 5:22 p.m. July 27.