Cycling
Tour de Whatcom returns in full force
Scenic social ride's allure: strength in numbers
July 23, 2022 at 10:09 p.m.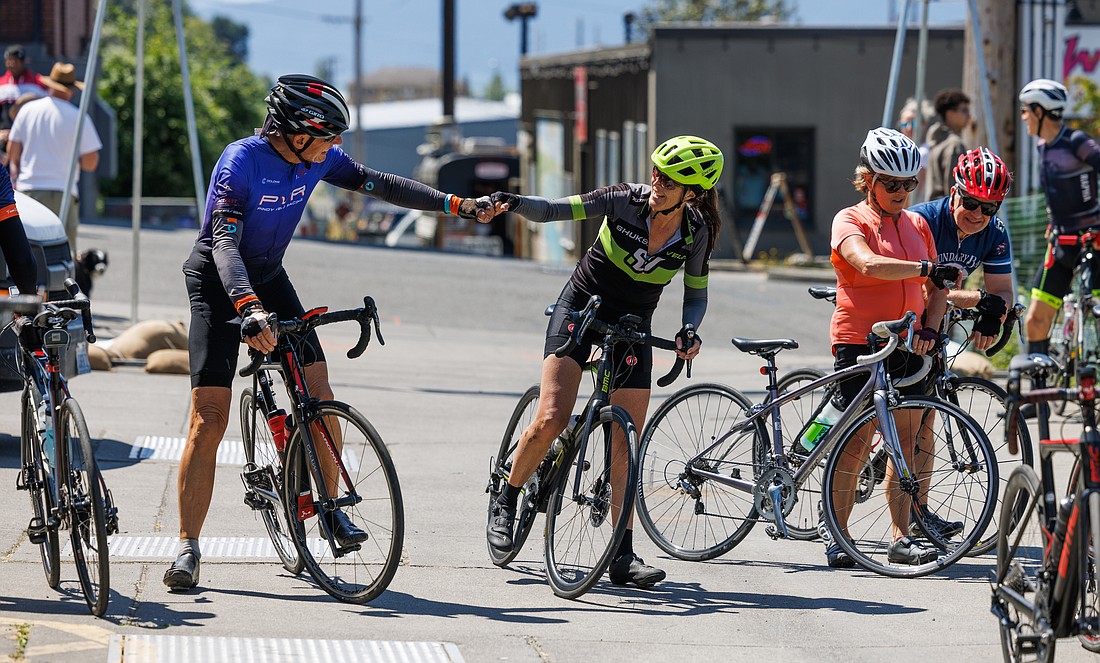 ---
---
Tour de Whatcom, an annual charity bicycle "social ride" drawing hundreds of Northwest cyclists to routes ranging from 22 miles to 100 miles, returned in force Saturday after two years of pandemic restrictions.
Riders welcomed the opportunity to take advantage of the event's traditional drawing card — a strength-in-numbers approach to tour the county's scenic routes in a safe fashion, with a vibe that's all about having fun, not racing.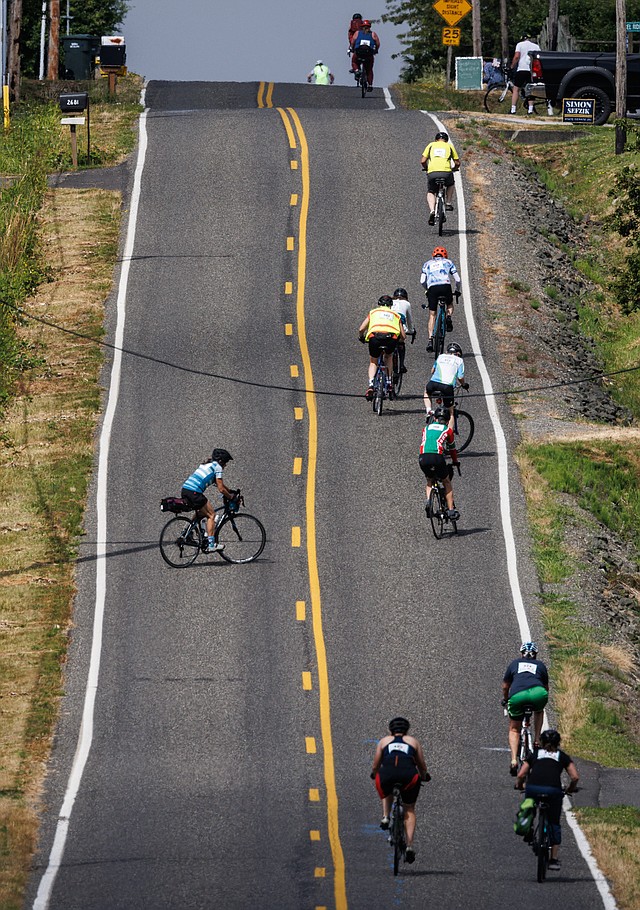 Ferndale's Kate Holman said she has been trying to get her mother, Linda, out on a bike ride with her, but said Linda is nervous about riding alongside busy traffic. They decided the perfect opportunity to do so would be Tour de Whatcom with a few hundred fellow cyclists. 
"That's why my mom's out here today," Kate said. "When you've got 700 people out and everybody's wearing bright colors, it helps you to feel like you're part of a group and safe out there." 
Event organizer Anna Rankin said that sense of security and community is exactly why she has been helping coordinate the event for six years.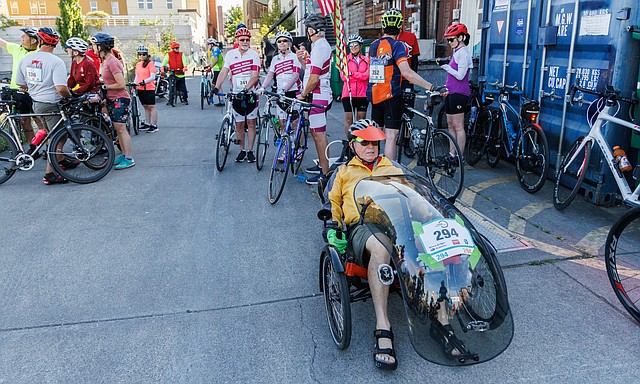 The tour includes routes of 22, 48, 68 and 100 miles, and is open to all age groups and abilities. Tour organizers tout the event as "the Northwest's most beautiful ride" because of its frequent views of Mount Baker, pastoral agricultural lands, shorelines and other county scenery.
Rankin said this year's event was the first full-force ride since 2019 — it was canceled in 2020 due to the pandemic and last year's ride featured only a fraction of the usual number of participants due to the Canadian border closure. 
The event draws typically around 700 riders, but last year that number was closer to 400 due to the Canadian border closure. Roughly 30% of Tour de Whatcom's ridership comes from across the border, Rankin said.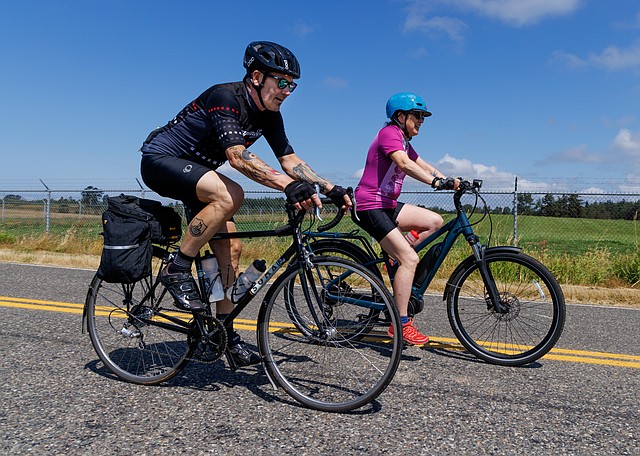 "Some people have been doing this ride every year and for some people, it's the first time they've ever done this long of a ride," Rankin said. "They're doing an organized ride because they've never ridden 22 or 48 or even 100 miles before. So, it makes them feel comfortable, knowing they can do it with our support." 
Along each route are rest stops hosted by nonprofit youth organizations, which earn a majority of the proceeds from the event. Girl Scouts of Washington, Explorations Academy, Ferndale Band Boosters and Blaine High School all participated in this year's event.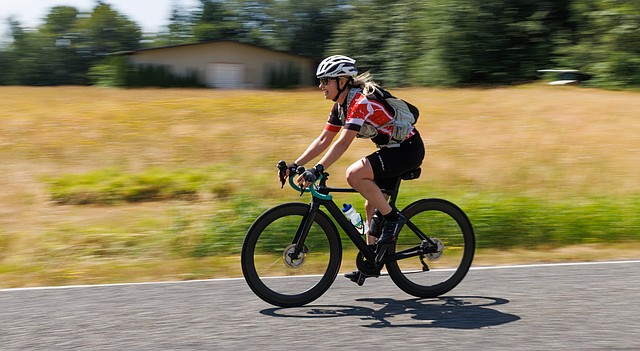 The rides begin and end at Boundary Bay Brewery. The shortest route, 22 miles, goes from downtown Bellingham to Ferndale and loops back to the Railroad Avenue finish line. The next step up is the 48-mile route, a loop path from Boundary Bay Brewery to Beach Cat Brewery in Birch Bay and back.  
The 68-mile Metric Century Route begins south of downtown Bellingham to Alger, then up to the shores of Lake Whatcom at Bloedel Donovan Park. The route continues north up Noon Road until a westward turn all the way to Douglas Road in Ferndale, then pushes back south toward the finish line in Bellingham.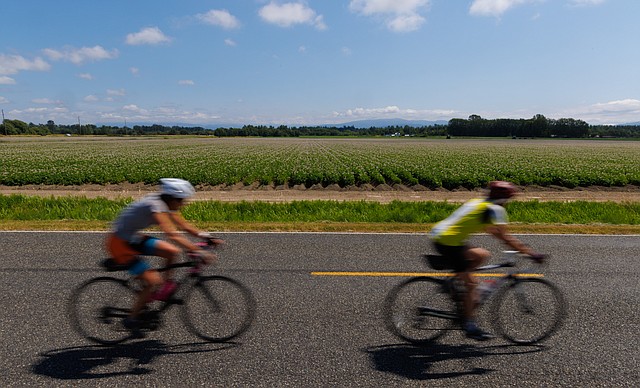 The 100-mile Century Route is a loop around much of western Whatcom County. The route begins by following the Metric Century Route, then continues north all the way through Everson, nearing Sumas and the Canadian border. The cyclists hang a left into Lynden and continue westward all the way to Birch Bay, where they make the final push south into downtown Bellingham after 2,754 feet of elevation gain.