Restaurants
Review: The Porterhouse Pub
Welcome back to a Mount Vernon mainstay
July 22, 2022 at 5:00 a.m.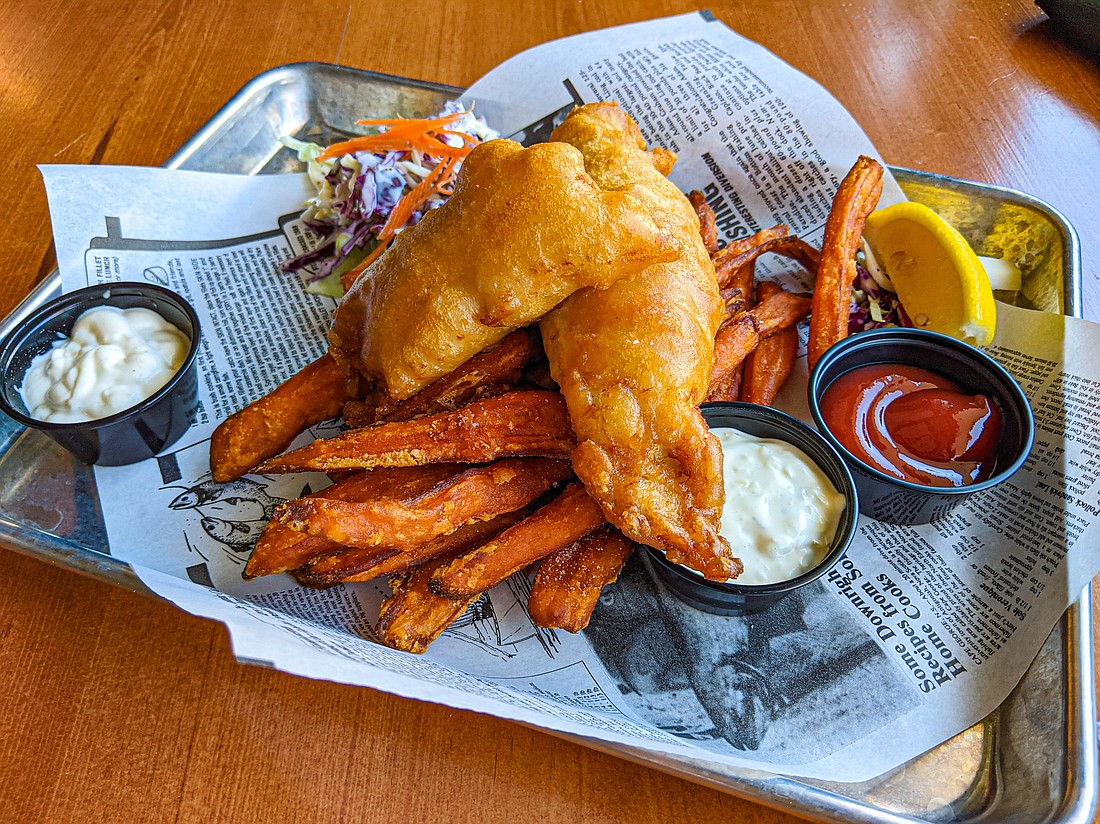 ---
---
Long, long ago, in a pre-pandemic galaxy far, far away, our favorite hangout in downtown Mount Vernon was The Porterhouse Pub on Gates Street. Like so many restaurants, it closed its doors when the lockdown hit, but then kept them shut for the next two years. Only last month did The Porterhouse finally reopen.
It's hard to express the sheer joy that has accompanied The Porterhouse's reemergence. Everyone I know is delighted, and every time we go in we are greeted with "welcome back."
During the closure, the pub had a bit of a renovation. In addition to a new bar top, new booths and tables have been added, giving more seating options. Patrons won't find sidewalk seating, but the lower area has a garage door that gets rolled up on warm days, giving diners a front row seat to Gates Street foot traffic and people waiting to pick up food at Rachawadee Thai next door.
Beer is the feature here, naturally, and there is always a great selection. I recently counted 17 beers and two ciders, in addition to a short but well-selected wine menu. The focus is always on local and West Coast beers, with plenty of familiar names such as Kulshan, Wander, Fort George or Reuben's, and a nice balance of light to dark beers. No hard alcohol is available, but the pub is still 21-and-over only.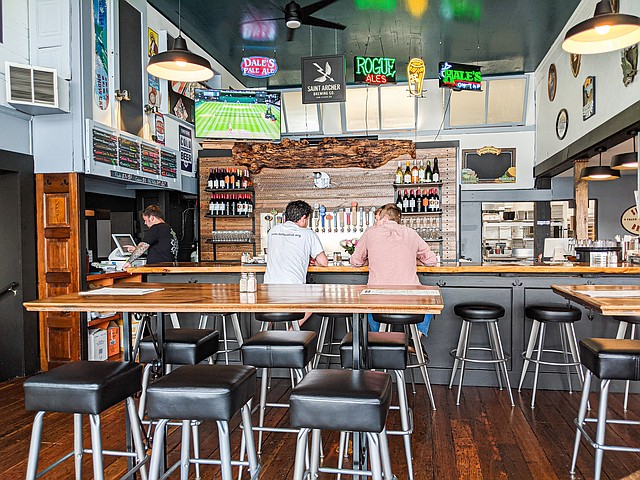 The new menu is almost identical to its previous version, so of course we've had to try all of our old favorites. Sadly, they have discontinued some of our old standbys, like beef stroganoff, but there's still plenty to be happy about. The Porterhouse still offers many of its original appetizers including calamari, nachos and artichoke dip, not to mention carne asada fries. The nachos ($16.95) can even be upgraded with carne asada or chicken to make a very filling meal.
Burgers are key, with options such as elk, salmon, lamb and a very decent black bean patty, in addition to their classic cheeseburger ($16.95). My husband's favorite is the garlic brie burger, which is exactly what it sounds like: a beef patty with brie and roasted garlic on top ($19.95). 
One note: if (like me) you like messy, drippy burgers, be aware that some of the burgers have no sauce at all, so be prepared to ask for mayo or aioli. Burgers come with either fries or potato salad, but I strongly suggest you spend the two bucks to upgrade to sweet potato fries, because the ones coming out of The Porterhouse kitchen right now are, seriously, the best I've ever had. Cut long and wide but with ridges, they're crispy on the outside, melt-away on the inside and nicely salted. Get the spicy aioli to go with. 
Speaking of classics, fish and chips ($18) are good, with a thin, crispy batter crust and tender cod. Portions are moderate, with two fillets, accompanied by fries (we get sweet potato fries, of course) and a small serving of sweet coleslaw. Caesar salad is also a good side for this — I find the new version less creamy and flavorful than it used to be, but it's still nice and crisp with crunchy croutons and plenty of parmesan.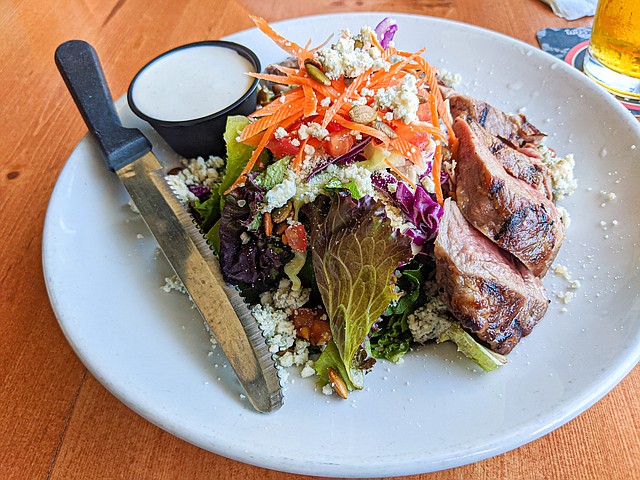 My favorite thing on the menu is the roasted vegetable sandwich ($16.50). Built on rustic sourdough bread, it has melted mozzarella enclosing a layer of eggplant, bell pepper, mushroom and onion, with plenty of aioli to ooze out the sides. If vegetables aren't your thing, a plain grilled cheese is available ($14). Also wildly popular is the PLT, a baguette sandwich with prosciutto, lettuce and tomato, melted parmesan and balsamic vinaigrette ($17).
My other regular order is the steak salad ($19.95). The steak, while often a little chewy, is cooked how you like it, served alongside a big pile of mixed greens with carrot, cabbage, tomato and pepitas. I always get my steak salad with blue cheese dressing, and occasionally extra blue cheese crumbles because: blue cheese. If you want a substantial dinner while pretending to be healthy this is an excellent way to go.
Diners will always find a daily special. It might be salmon tacos, chicken piccata, a burrito, or (on a recent visit) pasta made from scratch with lamb meatballs, marinara sauce and lots of melted mozzarella ($19.95). There are also daily soups and sometimes a dessert special like strawberry shortcake.
As of this writing, the pub is only open Monday through Friday for lunch and dinner, but hopefully will be opening on Saturdays as well in the near future. With any luck, they will keep on making locals happy for a long time to come.
Visit The Porterhouse Pub from 11:30 a.m. to 9:30 p.m. Monday through Friday at 416 W. Gates St., Mount Vernon. Info: (360) 755-3063, or find them on Facebook.