Recreation
Realtor burns 11,000 calories for Bellingham Food Bank
Lifelong resident Ethan Hunger hopes to also raise $50,000
July 21, 2022 at 5:00 a.m.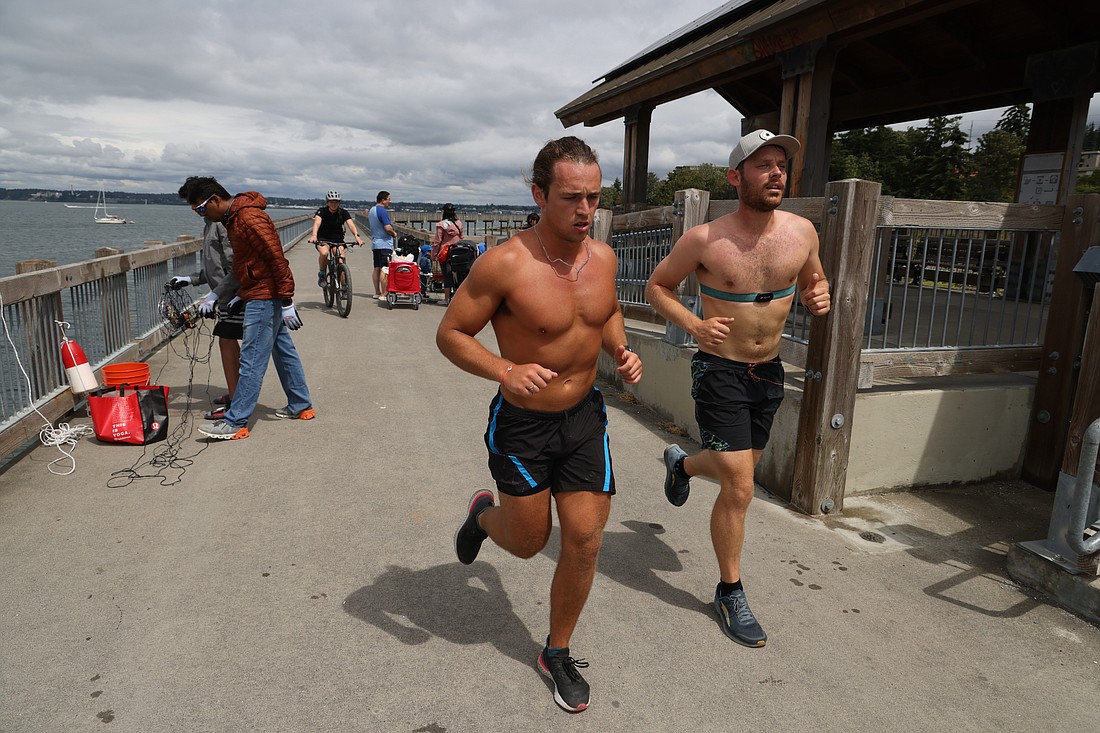 ---
---
After burning 10,000 calories in a single day last summer to fundraise for the Bellingham Food Bank, Ethan Hunger, 24, went for a thousand more Saturday.
Hunger, a realtor for Bellwether Real Estate, set out in an attempt to burn 11,000 calories. By the end of an exhausting 20-hour day, Hunger had burned 11,719 calories.
Like last summer, Hunger intends for his athletic feat to help raise $50,000 for the Bellingham Food Bank in a corresponding fundraiser that ends July 30. The Jerry H. Walton Foundation, a nonprofit whose mission is to improve the quality of life for people in need in Skagit or Whatcom counties, pledged to match the first $15,000 in donations.
Hunger said he started volunteering at the food bank last December after his previous summer fundraiser, which raised nearly $30,000. 
"It was incredible last year to look and see that fundraiser was enough for 200,000 pounds of food," Hunger said. "It would have been really easy to say that was a lot of training and a lot of work to organize, but knowing if I passed it up the food bank would have that much less support was huge for me."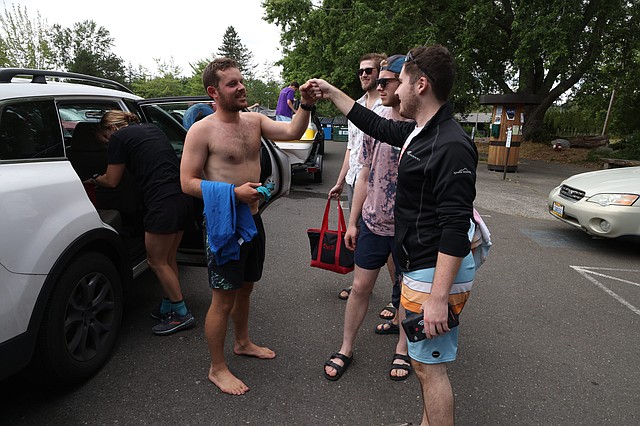 Hunger added the food bank has more than doubled its need with weekly visitors up to 3,100 this year from 1,300 last year.
Although Hunger was focused on fundraising, burning 11,000 calories in one day required a strict training schedule that he began in February. Training included a combination of running and swimming for an average of 30 hours a week leading up to the big day.
Even more planning was required as Hunger had to plan an all-day workout in order to reach his goal of 11,000 calories burned.
Hunger said the route he and his friend Jake Birnel, who joined him for part of the day, decided on was largely inspired by the Ironman Triathlons.
"That was really our benchmark and we just wanted to see how much we could do on that," he said. "The road bike and run were really easy to map out exact distances, but the swim was like drawing a line across the middle of the lake. We weren't exactly sure what that would look like until we did it and we ended up swimming way more than we intended last year, so this year we figured we might as well just swim the same route."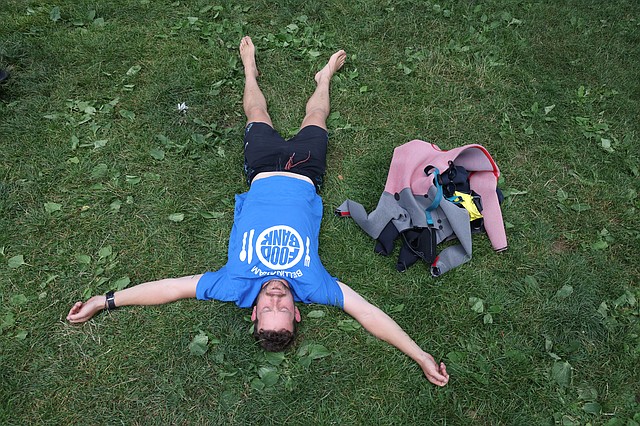 Hunger's route Saturday began at 4:30 a.m. with a 110-mile bike ride from Lake Whatcom to the Bellingham Food Bank. From there, Hunger ran about 13 miles through Fairhaven into downtown Bellingham.
Following the run, the two men swam 2.7 miles from Bloedel Donovan Park to north Lake Whatcom. A 6.61-mile bike ride through the Chuckanuts preceded another 13-mile run from south Bellingham, around Lake Padden and ended in downtown Bellingham.
It was about 10 p.m. when a high-intensity interval training workout closed out the day, although Hunger had already surpassed his goal of 11,000 calories by that point.
"It's a glorified Ironman with a little high-intensity interval training at the very end just for a ribbon on top," he said.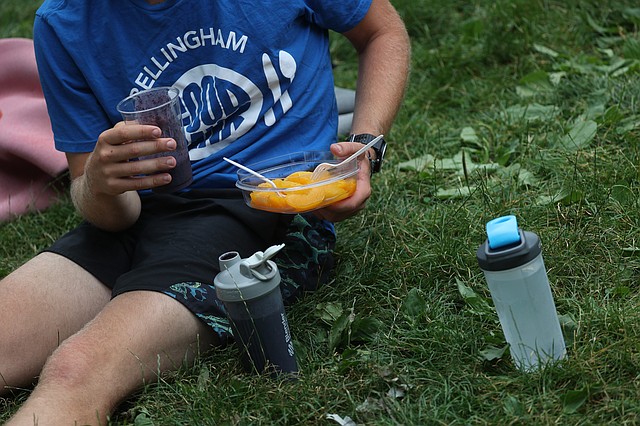 In total, Hunger burned 11,719 calories throughout the day. He burned the most calories — 5,227 — during the morning bike ride. The 26.3 miles he ran burned 3,448 calories and his 2.7-mile swim burned 1,552. The mountain bike ride burned 791 calories and the HIIT workout burned 701.
A nearly 20-hour day wasn't without its hiccups. A flat tire 91 miles into the 110-mile road bike ride, a dog chasing after Hunger and Birnel on their bikes and cramping provided some early problems.
Birnel's quad cramped so badly on their run he had to drop out, leaving Hunger to himself the rest of the day.
Everything else went smoothly thanks to a lot of help along the way, Hunger said. All the support people provided him throughout the day helped give Hunger the mental boost he needed to keep going.
"My girlfriend woke up with me at 3:30 in the morning and drove behind us on our bikes until the sun came up. She's a huge part of the day and came in and out of all of the different legs," he said. "I had a support crew meet me — my roommate and his brother — at mile 80 or so with Gatorades, water and some granola bars. There's these gentlemen who volunteers with me at the food bank — they met us at mile 63-ish and had water and bananas."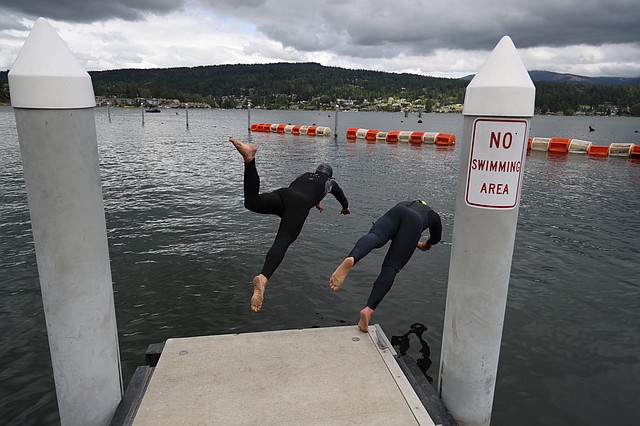 The day after, Hunger said he could hardly manage stairs.
"I could barely get out of bed and had to get pulled out of bed, pretty much," Hunger said Sunday evening. "My legs are super stiff. My energy is fine and, mentally, I'm fine. The motor feels like it's there, but it's my tendons and the muscle fatigue. Everything else is debilitating."
Finishing every leg felt unbelievably gratifying, Hunger said, and looking ahead he's hoping to see the money he's raised inch closer to the goal of $50,000 before the fundraiser closes at the end of the month.
Despite his sore legs, Hunger said he will be back at the food bank volunteering on Thursday. 
As of July 18, Hunger had raised $32,351 for the Bellingham Food Bank with donations still being accepted at donations.bellinghamfoodbank.org/hungervshunger.