Housing
Tiny home village to be displaced by proposed Post Point construction
'We want to make sure we can try to identify a site,' city says
July 20, 2022 at 5:00 a.m.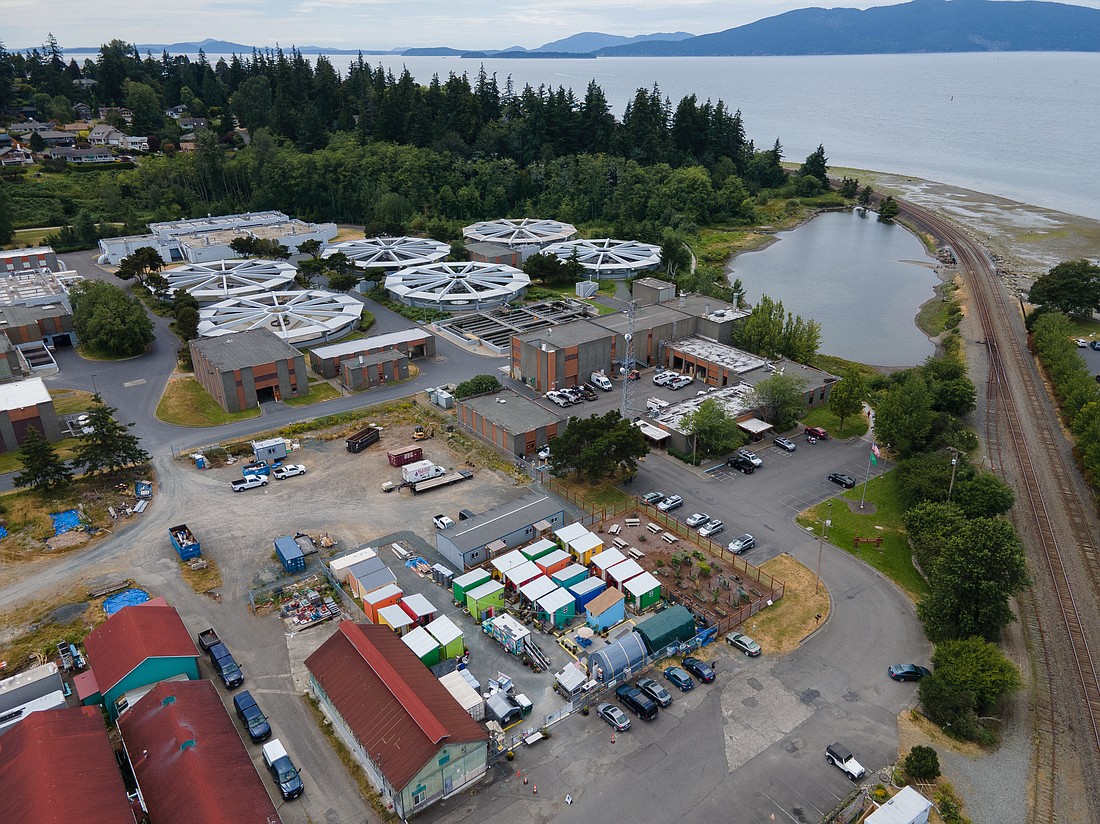 ---
---
The porch of Tina Hayes' Unity Village tiny home is covered with flowers — shades of purple, yellow, blue and white stretch up the stairs and fill the space. The paths around her home are lined with more plants, and when the sun is shining, her dog likes to stretch out near a covered picnic table where neighbors often gather for meals.
"This is my home, and we are all working together to make this community beautiful," she said. 
Hayes is one of 23 residents and a community manager at Unity Village, a temporary homeless shelter near the Post Point Wastewater Treatment Facility in Fairhaven, where she's lived for the past three years. Her tiny home, which came equipped with a mattress and bright purple walls, has been a godsend, providing her with a safe place and a community to land on her feet.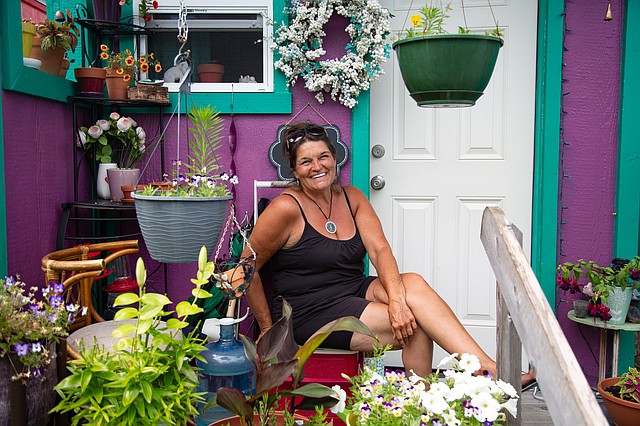 "Here, you don't need to worry about where you're going to lay your head at night, or if you're safe or where your next meal comes from," Hayes said. "Unity Village provides so much more than housing. It's a community. It's a second chance. It's life-saving." 
When construction at the Post Point facility begins next summer, Unity Village will have to close its doors, and Hayes, along with the 22 other residents, will need to relocate. 
The village is one of two tiny home communities in Bellingham operated by HomesNOW!, a local group attempting to end homelessness. Unity Village is currently located on city property. Managers at the village are hopeful city leaders will provide a new location for the emergency shelter, but won't know "until the last minute," said HomesNOW! chairman Doug Gustafson.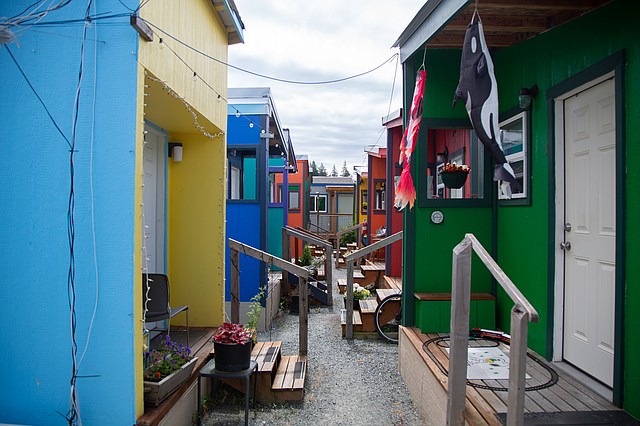 "The city previously committed to have a spot for us to move to, but we haven't heard anything solid yet as far as where to move," he said. 
Blake Lyon, the city's director of planning and community development, said various departments have been discussing alternative locations, but at this point in time "no site has been selected." 
"We're looking for a site in terms of how much capacity can that site hold, what are the different ownership issues or different constraints, does it have access to goods and services?" Lyon said. "We don't have a specific timeline for when we're going to arrive at an answer."
Hayes, who other residents described as "the backbone of Unity Village," says the move will be incredibly stressful for tenants, many of whom faced traumatic experiences while homeless. 
"This not knowing is nerve-wracking for tenants," she said. "Being in a state of transition is stressful. People are at the point of fear of being homeless again." 
In Bellingham, the demand for homeless services and shelters is rising. The Base Camp shelter, the largest in Bellingham, can house up to 200 people each night and has been at or near capacity for much of the year. 
Gustafson said demand is bound to increase even more as rents rise and wages remain stagnant.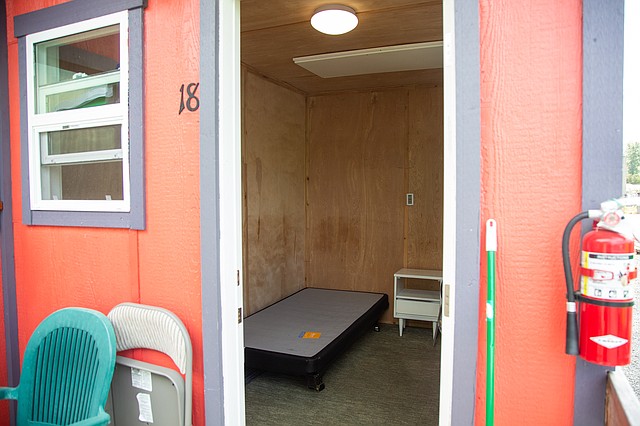 "Rents are getting more expensive, but wages aren't going up and benefits aren't going up, so we're going to see a lot more people being thrown into this position," he said. 
In Whatcom County, the average rent for an apartment clocks in around $1,433 per month, according to data from The Washington Post, a 9.5% rise in average cost since 2019. Many of the residents of Unity Village live on fixed incomes, unable to pay the high rents. Others are disabled, fighting cancer or veterans. 
"The village acts as a stepping stone for a safe place to live while you're figuring out how to get into more permanent housing," Gustafson said. "Some residents just stay for a few weeks. Some people have stayed for years." 
Unity Village currently has about a 48% rehousing rate, meaning almost half of the tenants have left to move into permanent housing. 
Because the village has been so successful in offering services, Lyon said the city is working hard to find a suitable location so the current tenants do not return to the streets. 
"It's certainly not in our interest to [close the village]," he said. "It's a very necessary stepping stone to helping these folks. We want to make sure we can try to identify a site."
Gustafson said HomesNOW! hopes to start a third village in the city to account for the high demand in the community. Their resident-run model, he said, works for most people, and gives homeless individuals privacy and dignity while they get back on their feet at a very low cost to the city. 
"There's a lot of empty parking lots and empty grass fields in the city and the county," Gustafson said. "They have the funds to put some infrastructure in and leave it to volunteer groups like us to help people into a better situation."
HomesNOW! operates as a salary-free operation: Gustafson does not receive a paycheck for his work as chairperson, and neither do the village managers, meaning the operation costs are incredibly low. 
"People come to us with nothing, and they leave with a job, a car, a home, a life," Hayes said proudly. "This structure works, and it helps so many folks. Doug has saved so many lives with this."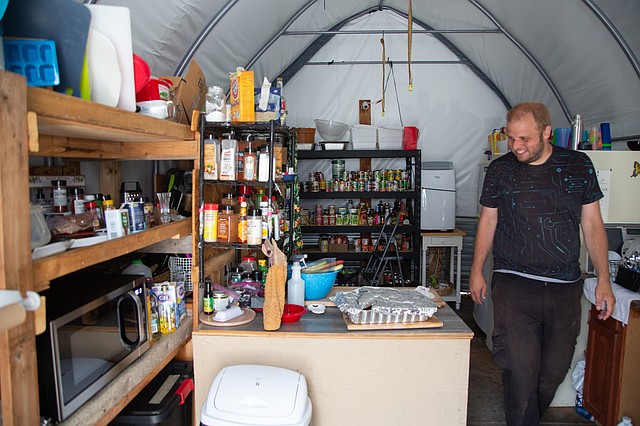 With more questions than answers, the community is continuing business as usual. They've already welcomed a couple of new residents this month, giving them the grand tour, fresh sheets on their brand-new mattresses and access to a fully-stocked kitchen. 
"People are asking, 'Is this space still going to be here next year?'" Hayes said. "We wish we had answers. No one wants to be continually wondering, 'Are we going to have to tear down this beautiful community, this home we built?'"