Recreation
Bellingham Canoe and Kayak Sprint Team members prep for nationals
Paddlers discuss practice, independence and community leading up to August competition
July 17, 2022 at 5:00 a.m.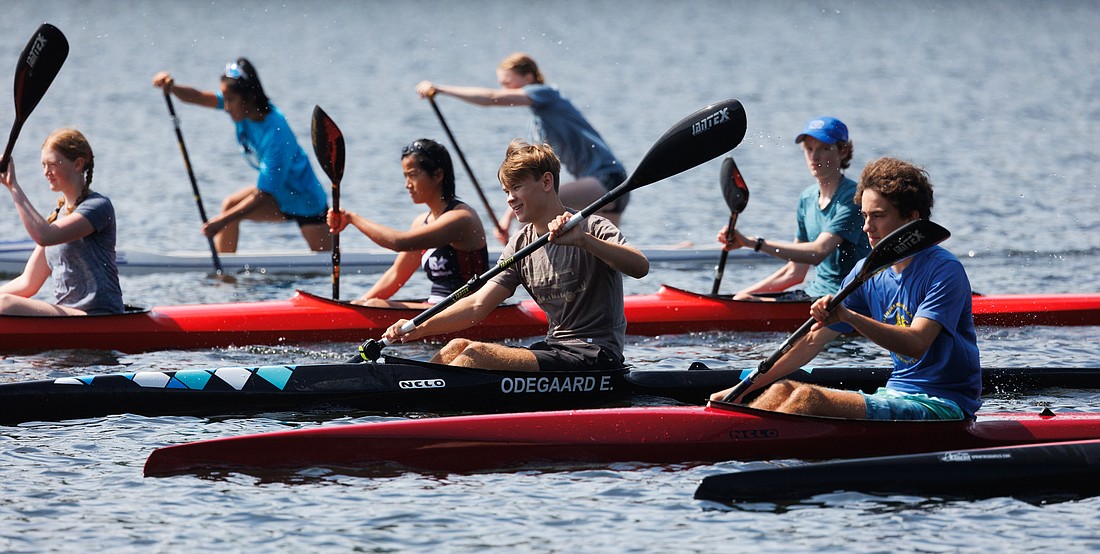 ---
---
On a bright Saturday morning, young paddlers hopped in kayaks and canoes on Lake Padden and practiced 200-meter starts, accelerating up to race speed in single boats, doubles or boats of four. At the whistle of coach Steve Scoggins, their paddle blades pushed through the water as they cut back and forth across the lake. 
The paddlers, aged 8 to 18, are a group of area students who participate in the Bellingham Canoe and Kayak Sprint Team, which competes in canoe and kayak racing on flatwater courses.  
From March through October, both newcomers and experienced paddlers can practice Saturday mornings, Monday and Thursday afternoons, and Tuesday evenings, then compete in community races at Lake Whatcom on Wednesdays. The paddlers race in local and state regattas throughout the season. 
"You get to see young people having the best day of their life over and over," Scoggins said. "They feel confident and they've learned a skill that's very difficult, and they get a big boost of confidence at certain points in their life when I think they need it the most." 
Longtime members of the team are looking forward to the American Canoe Association Sprint National Championships in Cincinnati in early August. As the competition nears, the older paddlers will add extra practices to their schedule to prepare.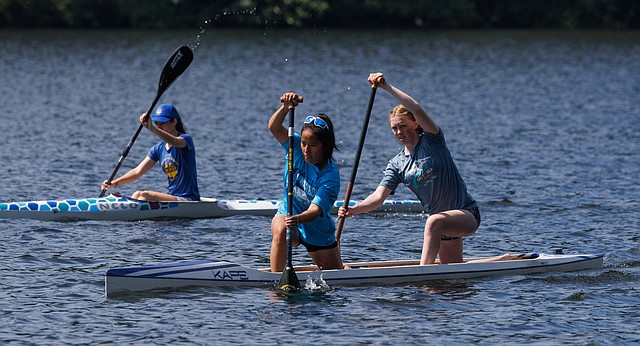 At nationals, paddlers have the chance to qualify for the 2022 Olympic Hopes regatta in Slovakia, as past team members have done. Some of the sprint team's notable alumni have gone on to win Ski to Sea and compete for Team USA. 
Some high school members of the sprint team have competed in prior national championships in north Georgia and Oklahoma City, among other locations.  
"[In Oklahoma], our [boat] trailer was parked down at the venue, and we would just like skateboard from our hotel over there," said Sean Lee, 17, who will be competing at his second nationals. "It was super fun ... We were all at the hotel hanging out after races." 
Paddlers who will be returning to nationals include Sean Lee, his brother Ryan Lee, and Zachary McGiverin, who each joined the team around six years ago after attending a summer camp for beginners. Four years ago, Ethan Odegaard attended his first practice at the encouragement of a friend from Boy Scouts. Abby Scoggins, one of Steve Scoggins' daughters, has been with the team since its first year.  
"I feel like I've been on a lot of sports teams, and this is the one where ... I really feel a sense of community," McGiverin, 17, said. "Everyone's always playing games and having fun before practice, and that's half of it, besides the actual kayaking. And when it comes to kayaking as a sport, I feel like there's just so much to it, and it's almost kind of serene and peaceful, putting the blade in the water."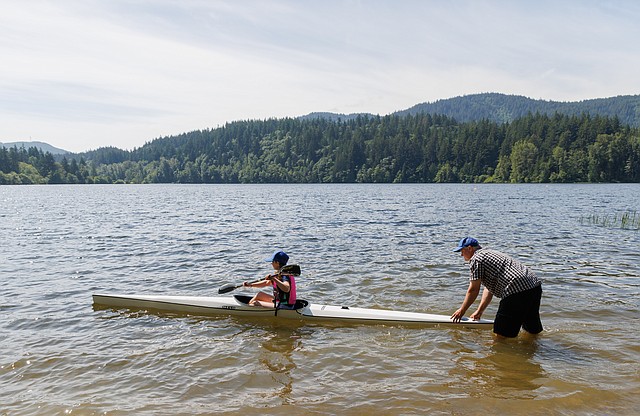 Longtime kayak racer Dan Baharav founded the Bellingham Canoe and Kayak Sprint Team in November 2012, and the team began training the next year. Barahav, who moved to Bellingham in 2004, saw Lake Padden as an ideal place for a team and, according to Adventures Northwest Magazine, used donated boats from other regional teams to begin practices. Scoggins began as a volunteer parent assistant coach with Barahav. 
The team has grown to about 30 paddlers on its roster, Steve Scoggins said. There is a sense of independence and flexibility to the paddlers' training, with a blend of guided instruction and self-motivation. 
"[Steve] wants to make it about us," Sean Lee said. "He tells us what he knows and gives us advice, but he leaves that up to us. He trusts us and he wants to make the team about us." 
The boys described how this independence and trust came into play while the team avoided large group practices due to COVID-19. Team members would still go out on their own and paddle, which was "a big helper with mental health," Odegaard, 16, said. 
Another unique aspect of the team is the wide range of athletes' ages, all practicing together. Team members compete in different races depending on age classification and sometimes split off into different groups at practices to run drills with volunteer coaches.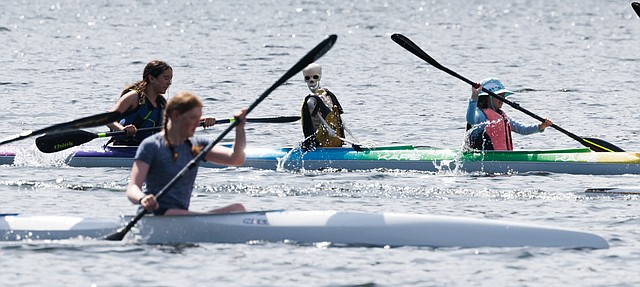 "I guess growing up with the team ... I was one of the younger kids," Abby Scoggins, 17, said. "And I'd go to nationals with all the older teenagers ... Now I'm that person, which [is] really cool." 
Steve Scoggins estimates the group will take around 11 paddlers to nationals. He will drive the team's boats to Ohio, where youth and adult paddlers from across the country will gather to compete in events ranging from 200-meter to 5,000-meter races from Aug. 1–5.  
In 2019, the team won 40 medals at nationals, and in 2021, 37 medals.  
Though an exciting opportunity, Steve recognized that the travel to nationals is a "financial commitment" for members of the grassroots nonprofit organization that aims to "keep the costs low so that everybody has access to it." He said the trip often turns into a family event with parents attending to help chaperone.  
"It's a four-day event," Steve Scoggins said. "It's all day, so you're there cheering on your team. You're hanging out with your teammates or meeting new people from around the country and, in general, it's a festival of sorts."