Outdoors
No mailing it in on Mailbox Peak
New trail to old novelty is a NW rite of passage
July 15, 2022 at 5:00 a.m.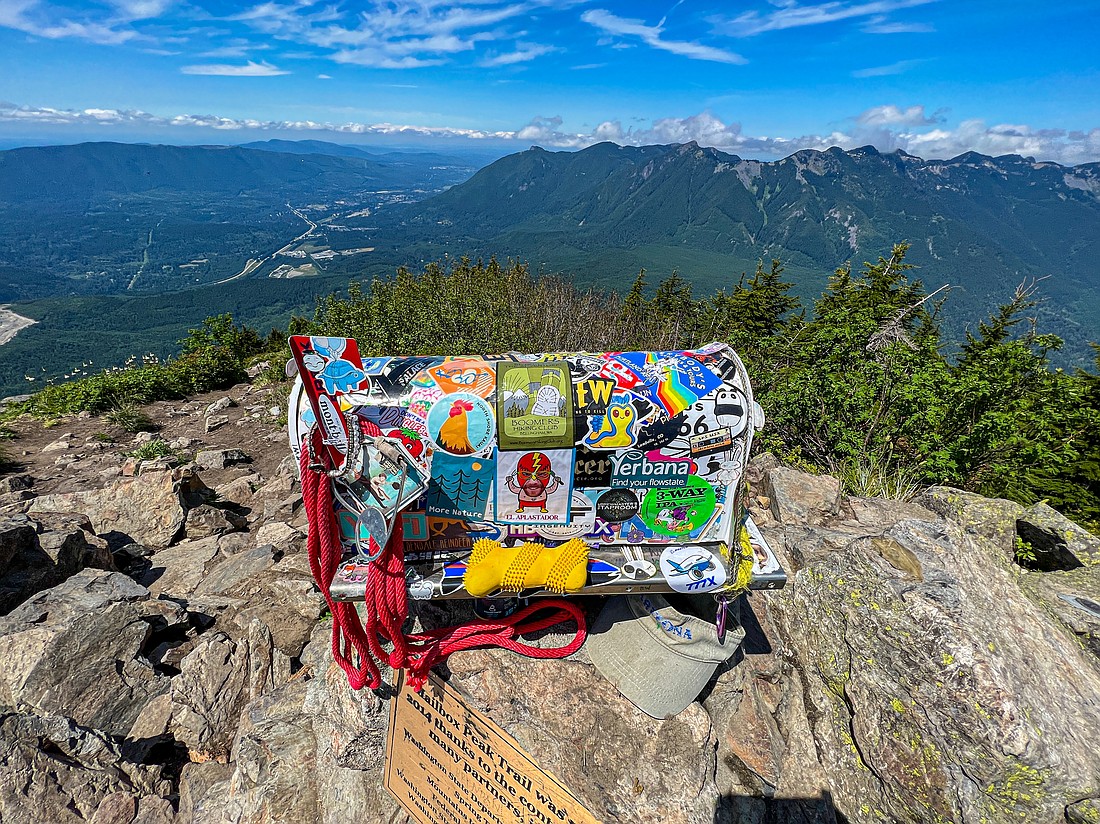 ---
---
NORTH BEND, King County — The half-mile to hell usually begins with one word.
"Really?"
Or perhaps something a little spicier. 
The half-mile in question comes after more than 5 miles of ascending past disheveled timber woods and scrambling across a boulder field that reminded me of a rock garden of the gods. 
That's when we rounded a bear grass-lined bend and looked up.
Nine hundred sixty feet up.
The route to the top of 4,843-foot Mailbox Peak involves Seattle's version of the Hillary Step. Excuse us for the exaggeration as the half-mile, snow-free climb in the Cascade foothills in no way resembles those final body-bending 40 feet to the summit of Mount Everest.
It just feels that way after trudging through forestland for a couple of hours, scaling the boulder field and discovering that, nope, we're not there yet.
Not. Even. Close.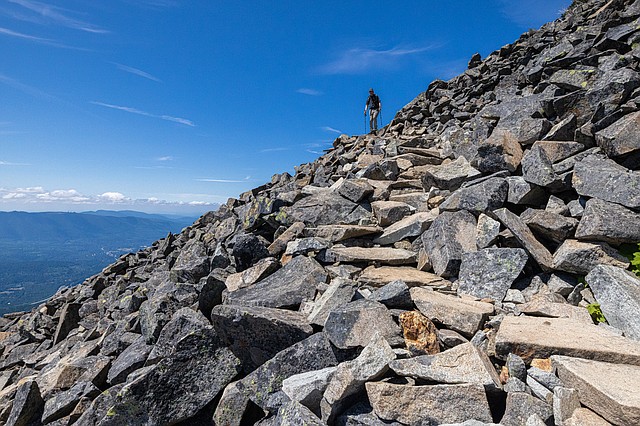 The 4,000-foot climb has made Mailbox Peak an attraction for Seattleites, who can get here in about 40 minutes. The novelty of a decorated mailbox on top has added to its charm for western Washingtonians.
We turned it into a two-day adventure from Bellingham by first ascending Red Top Mountain Lookout above Cle Elum and spending the night at Snoqualmie Pass. Red Top is one of Washington's 93 fire lookouts. The 1-mile climb starts at almost 5,000 feet and offers front-row seats to the Enchantments and Stuart Range.
We scurried up the 400 feet. But for Mailbox, add another zero to the elevation gain and call for a rewrite.
Drama occurred well before the intimidating final pitch as our Bellingham contingent of hoofed beasts powered through the forest canopy of the Middle Fork valley of the Snoqualmie River.
The women almost always lead the way while providing an entertaining soundtrack of chatter. Ellie Miller was into a hilarious story about online dating when a woman hiking ahead of us had had enough. She stopped and screamed from the switchback above: "Can you pass us? I want to hear the birds."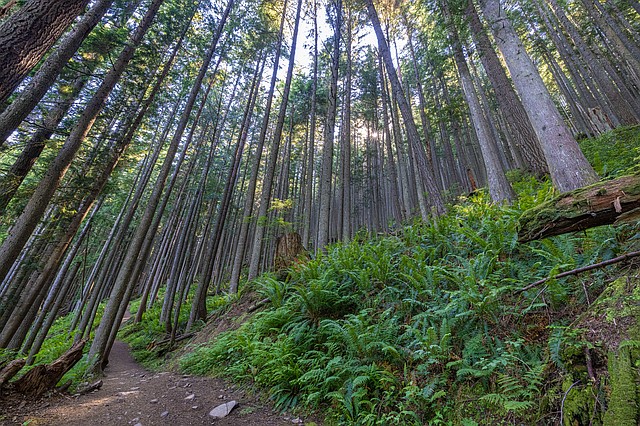 Then she told her husband, "I can't take it anymore."
Miller and the others apologized profusely, understanding most people head into the woods for solitude — even on heavily trafficked trails.
If only birdsong was a prominent feature of the Mailbox Peak Trail.
People have all kinds of reasons to ascend the mountain's northwest face. Some are in training for the rigors of climbing Mount Rainier, which seems close enough to touch on a clear day atop Mailbox.
We saw one superfit woman practically run the trail and a young man scampered back up for a second summit of the day about the time I reached the trailhead parking lot.
I often hiked Little Si and the Issaquah Alps when living in Seattle decades ago. But I had never attempted the old trail to Mailbox.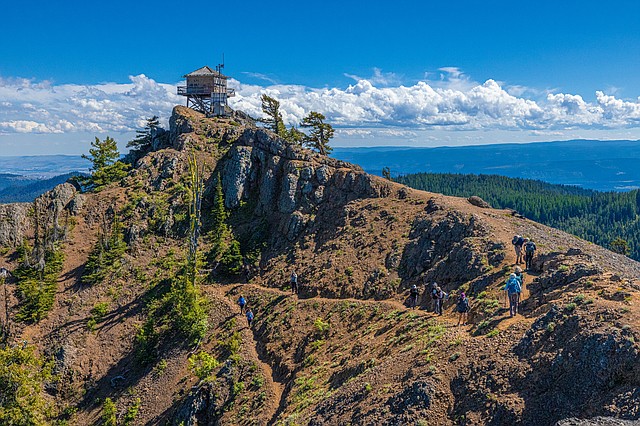 Hikers had only one rugged route to the top until eight years ago when a collaborative effort led to building a gentler new trail. Some hikers still take the legendary heart-pounding path as a sort of ritualistic test of willpower.
"People basically just hiked uphill and beat in a path," said Stacia Glenn of the state Department of Natural Resources, which manages the trail.
A north Seattle letter carrier gave the summit its special cachet when lugging a heavy metal mailbox to the top on July 4, 1960, Glenn said. The postal worker, Carl Heine, had served as director of a Lutheran family retreat center that met near where the trail once began. Heine sent teenagers on endurance missions to sign the summit registry he left in the box, according to reports.
"The mailbox started as something to hold a trail register but became a catch-all for tokens, trinkets and notes that people wanted to leave on the summit to share with others," Glenn said in an email.
Some trail reports note hikers have found beer and a fire hydrant at the rocky point. DNR officials estimate people have replaced the mailbox 15 times, including briefly with a "Whale Box."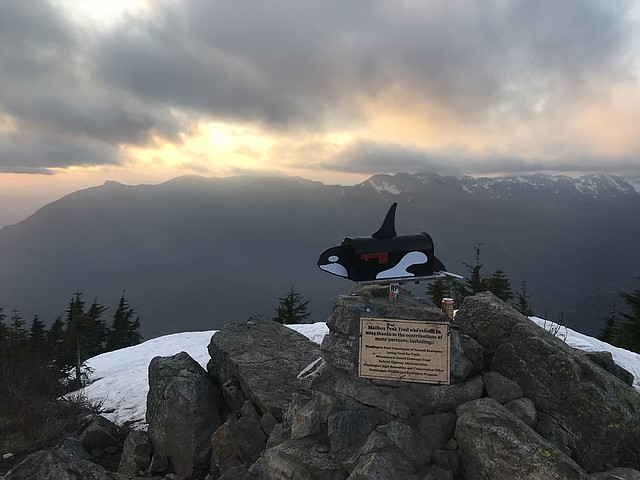 The mountain became known as "Mailbox Peak" in 1991 after Sally Pfeiffer of Seattle published a report in the Washington Trail Association's monthly publication using the name. The trail's reputation grew with the Amazonization of Greater Seattle. 
"It became a social media picture," lamented James Szubski, author of "Snoqualmie Strange: A Most Peculiar Hiking Guide."
The old trail seemingly shot up into heaven from the ground. No switchbacks or rest stops. Just one agonizing step after another in just less than 3 miles. People got fatigued, disoriented and eventually into trouble.
"We picked up people in flip-flops, no water, no first aid kit," said Szubski, a former King County Search and Rescue volunteer. "If you didn't see the sign marker you would get cliffed out."
In other words, hikers would go the wrong way and reach the edge of a cliff with no way to retreat to safety.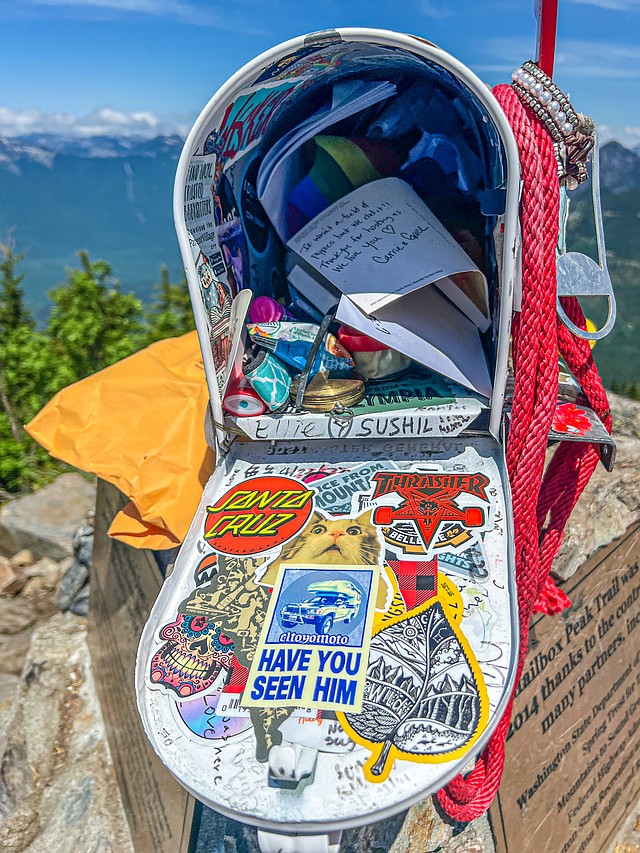 By 2012, DNR officials began work on a new trail to reduce the number of rescues and make it more accessible. The state partnered with Mountains to Sound Greenway Trust on the project that took two years to complete. EarthCorps, Washington Conservation Corps and the Washington Trails Association also assisted the $500,000 project.
The effort reduced the formidable trail's slope from 60% to 25%. That's still steep, as my leg muscles will testify. The DNR's Glenn said a well-planned hiking trail has a 10% to 15% grade.
On the autumn day the new trail opened in 2014, the Greenway Trust "mailed" a letter to the U.S. Secretary of the Interior from atop the peak. The letter called for support of the Land and Water Conservation Fund which conserves lands and improves outdoor recreation opportunities.
We didn't have such an orchestrated ceremony. Our hiking leader stuck a sticker on the side of the box to commemorate a day in which none of us "mailed it in."
If you go
Mileage: 11.4 miles round trip
Elevation gain: 4,041 feet
Time: 6 1/2 hours on average
Directions: It's about a 2-hour trip from Bellingham. Take Interstate 5 south to I-405 south to I-90 east. Just past North Bend, take exit 34 and head north on 468th Avenue Southeast for about a half-mile. Turn right on Middle Fork Road and continue for 2 1/2 miles to the turnoff up a hill to the Mailbox Peak parking lot.
Passes: Discover Pass
Trail notes: The reliable Washington Trails Association lists the hike as 9.4 miles. Other reports vary. The Mountaineers say it is 11.2 miles. Four in our group independently measured it closer to 11.4 miles. Afterward, head into North Bend where David Lynch set his eerie 1990 TV series "Twin Peaks." The foothills town has plenty of refueling stations with beers and burgers before the trek home.
Elliott Almond's outdoors column appears monthly. Email: elliottalmond4@gmail.com