Business Matters
Would you like a side of compost to go?
Restaurants prepare for Bellingham single-use plastics ban
July 13, 2022 at 4:45 a.m.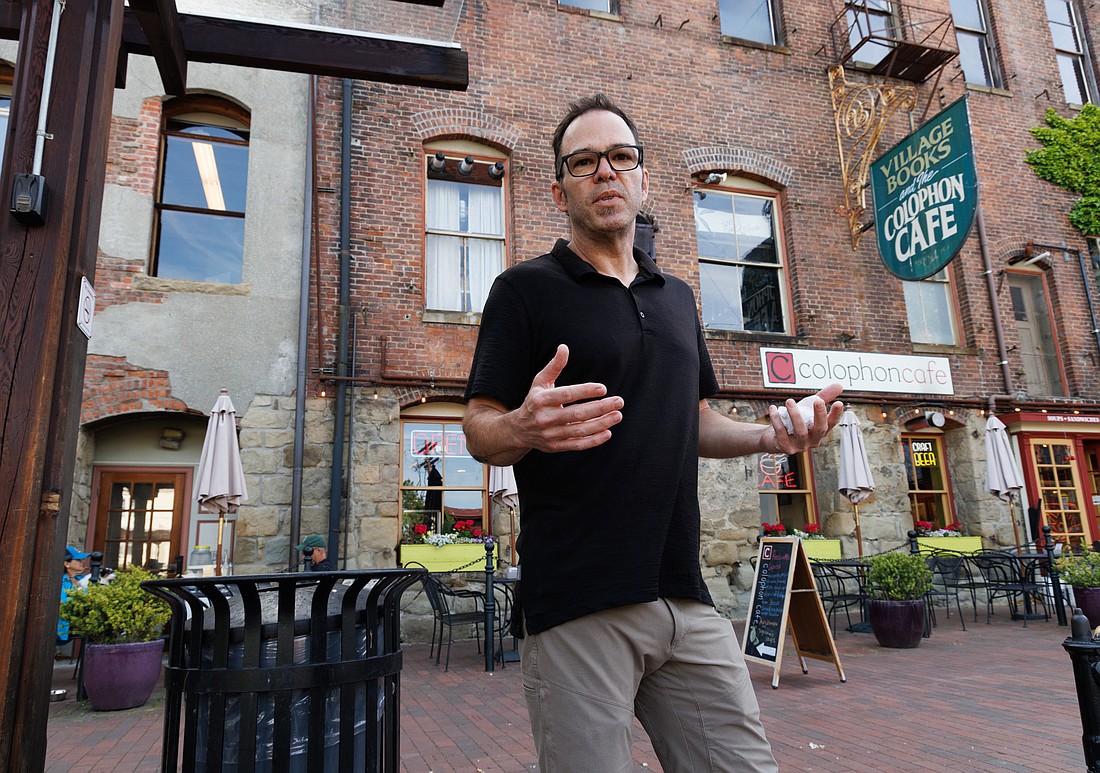 ---
---
Solving the "last bin" problem. It's not easy being green. It's not cheap, either. But — like it or not — Bellingham restaurants, pubs and bars will be among many businesses affected by a city ban on single-use plastics that takes effect on July 31.
You want that soup and salad to go? It'll have to accompany you in compostable containers that are generally more costly than their plastic counterparts. That's hitting eateries, which traditionally have slim profit margins of 3–5%, at the same time they're digging out from pandemic debts and dealing with decades-high inflation.
The Bellingham ordinance isn't a surprise, nor limited to take out. Approved in June 2021, the restrictions also cover hotels, grocery stores and caterers. They even have strong supporters among those regulated.
"I am 100 percent on board with this ordinance," said David Killian of Colophon Cafe, who has the title of dishwasher/owner and says his Fairhaven restaurant has been using compostables for more than a decade. "This is the right thing to do, which is why we've been doing it all along."
Killian acknowledged many businesses and customers will need to adjust. First, take the cost. An analysis by Jenni Hannan, Colophon's general manager, found replacing plastics with compostables for a typical takeout order of soup, salad and bread meant a cost increase of 47%, from $1.34 to $1.97 per order. 
Second, add the sourcing of compostables. It's already been hit-or-miss due to supply chain issues.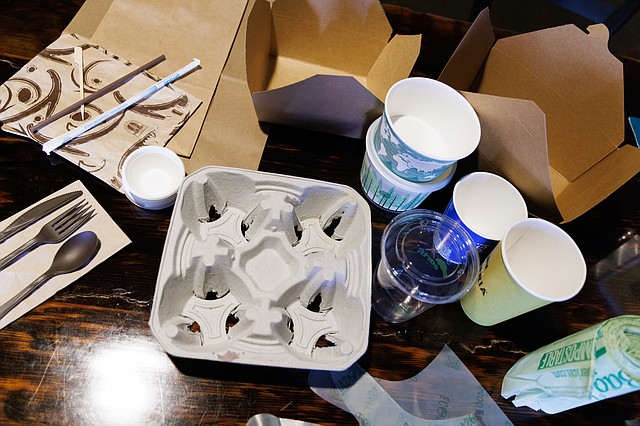 "You're going to see this demand surge on these products, which is going to lead, we suspect, to probably another shortage on these," Killian said. "What happens when demand goes up? Price goes up." 
As a result, diners may pay more out of pocket if they don't eat in. How and how much, exactly, is uncertain: perhaps a flat-fee surcharge. For longtime compostable adherents like Colophon Cafe, it's already built into their price structure. Not so much for others.
"Timelines and supply chain issues have come up regularly," said Jenna Deane of Sustainable Connections, which has a contract with the City of Bellingham to help food service and other firms with the transition. "Businesses need time to both test new products and order what works, so a 'quick pivot' isn't really possible." 
Deane added that a survey Sustainable Connections did last year found the "vast majority" of people asked would be willing to pay between 10 cents and a dollar more for takeout. 
"We all want our favorite restaurants to succeed, and so I like to think that most of us will understand and be willing to pay a takeout fee," she said.
Yet it's the third leg of the adjustments stool that still has Killian and Hannan seeking balance: proper disposal of the soon-to-be-required compostable items. Specifically, it's the lack of public composting receptacles on sidewalks and in parks — not just having them at homes. Those bins are a starting point that allows containers to begin the journey to becoming compost.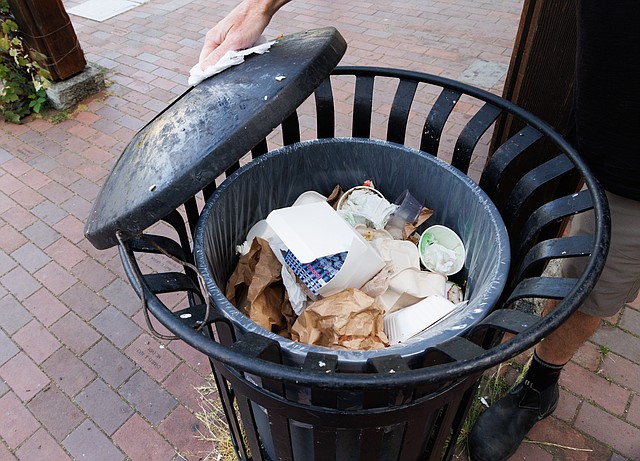 Killian pointed to a trash can on Fairhaven Village Green. A cornucopia of compostable to-go containers was inside. 
"I think it starts with at least providing the receptacles that people can sort between compost, recycling and garbage," he said. "It has to be available. Whether or not people take the time to sort is the next challenge, and that's educating them."
Brandon Brubaker, solid waste manager for City of Bellingham Public Works, said while the primary goal of the single-use plastics ban is to significantly reduce the amount of petroleum-based plastic sent to landfills, the city "recognizes that a compost facility is the ultimate best disposal option." For now, the only firm plans are for a pilot of FoodPlus compost bins in what are described as two high-traffic public areas. 
Ultimately, Hannan thinks any adjustments and short-term pain will be worth it, with increased demand possibly leading to eventual lower container costs for restaurants. 
"My hope is that companies will learn that there's a value in compostables and they can find a cheaper, easier way to produce it," she said. "But we're going to have to get over that initial hump."
Raspberries by the numbers
Yes, the Northwest Raspberry Festival returns to Lynden July 15-16. But the Washington Red Raspberry Commission would like you to know there is more to the cute bumpy fruit than something tasty and colorful floating in a champagne flute. 
Fun facts — or at least stats — from the industry trade group: Washington state produces about 90% of the frozen red raspberries sold in the U.S. Whatcom County has the highest number of processed red raspberry growers in the state, roughly 65 growers on 9,200 acres in 2021. And all of those to-be-frozen raspberries account for over $90 million in sales, approximately 25% of Whatcom County's total from agricultural products.
Places & things
•    The people behind Carnal and Accomplice in Bellingham are planning a new restaurant at 1147 11th St. The American/French bistro Estelle should open by the beginning of August in the old Swim Club location, according to owner Skip Williamson. Cocktails will be a highlight. "The whole drink program will be very elevated, very thought out," he said.
•    The Local Public House and the Local Annex in downtown Bellingham at 1427 Railroad Ave. closed on July 9. Demand was so great after the closing announcement appeared on Facebook on Friday, July 1 that the Local said it ran out of food over the holiday weekend. 
•    Renovations continue at The Shops at Burlington at 448 Fashion Way along I-5, which sold in March for $9.5 million, per Skagit County property records. Al Monjazeb, owner of Burlington Investment Properties, said work on landscaping, roofs, paint and repairs are underway at the longtime outlet mall. Up next, he said, will be new tenants and a rebranding, "hopefully soon."
Frank Catalano's column appears Wednesdays. Email: frankcatalano@cascadiadaily.com; Twitter @FrankCatalano.