Volleyball
Whatcom volleyball club team wins bronze at nationals
From beginners to medalists in three years
July 12, 2022 at 5:15 a.m.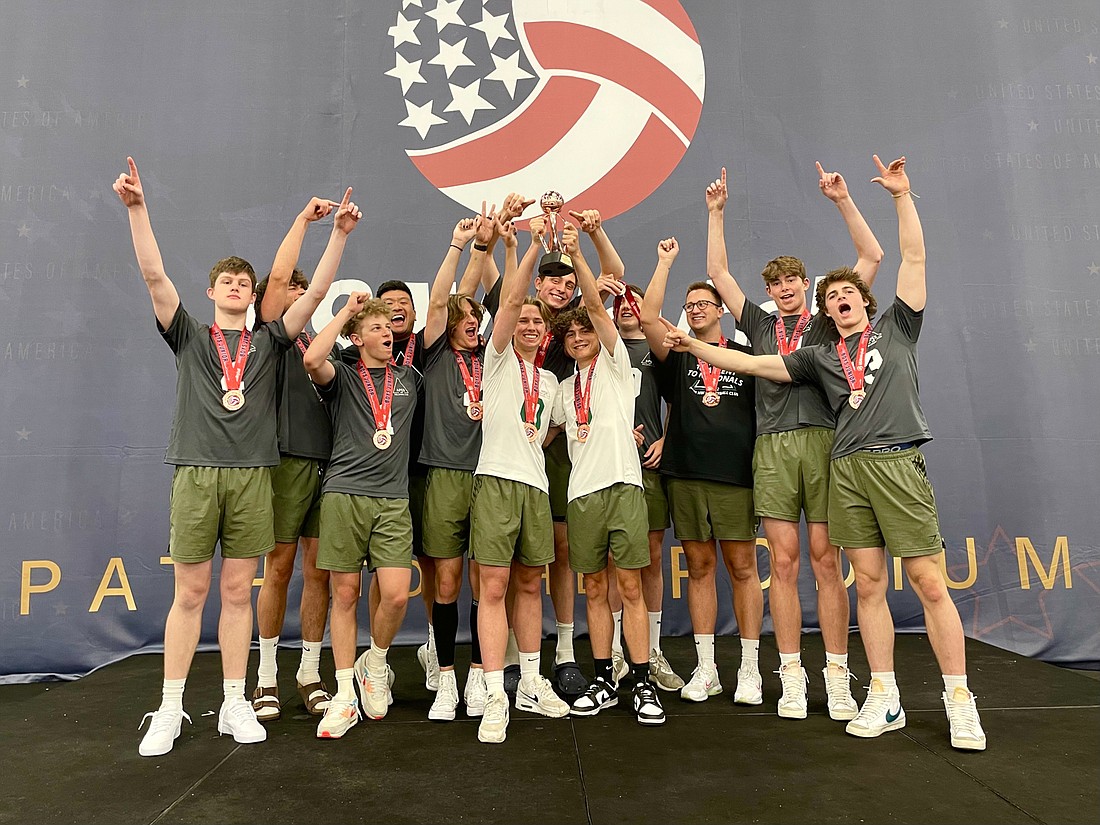 ---
---
Some medal-winning teams are born on the court or on the field. Others are created in a middle school classroom. 
Three years ago, Apex NW Volleyball Club coach and director Clayton Sin was teaching at Fairhaven Middle School when he had the chance to lead an advisory class with a topic of his choosing. He chose to introduce his students to one of his passions, volleyball. Sin had played on Western Washington University's club volleyball team, then coached at the Ferndale Boys & Girls Club and at the middle school and club levels locally.  
Apex NW assistant director Holly Ste. Marie said that at the same time, community demand for a boys volleyball team was growing amid a lack of opportunities in the area.  
"When we changed our name from, originally, Ferndale Volleyball Club to Apex, we just saw a really big influx of folks from all over the county wanting different things," Ste. Marie said. "One of the things I found myself getting emails about was boys [volleyball]."  
Some of the boys in Sin's class, many of them already basketball or football players, were enthusiastic about the game, and so Sin and Ste. Marie saw it as the perfect opportunity to introduce an organized boys club team to the Bellingham area.  
Twenty-five players made up the original team's roster, with relaxed, low-cost practices. Some were Sin's students, while others caught word of the team independently, through school friends or through other local team sports. For many, the sport stuck, and the team committed to more weekly practices and travel. 
"I think, because it's such a team sport, the thing that kept me coming back was definitely the guys, who are really a great group of guys, really hardworking and super genuine," team member Peter Albert said. 
Three years later, many of the original team members now compete at the under-16 level as a part of Apex NW U16 Ascent, coached by Sin and assistant coach Travis Ste. Marie, Holly Ste. Marie's cousin.  
Ten players traveled to Las Vegas and took home a bronze medal at the USA Volleyball Boys Junior National Championships, competing from June 30 to July 3. 
Ascent finished third out of the 45 teams in the club-level, open-registration division, winning nine games and losing one in the playoffs. In its 10 games, Ascent won 18 sets and only dropped two — those coming in its semifinal loss to SC Legends 16-Elite from South Carolina.  
"[The boys] really hold each other accountable to a high standard," Sin said. "They're able to have honest conversations with each other about like, 'Hey, we've got to do X, Y and Z,' … trusting the process, trusting the skills that they've built, trusting each other to execute and really perform." 
Typically, the team's season runs from November to April, but Sin said the team committed itself to train until June, with its sights set on nationals. The team played in four local tournaments during the season, but the farthest they ventured was Spokane.   
"We had such an encouraging, supportive and trusting group of parents," Sin said. "They trusted myself and Travis [Ste. Marie] as coaches, they trusted our program. 'We're going to send my child to this [tournament], and we've never done anything like this before.'" 
Apex NW was the only boys team from Washington in its age group, Holly Ste. Marie said. At club nationals, many of the teams Apex NW faced came from areas where the players competed in high school and club volleyball year-round or have played since the U10 level. 
"The teams [at nationals] play a lot faster," team member Alden Jacobs said. "The energy is also just on another level when you're in a convention center with 100-plus teams from all over the country rather than the same five you've been playing for your whole season. It definitely flips the switch." 
Jacobs and Albert were named to the All-Tournament Team after their performances across the four days of competition.  
Sin described Albert as a "dominant, performing athlete" who leads by example with his "execution of skill and knowledge of the game." 
"[Peter's] the nicest person anyone's ever going to meet," Jacobs said. "He's the first one by your side when you lose. He's the first one to congratulate you when you win. He's the kind of guy that everyone wants on his team." 
Sin said Jacobs is a dynamic, consistent player that is "the heart and soul and fire" of the team. 
"[Alden is] super hardworking. He's also a really, really good leader on the team," Albert said. "He's just very vocal ... and that energy really helps our team, especially on long tournament days ...  This is kind of a testament to how much energy Alden brings to the team — on the last day, his voice was completely gone." 
Sin and Holly Ste. Marie said that the team's performance marked a big milestone for both the group of boys and for boys volleyball in Whatcom County.  
"I think that [the tournament performance] provides an even bigger space for more boys to try the sport ... and so I think it really does put them on the map," Holly Ste. Marie said.