Recreation
Two courses intertwine in Lake Whatcom Triathlon's largest race yet
Olympic-distance triathlon racing returns to Bellingham with record turnout
July 9, 2022 at 3:22 p.m.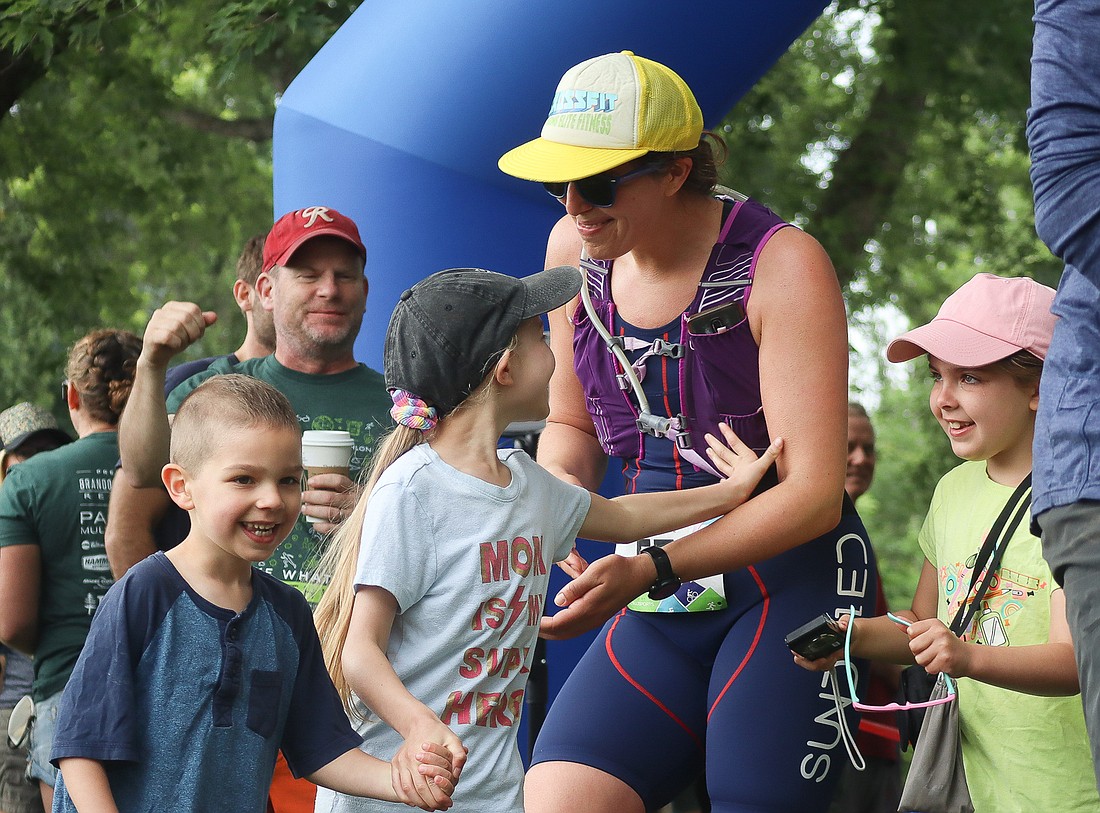 ---
---
The swim caps of the Lake Whatcom Triathlon competitors were especially colorful on the morning of Saturday, July 9 — but that was all a part of the intricate plan.  
The caps' colors marked staggered waves of triathletes competing in different age groups in various races as, across the hour from 7-8 a.m., the groups splashed into Lake Whatcom to begin their races across Bellingham, Bloedel Donovan Park and Whatcom Falls Park.  
The Lake Whatcom Triathlon is the only Olympic-distance triathlon race held in Bellingham, and one of few in Washington. 
For the women's Olympic-distance race, Becca Kawaoka placed first with a time of 2:17:28, followed by Deborah Eckhouse in second and Beth Draeger in third. In the men's Olympic distance, Tom Hutchinson placed first for the third year in a row, beating his past two winning times with a mark of 2:02:50. Nicholas Scott and Jeremy Kalmus took second and third, respectively.  
In women's sprint distance, Darcie Hill finished first with a time of 1:32:04. Jessica Rogers placed second and Catherine Frye placed third. For men's, Leigh Wingfield's time of 1:30:58 earned first place, followed by James Grant and Paul Weinstein.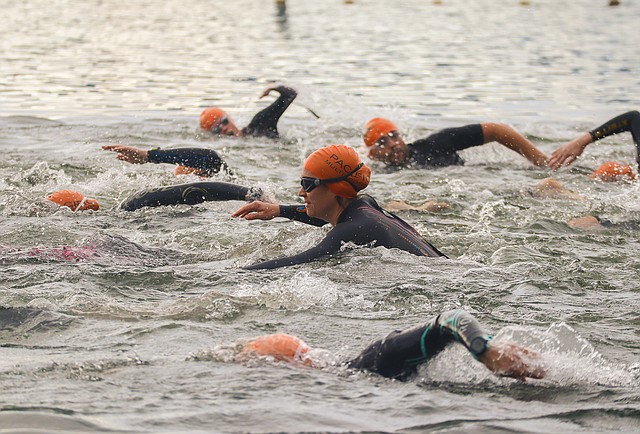 Triathletes completing the Olympic distance swam 0.9 miles, biked 24.9 miles, then ran 6.2 miles. The sprint course included a half-mile swim, followed by a 16.4-mile bike ride then finished with a four-mile run. Participants could also compete in an aquabike version that included just the first two legs, or could compete in a relay team. 
Race organizer and co-founder Glenn Gervais said the 2022 event was the largest since its 2017 founding. According to race-result website Pacific Multisports, just over 400 total participants competed in the Olympic-distance course, sprint-distance course, relays, aquabike race and the kids' Splash and Dash, compared to around 350 participants in 2021.  
With multiple races occurring simultaneously, the courses diverged, intertwined and were staggered to account for overlap, though competitors crossed the finish line at the shores of Lake Whatcom together. 
Race organizer and co-founder Marc Blake said between 50 and 60 volunteers helped put on the event. Volunteers from Girls on the Run monitored the running course in Whatcom Falls Park. 
"[The event] is really based on bringing the community together," Blake said. "Glenn is super active in the community, I'm super active in the community and almost everybody who's involved with the races is. We're really looking for people who are community-centered, and all of those groups help bring the energy and bring people to the event."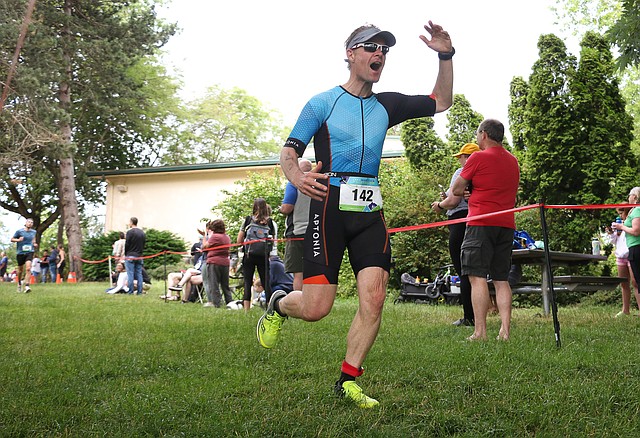 Those Bellingham-based community groups included sponsors like Prime Sports Institute, who provided a tent for medical care after the race. 
Participants, however, came from beyond just Bellingham. Coworkers Felix Erfurt, Norm Wong and Todd Saunders left Vancouver, British Columbia, around 4 a.m. to race in the Olympic-distance triathlon. Erfurt, racing in his second Lake Whatcom Triathlon, recruited Wong and Saunders to compete. 
 "I was really making sure that these guys come … because it is by far the best the energy here," Erfurt said. "The organization, the support, this staff, the social media is amazing." 
Other participants new to the triathlon included Neha Jagannath and Esha Joshi, who competed in the sprint-distance race. Joshi completed her first-ever triathlon, having begun training with the goal of being "a more well-rounded athlete" after being "a runner and only a runner," she said.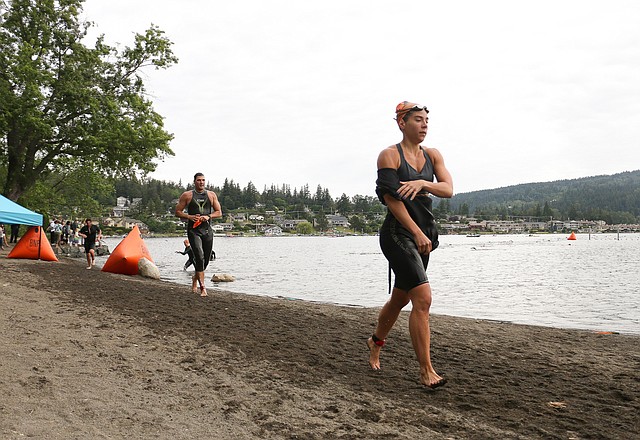 The course itself is "well-rounded," Jagannath said. "The lake is so nice. The last two triathlons I've done were ocean triathlons ... Here's like a really nice, smooth swim. The bike ride is really lovely, and the run was just incredible. There's, like, a waterfall and it's very lush." 
Both the Olympic- and sprint-course bike routes run along the north side of Lake Whatcom, with the Olympic-distance leg extending up along Y Road.  
"[On the bike route] there are some scenic areas that you can actually take it in," Wong said. "Certain parts were very quiet, so despite the fact that it is a race, you were still able to sort of have that sort of zone and quiet time." 
A few challenges along the course included a set of 104 stairs within Whatcom Falls Park. 
"Any trail run is going to be fun, but this has lots of ups and downs, and those stairs were murder," Saunders said. "I asked Felix, 'Can you run the stairs?' and he goes, 'Well, you can, but you will walk them.' I started to run, and I was like Felix is right, this is hard." 
This year was the Lake Whatcom Triathlon's fifth running, founded in 2017 by Blake and Gervais. Its origins stem from Bellingham's past Baker's Breakfast Cookies ITU International Triathlon that was last held in 2005, which would bring Olympic-qualifying hopefuls to Bellingham to compete at the lake.  
After that race's last running, Gervais, as president of the Bellingham Triathlon Club, helped put on the Homemade Cookie Tri and the Homemade Pade Tri to keep the tradition of Lake-Whatcom-based triathlons alive until the more formal organization of the Lake Whatcom Triathlon in 2017.