Soccer
The defending champs' journey home
A look back at Bellingham United FC's regular season as playoffs loom
July 9, 2022 at 5:15 a.m.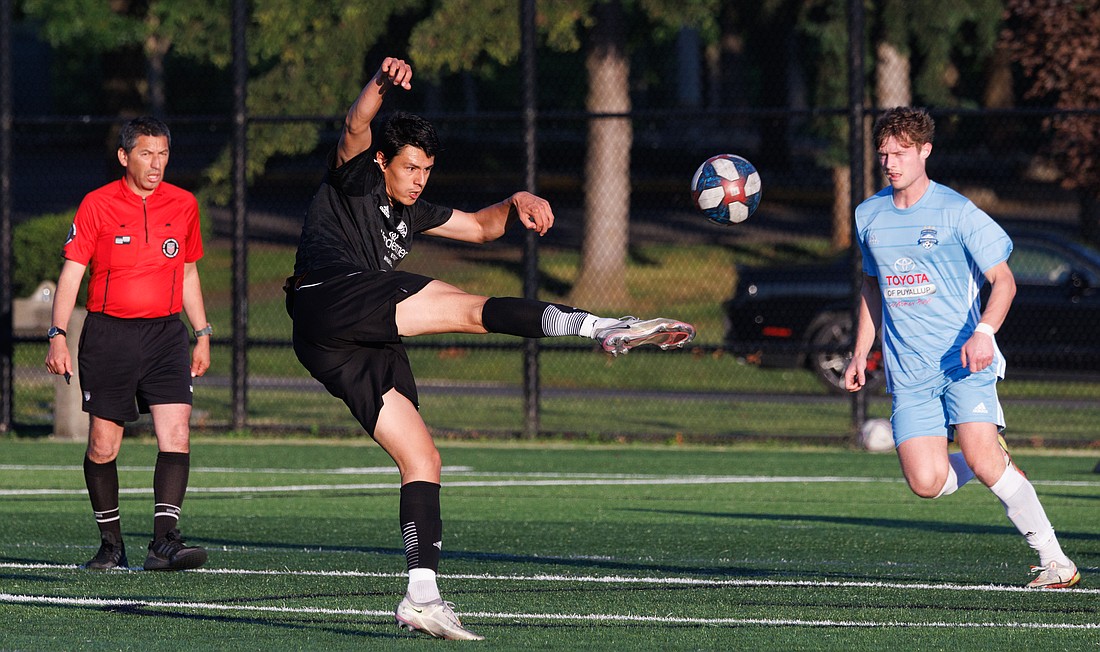 ---
---
It's a rare feat to have a league-leading goal scorer on a team. Local semi-professional team Bellingham United Football Club (BUFC) currently has two of them. 
Bellingham's Ale Tomasi and Eric Burnell, both teammates at Western Washington University, are tied for first in the Evergreen Premier League with six goals each this season.
"Ale takes his chances when he gets them, typically fighting off defenders so he can finish," Bellingham head coach Jason Conway said in a text message. "He makes incredible channel runs, too, off the defender's shoulder. Eric is a tricky attacking mid [and] forward who loves to run at people. He has made a lot of defenders make mistakes and forces them into bad situations and makes them commit a foul." 
Goalkeeper Hector Guiterrez, a Lynden High School alumnus, also sits tied for first in league shutouts with three.  
Behind league-leading performances from local players, BUFC, also known as the Hammers, has tallied 20 points with six wins, two draws and one loss. Having already clinched a playoff spot in the league semifinals set for July 16–17, the defending league champions now sit one win away from securing home-field advantage for their first playoff match.  
If the Hammers beat Northstar Bellevue on the road July 10 in their final game of the regular season, BUFC will play its semifinal match at Whatcom Community College. Bellingham previously defeated Bellevue 3-0 on June 4.  
From the team's season-opening 1-1 tie against the Oly Town Artesians on May 7, to its 3-1 loss against the Everett Jets on June 25, Bellingham United went undefeated for six games, jumping ahead to its current first-place standing in the EPLWA's Interstate-5 Conference.  
"Our biggest strength so far this season has been the depth of our squad," Conway said. "We have had injuries and players gone a lot ... but when we have needed players to step up, they have done a great job for us. I also think the team is tight-knit and close, so guys have an ability to accept the next guy in and make them feel welcome." 
In what Conway said was a key moment for the team ⁠— a rematch of the 2021 EPLWA championship ⁠— the Hammers secured a 5-2 win against Pacific Northwest Soccer Club in June. Christian Caro scored a brace, and Bunnell had three goals, just a week after Bunnell scored his first goal as a Hammer on June 12. In less than a month since, he has jumped out to his league-leading tally, tied with Tomasi.  
Another high-scoring game saw a 4-3 win over the Vancouver Victory on June 26, the day after Bellingham United recorded its first loss of the season against Everett. A stoppage-time header from captain centerback Spencer Wolfe, assisted by Connor Steward, put the Hammers ahead in the game's final moments. 
"When we can, we want to press, we want to force [the other team], to be able to play out, to play big balls and then we're confident in our ability to win it," Wolfe said.  
Wolfe is another Hammers player who is a longtime member of the local soccer community. A Squalicum High School graduate like Tomasi, Wolfe grew up in Bellingham playing for the Whatcom Football Club Rangers and coached the Bellingham High School boys soccer team in spring 2022. 
"We just have to stay true to ourselves [heading into playoffs]," Wolfe said. "I think if we can play the best version of our soccer and our style and to our best potential … I think we can peak at the right time."