History
Good Time Girls lead candid, comical history tours
BellingHistory highlights 'the good, the bad and the ugly' of Fairhaven
July 3, 2022 at 1:56 p.m.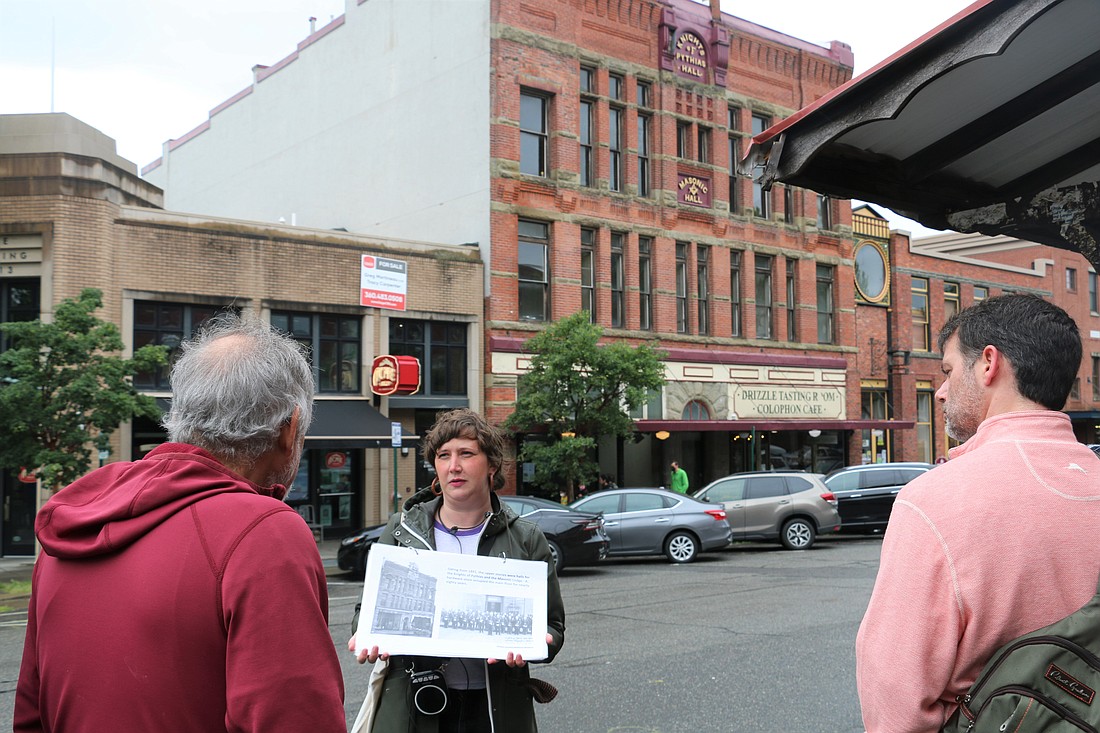 ---
---
Sunday's BellingHistory with the Good Time Girls tour of historic Fairhaven ended with a conversation apt for an organization that prides itself on its honest but humorous telling of local history. 
"We have a lot of bronze statues here in Fairhaven," said Wren Urbigkit, a Good Time Girls tour guide. "But if you notice, there's not a vagina to be seen down there in Fairhaven. There are no women statues. 
"We talked a lot about the men and the people that we say created Fairhaven. But a lot of those early women, we like to say this town was quite literally built on the backs of them as well." 
Accurate context with a generous sprinkle of humor is how the Good Times Girls choose to tell the history of Bellingham. It's a history of the town from a "marginalized" perspective, Urbigkit said at the start of the Sunday morning tour. 
Founded in 2011 by Marissa McGrath and Sara Holodnick, the Good Times Girls host several walking tours a week, in both Fairhaven and Bellingham. The tours range from kid-friendly to 18 and up. A popular Sin & Gin tour features costumed guides telling the history of Bellingham and Fairhaven's red-light district. 
Gore and Lore tours walk people through Bellingham's spooky history, while the BellingHistory tours focus on the general history of Bellingham and Fairhaven. 
On Sunday, Urbigkit talked tour-goers through the history of many of Fairhaven's historic buildings — from the Knights of Pythias Building to the Monahan Building on 11th Street. Most of the historic buildings were built around 1890 when Fairhaven was bidding to become the western terminus for the Great Northern Railroad (Seattle won out in the end). 
But throughout telling the history of those buildings and the men who built Fairhaven, Urbigkit told an often-left-out context of Fairhaven's history with the Klu Klux Klan, racism against Chinese people and the lack of a focus on women in the history of the town. 
Urbigkit said this kind of honest storytelling was always the goal of the Good Time Girls' history tours. 
"We have a habit in our country of whitewashing our history, and that became incredibly clear to us when we started studying Fairhaven history and Bellingham history — that there was a huge lack of the people who actually built these towns," she said, "So that's why we really try to incorporate that. We want the good, the bad and the ugly." 
Urbigkit said learning this history is especially important in the current political climate. 
"To know about your place is to be able to protect it," Urbigkit said. "Being able to do that in a community is super helpful." 
For more information on the Good Time Girls and to book a walking tour, visit bellinghistory.com/bookatour.