Restaurants
Review: The Fork at Skagit Bay
A welcome addition to La Conner
July 2, 2022 at 5:00 a.m.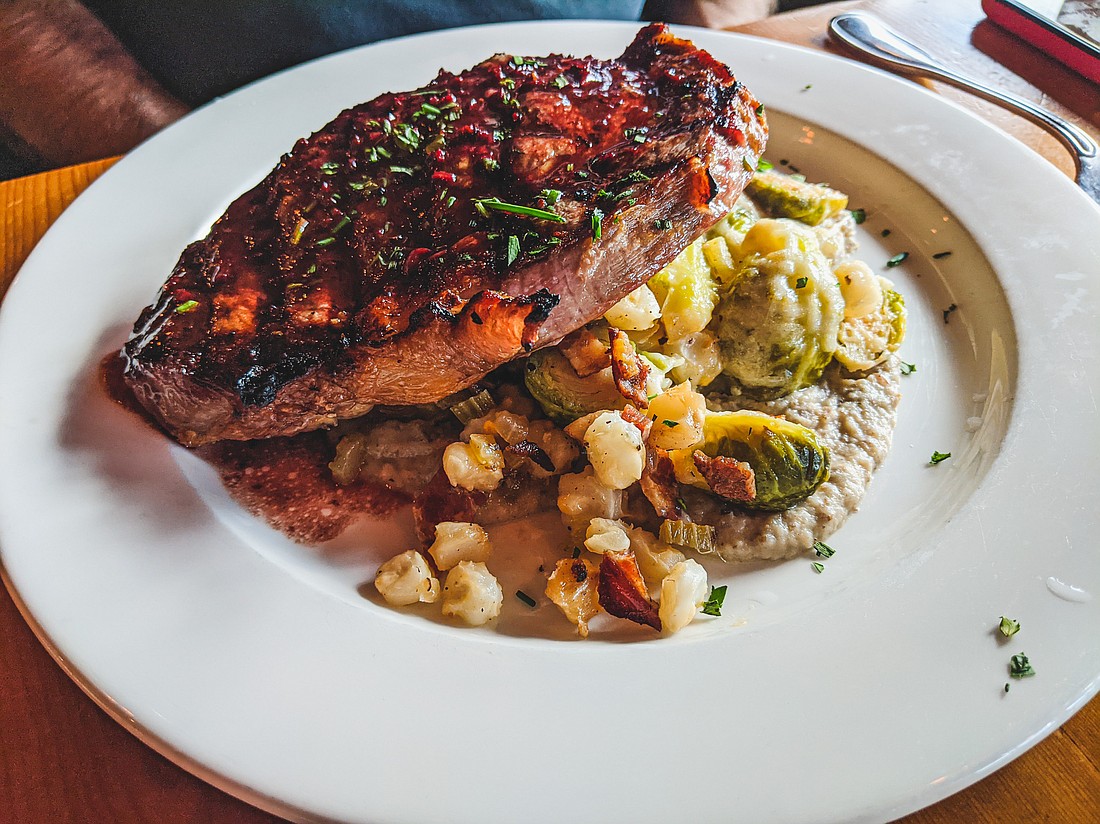 ---
---
Long, long ago, I visited The Fork at Agate Bay, up on the north shore of Lake Whatcom. It took forever to get there and, to be frank, we had a terrible experience, so we never went back. However, when a new sister restaurant called The Fork at Skagit Bay opened last year, I was happy to give it a try. After a few visits, I can say with confidence it's a place I'll be delighted to keep coming back to.
Located in the old Anelia's location in the middle of downtown La Conner, The Fork has inherited a lovely bar and a tranquil dining area with windows looking out to the street, and plenty of tables outside for sidewalk dining. They even have a few private parking spots reserved for guests in a lot just south of the building, a definite perk.
Service is friendly, and even on a night when everything seemed to be going wrong, the staff was gracious, apologetic and ready to comp drinks for inconvenienced customers. And despite various issues, there was absolutely nothing wrong with the food.
Fried green tomatoes ($14) are a fun appetizer, served in a small tower with goat cheese and remoulade. Some of our tomato slices were a bit tough to cut through and it was tricky to eat without dumping goat cheese all over the table, but points for concept and style.
The other appetizer worth noting is the shrimp and grits. The Fork's version may or may not be authentic, but it certainly is rich and cheesy, with a Cajun-spiced gravy soaking into everything, and I loved it. Although this is offered as a small plate, presumably for sharing, I would suggest each person should order their own and call it dinner (it's only $14 so it's also very economical). A salad on the side to round it out, of course. The plain green salad on the menu ($10) turned out to be a generous portion of fresh greens and vegetables with a rich pumpkin seed vinaigrette that made me eat far more salad than I had intended.
Entrees are a bit pricey — a whole Dungeness crab with cocktail sauce and butter will set you back $60 — and not particularly huge. One night we tried the pork rib rack with a Hasselback potato ($36). This was fine, but would have benefited from a pile of greens or some other vegetable on the plate. On another visit, however, ribeye steak ($48) was accompanied by a very nice sunchoke puree and roasted Brussels sprouts, an excellent flavor combination. The steak was cut a bit thin and slightly more well done than requested, but still good. I really wanted to try the black cod with squid ink pasta ($36) but they were out of it at the time.
The lunch menu includes the same appetizers as the dinner menu, but replaces the entrees with fish and chips and two different po'boy sandwiches. The corned beef version is like a cross between a po'boy, a Reuben and a Philly cheesesteak, an impressively messy affair with slaw, peppers and onions. The other is shrimp, which is surprisingly not deep-fried like most po'boys, but has plenty of juicy fat shrimp dressed with Louie sauce. In fact, it's more of a Shrimp Louie sandwich than a po'boy, but I don't consider that a problem. I did wish that it had some shredded lettuce on it for added texture, though. 
With the sandwiches came fries, which were very hot and fluffy inside with a thin, crisp shell. Portions were modest, so if you like fries you should definitely order your own.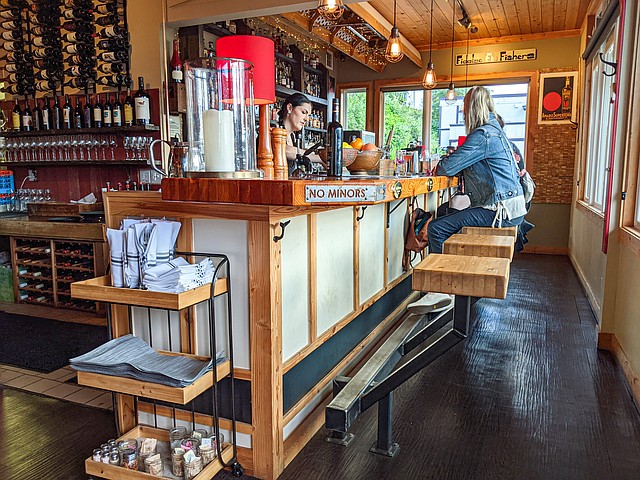 Visitors will find a nice selection of mostly local beers on draft, and a wine list split between West Coast wines and European selections. The bar makes good classic cocktails, with a menu of house specialties. The Northfork martini is similar to a Cosmo, with vodka, Campari and lime. It was tart and refreshing and dangerously drinkable. I haven't had the Flatliner martini, made with Irish cream, coffee liqueur, espresso and chocolate bitters, but I have tried their house-made Irish cream and it is incredible — like alcoholic melted ice cream.
In addition to liquid desserts, there might be key lime pie, or maybe angel food cake with strawberries. One night we ordered a crème brulee, which often seems the same everywhere, but we were impressed at the gorgeous sugary crust, apparently executed by a new kitchen employee learning the ropes. 
Although it lacks that coveted feature, a water view, The Fork at Skagit Bay is a happy addition to the La Conner dining scene. If you smell something good while walking down the street, it might well be this place, and you should stop and check it out.
The Fork at Skagit Bay is open from noon to 9 p.m. Wednesday through Sunday at 513 S. First St., La Conner. Info: theforkatskagitbay.com.