Restaurants
Review: Taste of India
A labor of love on Riverwalk Plaza
January 31, 2022 at 5:30 a.m.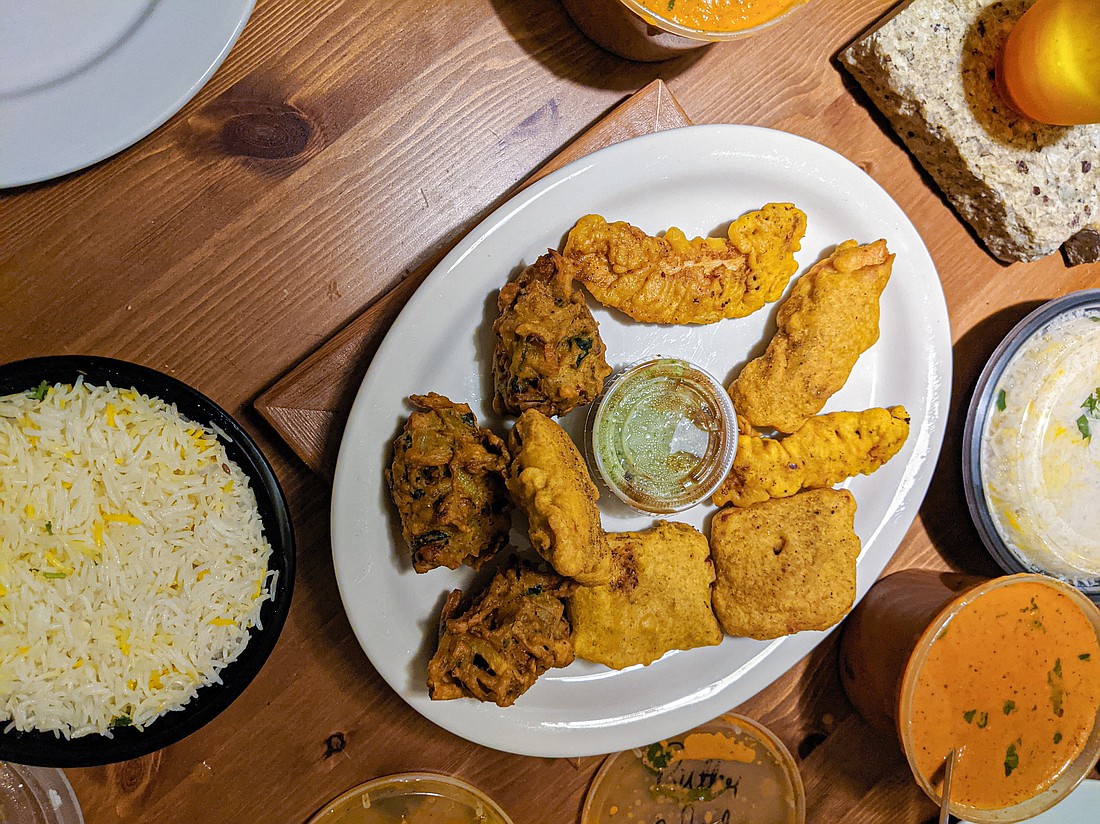 ---
---
If you have visited the Riverwalk Plaza in downtown Mount Vernon, perched just above (or, during flood season, slightly below) the Skagit River, you may have caught a wonderful smell of warm spices, rice and bread from a tiny restaurant at the corner of the plaza and Gates Street. That smell tells you everything you need to know about Taste of India, a labor of love by Puja and Kummar Sharma.
Taste of India has been in its current location on the Riverwalk since 2016, after a fire destroyed its previous building. When the City of Mount Vernon built the new plaza and flood wall, a small storefront was included, and the Sharmas applied for and got the space. While there is very little room for seating inside, in the summer they can roll up the garage door and set up tables out on the plaza, and there are plenty of picnic tables for takeout.
The food is classic North Indian, with typical menu items like butter chicken, saag and biryani. Most of the entrees ($13.99–$14.99) are available with optional chicken, lamb, shrimp, vegetable or paneer (firm Indian cheese). You can request different spice levels as well, but take the higher heat levels seriously; they pack a punch.
Indian restaurants are always a good choice for indulging in fried food. Taste of India has adorable pyramid-shaped samosas ($4.99 for two), small enough to eat without destroying your appetite, crisp on the outside and filled with very creamy potatoes studded with peas. They come with a serving of tamarind mint chutney. Of the pakoras available, the chicken ($6.99) is good, basically a chicken nugget with chickpea breading, but my favorite is the vegetable pakora ($5.99), a generous hunk of deep-fried chickpea batter studded with mixed vegetables.
Of the curries, the butter chicken is a standout, with tender chicken chunks in a rich, creamy, fragrant sauce. Tikka masala is also good enough to make you want to lick out the takeout containers. The vindaloo is pleasant, but does not quite have the vinegary punch I've experienced in other versions. I was excited to try the kofta curry, advertised as vegetable and cheese dumplings in a spiced sauce, and was somewhat disappointed to find that, although it tasted great, the dumplings had almost completely dissolved into the sauce by the time we got the curry home. They might just be too delicate to hold up to takeout.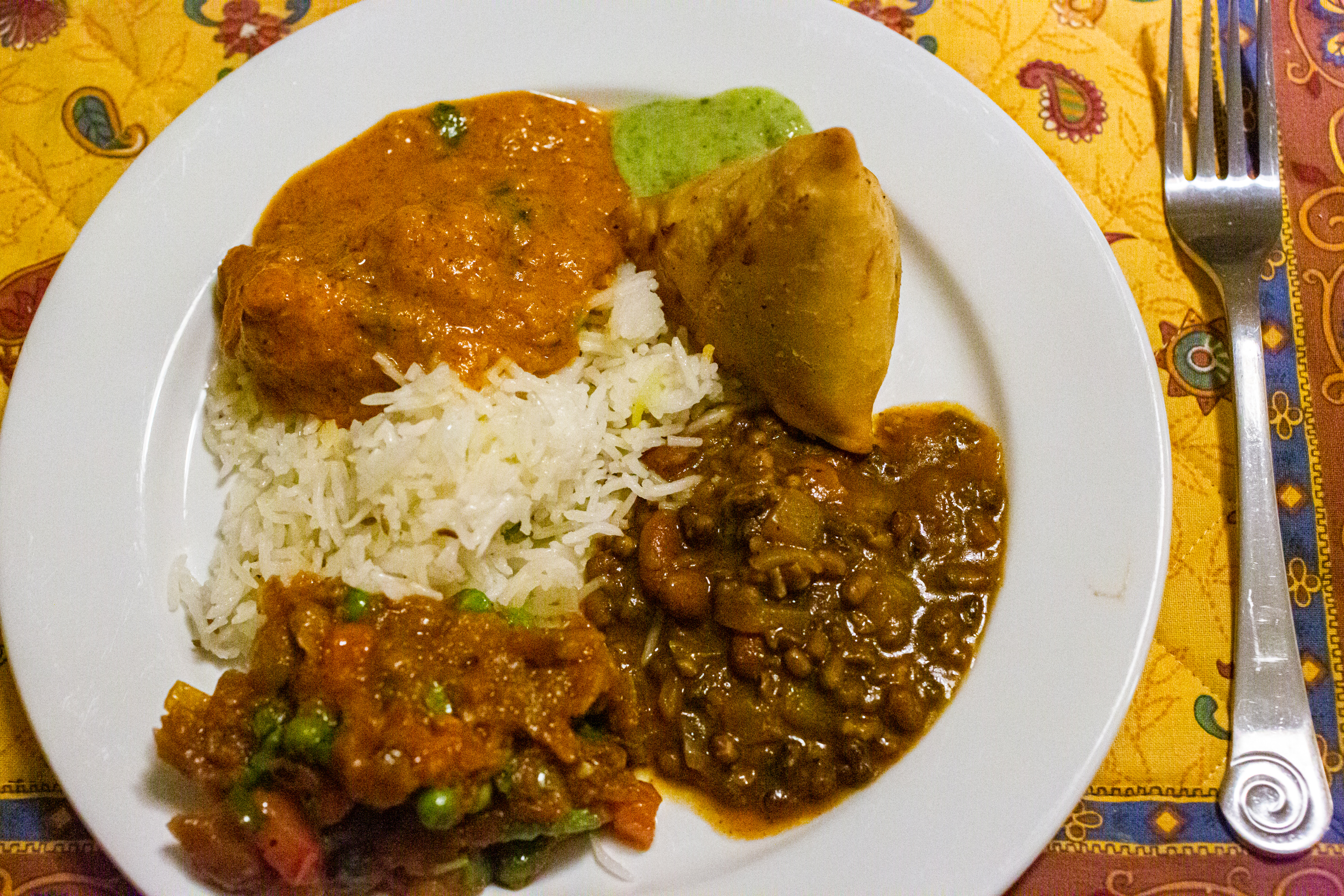 Baingan bharta, a dish of fire-roasted eggplant with spices and peas, is a favorite of mine. Most versions I've had in the past have been pureed to complete smoothness, making it creamy and mild. Taste of India's version is more rustic and chunky, with a strong smokiness that goes wonderfully with the eggplant, and makes a great contrast with other curry dishes. If you don't like eggplant, you may not like this, but for the rest of us it's a winner. Aloo gobi is milder, with the cauliflower and potatoes cooked until very tender so neither flavor dominates. Saag, a very smooth puree of spinach and spices, was a little flat-tasting the last time I had it.
I've always loved Taste of India's channa dal, a spiced chickpea curry with tomatoes, since they used to serve it for lunch at the Mount Vernon Farmers Market in the early days before they had a brick-and-mortar restaurant. It's still one of their standout dishes. Recently I also tried their dal makhani, a mixture of lentils and kidney beans with lots of onions in a dark broth. These have a very earthy flavor that, like the eggplant, complements other dishes.
Portions are generous. One order of a meat curry, a vegetable and a dal lasted two of us for two dinners and a lunch, partly thanks to the enormous quantity of saffron-tinted basmati we received with the order. Sometimes the amount of meat or paneer seems a little scanty compared to the total amount of sauce, so you may end up quarreling with your dining partner for the last bits of lamb. The answer is to make sure to order plenty of naan, available in plain and garlic ($2.99), to soak up the sauces.
Drinks include wine, beer, soda, mango lemonade, lassi and of course hot chai. Several desserts are available, including rice pudding, gulab jamun, and (for some reason) baklava, but I have never yet eaten Indian food without being too happily full afterwards to even consider dessert.
Every town should have an Indian restaurant, and Mount Vernon is lucky to have Taste of India. I hope they will continue to make the Riverwalk smell wonderful for many years to come.
Taste of India is located at 420 W. Gates St. in Mount Vernon.