Mountain Biking
Bellingham mountain biking: It's not just Galbraith anymore
It's boom time for local knobby-tire tracks, bike shops, gearheads
January 26, 2022 at 5:50 a.m.
|
Updated January 27, 2022 at 1:43 a.m.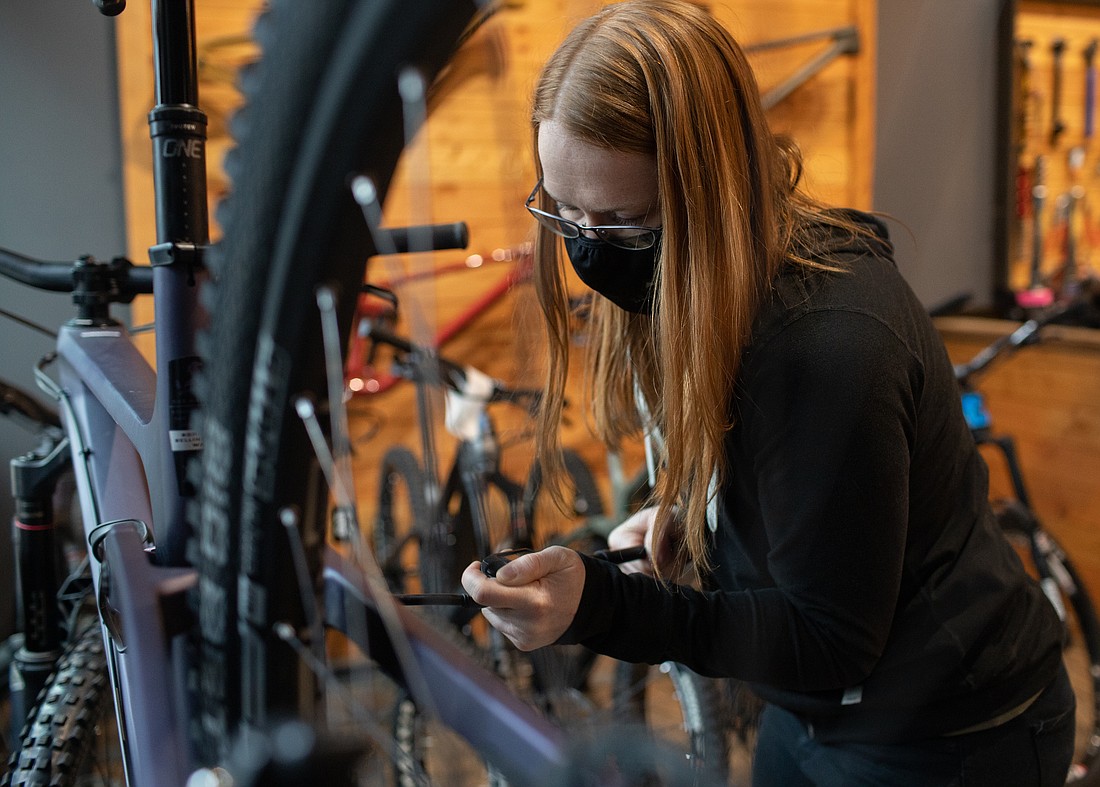 ---
---
For an idea how big mountain biking has gotten here, don't go to the mountains. Look at the cars.
They're spilling onto the highway at Galbraith Mountain (a new parking lot should help) and cramming into hiking trailheads. Racks protrude from vehicles of all types: two-door economy vehicles, the family SUV, $100,000 Sprinter vans, pickups.
You don't even need a car to experience bike heaven. At the downtown waterfront, a massive pump track — where riders pump their arms and legs for momentum — has become a big local hit, a surprise spectacle built when development stalled on Port of Bellingham property.
Constructed by advocacy and trail-building group Whatcom Mountain Bike Coalition (WMBC), it draws all ages, skill and bike types for a free ride.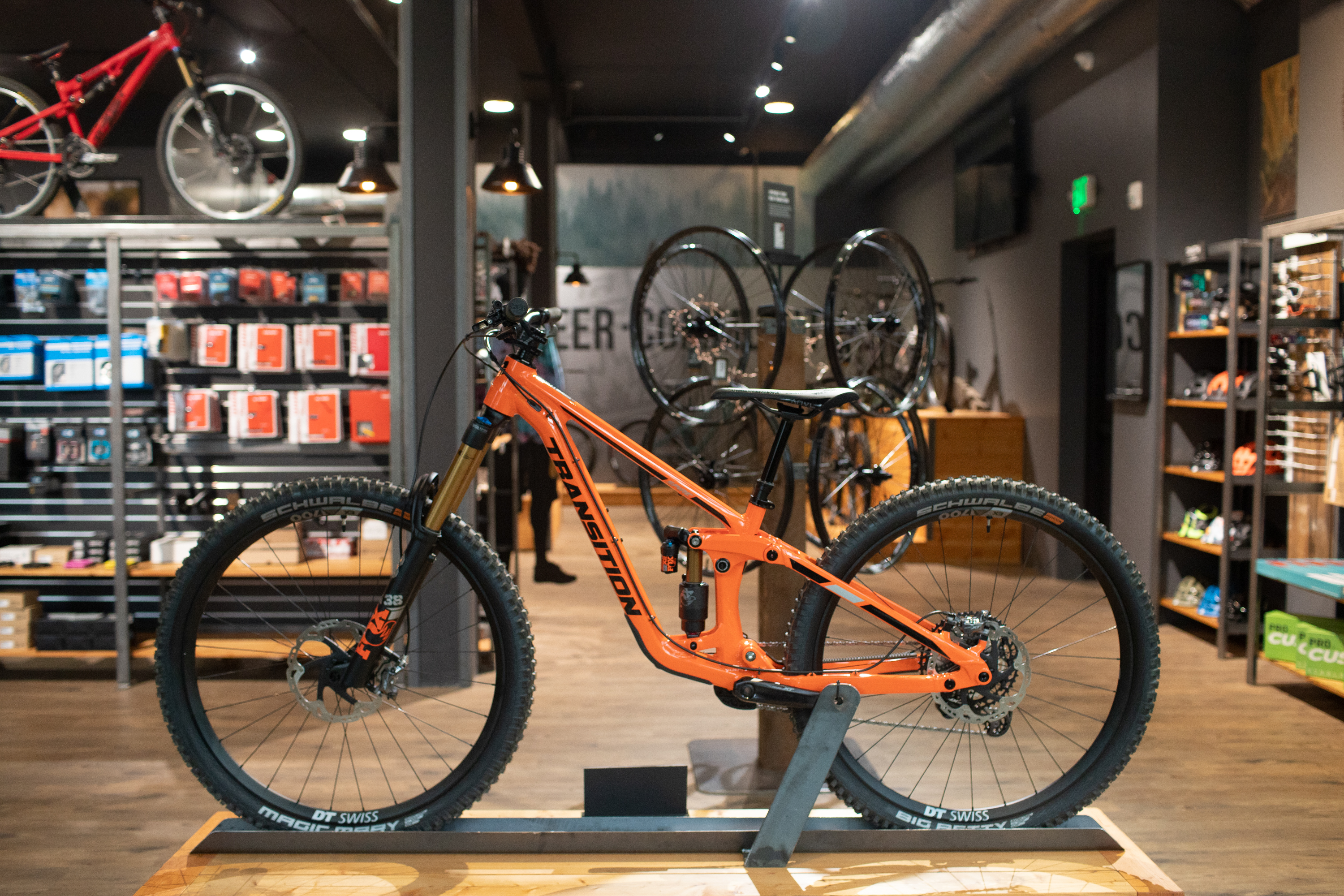 Bikes are big business
It's boom time for bikes in the Bellingham area, home to trails on five mountains, starring Galbraith's 70 miles of singletrack; three international mountain bike manufacturers (Transition, Kona, Evil); a dozen or so bike shops; a requisite brew pub industry still in growth mode and WMBC, led by indefatigable visionary Eric Brown and crew, as a unifying force.
Mountain biking's growth shows Bellingham's emerging emphasis on recreational tourism as an economic driver. It puts Bellingham on the map for more than Mount Baker Ski Area's prodigious snowfall and the annual multi-event Ski to Sea relay race, along with other outdoor recreation.
It's also a big business that has spawned a community of artists, manufacturers and innovators producing everything from custom bike fenders to bike bags to components like handlebars and stems. Freehub Magazine, with its high-quality photos and writing, is based here. The vibe — bolstered by big-tree, mossy Pacific Northwest forests, loamy dirt, a strong community ethic and quality trails with plenty of (bent) elbow room — is like nowhere else, riders say.
"Between that and the beer," said John Hughson, an engineer at Samson Rope who moved from bike haven Fruita, Colorado in 2019, "it's kind of hard not to be here."
From insiders to outsiders
It wasn't that long ago that mountain biking at Galbraith was something of an insider club consisting mostly of hard-core enthusiasts. But Bellingham soared to destination status after timber company Galbraith Tree Farm, LLC struck an unusual agreement with the WMBC: You can ride while we're logging trees.
"It's rare there's a timber company that allows bikes to ride around on their property while it's a live timber company, to orchestrate and communicate when sections are closed to logging or spraying," said Todd Elsworth, Recreation Northwest director. When the city and Whatcom Land Trust pitched in to purchase conservation easements in 2018, it meant Galbraith would be open to the public in perpetuity.
Then came the pandemic, prompting multitudes to garages and crawl spaces to dust off their bikes.
Pandemic brings out the bikes
According to a study by advocacy group People For Bikes, since March 2020, 4% of the U.S. population (ages 18 and older) rode a bike for the first time in one or more years, or for the first time ever.
"There has been explosive growth in mountain biking in general and COVID definitely sent that into the stratosphere," said Mike Storm, owner of Intrinsic Flow, a coaching and guiding company. "The last five years has been [big] here."
Festival planned for waterfront
That will show July 8–10 when the waterfront hosts the 2022 NW Tuneup Festival, a new event with bikes, beer, music, races, rides and more for all ages. A showcase for the pumptrack, Galbraith and the local mountain bike industry, the idea grew from the success of Whistler's annual Crankworx, a 10-day bike-a-palooza that draws more than 300,000 people and produces the town's largest economic impact of all its major events, said Mike Hogan, Port of Bellingham public affairs administrator.
Additions to the popular trackside container village this season, starting in March, include bike rentals; local burger joint The Filling Station; a coffee and pastry shop operated by The Dish Foundation, which employs people with intellectual and developmental disabilities; and a grand entrance.
Multiple reasons to ride here
Bellingham's Angi Weston used to travel nationwide to coach clinics. Now most clients come to her. Her annual Queens of Dirt Women's Weekend draws about 80 riders, most staying in local hotels and Airbnbs. "It's becoming such a destination for people," she said.
Mountain bike regulars note what makes Bellingham riding attractive: low elevation means a nearly year-round biking season; the variety of terrain and trails; proximity from town to trails. Even the dirt is special. Carefully built trails drain well even after daylong drizzles. Riders refer to "hero dirt."
"It doesn't stick to anything," Hughson said. "Here, you just hose it off and lube your chain."
Volunteer trail parties, regularly hosted by WMBC, are embedded in the local culture and business community.
Even on miserable days of cold and wet, "we hold a trail day and 50 people show up," said Bill Hasenjager, WMBC adviser. Through the Trail Adoption Program (TAP), businesses pay from $500 to a couple thousand dollars, depending on sweat equity, to keep trails maintained on Galbraith.
"We're seeing this ethic and value of stewardship being taught and shown by example," Elsworth said.
Sport draws business talent to area
Mountain biking and outdoor recreation holds such appeal that employers are using it as a recruiting tool. Since 2019, Samson Rope made five hires, including engineer Hughson, said Patricia Boteler, Samson Rope talent and engagement manager. "It's definitely something that is bringing new talent to the area," she said.
After 11 years in Seattle, international bike manufacturer Evil Bikes moved here in 2019 for Bellingham's proximity to trails, living affordability and relatively low crime. Now, 13 of Evil's 17 employees live in Bellingham. "We're all transplants," said Jason Moeschler, Evil chief operating officer. "None of us lived here before." Moeschler said he expects Evil's 45,000-square-foot Fairhaven facility to max out in two years. "We will look for more space for warehousing and manufacturing," he said.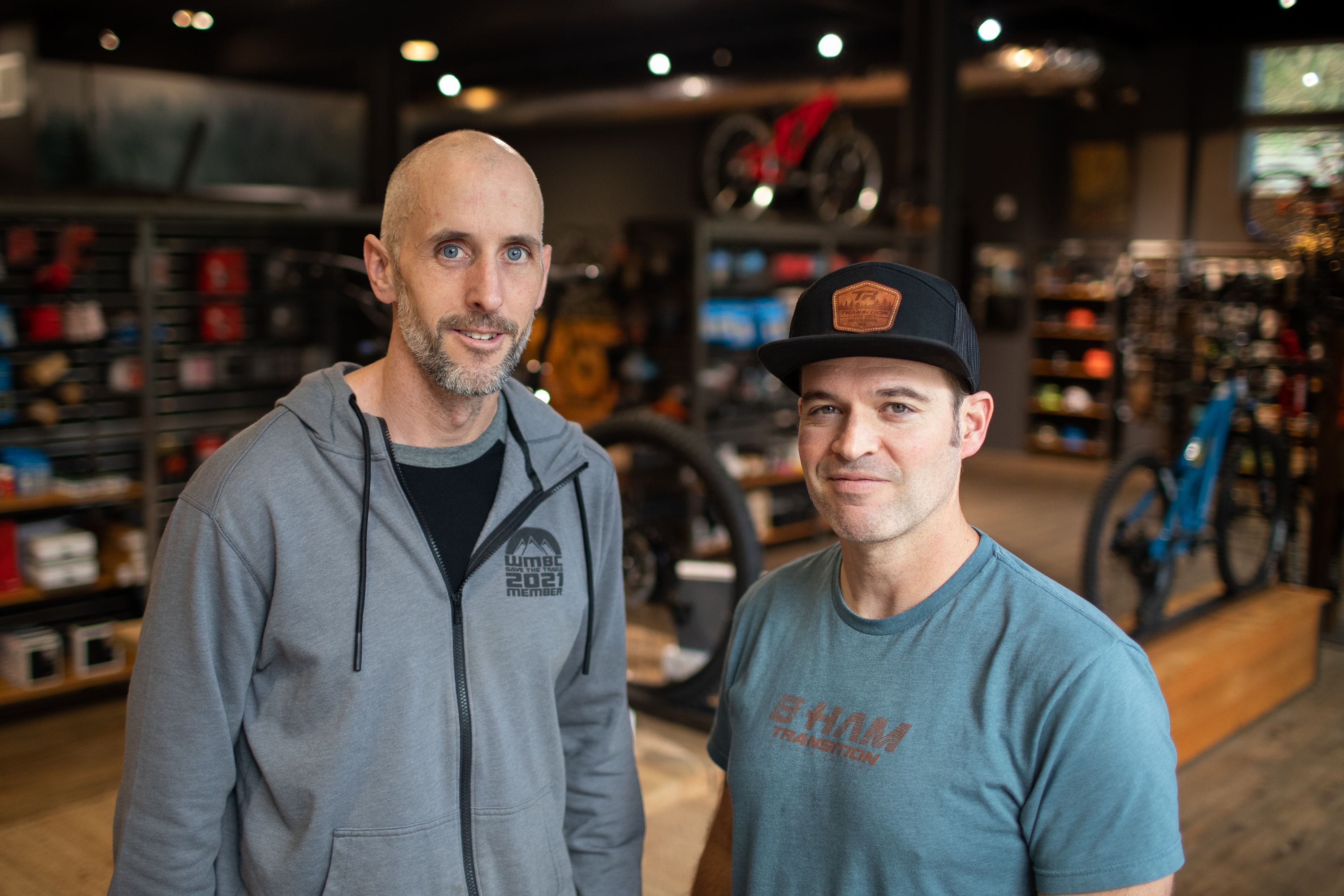 International bike companies make mark
Evil joins mainstays Kona (here since 1988) and Transition Bike Co. Transition owners Kevin Menard and Kyle Young grew up together in the Seattle area. Now they're fixtures in the Bellingham bike community, after moving the company from Menard's basement even before the brewpub boom. "We were here when there was just Boundary Bay," Menard said. With the July 2021 move from a smaller shop to their Transition Outpost bike store on Samish Way, they're realizing a dream: 40 employees, a 20,000-square-foot space with beer taps, an adjacent lot for development and offices close to Galbraith's southern trailhead.
Mountain biking keeps on rolling. More pumptracks and trails are in the works, including some 45 miles of trails planned over the next decade on Lookout Mountain, managed by Whatcom County Parks. Young says the bike business is notoriously cutthroat, but says there's enough to go around.
When Evil came to town, Transition hosted a welcome group ride and burger lunch. "Yeah, we can be competitive," Young said. "(But) I really believe the pie is big enough and we shouldn't be worried about taking other slices. We should be worried about building bigger pies, right?"
Notable numbers
An Earth Economics study released in 2020 (from pre-pandemic 2019 stats) showed:
Outdoor recreation in Washington is big and getting bigger, accounting for an estimated $26.5 billion in spending, up 22 percent from 2014.
That spending supported 264,000 jobs, similar to the state's foundational industry giant, the aerospace industry (237,000 jobs in 2017).
In Whatcom County, outdoor recreation accounted for $582 million in spending, ninth in the state, supporting an estimated 8,122 in jobs (seventh).
An estimated 415,000 people in Washington ride mountain bikes on natural or dirt trails, spending $359 million annually. Another 475,000 are estimated to ride on paved or gravel trails, and 59,000 on BMX or pump tracks. 
According to retail trade tracking NPD Group, spending on mountain bikes has increased about 70 percent nationally over 2019.
---
Correction: This story was updated to correct numbers from a study estimating economic impact from outdoor recreation in Washington state.