Government
Kristina Michele Martens makes history as Bellingham's first Black woman council member
Supporters: 'She will make her voice heard'
January 25, 2022 at 6:00 a.m.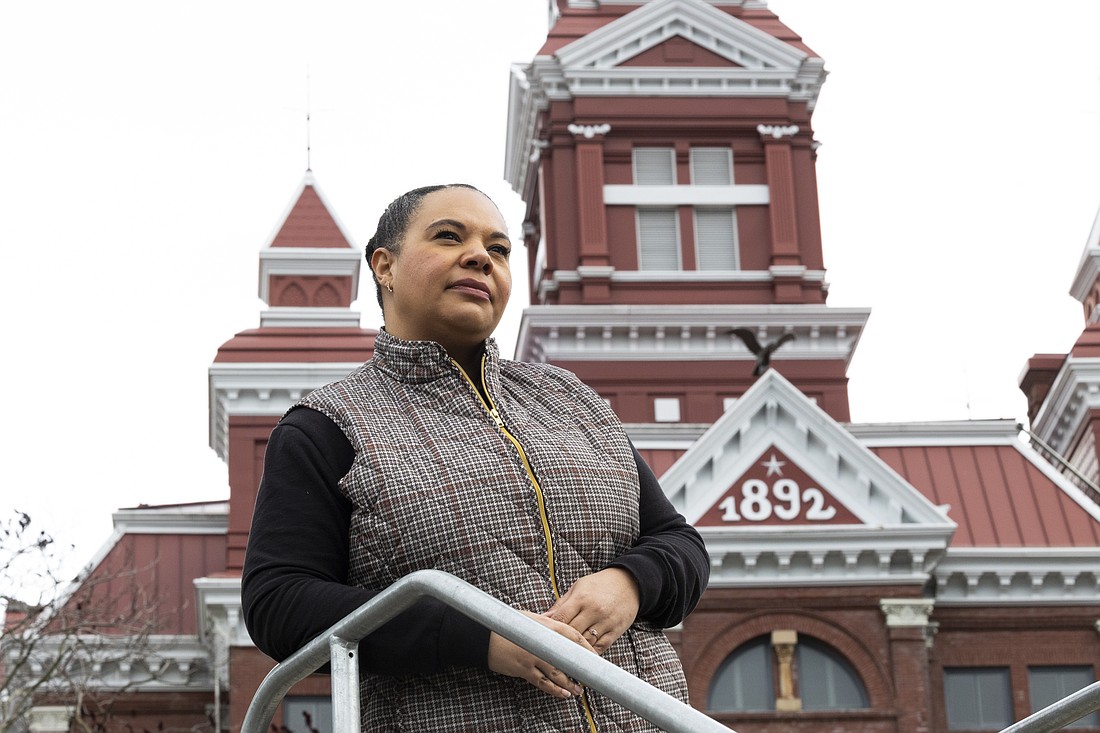 ---
---
Kristina Michele Martens clearly chose to run for the Bellingham City Council seat she won in the November 2021 elections, but it may be more accurate to say these times chose her. 
After a year of social upheaval and calls for racial justice, Bellingham voters showed they were ready to elect the city's first-ever Black woman council member. Martens defeated Russ Whidbee, who is also Black, by nearly seven percentage points in the race for the council's at-large seat.
"In the last half of 2020, it seemed like something the community wanted to see," Martens said. 
"For the BIPOC community, it's something they desperately needed: to feel acknowledged, to feel seen, to feel they're part of the community as well," she added, using the acronym for Black, Indigenous and people of color.
The win was a cause for celebration, Martens told voters in a Facebook video shortly after the election. "You contributed to a moment of local history in adding diversity to the Bellingham City Council," she said.
But in an interview, Martens added that she sees her moment on the council as only a start.
Ultimately, "I hope I'm not the best Black woman council member Bellingham has ever seen," she said.
Martens' profile soars in 2020
Martens' election followed a cultural shift in a city the latest census lists as 75% non-Hispanic white.
After a Minneapolis police officer murdered George Floyd in May 2020, Martens became a center of attention in Bellingham, largely through social media posts where she described her experiences as a Black woman.
"I was then inundated with phone calls by our locally elected officials, asking me for my opinions and solutions to the problems that our BIPOC community faces," she said in a video announcing her council run.
She elaborated on her motivation for seeking office at a Bellingham City Club candidate forum in September 2021. 
"I realized that I needed to be the change I wanted to see," she said. "The people closest to the problems are closest to the solutions."
Martens heightened her profile during the summer of racial-justice protests in 2020, speaking at the large Solidarity Rally at Maritime Heritage Park in June and organizing a march to City Hall in August with activist Shu-Ling Zhao. Martens and Zhao marched to urge local leaders to declare racism a public health crisis — a declaration the county and city councils eventually made. 
The two councils also agreed to fund the startup of the Whatcom Racial Equity Commission. 
The commission so far has remained in the planning stage, under the leadership of Martens and Zhao. Martens stepped away from her paid role in the commission's development, now that she's on the council.
"My dream was to become the next Oprah."
Martens wants to make the most of her two-year council term, focusing on affordable housing, homelessness, racial equity and the environment. She also would like to figure out how the council might attract a grocery store to her Birchwood neighborhood, which has been a so-called "food desert" since the Albertsons store there closed in 2016.
Public office wasn't always in Martens' plans, however. 
"I didn't want to get into politics. It wasn't on my radar," Martens said. "My dream was to become the next Oprah."
Raised in racism in California
Martens was raised by a single mother who decided to get a college degree while Martens was in grade school. As a self-described "latchkey kid," Martens would watch "The Oprah Winfrey Show" after school. Oprah not only defied negative stereotypes about Black people in American media, she dominated media at the time, Martens said.
 "Oprah showed me I can do what I want, if you just dig in enough and refuse to take no for an answer."
Martens' mother found scholarships to get her daughter into programs at the acclaimed Christian Youth Theater. "I was so much the only Black person" at the theater camps, Martens said. She honed her stage presence and made friends with children who would attain some fame in shows such as "Stomp" and "Prince of Egypt."
"I would have never gotten the opportunity to be around people like that if my mom wasn't really resourceful," Martens said.
Martens' high school years in the San Diego suburb of Santee brought a couple brushes with violence. In her sophomore year, a bullied 15-year-old boy went into a bathroom at Santana High School, pulled a pistol out of his backpack and shot 15 people, killing two. It dawned on Martens while she was huddled with other students during lockdown that she was the only person of color in her classroom. 
This was no idle observation in a school known for overt racism; its nickname was "Klantana." The shooter never got to Martens' classroom, but a thought she had during the ordeal stuck with her: "This world wasn't built for me to navigate safely."
A racially motivated attack at a party in Santee that left a 19-year-old Black U.S. Marine paralyzed made a similar impression on Martens, as she described on her podcast "Mission Accomplished?" The community's response was to say, "Hate has no place here." Martens took away a different message: "Be really careful about what parties you go to."
A decade and a half later, when Donald Trump announced his candidacy for U.S. president, Martens said she knew America was racist enough to elect him. She decided it was time to leave Santee. 
On the Bellingham stage
Martens arrived in Bellingham in September 2015 and found her niche on local stages. She created "Bellingham Idol," a singing competition held at Rumors Cabaret in 2018. The following year she co-hosted "Bellingham Tonight," a live talk show, with Kevin Coleman from Veritas Media. 
"Bellingham Tonight" was one of Martens' first encounters with local politics. She and Coleman interviewed mayoral candidates and devoted an episode to homelessness. In an interview, Coleman said he befriended Martens after she called to ask him to be a judge on "Bellingham Idol." The two also hosted a weekly radio show on community radio station KMRE.
Using his clout as the Bellingham Regional Chamber of Commerce's 2018 Man of the Year, Coleman organized some of Martens' campaign events and talked up the candidate every chance he got. He said Martens has two traits that might complement each other on the council: She's both assertive and a good listener.
"She's a strong-willed person, and she will make her voice heard," Coleman said. Martens believes the City Council should be more accountable. Too often, in her view, decisions that have a big impact on residents' lives are made without their knowledge. 
She also aims to improve the council's efficacy by accomplishing her goals quickly. 
For the younger generation, Martens said at the City Club forum, "everything is crumbling and falling down around them. So everything is of the utmost urgency, and we just need to move more quickly."
Council member Hollie Huthman, who was first elected in 2019, relates to her new colleague's sense of urgency.
"I expected change could happen more quickly," Huthman said. "That's my growth in this position, going from an idealist to understanding how the systems work a little more and understanding how effective change actually happens."
Huthman used affordable housing as an example. "What seems like a simple solution might have negative consequences to other aspects that you want to improve as well," she said. "Housing is way more complicated than I wish it was."
For Martens, racism lurks in some Bellingham residents' attitude toward housing. She supports expanding the city's "infill toolkit" into more single-family zones, which would allow for smaller homes, duplexes and triplexes in those neighborhoods. 
Some Bellingham residents have resisted recent proposals to increase density in their neighborhoods. 
"I understand that it's the character that old, established Bellingham is trying to keep," Martens said. "When I hear 'character,' it sounds racist. You want to keep out the 'urban element.'"
Regarding police reform, Martens believes law enforcement training needs an overhaul. Police culture was built on a racist foundation centuries ago, she said, and that racism needs to be rooted out. The Chuckanut Health Foundation reports systemic racism can be seen in incarceration rates: Black, Indigenous and Hispanic people enter the Whatcom County Jail at higher rates than white people.
"A lot of biases and unintentional racism, to a certain degree, have been passed down in the culture itself," Martens said. 
Some council members wouldn't put Bellingham's issues in such bold terms. It's fair to ask whether Martens, now that she's a part of the system, will keep her unique voice or conform it to what's been the norm in council chambers for more than a century.
"I know that the pressures are real," said Zhao, the activist who worked with Martens to develop the Racial Equity Commission. "Yet at the same time, Kristina walks into spaces with integrity."
Zhao followed Martens on the campaign trail and said the candidate was sometimes "demonized" by those she interacted with because she is a Black woman. 
"In all of that, I feel that she maintains so much composure and so much integrity, and still showed up speaking her truth," Zhao said. "I don't see her changing all that much."