Prep
For Michaelson, AD job didn't stop with canceled seasons
With competition on pause for nearly a year, Meridian athletic director Bryant Michaelson found his job duties changing daily
January 25, 2022 at 6:20 a.m.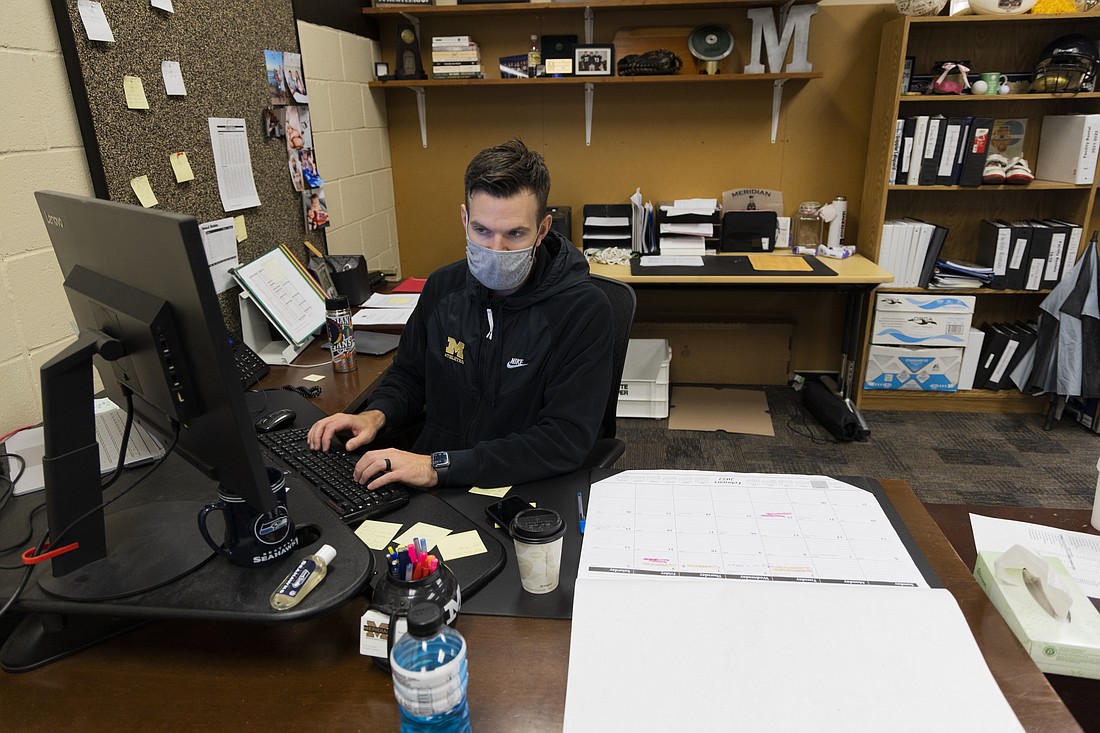 ---
---
What used to be a wrestling mat room at Meridian High School is now athletic director Bryant Michaelson's office.
With high school sports shut down and one of the last things to return once COVID-19 restrictions were eased, Michaelson had time to work on his craftsmanship skills, transforming the room into his workspace.
He also had time to catch up on inventory. There wasn't much else to do.
Until last spring when restrictions were finally lifting, Michaelson's job was nowhere near what he first signed up for when he took it in 2017. Even now, things are different.
The coronavirus still looms over high school sports and plays a threat to shutting down teams in the middle of a season, but local administrators hope the worst is behind everyone.
"I know a lot of athletic directors really struggled through it," Michaelson said. "The perception from the community was, 'Well, the athletic directors aren't doing anything.' Typically, they're at events, clearing athletes, supervising things, creating schedules and because sports weren't happening, people weren't seeing that."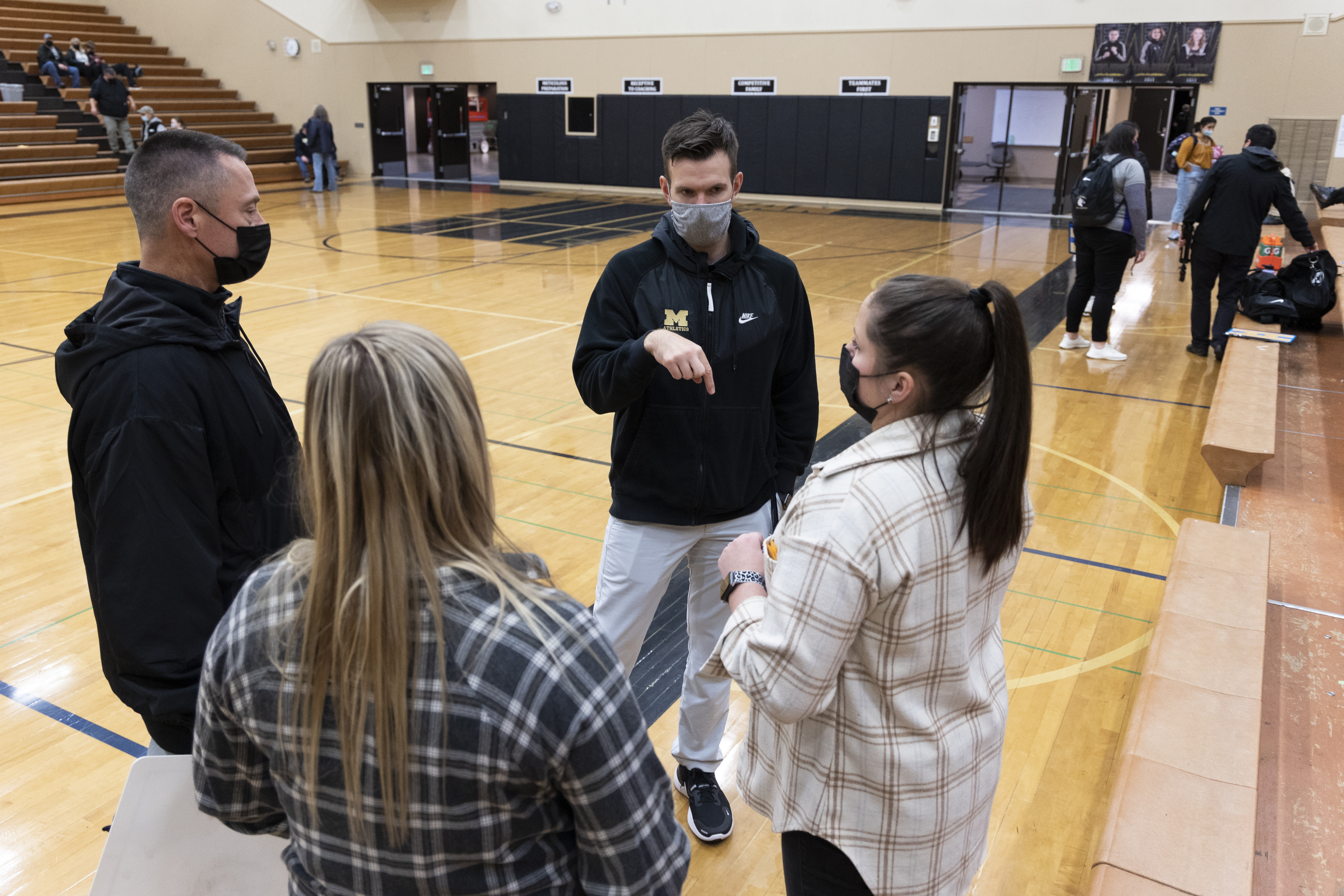 Even when sports were finally cleared to return in February 2021, they looked completely different, but getting to that point was a challenge in and of itself.
Heading into the 2020–21 school year, Michaelson and the rest of the Northwest Conference athletic directors were putting together plans for fall sports to start in August and September as they usually do.
Like all plans in 2020, it didn't pan out the way anyone was hoping for.
COVID-19 rates continued to rise, guidance kept changing and once things started to get delayed, Michaelson said a soft goal to aim for was a November 2020 start when it became obvious a regular fall sports start wasn't going to happen.
"Things just continued to get pushed back and pushed back, but I remember speaking with a couple different athletic directors, the guys who were building the schedules, and every time it felt like we were close to getting it going, something else happened and just derailed it again," Michaelson said. "It almost felt like it wasn't worth setting up the schedules, but we kept doing it."
There was also a big question if athletics would even be possible if students were still learning remotely.
Lynden Christian was the only school to be completely in-person from the start last school year. All other schools in the county slowly worked staff and students back into buildings, with high schoolers being one of the last groups allowed back on campus.
While things were shifting in the right direction, with no sports going on, Michaelson found himself doing just about everything else, including recess duty at the elementary school.
"People were just asked to do a lot of different things outside of their normal scope. A lot of people were totally fine with that, just whatever it takes to get things moving," Michaelson said. "That's kind of been my philosophy. I'll do whatever it takes to make sure we can get our kids back."
As soon as all students were back on campus, it was a waiting game for sports to return.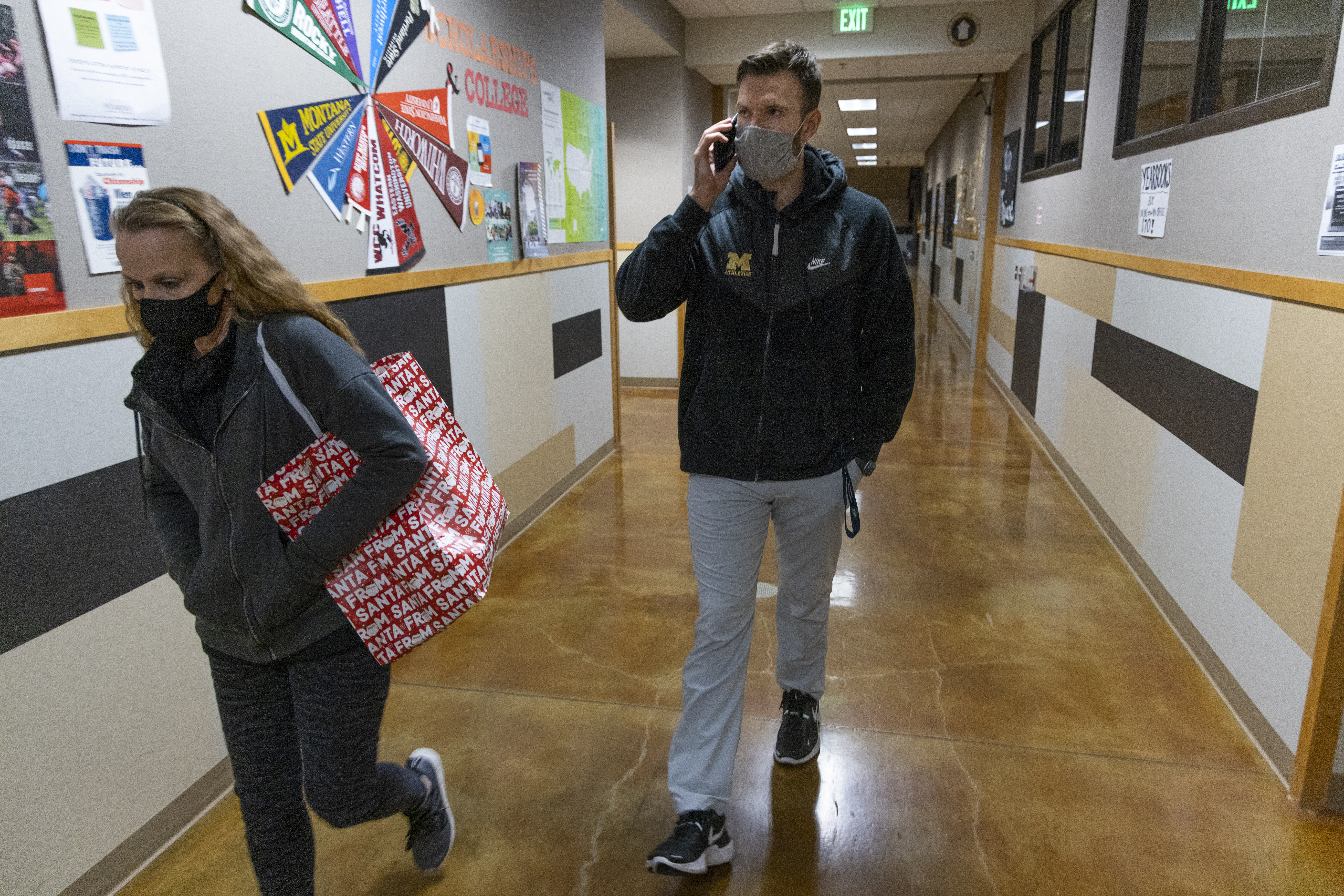 High school sports officially returned in February 2021 — right in the middle of winter.
Football was being played in February, cross country runners were running through the snow, but high school athletics were back after an 11-month hiatus, albeit with a mask mandate.
"Most of our coaches are very understanding," Michaelson said of mask enforcement. "Community members, fans, not so much."
Michaelson said his low point of the pandemic was during a baseball game where he asked a parent to put a mask on.
"I went up and had the conversation with the parent asking if he could put his mask on and he got right up in my face just telling me I don't know what I'm talking about, I need to get away from him and all those sorts of things," he said. "I've been in a lot of toxic situations with parents who are upset during normal times, but that was probably the worst experience I've had as an athletic director."
The sports landscape currently is closer to what everyone was used to before COVID-19.
There's still some difficulties with community members and parents, Michaelson said, but that doesn't take away from the best parts of the job.
"If you boil it down, an athletic director is paid to watch sports. That's a pretty good gig, right?" he said. "There are some negatives, but being able to see the joy in an athlete, a student's face, when they win a big game or when they're finally able to participate, those are the rewarding things where you're like, 'Man, I'm going to remember that forever.'"
Some athletic directors contemplated stepping away from the job and some actually did, Michaelson said. He considered doing it himself.
He said things are better now and seeing how happy athletes are to be back makes it worth it.
The pandemic has permanently reshaped parts of life and Michaelson said he approaches his job in a way now of making sure everything is done by the books.
"I still try to do what's right and what's best for students, but you have to choose your hill to die on," he said.
High school winter sports are in full swing now. Basketball and wrestling, deemed high-risk indoor sports, require athletes and coaches to be COVID-19 tested three times a week, regardless of vaccination status.
"It's chaos, but we're going to get it done," Michaelson said.