Housing
Tiny-home village aims to change course for homeless
Gardenview Tiny Home Village opens, offering safety and new beginning for homeless
January 23, 2022 at 12:13 p.m.
|
Updated January 24, 2022 at 7:17 p.m.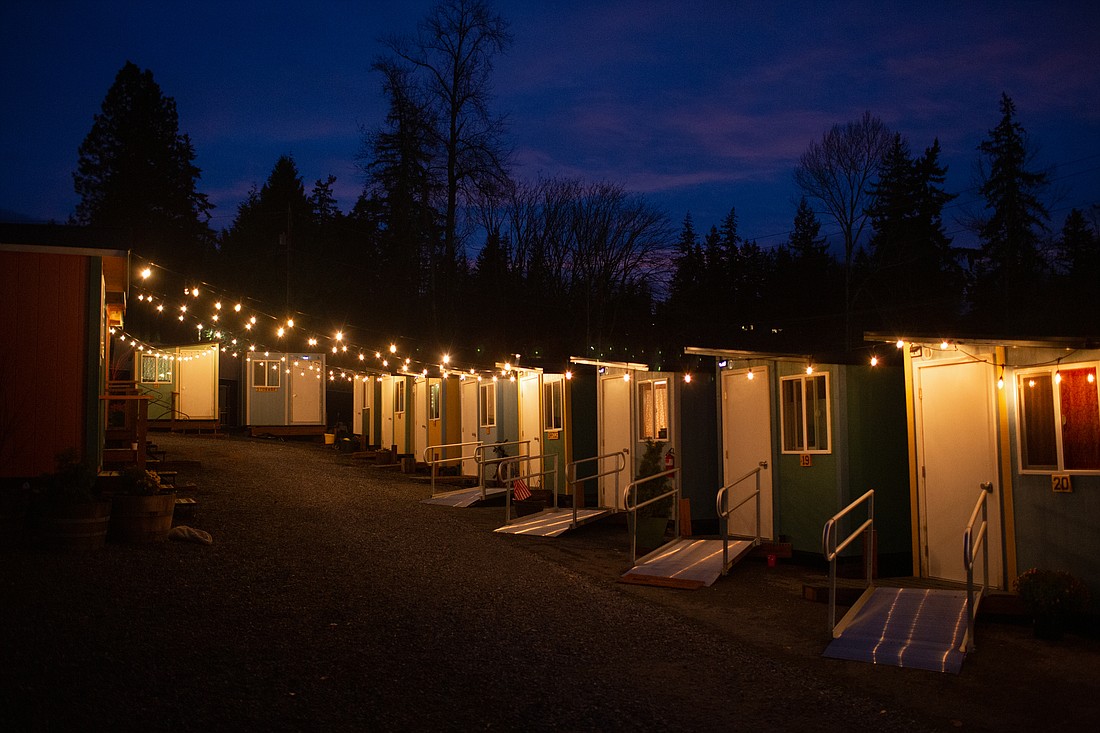 ---
---
Glowing yellow lights string together 36 multicolored homes, illuminating the newly built tiny-home community of Gardenview as dusk settles in. The community room falls empty, as the residents head into the warmth of their own space for the night. Peggy Lee Ramos stands proudly in front of the green walls encapsulating her new Bellingham home, her sunflower curtains shut, giving her home the privacy she has long awaited.
"Time passes weird here," Ramos said. "We are used to being on survival mode nonstop and then suddenly you don't have to be. It's almost a type of shock you go through."
The Gardenview Tiny House Village opened for full capacity of up to 50 people in December 2021, with residents beginning to move in October 2021. The village aims to house individuals over 18 experiencing homelessness with a focus on those who are medically fragile, over 55 or who have an increased health risk due to homelessness.
Ramos, 39, grew up in Leadville, Colorado. She spent time hunting and experimenting in the kitchen alongside her father. She has a knack for art, specifically utilizing pieces of nature within her crafts. As she sits under the hum of a heater in the corner of the community room, wrapped tight in her purple bathrobe, she explains her husband buys her a bathrobe every time they have a space to themselves so she can feel comfortable in her own home.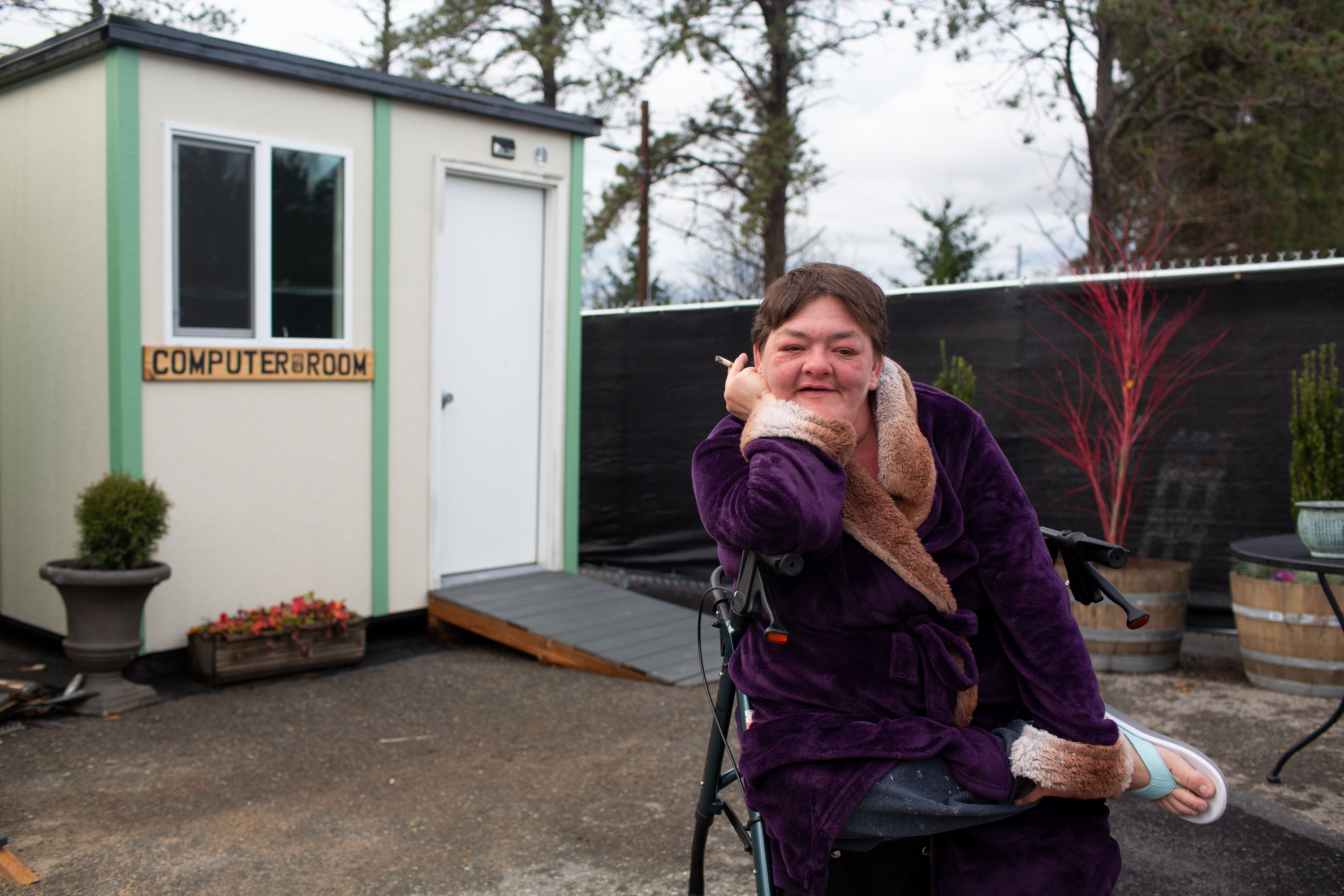 Ramos and her husband were some of the first residents to move into the village. She had been experiencing homelessness for a little over two years prior to moving into the new community.
"It feels like I can breathe again. I don't have to sleep with a studded bat every night to keep myself safe. I don't have to worry about getting hurt on the streets anymore," Ramos said. "It feels so good to be able to just sleep next to my husband again, to hear his heartbeat at night and to know he is OK too."
Each of the homes are built 8 feet by 12 feet with insulation, heat, electricity and a locking door. Gardenview is a partner project between the City of Bellingham, Whatcom County, Road2Home and the Low-Income Housing Institute. The City of Bellingham owns the land and funds the operations. LIHI operates the village, providing 24-hour staffing and Road2Home provides the case management services.
Ashley Buerger, executive director of Road2Home, believes her case managers are some of the most supportive and compassionate people. The case managers work with each individual resident to help overcome barriers to stable housing, employment, obtain legal documents, such as state IDs, and help work through personal struggles, all while the residents learn to coexist within a community again.
"Community is how people flourish. We are not meant to live in isolation, we are not meant to fend for ourselves, we need people," Buerger said. "I know it's so cliché, but it really does take a village for people to get back on their feet."
The village has a community kitchen, bathrooms, laundry, an art room and a computer room. Ramos is excited to bring her creative ideas to life in the art room. The village has a plan to create a website to allow the residents to sell their crafts, giving them another source of income. Buerger believes having these amenities available gives residents a chance to learn how to integrate back into society again.
"When you get out of prison instead of going straight onto the street you go to a halfway house to learn how to be a part of society again," Ramos said. "It's the same thing when you're homeless. You have to have some way of transitioning."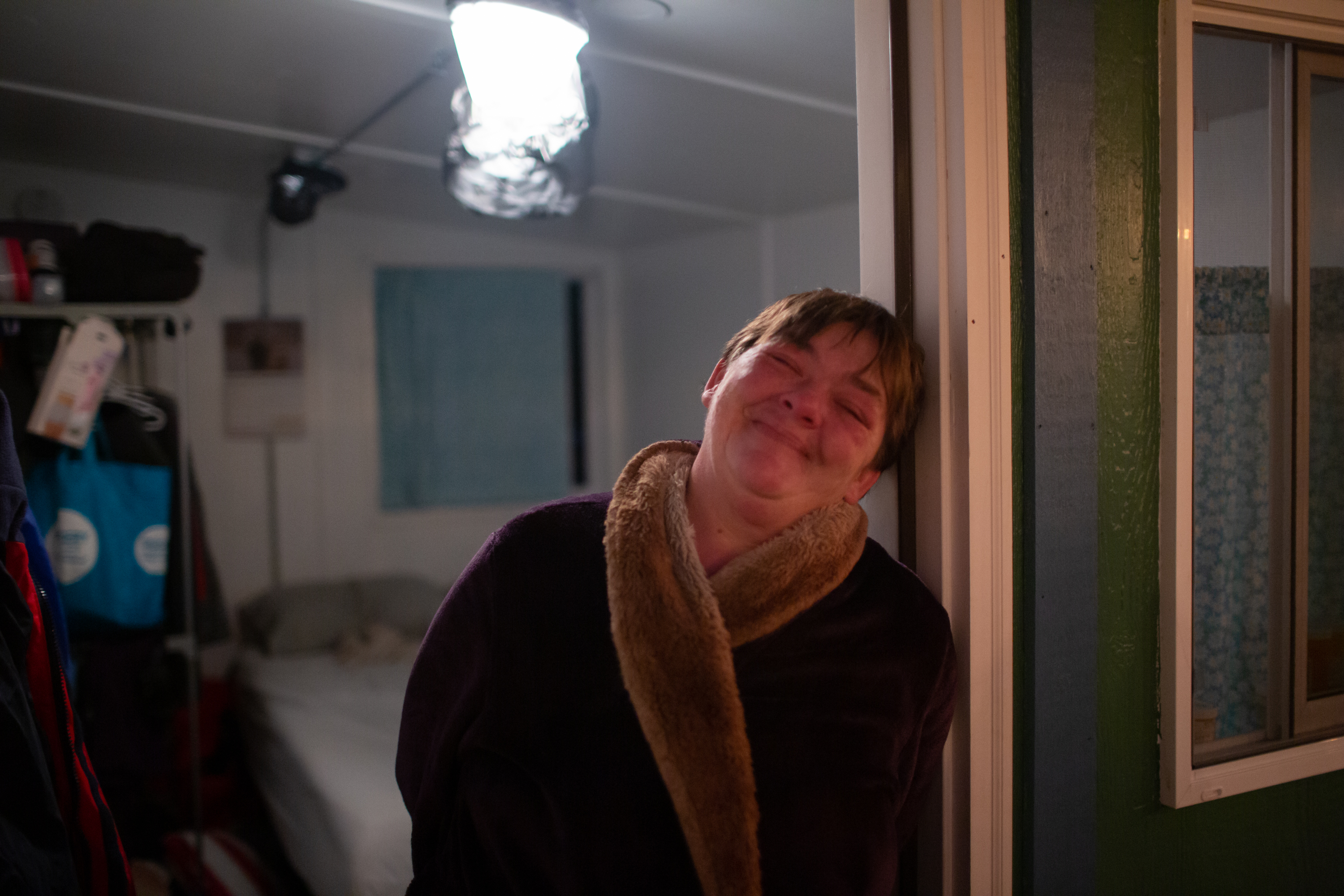 Washington state is experiencing a crisis within its homeless population. A report released by the U.S. Department of Housing and Urban Development found a 6.2% increase in homelessness between 2019–2020. The United States Interagency on Homelessness estimates 22,923 Washingtonians were experiencing homelessness in 2020, including 1,607 veterans and 1,777 young adults. Ramos believes with more tiny-home villages, like Gardenview, the number would decrease.
"We all know that there's just not a lot of low-income housing," Buerger said. "While we're waiting [for more] we have to do something right now. That's where these tiny homes have come from, just getting people off the streets right now."
Tiny-home villages are starting to pop-up all over Washington state with Seattle alone having more than 10 different villages. Whatcom County is following in its footsteps as Gardenview is the third village to be built.
"I know it's so cliché, but it really does take a village for people to get back on their feet." — Ashley Buerger
According to the 2021 Local Point in Time Count Report done on homelessness by the Opportunity Council, 859 individuals were experiencing homelessness in Whatcom County. This was the highest number recorded since the annual counts started in 2008.
"Just because we can't physically go make money, we're worthless in most people's eyes," Ramos said. "I hate to say it but it's the truth. People will literally throw half-eaten food at you and tell you to get a job because you're just a waste of humanity, just because you're hungry."
Buerger and her team are very focused on the small wins. They know trust doesn't come overnight, and it takes time to build rapport and healthy relationships. Buerger says by prioritizing basic needs first then the residents "can start to develop that psychological safety within the environment."
"When that happens, when they start to breathe, and their nervous systems can relax because they're no longer in survival mode, they can start to connect with the case manager," she said.
Ramos believes the one thing that was obvious when she arrived was people really do care.
"We have been looked down upon for so long and made obvious that nobody gives a shit that it really surprises us when somebody does," Ramos said. "Not very many residents here care about each other yet, but they're learning. It's an adjustment that will take time."
The Gardenview Tiny Home Village is accepting volunteers to come spend time with the community; whether that is cooking meals, helping build something or teaching a craft lesson.
---
The name of Ashley Buerger, executive director of Road2Home, was misspelled in an earlier version of this story. The Cascadia Daily News regrets the error.