Government
The first Black man on Bellingham's City Council follows 'family' tradition
Skip Williams knew Tacoma's first Black mayor well enough to call him uncle
January 23, 2022 at 9:00 a.m.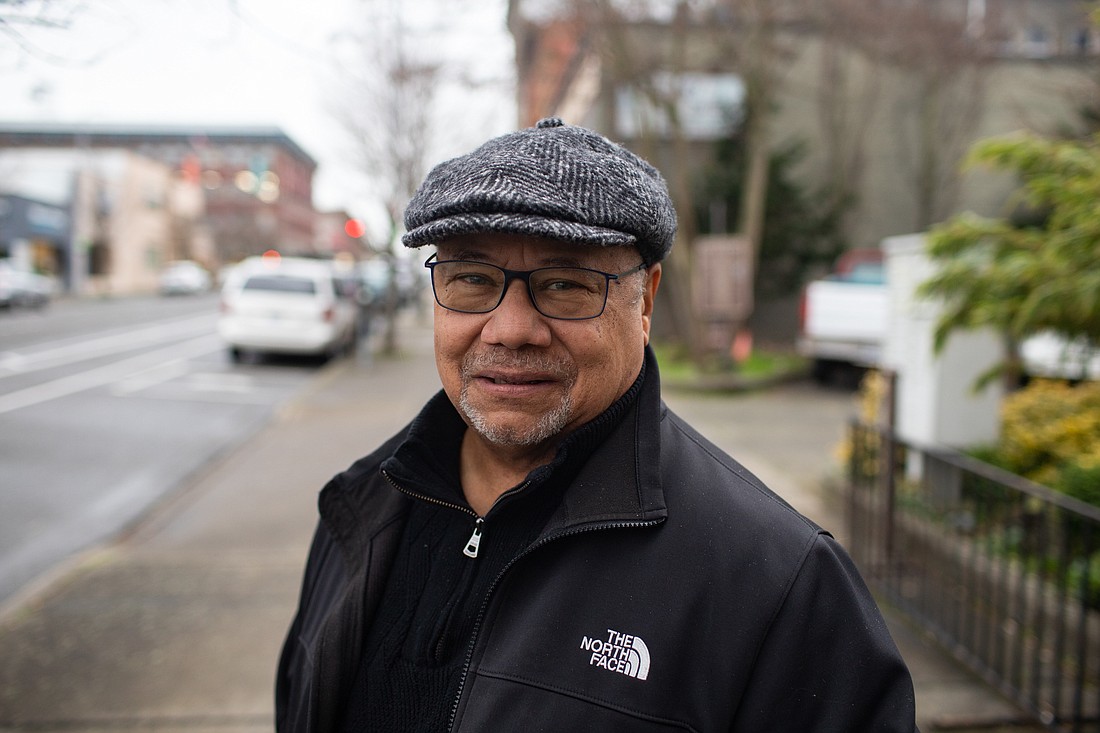 ---
---
The first Black man ever to serve on the Bellingham City Council isn't championing his place in city history.
"I care, but I don't trumpet that," Skip Williams said in a recent interview. In fact, he wouldn't mind if he heard about it a little less often. 
His longtime friend and former council member Terry Bornemann was in the habit of introducing him around town as "our first Black city councilman." After hearing this same introduction one too many times, Williams had a talk with Bornemann. "I took him aside and said, 'Don't make a big deal about that. They can see that I'm Black.'"
Williams may downplay the history he made with Kristina Michele Martens in the 2021 elections as Bellingham's first two Black council members. But their victories stand as a belated corrective to a long history of racial exclusion.
"It was way, way overdue," Bornemann said. 
Bellingham remained more than 90% white until the 1990s, according to U.S. Census figures — an outcome due largely to persistent, historic efforts by Bellingham leaders and citizens to keep the city white. Police "sundowning" practices removed Black people to the city limits as recently as the 1970s, according to Western Washington University.
Bellingham has become more diverse since 1990. The 2020 census indicates the city is now 75% non-Hispanic white. 
"We've seen an increase in minority population growing each year, and our minority representation has been almost nil," Bornemann said. "So I think it's going to be great for Bellingham to have some more diversity on the council."
"I never walk into a situation assuming I'm not supposed to be there." — Skip Williams
Williams has been in Bellingham long enough to have experienced racial attitudes less enlightened than what people display nowadays. Still, Williams said he has never had to deal with racism in his 32 years here.
That might say more about the city's first Black councilman than it does about the city itself. When Williams was in sixth or seventh grade, his family moved to Steilacoom, Pierce County. To say that community was predominantly white might be an understatement.
"There was a Japanese family there and [my family]," Williams recalled. "I had to learn to navigate those waters of being a minority, but the way I was raised, it was just, 'You're there. You're a part of the group.' … I never walk into a situation assuming I'm not supposed to be there."
Williams has been active in the Bellingham community since arriving in 1989, but voters may not have known much about him. Running unopposed in November, he didn't need to doorbell or participate in candidate forums. On the council, he hopes to become known simply as someone who does his job well.
"It's more what I can contribute to moving the agenda forward," Williams said. "And, oh yeah, I do happen to be Black."
Williams moved to Bellingham more than 30 years ago to take a job as a field organizer for the Washington Education Association. That fall, Bellingham teachers went on strike. The president of the local union at the time was Kelli Linville, who would later serve in the state Legislature and then as Bellingham's mayor, from 2012 to 2019. 
"I've always been very impressed with the way Skip approaches issues. He is completely focused on results." — former mayor Kelli Linville
Williams and Linville made a good team. 
"We negotiated a very progressive contract that in 1989 was pretty good," Williams said. "We were able to find common interests and come to creative solutions that were durable and that we could all live with."
"I've supported him since day one," Linville said. "I've always been very impressed with the way Skip approaches issues. He is completely focused on results."
Bornemann echoed what others said about the new council member: "He's somebody who knows how to listen to people, and I think that's such a key to being on the council."
Williams, 70, had never held elected office. But his supporters say his experience on nonprofit boards prepared him for the council. On top of that, he has spent much of the past year studying the issues facing the city, Mayor Seth Fleetwood said. 
"One of the main roles of a council member is asking the good questions," said Fleetwood, who has served on both the Bellingham and Whatcom County councils. "I think he's going to come in and do a good job."
Williams saw a need and filled it
Williams has served on at least five nonprofit boards over the years. He helped lead Whatcom Crisis Services (now Domestic Violence and Sexual Assault Services), the City Club, Northwest Youth Services and, from 2011 to 2021, the Mount Baker Theatre. 
"He contributed a valuable perspective to board discussions as a musician himself who is broadly connected to the community," said Mount Baker Theatre Executive Director John Purdie.
Williams might be better known as a musician. Recently, he has performed vocals and keyboard for the band Soul Shadows at small venues around town. Earlier, Williams was musical director of the Motown Cruisers, which gigged at casinos and the Space Needle. 
The list of nonprofits Williams has served is all over the map, including groups that support domestic violence victims, homeless youth and general civic engagement. 
"When I take on an organization, it isn't so much the sector of the community that they're serving, per se, it's more like they need the kinds of things I can do to help move their agenda forward," he said.
Williams joined one nonprofit board out of tragic necessity. He helped found the Pipeline Safety Trust after his stepson, Stephen Tsiorvas, died in Bellingham's Olympic Pipe Line explosion in 1999. In an interview, Williams chose to focus on the positives from that terrible moment in local history.
"What happened here was something that had never happened in this country before," he said. "First, it led to holding that company accountable for what they were negligent about, but it also led to the development of the Pipeline Safety Trust." 
Olympic paid millions to settle civil and criminal cases. "We worked with elected officials and others to convince a judge to allocate $4 million to build that organization," which emerged as a global authority on pipeline safety, Williams said. 
Williams served on the board for six years, setting the organization "on the right track," said Carl Weimer, who served as the Trust's executive director from 2004 to 2020. "While Skip always held on to the emotions from the terrible tragedy that occurred because of the Olympic Pipe Line explosion, his ability to focus on facts and help strategize a winning approach to such a huge problem ought to serve him well on the Bellingham City Council."
Rooted in civic leadership
Williams came from Tacoma, where a man he refers to as his uncle was one of several family friends who modeled a life of public service. Harold Moss, a Tacoma civil rights leader, became Tacoma's first Black city council member in 1970 and the city's first Black mayor in 1994.
"All these friends had an influence on me to do some level of public service, which in part was why I became a schoolteacher," Williams said. He taught band and music at the junior high and elementary schools in the Bethel School District.
In spite of his community service orientation, Williams hesitated last year when Bornemann and others urged him to run for the city council seat being vacated by Pinky Vargas. Williams said his attitude toward politics had long been captured by the 1970 Temptations song "Ball of Confusion," about a world spinning out of control while politicians made empty promises. "Vote for me and I'll set you free," as the song goes — a lyric that for him drips with cynicism. 
But today Williams is ready to attack vexing local problems such as homelessness and the high cost of housing, and strained relations between the community and police.
Williams has a restrained view of an ongoing debate about policing. He agrees that police aren't properly trained to handle many of the mental health crises they respond to. And he supports existing mental health programs that help people who might otherwise end up on the receiving end of a police call. But his position comes nowhere close to those who call for "defunding" the police.
"When you hear the noise about policing, the way I see some of that is, there's a lot of noise being made but is it really the reality here?" Williams said. "The community thinks in general, our police department's doing OK." Williams added that any cases of police misconduct he was aware of were "individual issues," which he said were handled appropriately.
Nor does Williams propose radical changes in the city's approach to homelessness. The city receives $8 million annually to combat homelessness and provide low-income housing — $7 million from local sales and property taxes. "My viewpoint is, more of the same," he said. "We've got to keep building, and build on the foundation we already have." 
The city needs to recognize its limits when it comes to addressing homelessness, Williams added. The scope of the problem is far greater than anything the city can handle. 
"And the homelessness crisis in the country is more of a systemic problem overall than, it just popped up here in Bellingham," he said. "You can't address, totally, a systemic problem with just Band-Aids."
In short, the election of Bellingham's first Black city councilman breaks new ground and feels familiar at the same time. 
"He fits the temperament of his ward," said Bornemann, referring to the Fourth Ward, in the northeast part of the city. "It's a moderate political ward, and I think that falls within Skip's temperament."
---
Look for a profile of Bellingham's other newly elected city council member, Kristina Michele Martens, in the Cascadia Daily News on Tuesday.