Restaurants
​​Review: The Fairhaven
Comfort food in Burlington
January 23, 2022 at 12:10 p.m.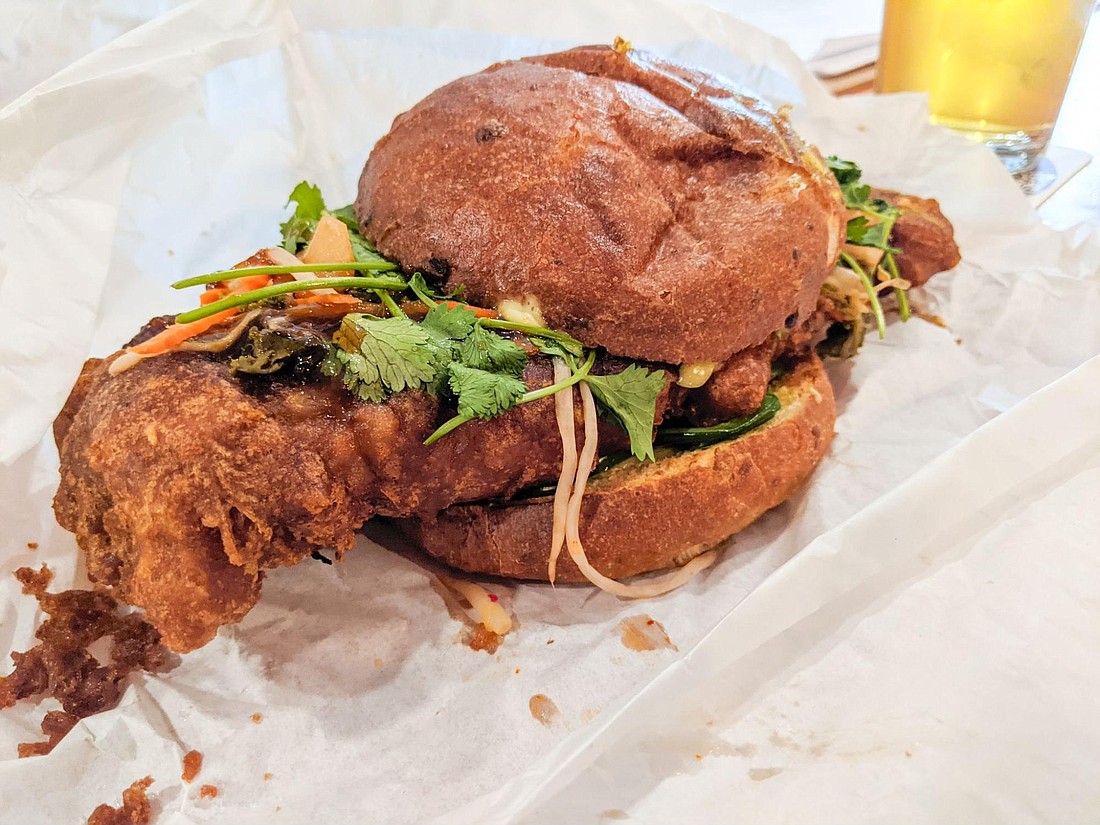 ---
---
For a long time after the 2020 lockdown I wasn't getting much takeout, let alone dining out, but I was still following local restaurant forums to see what was happening with the Skagit food scene. One place that appeared repeatedly with rave reviews was a new restaurant in Burlington called the Fairhaven, so as soon as I began to get out again I had to try it.
While the Fairhaven is technically located on Burlington Boulevard, it sits at the entrance to downtown Burlington at the corner of Fairhaven Avenue, from which it gets its name (not to be confused with the Fairhaven neighborhood of Bellingham).
The interior is charming, brightly lit and full of activity. The kitchen, beautifully detailed with white subway tile, stainless steel and natural wood, takes up most of the space, with a row of tables along the windows at the back of the building. Service at the counter is prompt and cheerful. In the summer, a small lawn with picnic tables is available for outdoor dining, but in the winter seating is limited.
Fortunately, the Fairhaven excels at takeout. While their online order system has yet to be implemented, a phone call gets you anything on their menu generally within 15–20 minutes, in some cases barely enough time to get there.
The menu is almost entirely baked goods, sandwiches and salads, plus an intriguing selection of hand pies. The specials menu, which changes weekly, might include almost anything — a recent version featured chicken curry, fried Brussels sprouts, and birria quesadillas. A few months ago there was a peanut chicken wrap that I'm still regretting not ordering while I had the chance. And in November they had a Hot Turkey Dinner sandwich that looked like the best Thanksgiving leftover sandwich you could possibly make.
The regular menu includes lunch counter classics such as burgers, fish and chips, a Reuben, and a BLT, plus a monster of a meatball grinder, all guaranteed comfort food, but there are plenty of other great options.
The chicken sandwiches, of which there are several varieties, are impressive. The classic fried chicken ($11) is large — sometimes too large for its bun — and dressed with pickles and iceberg lettuce. The jerk chicken ($12), served on a curry roll, is grilled and liberally topped with onions, cilantro, avocado and spicy condiments. And the Korean chicken ($11), available either grilled or fried, is a flavor explosion of savory bulgogi sauce and kimchi slaw that can barely be contained by its bun. On at least one occasion, the chicken fillet was so huge the sandwich filling comically extended for several inches on either side of its bun, like a geoduck.
There are also some excellent vegetarian choices. I particularly love the falafel wrap ($11), a large burrito stuffed to the gills with greens, herbs, pickled onions and vegetables, studded with freshly made falafel, and drizzled with plenty of tahini sauce. While the wrap, like most of the food here, is dauntingly large, the fact that it's mostly herbs makes it both fresh-tasting and very easy to devour. Another non-meat option is the veggie grilled cheese ($10), a hearty sandwich of thick-cut, freshly baked country bread spread with tomato jam and pesto, then piled with eggplant, zucchini and spinach, with plenty of melty cheese gluing it all together. For myself, I find a half sandwich is more than enough for a meal, which means I get to have it for lunch again the next day.
A wide variety of salads are available as mains or sides. My favorite so far, the beet and arugula salad, is a wonderful combination of textures and flavors, with roasted beet, chewy cooked farro, feta cheese, arugula, lemony dressing and crisp pumpkin seeds. I got a small version ($8) to go alongside a sandwich, but it would be fantastic as an entrée with chicken. The steak salad ($16.50) came with a very generous serving of grilled tri-tip over a huge pile of greens, vegetables, blue cheese and avocado, far more than I could eat at one sitting. They offer similar dinner salads topped with tuna or falafel.
Fries, onion rings and fried jalapeño chips are reportedly all excellent. I haven't tried them myself, although I did once drive for several miles with a friend's order of jalapeño chips in the car with me, which was a severe exercise in temptation.
Wine and beer are available, plus interesting-sounding house-made sodas. And if you have room for dessert (or just want something for later), the counter includes a tempting display of cookies and tarts from their bakery.
Whether you're looking for an easy lunch or dinner, getting supplies for a picnic or just want comfort food, the Fairhaven is a great go-to spot.
---
The Fairhaven is located at 100 N. Burlington Blvd. in Burlington. Find out more at www.fairhaventogo.com