Environment
Household essentials brought to consumers by van
Pumped offers sustainable, affordable options
January 23, 2022 at 12:05 p.m.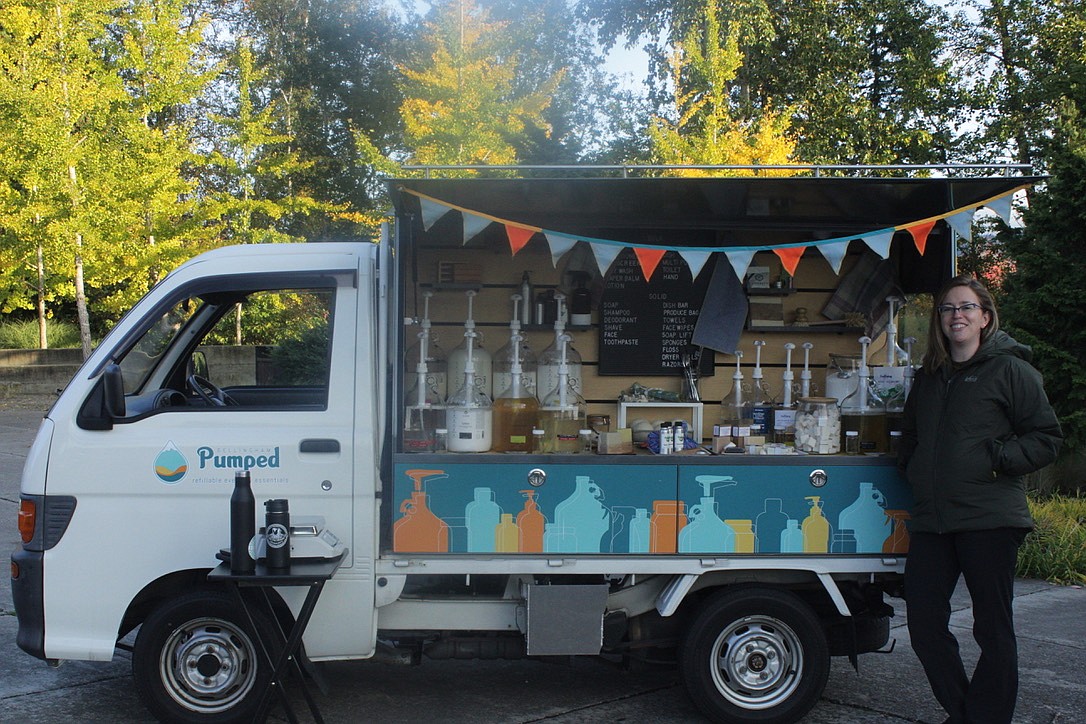 ---
---
Leah Foster braves the crisp air in Barkley Village, standing proud next to her business on wheels, Pumped Bellingham. As people walk in and out of Haggen, many are drawn to check out the small truck parked ever so strategically in the middle of the sidewalk. A bundled-up woman approaches the truck in hopes of a warm slice of pizza, but to her surprise, she finds soap.
Foster is the founder of Pumped Bellingham, a zero-waste inspired business offering everyday household essentials that help customers find a balance between sustainability and affordability.
"It's funny," Foster said. "I always have ideas like this but I never follow through. The one time I do, it's about soap."
The zero-waste movement is a commitment to producing absolutely no trash. As an avid recycler, Foster's interest in zero waste peaked when she became a mother and discovered how difficult it is to find essentials like laundry and dish soap sold in something other than single-use plastic containers.
"I thought if I was struggling to find low-waste alternatives, maybe other people were, too."
Foster took to the road last July, selling liquid soap pumped from dispensers mounted in her modified 1995 Daihatsu Japanese import truck — which is only considered street legal in the U.S. if it's 25 years old — at the Barkley market. The idea is simple: refillable everyday essentials. You can bring your own containers, borrow one of Fosters', or purchase one. You then choose from products which now range across categories including laundry, personal care, kitchen, cleaning, baby care and accessories.
"I originally just started trying to cut down the waste in my own home," Foster said. "I couldn't find anything that wasn't an online subscription service, or 'environmentally friendly' but wrapped in plastic."
Making the idea of zero waste less daunting is important at Pumped. Foster understands many eco-friendly, sustainable and low waste products tend to have inflated prices compared to leading brands. With products like the multipurpose cleaner starting at $6.40 and shampoo starting at $8, Pumped prioritizes ensuring its customers an affordable and sustainable product.
"My favorite overall product is my refillable floss," Foster said. "I want to make zero waste a little bit more fun and a little bit more approachable. The floss is something that is super easy. It's just a reusable glass container with spools of compostable floss."
Ninety-three percent of Pumped's product comes from closed-loop companies, which either produce no waste at all or take back packaging to be sanitized and reused.
"I think it's great to have the customer cut back on their plastic waste, but it doesn't make me feel much better if I know that on the back end it's just a ton of plastic waste being created," Foster said.
"I wanted to do something to make the world better. I love Bellingham so much, so I figured if I'm going to do it, then this is the place." — Leah Foster
Much of the inspiration for Pumped was accumulated over the seven years Foster worked in the airline industry. She started noticing the amount of single-use plastic while on the plane, in the airport and while spending layovers in hotel rooms. She quickly became frustrated with the mindless attitude many have regarding plastics.
"I wanted to do something to make the world better," Foster says. "I love Bellingham so much, so I figured if I'm going to do it, then this is the place. And my kids love the truck itself, my son walks around telling people that I sell soap."
The Pumped van pops up all over the place: Carne, Goods Local Brews, Barkley Village, different farmers markets, downtown and even delivery. The company has a website where customers can place an order online to be delivered or check the schedule to see where Pumped will be refilling necessities next. Foster sees herself as the milkman, but for soap. Pumped plans to sell through its online market through the winter with a couple in-person locations.
"One of the things I have enjoyed the most about this is the relationships that I have established with people in the community and other businesses," Foster said. "I would love more of that."
---
Pumped can also be accessed through Instagram and Facebook with the username: @pumpedbellingham, and through email with pumpedbellingham@gmail.com.