Environment
Bellingham bans natural gas for heating in some new buildings
Measure approved Monday wouldn't apply to houses and smaller apartment buildings
February 8, 2022 at 6:50 p.m.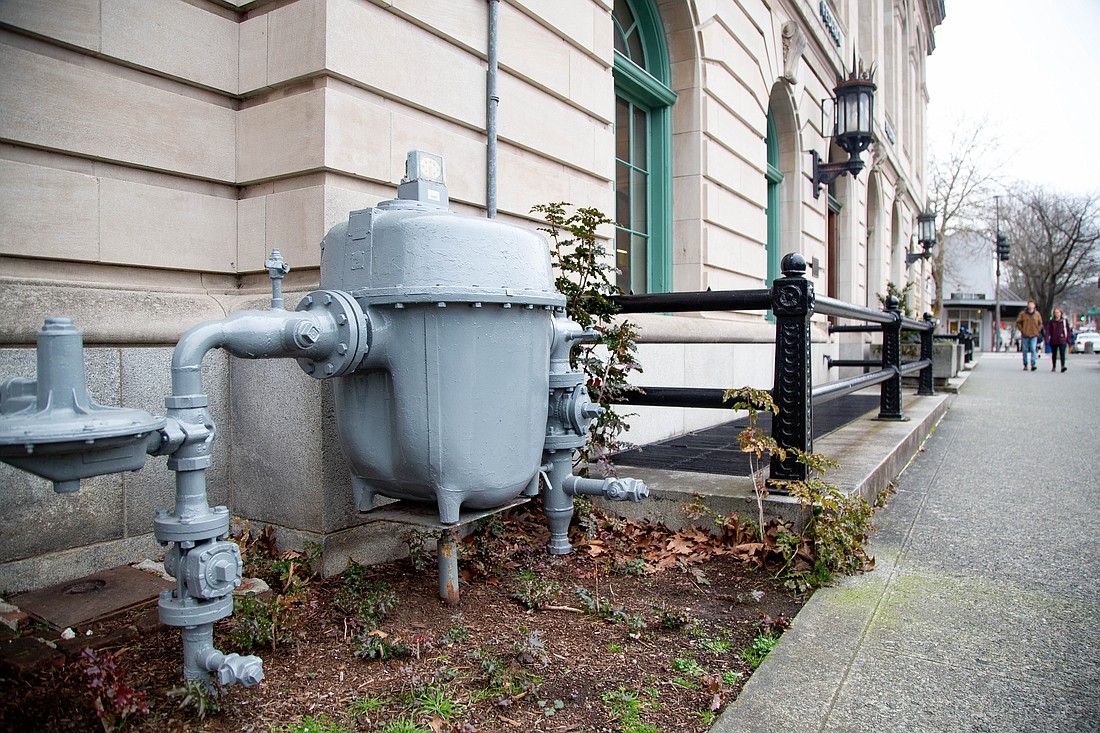 ---
---
Bellingham has become the third city in Washington state to require new buildings to use electricity for heating, as part of an effort to reduce the city's contribution to climate change.
The City Council voted 7-0 Monday to require all new commercial construction and future residential buildings more than three stories tall to heat water and rooms with electricity. The rule, modeled after similar policies already established in Seattle and Shoreline, still allows for the installation of gas kitchen appliances and fireplaces.
Bellingham's ordinance, which takes effect in six months, also requires new commercial and large residential buildings to meet stricter construction standards for energy efficiency. Additionally, buildings must be "solar ready" with enough roof space for future installation of solar panels. Existing buildings are not affected by the new requirements.
The environmental group RE Sources for Sustainable Communities applauded the council's decision in a news release, calling it a "crucial step" toward meeting carbon-reduction goals. 
"We can't meet local climate goals if we keep digging the hole deeper with new fossil fuel-powered, inefficient space and water heating systems," Simon Vickery, RE Sources climate and energy program manager, said in the release.
Residential and commercial buildings are responsible for a significant chunk of Bellingham's carbon footprint — 43%, according to a 2015 study. But swapping natural gas for electricity isn't a simple matter of exchanging dirty for clean. A breakdown of all of the sources of Puget Sound Energy's electricity production from 2019 shows that only 33% of its power is "green" — hydropower, wind or solar. Another 35% of PSE's current electricity profile comes from burning coal, and 31% is from natural gas.
"Given the makeup of our grid today, yes, it's better," said Ingrid Archibald, field organizer for environmental group Stand.earth's SAFE Cities, comparing electrical heating to natural gas. "Ten, 20 or 30 years out, it only becomes more definitive that it's cleaner and going to draw down emissions."
Electrical power is expected to get cleaner in this state, as long as utilities meet a goal mandated in 2019 to produce coal-free electricity by 2025, greenhouse gas-neutral power (including the use of carbon offsets) by 2030 and fully green power by 2045.
At a City Council public hearing on the electrification ordinance on Dec. 13, 2021, a PSE spokesperson called for a more modest approach. Full electrification of new buildings, the spokesperson said, "places a huge strain on the electric grid."
In a statement to Cascadia Daily News on Tuesday, PSE said it would work with the city to carry out the council's decision to adopt its more ambitious approach to electrification.
"PSE stands ready to work alongside the city of Bellingham to make sure its electrification policy is implemented in a way that reduces emissions, maintains grid reliability and provides energy security and equity for our customers," the statement said. "While we believe that a hybrid electrification approach would net better results for our customers, we look forward to working with Bellingham on a thoughtful, planned approach to developing the infrastructure necessary to meet the city's goals."
The PSE spokesperson indicated at the public hearing that the utility would work with the city to site and permit new electrical infrastructure that may include new power generation plants.
"We can't meet local climate goals if we keep digging the hole deeper with new fossil fuel-powered, inefficient space and water heating systems." — Simon Vickery, RE Sources climate and energy program manager
Labor leaders, meanwhile, are keeping a wary eye on policy changes, including the electrification ordinance, which they worry will disrupt established family-wage jobs in the area.
"There is a certain amount of anxiety," said Trevor Smith, political director for Laborers International Union of North America Local 292, at a meeting Monday of the City Council's Climate Action Committee. "We work about half a million man hours per year in natural gas distribution," Smith added — jobs that pay $53 an hour, including health insurance and pension. 
Union officials understand that certain jobs that rely heavily on fossil fuels are going away but want to ensure that their members enjoy the same level of wages and benefits in whatever new job they transition to. 
"How do we make that leap?" Smith asked the council. "How do we use the skills that those folks have to start doing climate-needful work?"
While building costs will rise as a result of the ordinance, city staff said the increase would amount to only 1% to 2% of overall new construction costs, based on an analysis from Seattle.
"Just looking at the volatile cost of lumber over the last couple years, that may have a greater impact on costs than these changes overall," said Kurt Nabbefeld, development services manager in Bellingham's Planning and Community Development Department.
Nabbefeld advised the council to weigh the cost of electrification against the projected costs of letting climate change proceed unchecked, which are estimated to be in the billions of dollars annually across Washington state.
"The question to be answered is, 'Are we OK with these costs, knowing that if we don't act the cost to our community from climate change may be greater?'" Nabbefeld said.