Visual Art
A lifetime of collaboration
Remembering Bellingham artist Tom Wood
February 7, 2022 at 5:10 a.m.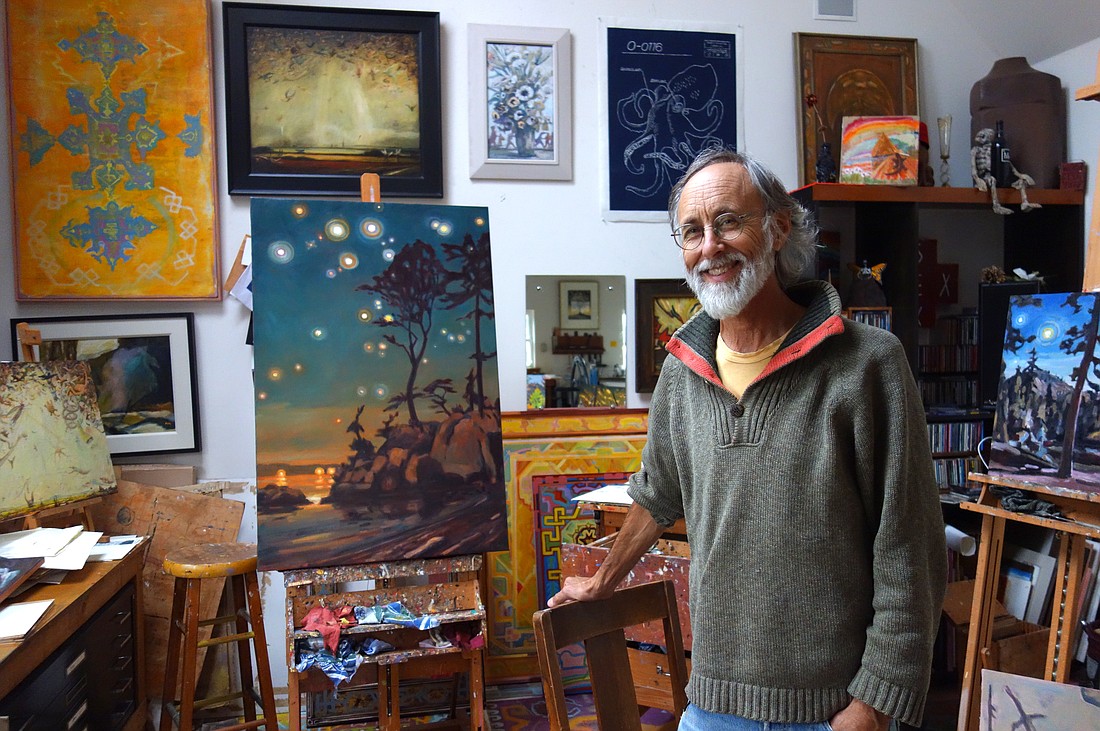 ---
---
In the year leading up to his death at age 70 on Jan. 5, renowned painter and printmaker Tom Wood continued to perfect his craft and collaborate with his peers. This was evidenced by a recent show at gallery i.e. in Edison, "The Oyster Dome Studio Print Show: Thomas Wood and Cohorts."
Featuring works by the beloved Bellingham artist alongside those of fellow creators he regularly invited to his studio to learn more about printmaking, the exhibit came to life with insightful feedback from Wood and help from Wood's assistant, Mandy Jene Turner.
Margy Lavelle, gallery i.e. owner and one of the featured artists in the exhibit, said Wood often invited her to his studio to make prints. At first, she demurred, but eventually took him up on his offer.
"I'm a big, messy abstract painter and I like to work with no one around me," Lavelle said. "I finally started to go to his studio and do a little etching and monoprints. It was more of a social experience than a collaboration. Tom was good company and he loved having other artists nearby conversing and working on our individual plates."
Wood was an award-winning, internationally admired artist with works in permanent collections including those of the Whatcom Museum and La Conner's Museum of Northwest Art, and Lavelle said one reason she thinks his work resonated with so many viewers was that he was funny, perceptive and a "truth-teller."
"People get that," she said. "The skill of course is phenomenal, but it is the story that people love."
Whether he was etching intricate images of night-blooming flowers, conjuring fanciful tales including insects and rabbits, theorizing about the lives of dinosaurs via his art, or offering up surreal landscapes that celebrated the natural world, Wood continued to make time for creative partnerships, even while battling inoperable cancer.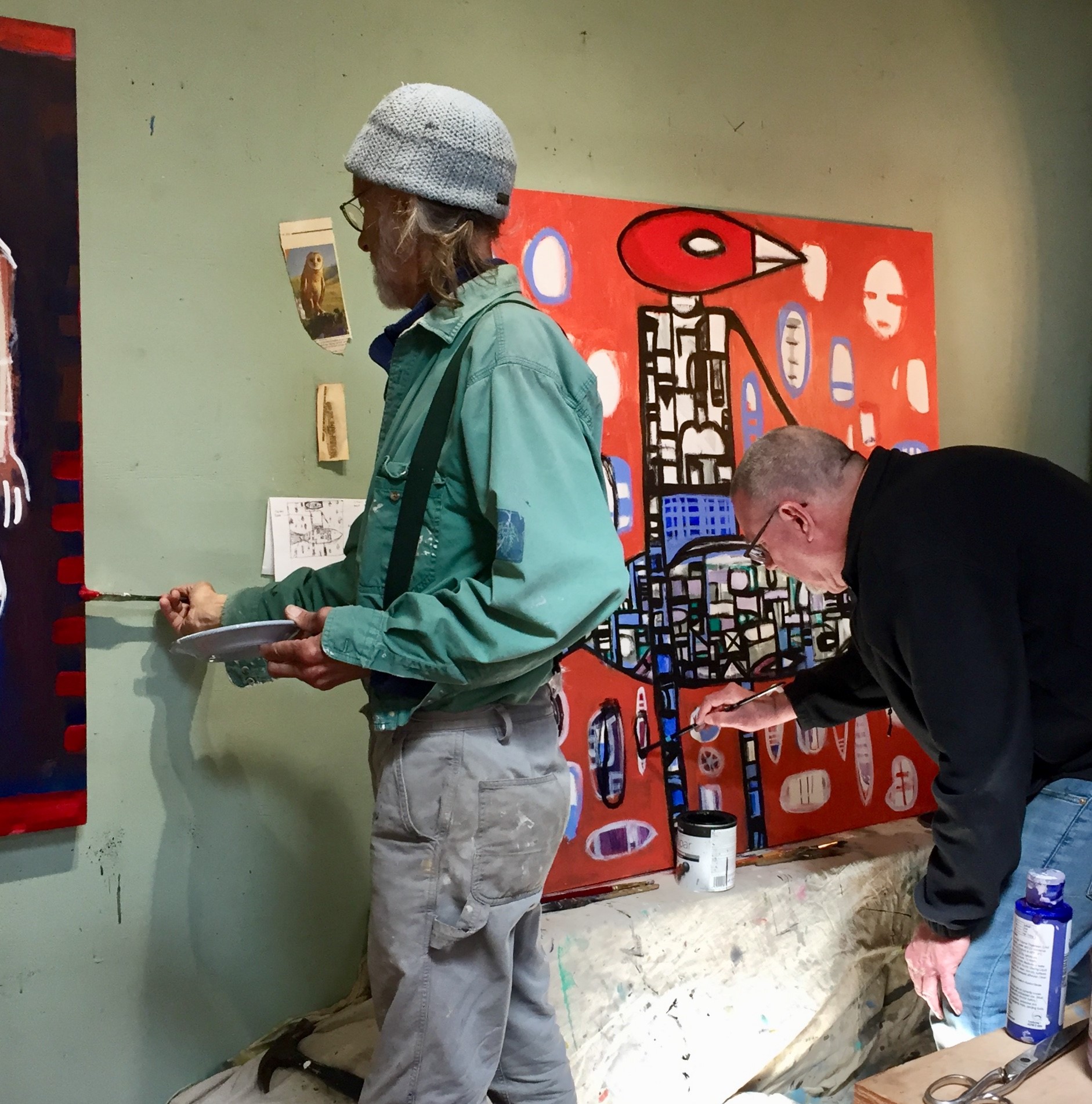 Folk artist R.R. Clark — also known as FishBoy — was included in the "The Oyster Dome Studio Print Show," but that wasn't his first collaboration with Wood. The two first met in 2012 at art openings at the former Lucia Douglas Gallery in Fairhaven. Clark was instantly drawn to Wood's visions.
"I thought his work was fabulous, and it spoke clearly of him," Clark said. "It was powerful and it affected me deeply. It was so beautifully detailed, you felt like you could pick up a rock in a painting and there would be a bug underneath it."
Their first joint exhibit, "Alien Alphabets," debuted at Lucia Douglas in 2013. The show by "Woodfish" (an amalgamation of Wood's and FishBoy's names) included a five-hour session that saw Clark and Wood painting together in front of a live audience, where they produced approximately 10 new works. Clark said he thinks the exhibit was a success in part because people wanted to see what the result would be when two artists whose work was so stylistically different shared space on their canvases of choice. The paintings were colorful, playful and eye-catching, as were those in the duo's bicycle-related "Inky Spokes" series in 2014.
In 2021, Wood called Clark and asked if he wanted to team up on an etching. It was mid-pandemic, so they passed a copper plate back and forth several times via curbside drop-offs. The result was a limited-edition print called "Take Me with You" that Wood's assistant printed and packaged before dropping off to be sold at Clark's FishBoy Gallery in the Sunnyland neighborhood.
A couple of months later, the two teamed up again for "Woodfish Two," with each of them providing a wood panel to be painted upon. As they cranked up music from the likes of Built to Spill and King Crimson, they moved back and forth between the panels, each putting their own marks on the two paintings that were created over three sessions. The pieces can currently be viewed by making an appointment at FishBoy Gallery, where Clark lives and paints.
"I thought his work was fabulous, and it spoke clearly of him. It was powerful and it affected me deeply. It was so beautifully detailed, you felt like you could pick up a rock in a painting and there would be a bug underneath it." — Folk artist R.R. Clark, on friend and collaborator Tom Wood
When asked why he thinks he and Wood worked so well together, Clark said it was a chance for them to move into uncharted territory.
"It forced us out of our comfort zones," he said. "And we trusted each other. The experience of working together was joyful and magical. Every time I painted or printed with him, sharing music, a glass of wine, a lot of laughs and great conversation as part of the process, I always learned something. More than anything, Tom was a good friend."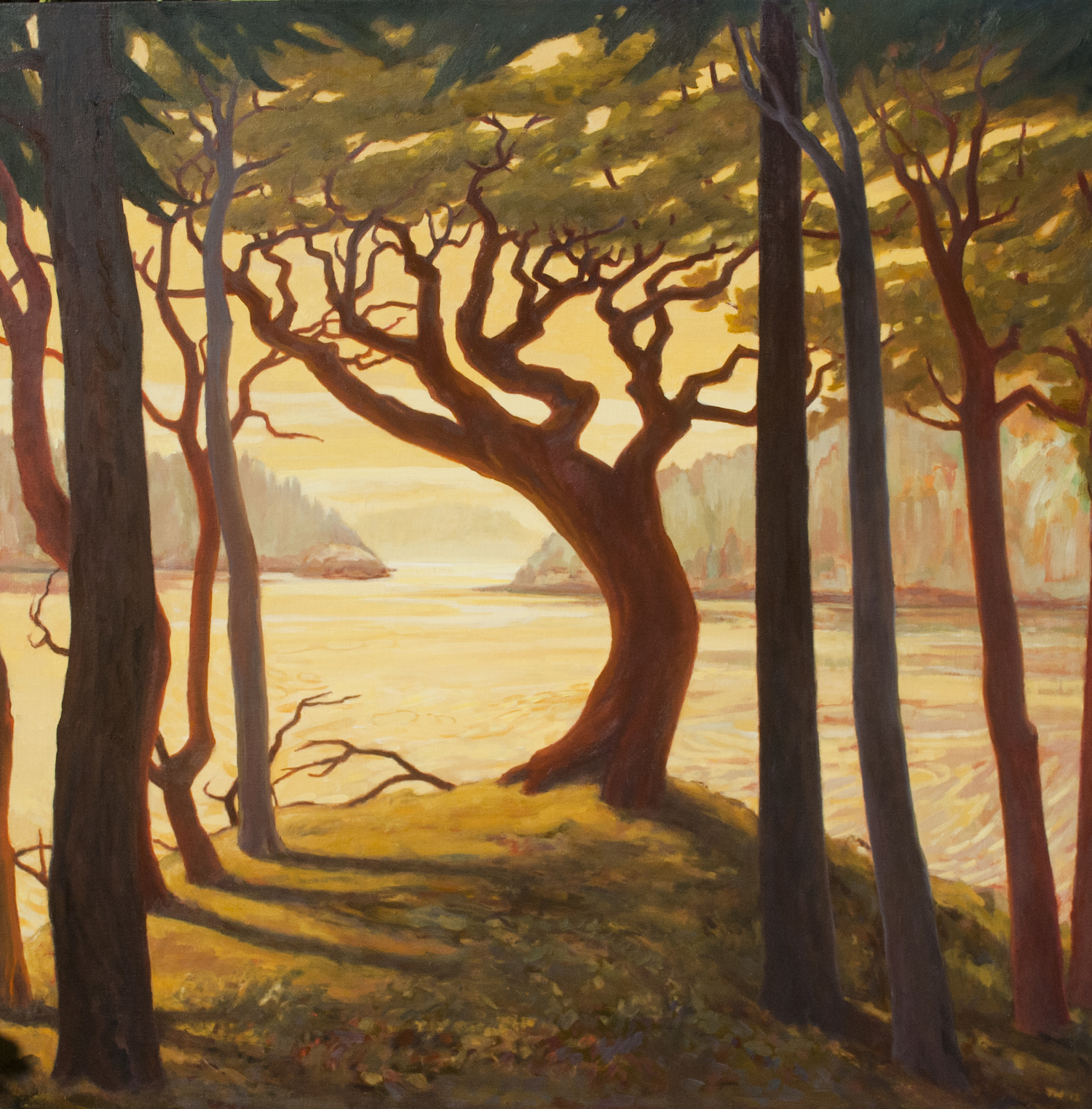 In addition to the pieces on display at FishBoy Gallery, Wood's work can also be seen in Bellingham's Boulevard Park, where the large murals he painted for "The Porch" in 2009 are on public display in the park's bandstand. Additionally, gallery i.e. has prints and pieces for perusal, as does Augen Gallery in Portland, Oregon, and Harris Harvey Gallery in Seattle, where director Sarah Harvey said people can visit the venue to view, enjoy and purchase Wood's framed and unframed intaglio prints, as well as a selection of paintings and pastels.
Harvey said she treasures her memories of working with Wood and showing his art. During a 2018 tour at his Oyster Dome Studio, they looked at and discussed prints and narrative works stretching back to the 1970s. It was a day she'll likely never forget.
"His interest in mythology, philosophy, art history, environmentalism, current events and literature all seeped into the images he made," Harvey said. "In his easy conversation, he could give you all these different frames through which to interpret one of his pieces and then he would give you another way of thinking about it — and then another. His images never resolved themselves into an easy explanation, though. Some mystery always remained to engross you and keep you thinking."