TV
Severance: A bad day at the office
Watch WWU alum Dan Erickson's workplace thriller
February 2, 2022 at 12:57 p.m.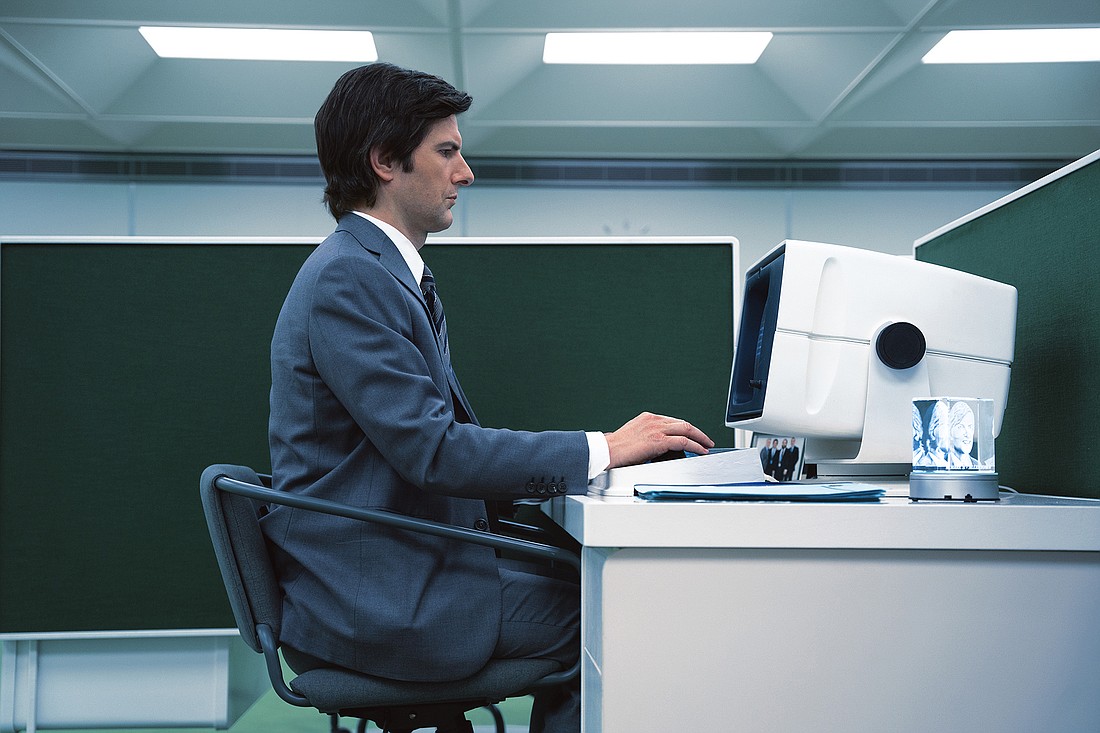 ---
---
The first five seconds of the trailer for the television series "Severance" flashes on Adam Scott walking down a narrow office hallway, followed by Patricia Arquette giving a brisk nod to someone sitting opposite her desk, a mustachioed John Turturro offering up a soulless smile to a colleague, and Christopher Walken pressed against a glass partition with an expression of open-mouthed horror — or possibly menace — on his face. By the end of the three-minute clip, it's clear whatever the actors' characters are up to at the office, it's nothing good.
In the Apple TV+ series written and co-produced by Western Washington University and Upfront Theatre alum Dan Erickson, the plot centers around a man named Mark Scout (played by Scott) who undergoes a surgical procedure to separate his work life from his home life. While he's at the office, he can't access his personal memories, and when he's home he has zero retention of what occurred at his place of employment. It sounds like a swell way to achieve the optimal work/life balance, but dark mysteries abound in the workplace thriller, and all is not as it seems.
"The idea for this show literally came to me because I was working a terrible job in a weird little windowless office and hated it so much that one day while walking in I caught myself fantasizing that I could just jump ahead to the end of the day," Erickson said from his home base in Los Angeles. "But I don't think I'd ever actually get the 'Severance' procedure. I like being able to complain about work to my friends."
Erickson, 38, said a play containing the same thematic DNA of "Severance" came into existence during his time at Western — where in addition to obtaining an English degree, he also studied screenwriting and was active in the theater department and the improv group known as the Dead Parrots Society. The work he wrote and directed for Western's Plays4Us program was called "Convention," and was also set in a weird, oppressive office and dealt with a warped perception of memory. But, Erickson said, "Severance" is an entirely different story.
"Fortunately I'd already worked with Ryan Stiles through the Upfront Theatre, so I knew that famous people are nice and cool." — Dan Erickson
It's a project that's taken nearly a decade to come to fruition. Erickson wrote the first draft of the pilot eight years ago, shopping it around with the help of his manager. It was eventually nominated for the Blood List, a survey of un-produced thriller and horror scripts voted upon by industry professionals. Through the list, the script caught the attention of actor and director Ben Stiller and his company Red Hour. They worked on developing the idea with Erickson before shopping it around and landing at Apple TV+.
"I think it's a testament to Red Hour that they were willing to take a chance on an original idea by a guy who at the time was driving for Postmates (and had a really bad rating)," Erickson said. Although he was a talented scribe, Erickson had no prior film nor television credits and had never been on a writers' room staff. These days, he's helping call the shots.
When the first episode of "Severance" debuts on Friday, Feb. 18, Erickson will see his hard work come to fruition. And a recent shout-out from the New York Times naming the show as a television series to watch out for in 2022 made him realize how proud he is of what his words have brought to life. He said the detail paid to production, costumes and props was meticulous — Erickson advises viewers to freeze-frame the show and zoom in on the items on each desk for an example of what he's talking about — and working with the award-winning cast was beyond exciting.
"It's very, very surreal," Erickson said. "Fortunately I'd already worked with Ryan Stiles through the Upfront Theatre, so I knew that famous people are nice and cool."
"The weird part was when it stopped being weird, when I'd just be working and forget I'm talking to someone I've idolized since childhood. And then later in the conversation, I remember 'Oh yeah, this guy had an Oscar before I was born.' I was amazed how gracious and patient everyone was while I bumbled around figuring out what I was doing. Ben (Stiller) is the hardest working and most meticulous person on earth, but also extremely creatively generous. It was inspiring to watch him at work."
Although Erickson misses Bellingham "every day," he said he's happy to be in Los Angeles, where he's lived since finishing grad school at New York University in 2012. And although it took him nearly 10 years to gain a foothold in the entertainment industry, he doesn't regret the time he spent making friends, having adventures and even working jobs he didn't like.
"It sounds obvious, but if you move to LA, try to like LA," he said when asked what advice he'd give to people moving to the California city to pursue their dreams. "Don't let the pressure to 'make it' overwhelm your experience. It can feel like a big, endless, isolating place, but if you can find friends and a sense of community somewhere, you don't have to feel like you're sacrificing years of your life at the altar of this industry."
The first episode of "Severance" airs Friday, Feb. 18 on Apple TV+. To find out more, go to www.tv/apple.com.