Weather
Wild weather brings high water, winds to Whatcom
Motorists advised to be be wary of water on roads
December 27, 2022 at 12:17 p.m.
|
Updated December 27, 2022 at 4:54 p.m.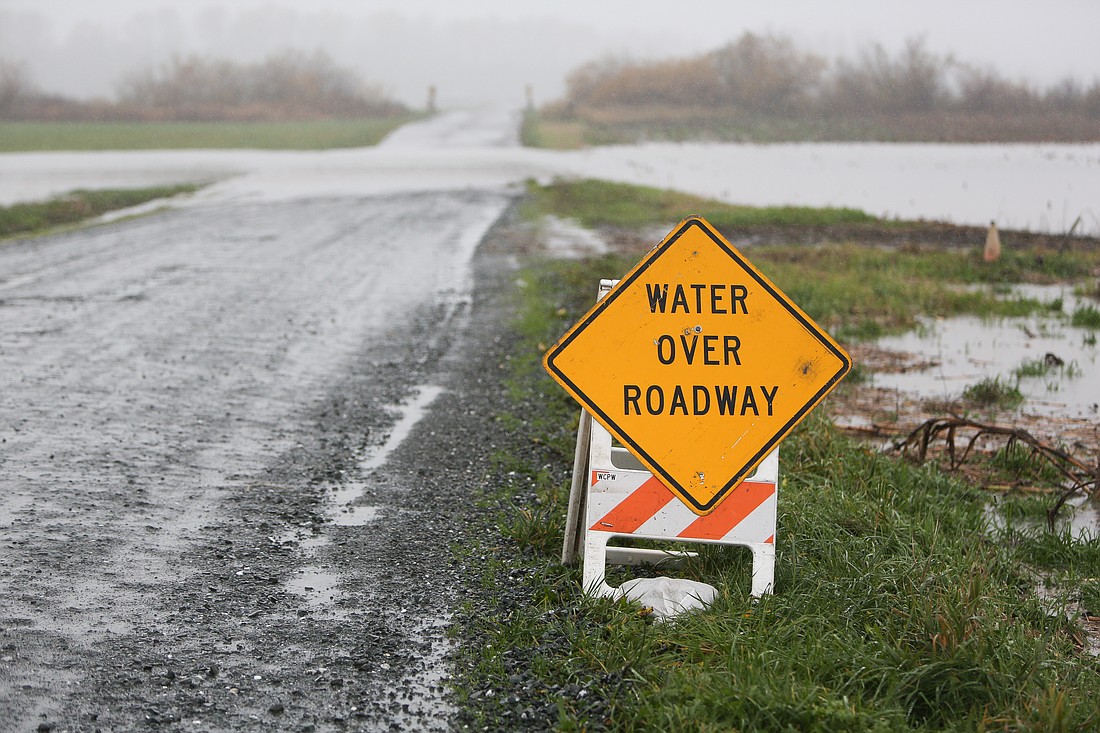 ---
---
The National Weather Service issued a coastal flood advisory Tuesday evening for Whatcom County from 8 a.m. to 1 p.m. on Dec. 28. The Wednesday morning high tide will be coupled with high winds and may result in impassable roadways, according to a public safety alert. 
Some coastal areas in Whatcom County were flooding at high tide this morning, and standing water is posing a driving hazard all across the county after several days of steady rainfall.
The county is in for another kind of weather threat later today from an approaching winter storm: high winds that could exceed 40 mph.
The high tide at Birch Bay came in 1.5 feet higher than predicted due to low pressure associated with the current storm, said Roland Middleton, the special programs manager for county Public Works.
Sandy Point, Birch Bay Village and Birch Bay State Park at Terrell Creek were all flooded on Tuesday morning, Middleton said. 
Flooded roadways aren't limited to coastal areas, however. Recent rains and snowmelt have closed or limited access to more than a dozen roads, according to a Whatcom County webpage. Slater Road, Marine Drive and Hannegan Road are among the county roads closed in places due to high water.
Dozens of other roads are posted with "Water Over Roadway" signs, Middleton said.
"People need to slow down and drive appropriately," Middleton said. "Drive to the conditions, and the condition is, 'It's water everywhere.'"
Meanwhile, the Nooksack River is threatening to crest less than a foot above flood stage Tuesday night, according to the National Weather Service's forecast. 
Middleton said the anticipated level of river flooding might amount to "overtopping into adjoining fields."
"We have our sector folks out there, keeping an eye on things and making sure that no part of the whole levy system is [failing]," he said.
The current wild weather pattern will bring high winds to Whatcom County this afternoon, according to the Weather Service and blogger Cliff Mass, an atmospheric scientist at the University of Washington.
"Expect winds to accelerate in western Washington around 4 p.m.," Mass wrote in his latest blog post. 
Forecast models predict wind gusts exceeding 40 mph in western Whatcom County around 4 a.m. Wednesday morning. Whidbey Island will see some of the strongest gusts in the region, with winds topping 60 mph.
"You would be wise to charge your electronics now and prepare for a power outage," Mass wrote. "Stay inside during the strongest winds later this afternoon and evening."
This story was updated at 4:54 p.m. Dec. 27 with additional information.