The Beat Goes On
The year in local music
Bellingham luminaries weigh in on their favorite shows, artists
December 20, 2022 at 5:00 a.m.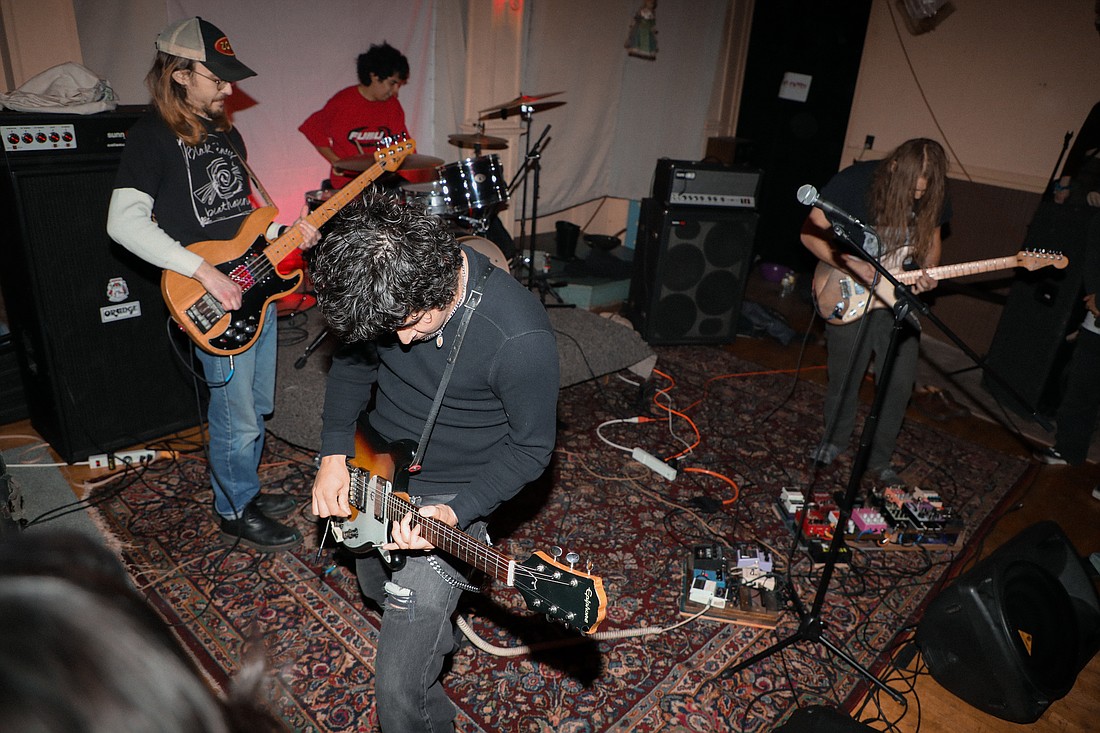 ---
---
As we near the end of the year, I thought it would be a good time to get some other perspectives on the year in local music. I rounded up a virtual panel of the city's luminaries and asked them some questions. 
What was the best live show you saw in Bellingham in 2022?
Nico Sanchez (owner of Black Noise records, hip-hop producer and DJ): I'm biased, but After Sounds is always my favorite event of the year. It's like a family reunion for us.
Kelly Sorbel (venue director at Make.Shift, musician, recording engineer): A tie between Zambian legends W.I.T.C.H. at The Shakedown and Careen's summer tour kickoff at a house venue.
Crystal McIntyre (booker and manager at The Shakedown): Vision Video gave me that feeling like you have your first big crush on someone and you feel it in every nerve ending. By the end of the show, everyone, including the staff, had that dopey, in-love face.
Jan Peters (musician and booker): Touring-wise, Zakir Hussain's mind-altering classical Indian trio at the Mount Baker Theatre. Locally, Jerry Steinhilber's jazz trio at the Sylvia Center. There's a lot of great jazz in this town with diverging sensibilities and feels, and this is a very powerful group with great visceral and intellectual chemistry.
Celine Parton (musician, booker at Kulshan Brewing Co.): So many awesome shows this year! I'd have to go with the Gueris vinyl release show featuring performances from the Bellingham Circus Guild. It was epic!
Abby Hegge (sound engineer at several venues, musician): Either Vision Video or Captured! By Robots.
Do you have a favorite song or album by a local artist that you first heard in 2022?
JP: "Desultory" by Count Vesper. Their music is not in my normal wheelhouse but I love it.
NS: "Sunseekers" by CHRVNS.
CM: Mount Saturn! Their "O, Great Moon" record is amazing.
AH: I agree with Crystal: Mount Saturn.
KS: Swamp Lantern's "The Lord Is With Us" is a sonic masterpiece. Listen to this one with headphones and trip on the production!
CP: I've been loving Supermissive's new sound! It's super psychedelic and groovy. Also, the EP by Marie, The Band is a major-feels folk delight. 
What do you think is missing from the Bellingham music scene?
CM: Goth/darkwave/synthwave bands. There's elements in a few really good locals like Gallowmaker and Flais, but I want more!
CP: A dancy, "Bellingham-quirky" folk rock band that would fill the void left by Polecat. Also, I think something Bellingham is blessed with is a lot of amazing free and low-cost music events. I want our community to feel more comfortable paying for shows.
JP: An all-ages concert venue in a restaurant-style, with good acoustics and a stage, that would be a destination for touring acts in folk, world, jazz and blues music.
AH: I feel like math rock is mostly missing from the Bellingham scene right now. If anybody knows a local math rock band, let me know!
NS: Diversity. Not only in the music, but in who makes up the scene.
Were there any major trends or changes you noticed in 2022?
AH: I've noticed more goth shows in town. I think we've got a lot of people in our community who love goth music.
KS: Hardcore and punk rock is back! The kids studied up and are creating a unique, loud and inclusive punk scene and I am here for it.
JP: Increasingly cross-generational audiences at folk shows.
What's something you are looking forward to next year in local music?
JP: Bringing more shows to the FireHouse and Black Fern.
NS: The music I'm personally working on, with Estimate and Ca$h McClane.
CM: I'm really into the cross sections of music/burlesque/drag. I live for those moments where you can see someone just immersed in a space of music, fashion, art, community and love in a show or event.
AH: I'm hoping to see more bands fronted by women and gender-nonconforming people in the new year. We're not doing too bad on that front in this town, but I'd love to see more.
KS: This is a special time in Bellingham and my prediction is that we will see a new wave of northwest music history similar to the late '90s/early 2000s Bellingham music scene that both defined the region and was lost to the test of time.
CP: I'm looking forward to discovering new music and bands, supporting each other as a musical community, and having more epic events!
Thanks to all of the crew for their insights and perspective. If you'd like to submit your own answers to any of these questions, hit me up on email or Twitter, and if I get some good ones, I will do a reader-response column next month.
Live music listings 
Tuesday, Dec. 20
Aslan: 8 p.m., Jazz Night
Boundary: 6 p.m., Paul Klein on piano
Culture Cafe: 7 p.m., Open Mic
Greene's Corner: 6:30 p.m., Open Mic
Ranch Room: 8 p.m., Michael Dayvid (acoustic covers)
Wednesday, Dec. 21 
Boundary: 6 p.m., Aaron Guest on piano
FireHouse: 6:30 p.m., Thomas Harris Sextet
Greene's Corner: 6 p.m., Peter Ali (Native American flute)
Honey Moon: 8 p.m., Open Mic
Rockfish: 6 p.m., Doug Schmude (country/folk/rock)
Stones Throw: 6 p.m., Tom Sandblom (acoustic covers)
Thursday, Dec. 22
Blue Room: 6 p.m., Open Mic/Jam; 8 p.m., Jam:30 (open jam)
Brown Lantern: 8:30 p.m., Open Mic
Honey Moon: 8 p.m., Lucas Warford (cabaret punk)
Lincoln Theatre: 7:30 p.m., Karla Bonoff and Livingston Taylor (folk)
Menace: 4 p.m., Michael Dayvid
Shakedown: 9 p.m., Obsequies, Mantle Collapse (metal)
That's What I Like: 6 p.m, J.P. Falcon and Friends (folk/rock)
Friday, Dec. 23
Aslan: 8 p.m., Christian Casolary Quartet (jazz)
Beach at Birch Bay: 6 p.m., Song Wranglers (acoustic Americana)
Black Fern: 6:30 p.m., Queer Open Mic
Greene's Corner: 6 p.m., Those Allen Boys (folk)
Honey Moon: 8 p.m., Tim and Tad's Sad Christmas
Shakedown: 9 p.m., Carrier Wave, Ent, Monstress (metal)
Skylark's: 8 p.m., Aloha Danny
Vault: 7 p.m., Tea Seas Trio (funk/jazz/Latin)
Saturday, Dec. 24
Fireside: 4 p.m., Singers' Saturday
Main Street: noon to 6 p.m., Open Mic
Sunday, Dec. 25
Wild Buffalo: 9 p.m., Christmas Karaoke
Monday, Dec. 26
Kulshan: 6 p.m., Odd Mood Jam Band
Tuesday, Dec. 27
Aslan: 8 p.m., Jazz Night
Boundary: 6 p.m., Paul Klein on piano
Culture Cafe: 7 p.m., Open Mic
Greene's Corner: 6 p.m., Tenderpile's Smile Aisle ("yacht jazz")
Before heading out to listen to live music, check with individual venues to make sure the event is still taking place as scheduled. 
Jesse Stanton's music column, The Beat Goes On, runs Wednesdays. Email: jsbhammusic@gmail.com or Twitter: @JSBhamMusic.