Business
Unionized Starbucks in Bellingham on strike for 3 days
Three locations strike in solidarity with closed stores
December 16, 2022 at 4:00 a.m.
|
Updated December 16, 2022 at 3:00 p.m.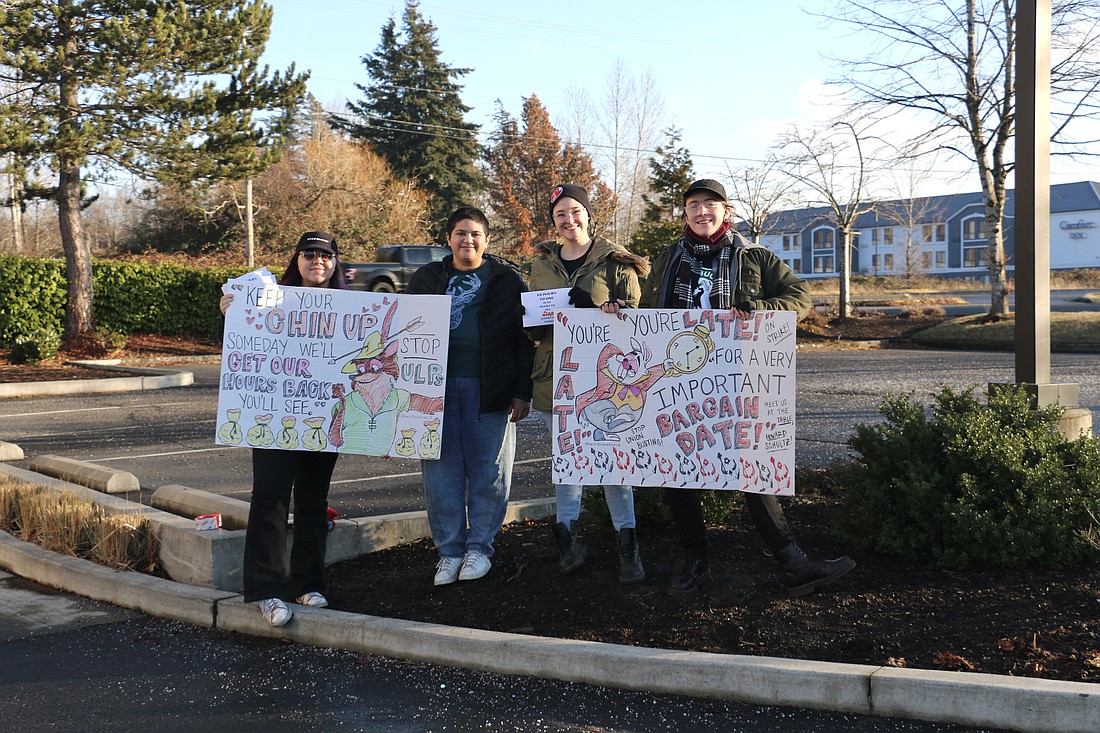 ---
---
Three Bellingham Starbucks locations are participating in a three-day strike against corporate anti-union activities called the "Double Down Strike."
Baristas from the Iowa and King drive-thru location, the Cordata Center store and the Samish Way Starbucks will picket from Friday morning until Sunday afternoon to protest "Starbucks' continued union-busting tactics, such as threats, intimidation, refusal to bargain in good faith, and denial of benefits, such as credit card tips," according to a news release. 
The Iowa and King location was the only store in the city to not get credit card tips when the option was rolled out earlier this month, according to Hailey Cribbs, an employee at the drive-thru location. 
The three shops, all of which voted to form a union through Starbucks Workers United earlier this year, have struggled with bargaining new contracts with Starbucks Corporate. In late November, employees reported lawyers for the corporation walked out of bargaining meetings within the first 10 minutes of discussions. 
Cribbs said that was the only bargaining session they've had so far, and Corporate has not been in touch to schedule another.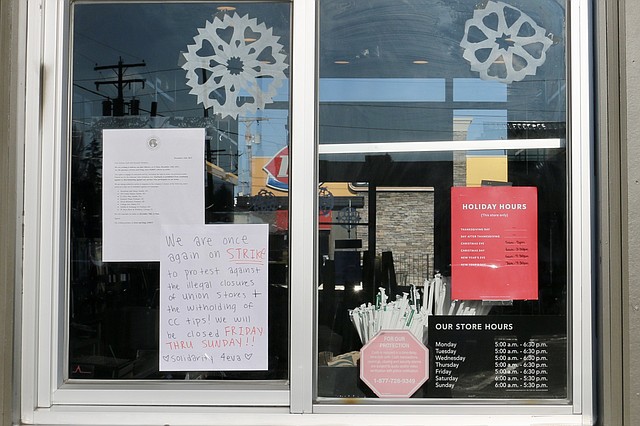 More than 100 stores across the country began striking Friday in support of eight unionized stores shuttered by Starbucks Corporate. Three of the locations were in Seattle, with the remaining five in Oregon, New York, Maine and Illinois. 
Starbucks Corporate said the company opted to close the stores over ongoing safety concerns. 
"We're standing in solidarity with those stores," Cribbs said Friday. "Workers [from one of the locations] are being separated from the company or being moved to different stores." 
The "Double Down Strike" comes quickly on the heels of the Nov. 17 "Red Cup Rebellion," when over 1,000 baristas walked out of 110 shops across the country, including the above three in Bellingham, on one of the biggest days of the year for the company. 
"After our 'Red Cup Day Rebellion,' Starbucks ended up doubling down on union busting," said Alex Ruderman, one of the employees at the Cordata location. 
Ruderman and their colleagues went on strike Friday morning, and hosted pickets throughout the day, protesting corporate cutting of hours. Employees at the location say they wouldn't be surprised if Corporate closed their store over safety concerns, too. 
"Honestly, it wouldn't surprise me [if they shut us down]," said Marlowe Light, one of the employees at the store. "We've had a lot of empty promises about safety protocol. We were promised things over a year ago that we haven't gotten." 
The location has seen its fair share of safety issues, with employees dubbing "the hatchet man" a regular concern. 
Going three days without work, though, can be a significant financial burden, particularly this close to the holidays. To ease some of the burden, baristas have been collecting strike funds for employees at the three shops. 
"We have strike funds set in place right now in order to alleviate some of that financial burden," Cribbs said. "We're really grateful that that's an opportunity or an option for us because it's not in a lot of other places." 
Cribbs said the main priority for the Bellingham locations, at this point in the bargaining process, is to get a contract. 
"That's our main point of action right now," she said. "We're really trying to push Starbucks to meet us there." 
This story was updated at 3 p.m. Dec. 16, 2022, to include additional reporting and photos.